In Amazon Music, you can play 100M+ songs without any irritable ad interruptions. You are also allowed to find the music of your liking and can also add it to your customized library for easy access. It also lets you keep updated with the trendiest songs and customize them to your liking. However, if Amazon Music keeps pausing or crashing, it can be a very negative thing for the users.
If you have met the same issue, you can get insights on reasons why Amazon Music keeps stopping and troubleshooting methods to fix this issue easily. After that, you can enjoy uninterrupted Amazon Music playback.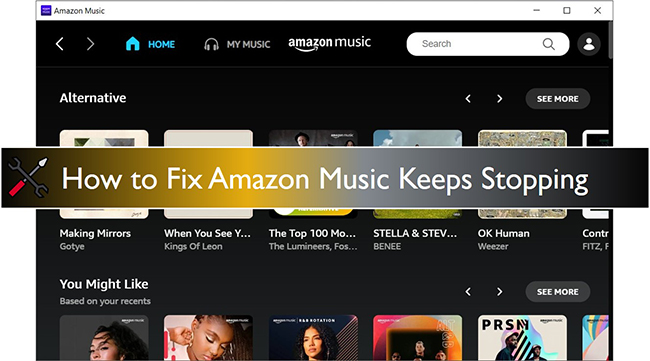 Part 1. Why Does Amazon Music Keeps Stopping? Possible Causes!
Before getting into the fixes of the Amazon Music app keeps crashing, it is essential to learn the possible causes behind this issue. This part is specifically dedicated to helping the users understand the problems behind the Amazon Music app stopping. This will help you to avoid these causes so you will not face any of these issues again. Thus, let's get into them without any further delay:
✔️ If you have an unstable internet connection, then it can lead to several issues like buffering and app crashes. Moreover, some of the devices are not compatible with Amazon Music, and this can also cause lags and troubleshooting.
✔️ Glitches are the commonest causes for the apps such as Amazon Music to stop. You can encounter numerous bugs, which cause unexpected stoppage. If the app is not updated, it can also be the reason for this problem.
✔️ Having limited memory along with lower processing power can also be the culprit behind this issue. Other than this, if diversified applications are running in the background while you are using Amazon Music, then it can also cause problems for you.
✔️ Some of the users are not aware of the reliable app settings and permission which further causes conflicts between apps. The incorporation of corrupted app data also impacts the performance of an app in a bad way.
✔️ Premium users sometimes forget to reactivate their subscription plan. This impacts the performance of apps and leads to limitations. You can also experience disruption in services with this.
Part 2. Troubleshooting Steps to Fix Amazon Music Keeps Stopping on Android/iPhone
Amazon Music is available on both iPhone and Android devices, and you can experience high-quality music on both platforms. If you somehow unexpectedly encounter the upper listed scenarios and get troubleshooting of Amazon Music, then don't worry.
In this era of digitalization, there are versatile fixes through which you can fix unexpected, digitalized issues. Some of the fixes can be tricky and difficult to implement, and not all users can apply them. For this reason, here are some of the fixes for Amazon Music keeps stopping on iPhone and Android, which are easy to implement and work perfectly.
🏷Fix 1: Analyze the Network Connection
It is one of the most used fixes that can also derive desirable results for you. However, both iPhone and Android have different ways of checking the internet connection. The procedure to do this on both operating systems is listed here for you:
Check the Internet on Android
Initially, drag the upper panel until you see all the available options. From here, locate the "Airplane Mode" option and tap on it. Once you see that the internet and mobile data are disabled, again tap on "Airplane Mode" and deactivate it. After this, click the "Internet/Wi-Fi" button and connect to your internet network.
Check the Internet on iPhone
For all iPhone models, you can use the "Assistive Touch" feature. Tap the "Assistive Touch" and enable the "Airplane Mode." Wait a few moments and again press "Airplane Mode" to turn it off. Following this, tap the "Wi-Fi" button and enable it.
🏷Fix 2: Sign in and Sign Out of Amazon Music Account
issues can be the major culprit behind Amazon Prime Music's stopping. To resolve this, you can sign out and sign in to your Amazon Music app. Here is the procedure through which you can do this with ease:
Step 1: Initially, launch Amazon Music app on your Android or iPhone device and go to "Settings." Once you are on the settings interface, hit "Music Settings" and tap the "Sign Out" button. Next, "Confirm" the sign-out procedure and wait a few moments.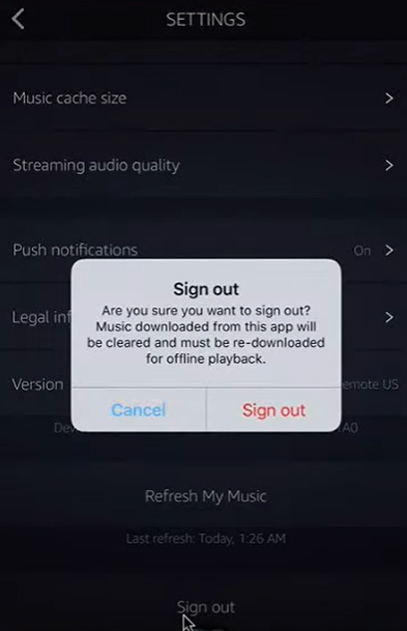 Step 2: Wait a few moments and again launch Amazon Music. To continue, "Sign in" to Amazon Music with your details.
🏷Fix 3: Lock Your Amazon Music App (For Android Only)
Some Android devices automatically kill inactive apps from the background without your permission. You can avoid this scenario by locking your app. The instructions to do this without any issues are mentioned here: To lock the Amazon Music app, access the "Recent Apps" menu and press and hold the "Amazon Music" app display. Next, from the pop-up options, select the "Lock This App" option.
🏷Fix 4: Force Stop the Amazon Music
In case you face irritable issues while streaming your favorite music on Amazon Music, force stopping can help you. You can force-stop the app and relaunch it for the smoothest playback performance. The instructions to do this without any complications are listed here for you:
On Android
To get started, locate the Amazon Music app, and press its icon. From the visible options, select "App Info," and after this, tap the "Force Stop" button. Relaunch the app and play music to listen without interruptions.
On iPhone
To force quit the Amazon Music app on your iPhone, scroll up from the bottom of the screen if you are an iPhone X or later user. In case you are using the older iPhone, double press the "Home" button. After this, locate the Amazon Music app and swipe it up to close it. Next, launch the app and check if it's working properly.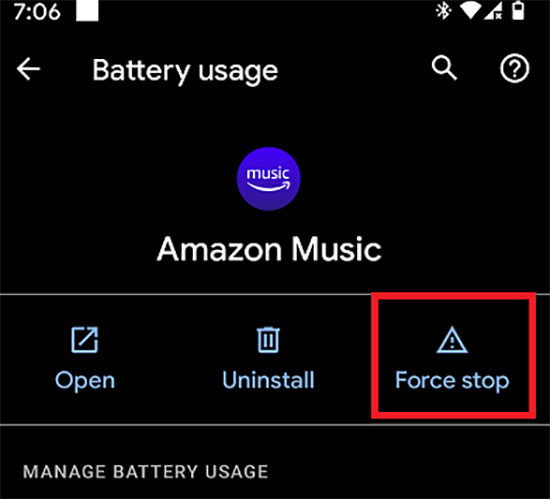 Part 3. How to Solve Amazon Music Keeps Crashing on Windows 11/Mac
Many of you love to listen to Amazon Music on computers while working. However, if the app keeps crashing while you enjoy music, it can also compromise your workflow efficiency. Luckily, this section will discuss the optimized fixes to solve the issues of Amazon Music crashing on Windows 10, Windows 11, and macOS computers. You can find these implementable issues underneath:
🏷Fix 1: Clear Cache from Amazon Music App
By clearing the cache from the app, you can free up the needed storage and can also reclaim the potential performance. It also helps you to update the content of the app and has the capability to fix other issues like crashing and freezing. To resolve Amazon Music keeps pausing issue, there are three ways to clear Amazon Music cache. These intuitive ways are listed below:
• Way 1: Sign out and sign in to the Amazon Music app of your Windows PC or MacBook because this can refresh data and enable the library resyncing.
• Way 2: Remove the data folders from your device to clear the cache. On Windows, open "Start Menu," select "User Profile," and go to "App Data." Next, click "Local," choose 'Amazon Music," and locate the "Data" folder. Finally, delete this data folder to clear the cache.
If you are a Mac user, go to "Finder" and press "Shift + Command + G." Once you are in 'Go to Folder," enter this command: ~/Library/Application Support/Amazon Music/Data. To complete the process, remove the cache folder.
• Way 3: Another way to clear cache is to open 'Profile," select "Preferences," and click "Advanced." Following this, select the "Reload My Music?" option and hit "Start Reload."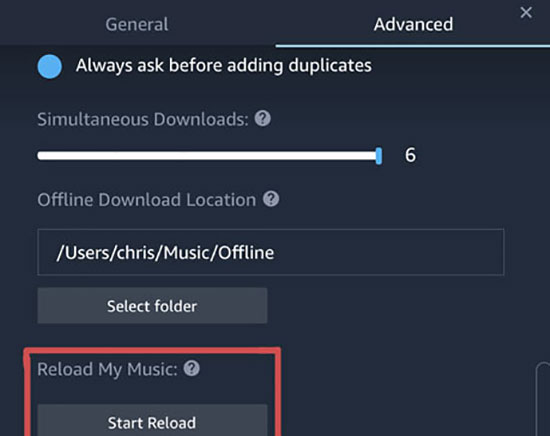 🏷Fix 2: Recheck the Subscription Plans
Before getting into the troubleshooting, it is important to recheck your subscription updates. You need to check the status of your Amazon Music to avoid mistakes if you have bought it with an Amazon Prime subscription. In case you are new to Amazon Music and don't know how to recheck your subscription, here's its procedure:
Step 1: Access the Amazon website on your desktop and log in to your account. Following this, access the "Account & Lists" tab and select the "Prime Membership" option from the drop-down menu.
Step 2: Once you are on the new window, go to the "Renewal Date" section and check it. If your subscription expires, you can renew it with the payment method of your choice.
🏷Fix 3: Restart the Windows PC/MacBook
It is one of the most important fixes because it is easy to do and derives reliable results. You can use this to resolve software issues or for other security benefits. Moreover, enhancing stability and eliminating errors is also possible with this. The underneath procedure will help you to learn how to restart both Windows and Mac computers.
How to Restart Mac Computer
Go to the home screen of your Mac and click the "Apple" icon. From the listed options, choose the "Restart" option and again click 'Restart."
How to Restart Windows Computer
Select the "Windows" icon of your Windows computer from the taskbar and click the "Power" button. From the pop-up menu, hit "Restart" and wait a few moments.
Part 4. How to Avoid Amazon Music Keeps Pausing Again
The best and most innovative way to avoid the scenarios of the Amazon Music app that keeps crashing is to download Amazon Music songs for offline listening. Several tools claim to be best when it comes to downloading music in lossless quality. However, the best among them is AudFree Amazon Music Converter. It is an extraordinary tool because it can not only download simple Amazon Music but can also convert Amazon Music files into multiple formats.
Moreover, it can download multiple Amazon Music files at optimized speed without any ad interruptions. You can also experience a 5X faster conversion speed with AudFree Amazon Music Converter. Other than this, you can also convert HD Music, Prime Music, and free Amazon Music into high-quality MP3 files.
Above all, you can download the Amazon Music not only in MP3 but in the output format of your choice. It also has the option to download Amazon Music along with original ID3 tags.
Download Music from Amazon Music with AudFree Amazon Music Converter
Here are the straightforward steps which will help you to download Amazon Music on your device for offline listening without any problem:
Step 1

Access the Amazon Music Converter Settings

To download Amazon Music, launch AudFree Amazon Music Converter on your device, and after this, register your details. Once done, click the "Three Lines" icon and go to 'Preferences." From here, choose "Convert" and select the "Output Format" of your choice, along with the other settings.
Step 2

Select Amazon Music Playlist and Paste It

Following this, go to Amazon Music and locate the playlist of your choice. Next, tap the playlist of your choice and hit the "Share" button. Afterward, tap the "Copy Link" option and go to AudFree Amazon Music Converter. Paste the song link in the search box of the tool and press the "+" button to add the Amazon songs.
Step 3

Convert and Download the Amazon Music Playlist

To continue, hit the "Convert" button, and once you are on the "Conversion List" window, you will see the converting tracks. Wait a few moments and then download music by pressing the "Converted" button.
Part 5. FAQs About Amazon Music Keeping Stopping
Q1. How to Fix Amazon Music Keeps Stopping on Alexa
There can be several reasons that cause Alexa to stop playing Amazon Music. In this case, you can check the power by unplugging it and waiting for a few moments. Other than this, you can also recheck your Wi-Fi connection and can also look up your music service online status.
Q2. How to Fix Amazon Music Keeps Stopping on Echo?
You can fix the Amazon Music keeps stopping on Echo by doing some simple yet valuable things. This includes checking the Wi-Fi on your device, and you can also see if the Bluetooth signals are working or not. You can also check for hardware and glitches issues to avoid Amazon Music keeps stopping on Echo.
Part 6. Sum Up
To tie it all together, you have now discovered why Amazon Music keeps stopping and how to fix it. The causes behind these problems are also discussed above. There are several considerable ways to cater to this issue, and the most effective yet easy-to-implement methods are discussed here. No matter if you are an Android, iPhone, Mac, or Windows user, fixes for every platform are listed above.
We have also explained the procedure for fixes, so there is nothing to worry about. In case you wish to avoid the scenario of Amazon Music keeps pausing issues, the best way is to download Amazon Music for offline listening. The tool can be used for this purpose is AudFree Amazon Music Converter.