Amazon Alexa, profoundly known as Alexa, is a virtual assistant AI technology capable of voice interactions, music playback, playing audiobooks, real-time information, traffic and weather updates, etc. It is also being used as a home automation system in smart homes. For music lovers, this AI virtual assistant comes in handy. You can play music in your house by simply asking Alexa to play some music. For example, you can say, "Alexa, play Billie Jean by Michael Jackson."
Alexa has its best performance on the Amazon Echo speaker, where you can enjoy a diverse music catalog from online music streaming platforms such as Spotify. This should also be great news for Amazon Music subscribers- you can now play Amazon music on Alexa! And believe it, the process to link amazon music to Alexa is pretty straightforward.
To make the job easier for you, this article will furnish you with 2 alternatives through which you can link and play Amazon music on Alexa. You should also note that Alexa works for both Amazon Prime and Amazon Music Unlimited. Now, let's use Amazon music with Alexa!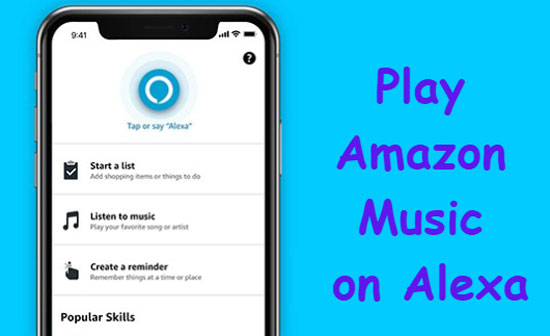 Part 1. How to Play Amazon Music on Alexa via Alexa App
Among Alexa profound skill set is playing music from online music streaming platforms like Amazon Music, and here is a simple guide on how to play Amazon music using the Alexa App.
Step 1. Launch Alexa App and tap on the menu option on the top left.
Step 2. Choose Music and book and then select music.
Step 3. Tap Amazon Music and then select the playlist tab.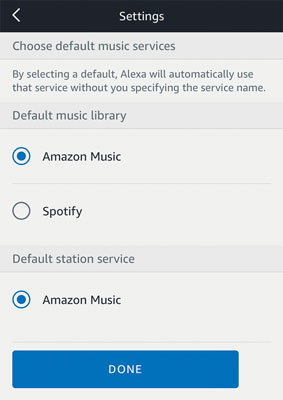 Step 4. Choose from the Genres, Artists, Mood & Activities, or Decade.
Step 5. Select your category to pick a playlist, and it should start playing on your device.
Step 6. You easily adjust the volume shuffle and repeat, skip forward and backward from the appearing screen.
Use can now use Amazon music Alexa commands to play any playlist on your phone. For example, you can say, "Alexa, play playlist Greatest old-school soul mixtape by DJ Kenzo."
Part 2. How to Play Amazon Music on Alexa via Bluetooth
You should be aware that our number 1 method above only works better when you have an active Amazon Music subscription. That means if your subscription is canceled or expired, you cannot play your Amazon music on Alexa application. However, it does not mean that impossible to get Alexa to play amazon music with a canceled Amazon Music subscription. And that brings us to our next best alternative to enjoy Amazon music on Alexa- playing Amazon Music on Alexa via Bluetooth.
This method, however, requires that you first download your Amazon Music playlist before playing it off on Alexa via Bluetooth. Download copy-restricted music from Amazon Music requires a specialized Amazon music downloader application, and here we recommend AudFree Amazon Music Converter.
It is an incredible Amazon music downloader software designed to help you download and convert Amazon tunes to popular and more playable audio formats such as MP3, FLAC, WAV, etc. The application works fast to convert music files and at the same maintaining the quality of music. The software provides limitless download of Amazon songs for offline playback. Below is a simple guide on how to play Amazon Music on Alexa using AudFree Amazon Music Converter.
How to Download Amazon music for Alexa
Step 1

Launch and Register AudFree Music Converter

Launch the AudFree app on your PC. On the main interface, click on the "Sign In" option to access our Amazon Music account. Then, click on the three-lines on the top-right and select "Register" on the popping menu. Enter your licensed email and registration code sent to you after purchasing a full version of the app.
Step 2

Customize Amazon Music Formats and Parameter for Alexa

Click on the three lines icon and select "Preferences" >> "Advanced" option. This page avails an opportunity to change the music files to your preferred audio format choice. You can also change some basic music specs such as audio channel, bit rate, sample rate, etc.
Step 3

Add Amazon Music to Play on Alexa

After customizing, access your playlist and click on each music item to select. Click on the gray '+' option with an orange color at the center to add your music items to AudFree Music Converter.
Step 4

Download and Convert Amazon Music for Alexa

Select "Convert," and the AudFree app will automatically download and convert the selected song items. Wait for the process to complete. Click on the "Converted" option at the top to access all the downloaded Amazon Music songs.
Transfer and Play Amazon Music on Alexa via Bluetooth
i. Transfer Amazon Music to Your Phone
Using a genuine USB cable, connect your phone to your computer. Once it detects, copy and paste your Amazon Music Playlist to your iPhone or Android phone memory disk.
ii. Play Amazon Music on Alexa via Bluetooth
First, you need to pair your speaker with your phone, and here is a short guide on how to get Alexa to listen to amazon music offline.
i. Open your Bluetooth pairing list. Ensure that your Bluetooth speaker is on.
ii. Say "Alexa, Pair"
iii. Tap on the name of your speaker to connect.
iv. Alexa will announce the connection when complete.
v. To keep playing music using Alexa, you need to change the default media-playing application.
vi. Open the Alexa app on your phone.
vii. Go to Settings >> Music & Podcasts >> Default Services.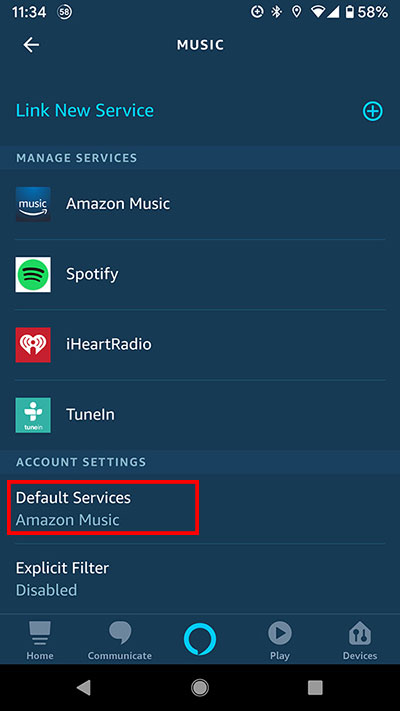 viii. Select your current playing media application as the default app on Alexa.
Now, you use the Alexa music commands to play Amazon Music on Alexa via Bluetooth.
Part 3. Alexa Can't Play Amazon Music - Why & How to Fix
If Alexa is not playing Amazon Music when requested, it is possible that your device is operating on a slow and unstable internet connection. You need to make sure your internet connectivity is strong for optimal Alexa function. Here are a few ways you can correct the internet connectivity problem.
1. Decongest Wi-Fi by disconnecting other devices.
2. Connect to your router's 5 GHz channel for strong internet.
3. Reboot your router.
4. If you are playing on Bluetooth Speakers, make it is charged.
5. Restart your Phone.
Part 4. Bottom Line
Now, you can very well play Amazon music on Alexa using either other of ways. If you have an active Amazon Music subscription, you can go for the first option. Well, if you do not have one, we have got you covered with our AudFree Amazon Music Converter.
The software lets you download, convert and transfer Amazon Music files to your device from where you can stream your favorite playlist offline using Alexa. All you have to do is download, install and enjoy a lifetime of unlimited Amazon music download.