Amazon Music has become an increasingly popular music streaming service in recent years. However, it can be frustrating when the music suddenly stops playing for no apparent reason, leaving you wondering what went wrong. If you're experiencing this problem, don't worry, we will explore some of the reasons why Amazon Music stops playing and provide some tips on how to fix it.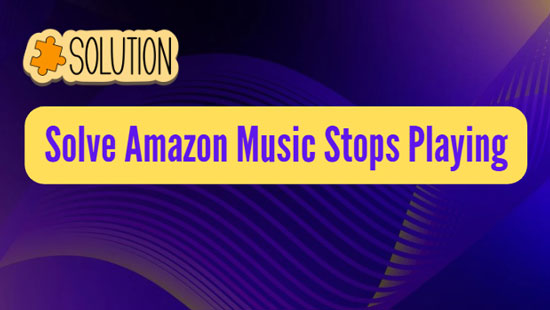 Part 1. Why Does Amazon Music Stop Playing
As a music lover, there's nothing more frustrating than having your favorite tunes suddenly stop playing on Amazon Music. It can be a real mood-killer, especially if you're in the middle of a workout or a long drive. Why does Amazon Music stop playing after 30 seconds? There are several reasons why this might happen, and it's important to understand what's causing the issue so you can fix it and get back to enjoying your music.
⚠️ 1. Poor Internet Connection: One of the most common reasons why Amazon Music randomly stops playing is due to a poor internet connection. If your internet connection is slow or unstable, it can cause interruptions in the music stream, leading to pauses or stops in the playback.
⚠️ 2. App Malfunction: Sometimes, the Amazon Music app may malfunction due to a bug or software issue. This can cause the app to stop playing music unexpectedly.
⚠️ 3. Device Issue: If your device is low on battery or has insufficient storage space, it can cause Amazon Music to stop playing.
⚠️ 4. Subscription Issue: Sometimes, problems with your Amazon Music account can cause playback issues. If you're not subscribed to Amazon Music or your subscription has expired, you won't be able to stream Amazon Music Prime/Unlimited.
⚠️ 5. Licensing Issue: Amazon Music has licensing agreements with record labels and artists. If there is an issue with licensing, it may cause the music to stop playing randomly.
After knowing the above reasons, you can usually resume playback very soon with a little troubleshooting. Just take some of the measures listed below one by one to fix the Amazon Music playback problem and enjoy your favorite songs again. If you find this a bit time-consuming, we suggest you navigate to Part 4 directly to use a one-and-done solution using AudFree Amazon Music Converter.
Part 2. How to Fix Amazon Music Stops Playing - Common Tips
Here are some common tips to fix Amazon Music when it stops playing.
🏷 Tip 1. Check Network Connection
When streaming songs from Amazon Music online, a stable internet connection is crucial to ensure uninterrupted playback. If your network connection is weak or unstable, it can cause buffering or playback interruptions.
To check your network connection, try the following steps: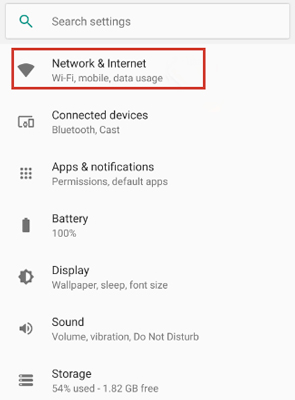 Step 1. Restart your router or modem to refresh the network connection.
Step 2. Move closer to your Wi-Fi router or try switching to a different Wi-Fi network if available.
Step 3. If you're using cellular data, check that you have a strong signal and sufficient data allowance.
🏷 Tip 2. Force Close Amazon Music App
If your Amazon Music app stops playing, force closing the app can be an effective solution. This is because force closing the app will clear any temporary data or cache that may be causing the issue. Below are the simple steps.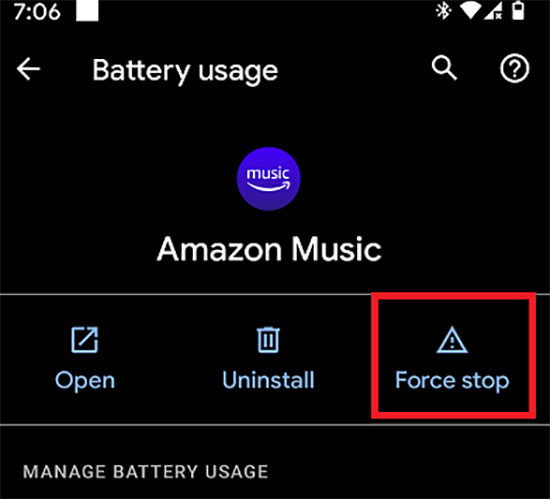 For Android:
Step 1. Go to "Settings" on your Android phone and tap on "Apps" or "Application Manager".
Step 2. Click on "Amazon Music" in the list and tap on "Force Stop" and then confirm.
Step 3. Wait a few seconds and then open the Amazon Music app again.
For iPhone:
Step 1. Swipe up from the bottom of the screen and hold your finger in place for a moment.
Step 2. Swipe left or right and you can find the Amazon Music app.
Step 3. Swipe up on the app's preview to close it, then start the Amazon Music app to play songs again.
🏷 Tip 3. Reboot the Device
Rebooting your device can help to clear out any temporary files or processes that may be interfering with Amazon Music. This can include things like background apps or services that are using up resources and causing performance issues. By rebooting your device, you essentially start with a clean slate and give Amazon Music a fresh start to potentially resolve Amazon Music stops playing issue.
🏷 Tip 4. Update Amazon Music App
Updating Amazon Music app will ensure that it is running on the latest version, which may contain bug fixes and performance improvements that can address this specific issue. These updates may include new playlists, personalized recommendations, and an improved user interface that makes it easier to navigate and find the music you love. It is a simple yet effective way to ensure that you can enjoy uninterrupted music streaming and take advantage of the latest features and enhancements.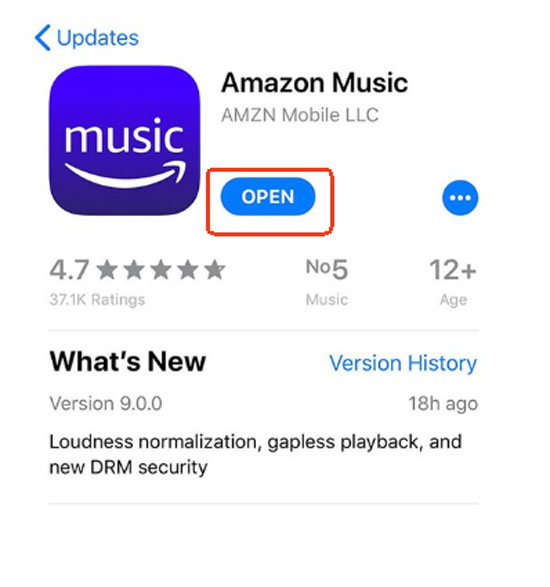 The cache is a temporary storage area where the app stores data to help it run more efficiently. Over time, this cached data can build up and cause the Amazon Music app to malfunction. Clearing Amazon Music app cache will remove this temporary data, forcing the app to start fresh. It's important to note that clearing the cache will not delete any of your saved music or playlists.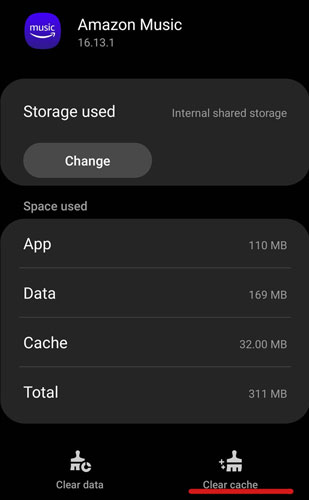 Part 3. How to Solve Amazon Music Stops Playing after a Few Songs - Advanced Tips
If Amazon Prime Music stops playing after 30 seconds or a few songs, here are some advanced tips to fix it.
🏷 Tip 1. Check Amazon Music Subscription
If you're experiencing issues with Amazon Music stopping playing randomly, it's possible that your subscription may be the root of the problem. Make sure that your Amazon Music subscription is active and up-to-date. Just log into your Amazon account and go to the "Your Account" section. From there, select "Your Memberships & Subscriptions" and look for your Amazon Music subscription. If it's expired or needs to be renewed, you'll need to take action to fix it.
See Also: How to Cancel Amazon Music Subscription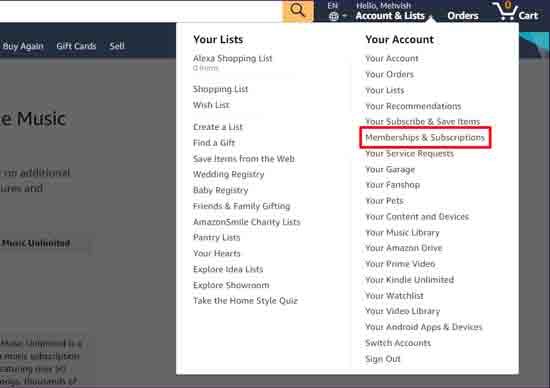 🏷 Tip 2. Enable Autoplay
Autoplay is a feature that allows the app to automatically play the next song in a playlist or album once the current song has finished. When this feature is turned on, you don't have to manually select the next song, which can be particularly helpful in resolving the issue of Amazon Music stopping playback unexpectedly.
To enable autoplay in Amazon Music, follow the steps below.
Step 1. Start the Amazon Music app and go to the settings bar.
Step 2. From there, select "Playback" and then toggle the "Autoplay" switch to the "On" position.
Step 3. Once you've done this, Amazon Music will automatically play the next song without stopping.
🏷 Tip 3. Delete and Re-Download Amazon Songs
Deleting and re-downloading your songs may help to resolve the problem. This is because the issue could be related to corrupted or incomplete files that are preventing the Amazon songs from playing properly. This process should help to ensure that your songs are downloaded correctly and without any errors, which should prevent them from stopping playback unexpectedly.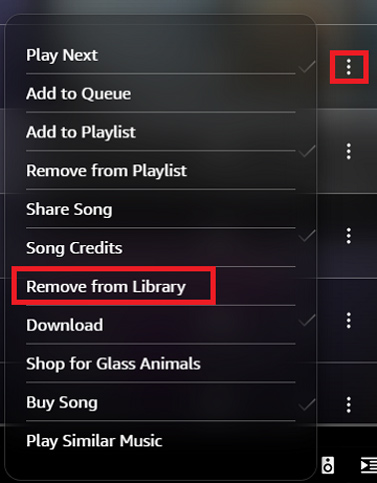 Step 1. Open the Amazon Music app and navigate to the library section where your downloaded songs are stored.
Step 2. Select the songs you want to delete by tapping and holding on them.
Step 3. Tap on the "Remove from library" option that appears.
Step 4. Once the songs have been deleted, navigate to the "Settings" section of the app.
Step 5. Click on "Storage" tab and then "Clear Cache" icon.
Step 6. Finally, navigate back to your library and re-download the songs you deleted.
🏷 Tip 4. Contact Customer Service
If none of these tips work, contact Amazon customer service for further assistance. When you reach out to Amazon Music customer service, be sure to provide as much detail as possible about the problem you're experiencing. The customer service representative may ask you to try some additional troubleshooting steps. They may also be able to provide insight into any known issues or outages that could be affecting your service.
Part 4. How to Fix Amazon Music Stops Playing Randomly - Ultimate Tips
In fact, the Amazon Music stops playing issue is mostly related to a glitch in the app itself. Why not listen to Amazon songs offline without the app? To do that, AudFree Amazon Music Converter is your best helper. It is designed to remove format protection from Amazon Music and convert the songs to a format that can be played on any device.
With it, you can easily convert Amazon Music songs to MP3, FLAC, WAV, AAC, M4A, and M4B formats. It also allows you to customize the output settings, such as the bit rate, sample rate, and channel. Then you can listen to your favorite tunes offline without the Amazon Music app. No need to worry about any playback issues as you can keep the downloaded Amazon music forever.
How to Fix Amazon Music Stops Playing Randomly
Step 1

Add Amazon Music Files to AudFree Amable

Launch AudFree Amazon Music Converter on Mac or Windows and wait for the Amazon Music app to load automatically. You can browse the music library to find the songs you want to download, then drag and drop them directly into the main interface of AudFree Amable.
Step 2

Choose Amazon Music Output Formats and Parameters

Move to the Menu bar in the upper right corner and click on the Preferences option. Select the Convert panel and customize the output format, channels, sample rate, bitrate, etc. It is recommended that you set the output format to MP3 so that Amazon Music is compatible with more devices and players.
Step 3

Get Amazon Music Offline without Playback Issue

Click the Convert button to start converting Amazon Music to MP3 or other common formats. After conversion, click History icon to find all downloaded songs for offline listening on any device. After that you can freely play Amazon Music offline without any problem.
Part 5. In Conclusion
Amazon Music randomly stops playing can be frustrating, but there are several ways to fix it. By following these tips, you can ensure that your music streaming experience remains uninterrupted. If you are not sure how to choose, just try AudFree Amazon Music Converter first to download Amazon Music locally for offline listening without any problem.