"I'm having problems playing songs by certain artists on the Amazon Music app. I'm getting Exception #180 error message." This is a post on the Amazon forums asking for help. It is believed that most of the Amazon Music users have encountered this problem just like the user mentioned here.
However, Amazon has not officially resolved this Amazon Music playback error forever. Fortunately, this post will serve as a detailed user guide to help you understand what this error is, what causes it, and teach you how to troubleshoot it in a variety of ways. If you are experiencing Amazon Music Exception 180, don't miss this article!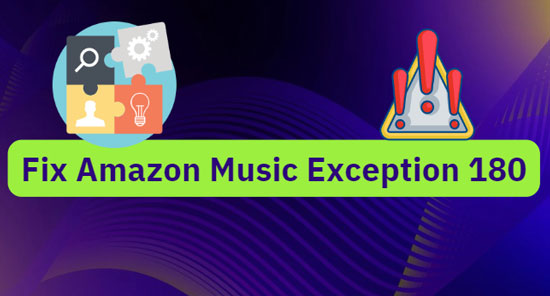 Part 1. What Is Exception 180 on Amazon Music
Amazon Music Exception 180 is a type of playback error that a great number of Amazon Music users had experienced, whether Amazon Music free users or Prime/Unlimited subscribers. It occurs when you listen to Amazon Music offline or sometimes online.
When you hit the play or shuffle button to play the downloaded Amazon Music songs or one specific album, particularly in offline mode, the songs keep buffering or pausing. Finally, you will get the Amazon Music Exception #180 error message like this picture.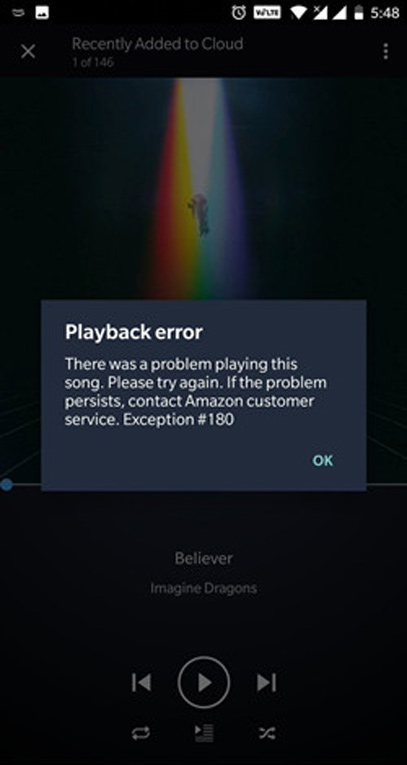 Part 2. What Causes Exception #180 Amazon Music
After testing, we have summarized the possible reasons behind the issue as follows:
➡️ 1. Expired or Canceled Digital License of Amazon Music
Digital license on Amazon Prime Music gets expired or canceled is the most common factor that can account for Exception #180 Amazon Music. When you stop subscribing to Amazon Music Prime, the downloading for offline listening feature will be removed from your Amazon Music account. You will keep getting the pop-up warning of playback error when you play Amazon Music offline till the digital license get renewed.
➡️ 2. Amazon Music Server Issue
Sometimes Amazon Music is under the maintenance and the Amazon Music service is down. Such server issue of Amazon Music can also be responsible for Amazon Music error 180.
➡️ 3. Jailbroken iPhone or Rooted Android
The DRM mechanism adopted by Amazon Music serves to protect the copyright of Amazon Music's official audio and combat piracy. It will protect the licensed Amazon Music content from both jailbroken iPhones and rooted Android.
➡️ 4. Outdated Version of Amazon Music or Device System
Some affected users gave feedback in the Amazon Music forum that, on iOS 16.1, the app turned unusable after updating to the latest version of the Amazon Music app and kept prompting them to sign up for Amazon Unlimited.
It turns out that both the outdated version of the app and the device system play roles in the incompatibility issue. So that when you play Amazon Prime or Unlimited Music in this case, the Exception 180 will exist on Amazon Music.
➡️ 5. Corrupted Cache or Data on Amazon Music
When discussing Amazon Music Exception #180, some users mentioned that the specific song or album with a little plus icon needs to be removed from your device and downloaded again for offline listening. It indicates that the cache or date of such Amazon Music downloads has been corrupted, which is also a potential culprit behind the playback error on Amazon Music.
Part 3. How to Fix Amazon Music Exception 180 - Common Methods
After figuring out possible factors that trigger Amazon Music playback error Exception 180, we can step into how to fix it. We have prepared 5 common methods in this part.
🏷 Fix 1. Check Amazon Music Server Status
First, please check the server situation of Amazon Music. Services like 'DownDetector' or 'Outage. Report' can be used to figure out whether Amazon Music is down via one-clicking the link. A new page showing Amazon Music server status will present as follow. If it shows an underlying server issue after detecting it, all you need is to wait until engineers troubleshoot the error.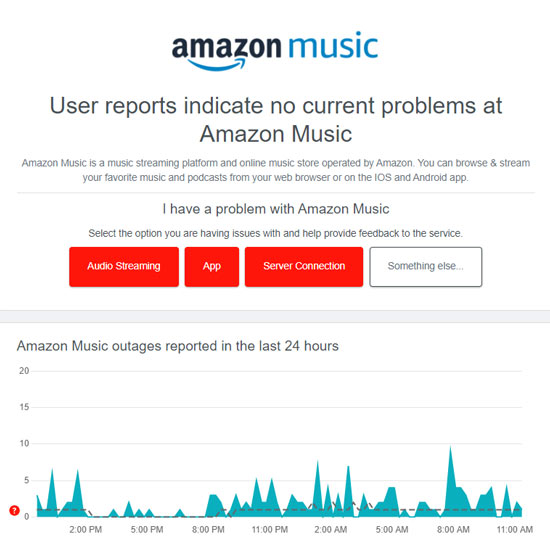 🏷 Fix 2. Force Stop and Reopen the App
Reopen the app facilitates fixing some underlying bugs you don't find. Here is the step-by-step guide.
Step 1. Tap into 'Setting' on your device, then click the 'Apps' option.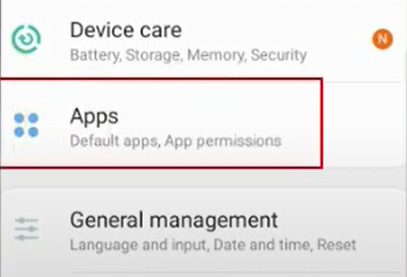 Step 2. Find and choose 'Amazon Music'. Then click the 'Force Close' button.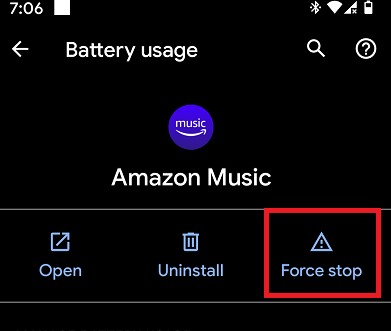 🏷 Fix 3. Update Amazon Music App and Device
An outdated Amazon Music app and device may get stuck in incompatibility with each other. Not only that, both of them may fail to support Amazon Prime or Unlimited Music. Thus you will get the playback error message followed by Exception #180 while listening to those premium songs. So try to update your Amazon Music app and device.
Update Amazon Music App
Step 1. In App Store or Play Store, check if your Amazon Music app runs with the latest version through getting into the 'Update' section.
Step 2. If not, please click the right 'Update' button and install the latest version of the app on your device.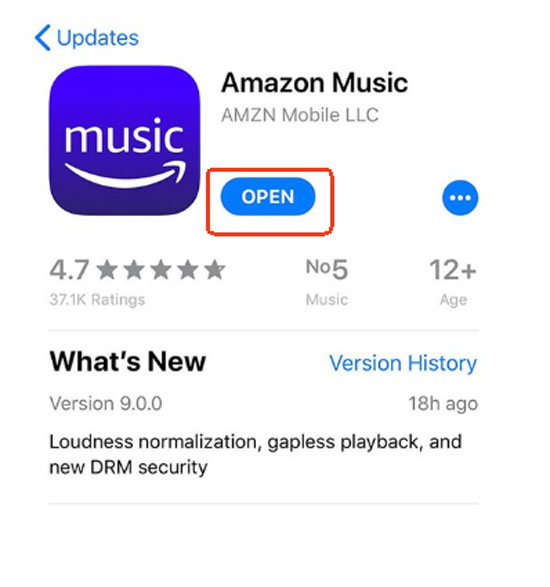 Update Device System
Step 1. Get into the 'Settings' page.
Step 2. Tap into the 'General' interface on your mobile. If you are using the Amazon Music app on your computer, please select 'Update' to check for updates.
Step 3. Click 'Software Update' or choose 'Check For Updates' if using a computer. Then you can upgrade your device system.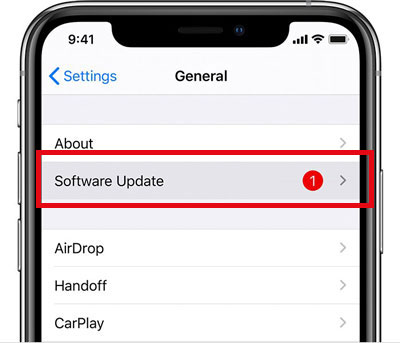 🏷 Fix 4. Sign Out and Sign Back into Amazon Music Account
It's also conducive to bugs fix including Exception #180 error resolution on Amazon Music by signing out and signing in again to the App.
Step 1. Click the three-dot icon in the top right corner to access 'Settings'.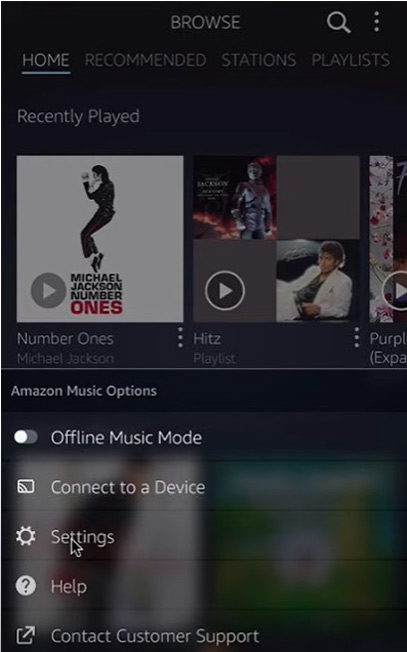 Step 2. Scroll down to the bottom of the interface and tap the 'Sign out' button to sign out of your Amazon Music account.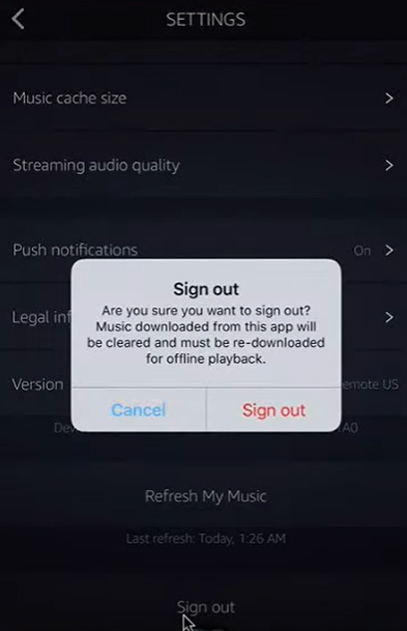 Step 3. Sign back in to your Amazon Music account on your device.
🏷 Fix 5. Reinstall Amazon Music App
If it is not related to the account, please proceed to reinstall the Amazon Music app, which is also a commonly used method while dealing with playback errors. And the app will preserve the original data such as the cache, the downloaded audio files, and the settings of the app automatically.
Just follow the instruction below:
Step 1. Get into the 'Setting' app on your device and select the 'Applications' option.
Step 2. Select 'Amazon Music' and click 'Uninstall' to delete it.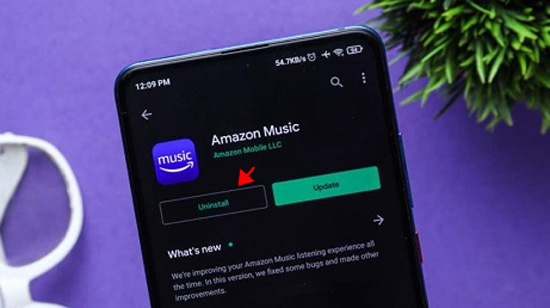 Step 3. Download the Amazon Music app again on your device.
Alternatively, try this way on mobiles:
Step 1. Hold on the Amazon Music app for a while until the app icon begins to jiggle.
Step 2. Tap the 'X' icon. In this way, you can quickly access to unload the music app.
Step 3. Go to the app store or the Amazon Music website to download the app again.
Part 4. How to Solve Exception 180 Amazon Music - Advanced Methods
If the above common troubleshooting steps don't work, you can refer to the advanced tips below to fix Amazon Music playback error 180. Let's take a look at the exact solutions.
🏷 Fix 1. Unjailbreak iPhone or Unroot Android
With the Digital Rights Management mechanism, you will be prevented from Amazon Music playback and encounter Amazon Music error code 180 on your jailbroken iPhone and rooted Android. This is because the mechanism automatically detects that your phone/tablet firmware has been tampered with.
But before that, you need to restore your settings and data of your device through clicking 'setting' and 'iCloud' in it. Then choose 'Storage & Backup'. [Take iPhone for Example]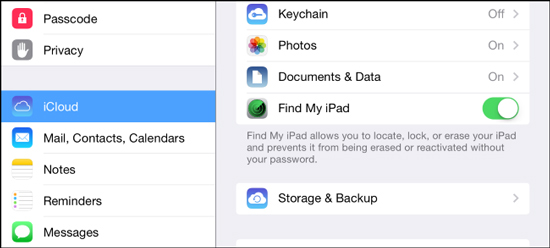 🏷 Fix 2. Renew the Digital License of Amazon Music
The expired or canceled digital license of Amazon Music Prime/Unlimited contributes to the Exception number 180 error on the music service. You can renew the digital license as the following instruction:
Step 1. Check your Amazon Music subscription in 'Your Memberships & Subscriptions'.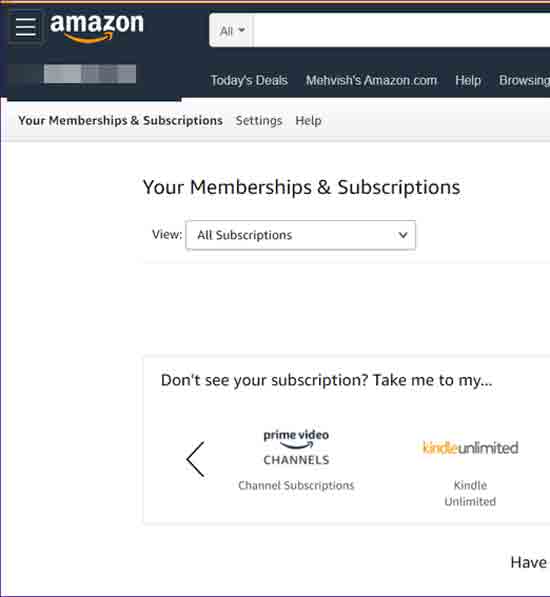 Step 2. If your subscription was expired or canceled, connect your device to the internet and use Amazon Prime Music.
Step 3. Then the digital license will be renewed automatically if you confirm the renewal agreement, otherwise, you have to subscribe to Amazon Prime Music again step by step. After you make it, Exception 180 on Amazon Music will disappear.
🏷 Fix 3. Clear the Amazon Music App Cache or Data
To solve the problem of Exception #180 caused by the corrupted cache or data, you need to clear the Amazon Music cache or data as the following steps:
Step 1. Tap the Settings icon on your device and select the 'Apps' option.
Step 2. Choose 'Amazon Music' from the apps list.
Step 3. Scroll down to the 'Storage' section, in which you can choose to 'Clear Data' or 'Clear Cache' of the app.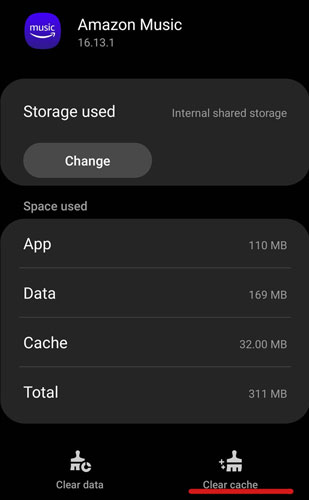 If it fails to troubleshoot the playback error, you are required to delete the Amazon Music songs or album symbolized by a little plus icon from the local folder and download them again.
Part 5. How to Fix Amazon Music Error 180 Forever - Ultimate Method
If all of the above methods fail to resolve the error, we recommend you try this ultimate way: use a third-party gadget to download Amazon Music and listen to the downloads on other devices or players. Here, we would like to introduce a one-stop program - AudFree Amable Music Converter.
It is designed to download and convert HD, Ultra HD songs and other content from Amazon Music to multiple output formats such as MP3, FLAC, WAV, etc. for better compatibility. Then you can listen to those downloaded Amazon Music songs offline everywhere. With it, you can get rid of the disturbing of Amazon Music Exception 180 error forever.
Moreover, this smart tool allows you to download Amazon Music losslessly with full metadata and ID3 tags preserved, which facilitates sorting and managing your music library. Not only that, you are allowed to customize settings such as Amazon Music output formats, bit rate or bit depth, sample rate, and more parameters with just a few clicks for better sound quality.
AudFree Amazon Music Converter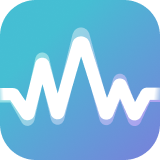 Download Amazon Prime or Unlimited Music to computer locally
Convert Amazon Music to MP3, FLAC, WAV, etc.
Fix all Amazon Music not working issues
Support to play Amazon Music on various devices and players without any error
How to Fix Amazon Music Error 180 Forever
A step-by-step instruction to download various audios from Amazon Music with AudFree Amable Music Converter is prepared for you as follows:
Step 1. Set Audio Output Format and Other Parameters
Double-click the AudFree Amazon Music Converter to run this app. Amazon Music app will launch in sync. Tap on the top-right setting tab that is like a gear. Click 'Preference' to open a new menu and click 'Convert'. To get a better music experience, you have to customize settings for Amazon Music such as the output format as MP3, FLAC, AAC, M4A, M4B, etc., sample rate, bit rate, audio channels, and other parameters.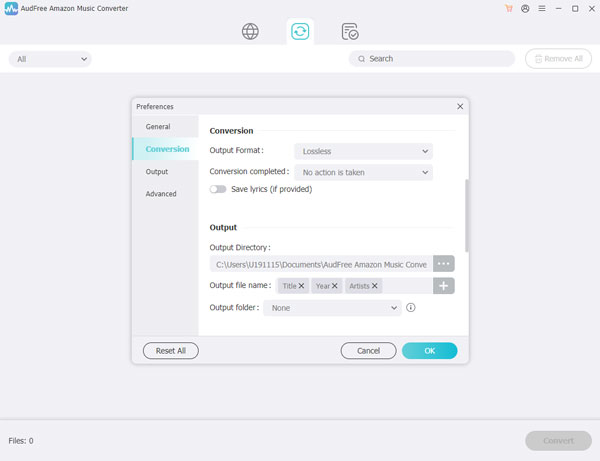 Step 2. Transfer Amazon Music to AudFree Amazon Music Converter
Tap on the three-dot icon like '...' to copy the URL links of Amazon Music songs and paste them to the converter's search bar. Then click the '+' button in the bottom right to add files. Or, you can try this quick way: drag and drop the audio directly from Amazon Music to the converting tool.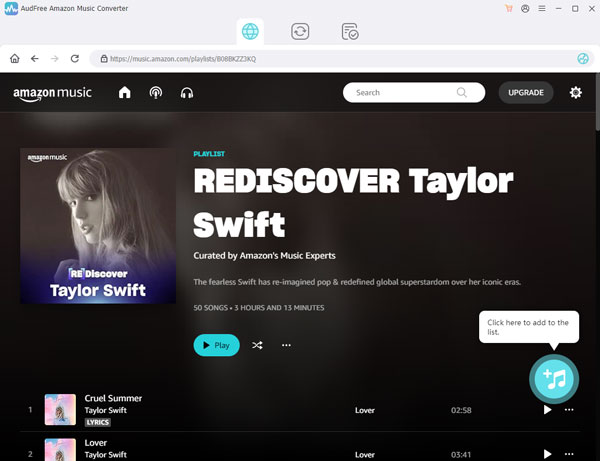 Step 3. Convert Amazon Music as Local Files
Proceed to convert Amazon Music locally by clicking the bottom-right 'Convert' button, the downloaded files will be saved automatically in a folder. In the lower right corner, you can see the converting history and tap on the tab beside it to open the folder. You are supported to listen to Amazon Music on multiple devices without playback errors.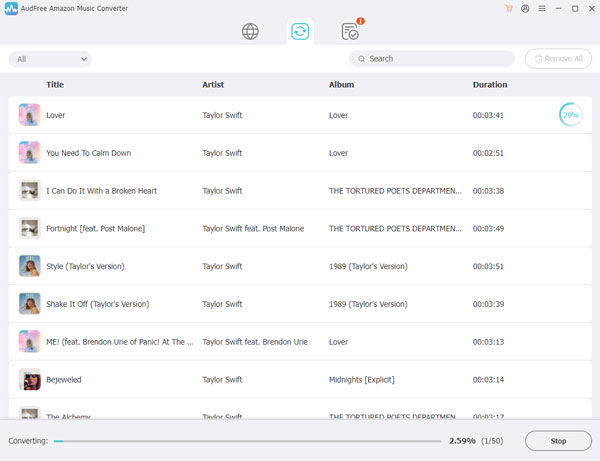 Part 6. In Conclusion
After reading this post, you have understand definitely what is Amazon Music Exception 180 and how to fix it according to relevant reasons. Particularly, we recommend you use the one-stop tool: AudFree Amable Music Converter. With it, you can troubleshoot all Amazon Music playlist errors forever without any limitations. Also, it supports you to play Amazon Prime or Unlimited Music on all devices even Amazon-unauthorized devices without any trouble.
If you have any else good ideas about fixing Amazon Music playback errors, please leave your comment!