Amazon Music is an excellent streaming platform with a great tune selection. It gives access to millions of music, albums, playlists, podcasts, etc., considered informative and enjoyable by many people. Also, even though it is a streaming platform, you can listen to tracks, playlists, and albums using the offline feature.
With all the excellent features of Amazon Music, most subscribers would have experienced a form of Amazon Music not working on their device. This involves the application not working at all, constant and consistent crashing, unresponsiveness on both Android and iOS devices. This article will act as a guide as it directs you on how to solve the problem.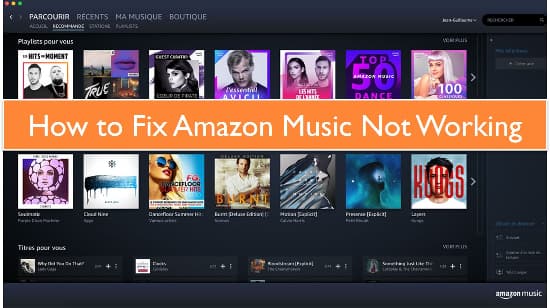 Part 1. Fix Amazon Music Not Working - Official Ways
If Amazon Music is not working on an iPhone or Android device, below are a few methods to resolve the problem.
1. Check the Network Connection
Your Amazon Music software might not work due to network issues. This is visible when you get error messages such as "Failed! Due to network error. Retry when you have a stronger connection".
This form of Amazon Music not working issue occurs due to many reasons. It can be an issue with the app itself, restriction of Amazon Music app by your Internet service provider, wrong Internet setting, issues with Internet connection.
To avoid this, ensure you have a strong and stable Internet connection. Also, ensure that your Internet service provider grants access to Amazon Music app. If not, contact them and ask them to allow Amazon Music app.
2. Restart Your Device
Sometimes the error "Amazon Music app not working" might be due to your mobile device. The most common and reliable way of resolving this is by restarting your device. Exit all running apps on your device, switch the device OFF, and then turn it ON. You can now try to re-launch the app.
3. Clear Amazon Music App Cache
Caches are like a log of information stored by an application for efficient running. While they help the application to quickly remember where it left off, they can also cause many problems, such as Amazon Music Player not working. Therefore, clearing the Amazon Music app cache is an excellent way to refresh the Amazon Music mobile app on smartphones. It can be done on Android phones and when Amazon Music not working on iPhone.
For Android Devices
Method 1:
Step 1. Open the "settings" window, then click on "App" > "Amazon Music" > "Storage".
Step 2. Tap the "Clear Cache" button to clear the Cache. After the process is complete, restart the Amazon Music app.
Method 2:
Step 1. Click and hold the app icon, and a window will pop up.
Step 2. Click the "App setting" to open the Amazon Music setting panel.
Step 3. Find the "Clear Cache" button, then click to erase Cache.
Step 4. Restart the App and check whether the problem still persists.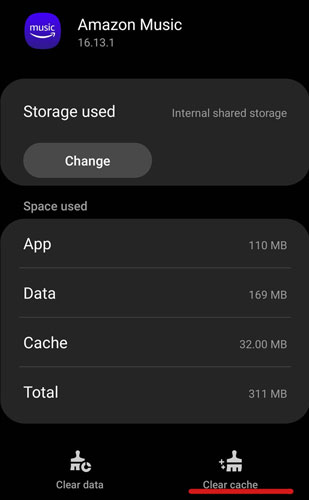 For Apple iOS Devices
Step 1. Click on the "Settings" icon to open the iOS settings panel.
Step 2. Find the Amazon Music app, tap it.
Step 3. Search for "Clear Cache", click the toggle to clear the Cache.
Restart the software to check if the issue still persists. If it persists, try the next method.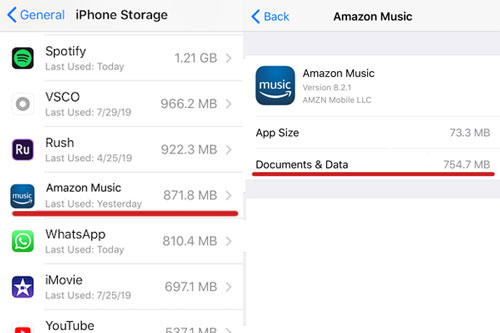 4. Reinstall Amazon Music App
If the problem persists after trying the above methods, especially when the Amazon Music app for PC not working, this method should be able to resolve it. Uninstall the Amazon Music app on your device, then visit the Apple Store/Google PlayStore depending on your device to install the application on your device again.
Part 2. Fix Amazon Music Not Working - Best Way
Problems encountered while using the Amazon Music platform may be frustrating and can result in a lack of interest. Therefore, the best way to resolve any Amazon Music issue, especially those experiencing the "Amazon Music desktop app not working" issue, would be to obtain Amazon Music tracks and playlists as local files on your computer. Achieving this is only possible by using AudFree Amazon Music Converter.
AudFree Amazon Music Converter is a free Amazon Music downloader that converts Amazon Music to plain audio format like MP3, FLAC, WAV, AAC, and others without a loss in quality and needs for continuous subscriptions.
AudFree Amazon Music Converter
How to Download Amazon Music from Built-in Amazon Music Web Player on AudFree
To download Amazon Music using AudFree Amazon Music Downloader and Converter, you can go to download and install the app on your PC. Follow the steps below on how to download Amazon Music to computer for use.
Step 1

Adjust audio output parameters for Amazon Music

Click the "three lines" icon at the top right of the interface, select "Preference". Click on "Advanced" to choose your desired output format for the converted audio. For example, you can set to convert Amazon Music to MP3, etc. And you can set the bit rate, sample rate, and channel. You can also set the "Output Path" where the application will save your converted music.
Step 2

Add the Amazon Music playlist to AudFree

Find the album, playlist, and podcasts you desire to download, then hit on the playlist you want. And then click on the gray "+" button to add it to the conversion list on AudFree.
Note: To add any single Amazon Music song to the conversion list, you need to create a playlist and add the playlist to the conversion list.
Step 3

Convert the added Amazon Music to computer

On the conversion list, click on "Convert" to convert the selected Amazon Music playlists, albums, and podcasts. Once done, click on the 'converted' icon to find the Amazon Music tracks on your computer.

Note: You can add more playlists for download during conversion by clicking the "Music library" tab on AudFree.
Part 3. Conclusion
There are many "Amazon Music not working" issues you can experience as a subscriber to the music streaming platform. This article gave several methods to resolve the issue, such as clearing cache, restarting your device, etc. It further introduces using the AudFree Amazon Music Converter, an application that can remove the need for Amazon Music application while providing the quality music associated with the platform. Now you can enjoy Amazon Music on your desired media player without issue.