Nowadays, there are so many streaming music services for us to choose, and it is quite a time consuming to compare them one by one by searching for their feedback on the Internet. The old saying "different strokes for different folks" is truly accurate in this field. It is hard to figure out which one is best for you unless a long time usage.
In this article, we focus on the comparison of Amazon Music Unlimited and Apple Music head to head for music catalogue, subscriptions, sound quality, compatibility, and highlights. Read to find which one suits you best.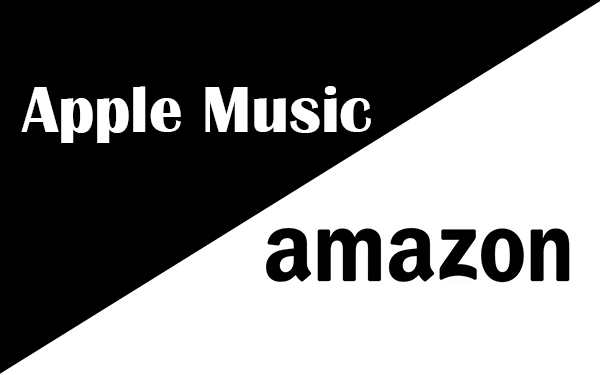 Music Catalogue
Both of Amazon Music Unlimited and Apple Music offers a huge music library with a whopping 50 million songs to their subscribers. But Apple Music still takes superiority in terms of exclusives contents which contain concert videos, live shows, new releases, etc.
The maximum download limitation is 100,000 songs in both Apple Music and Amazon Music Prime. Based on the iCloud feature in Apple Music's library, users can transfer their songs or playlists to any devices by logging in the same Apple ID, while Amazon Music's feature is not adequately developed for the reason that the upper limit on the number of devices is 10. If you want to play Amazon Music on over 10 devices, you are suggested to download and record Amazon Music.
Subscriptions
There are 3 main types of plans provided by both Amazon Music Unlimited and Apple Music for the public: individual plan, Student plan, and Family plan. The most telling difference is the individual plan, which Apple costs $9.99 a month in the United States (prices vary depending on different countries' and territories' currency) while Amazon launches a variety of promotional activities. For the Amazon Prime members, they are required to pay an additional $7.99 every month (or $79 a year) to get the music service. For those Prime members who have bought an Amazon Echo, the subscription fee is as low as $3.99 per month which can be only bound to 1 device. For other people, it is at the same price of $9.99 every month as Apple Music.
As for the other 2 plans, both student subscription plans cost you $4.99 a month and need you to sign up by using the educational institution credentials. And the pricing of family plans is $14.99 per month, which enables a maximum of 6 family members to use the streaming music services with the same personal account. It is also feasible for Apple Music family members to share iTunes purchases with others apart from the music catalog, and the condition of this operation is to use the same credit card for App Store purchases.
Sound Quality
Apple Music track's quality is regarded as 256kbps bitrate. Amazon hasn't announced the particular data of its streaming bitrate, claiming that its music service supports "multiple bitrates", but the general guessing is that it's the range of sound quality is from 48 Kbps to and 320 Kbps, which reach the average level of streaming music quality in the market. Plus, It is reported that Amazon is preparing to launch a new HiFi music streaming service this year, which may be better than CD quality.
Compatibility
Apple is notorious for rejecting building relationships with other firms while Amazon is more friendly. However, when we come to streaming music, both companies provide good compatibility with other devices.
Apple Music runs on all of its products like iPhone, iPad, Apple Watch, Mac, HomePod and so on. It is also compatible with most competitors' smartphones and tablets with the Android system for the reason that Google gives permission to Apple Music to run on Android. You can also play Apple Music on Sonos speakers by using the Sonos Controller app on any mobile device, and plus, many of Amazon's smart speakers support Apple Music tracks for playback via Alexa.
Tips: If you'd like to play Apple Music songs on other devices without the Apple Music app, you can use AudFree Apple Music Converter to convert Apple Music tracks to MP3, FLAC, WAV, AAC, M4A and M4B with 100% original lossless quality. And then you can import those converted Apple Music files to any device for playback with ease.
Amazon Music (both Prime and Unlimited) works well on a great variety of Alexa smart speakers, Fire tablets, Fire TV, and most non-Amazon devices. For mobile devices, whether it is Android or iOS, Amazon is suitable for them because of the specialized apps for the different operating systems. You can also install a desktop app or visit the web play when using Amazon Music on the computer.
Highlights
Amazon Music Unlimited
1. Seamless connection with Alexa-powered products
2. 50 million tracks
3. Included as part of Amazon Prime membership
Apple Music
1. Completely combine with Apple's devices
2. 50 million tracks
3. Music exclusives
4. Beats 1 live radio
5. Support to upload local music files
Conclusion and Suggestion
By the comparisons above, we can see that Apple Music is a better choice if you are looking for a music streaming app which owns far more popular music tracks especially the music exclusives and videos, high compatibility with Apple devices and a precise interface. From another point of view, Amazon Music is more suitable for those who are already Amazon Prime members, helping them save money but also get a decent music service from Amazon Music Unlimited, or offering them free music service through Amazon Prime Music.