There are literary hundreds of music streaming services in the world that you can use to stream and enjoy your favorite songs. But not all these services are the same. Some have very limited music libraries, so you will have trouble finding all your favorite tracks in the same place. Others charge exorbitant fees while many others are not just user-friendly. The key to enjoying a music streaming service is to pick the best service and use it.
When it comes to picking the best in the music streaming world, then Pandora and Amazon Music are at the very top. How do you then pick one over the other? Is Amazon Music better than Pandora? This may sound difficult at fast, but when it comes to comparing Amazon Music vs Pandora. The key is to consider several factors such as the following.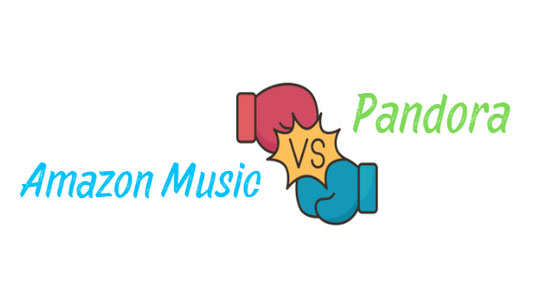 Part 1. What Is Amazon Music vs What Is Pandora
Before we compare the two services, let's look at them one by one. What is Amazon Music? As you already know Amazon Music is one of the world's leading streaming services in the world. It is owned by Amazon. This is why if you are an Amazon Prime member, then you enjoy Amazon Music for free. This gives you access to millions of songs, podcasts and playlists. You can enjoy Amazon Music on both Android and iOS devices and on all Amazon Echo and Alexa-enabled devices. This service is available in 30 countries worldwide.
Pandora, on the other hand, is also a popular music streaming service that is owned by California (USA) based the Sirius XM Holdings. It was first started as an internet-based radio but has grown over the years into full-fledged music streaming services with millions of songs, playlists and podcasts. It is only available to users in the United States.
Part 2. Amazon Music vs Pandora Free Plan
Amazon Music is so popular because it offers listeners high-quality audio. If you have never used this service before, you may opt for the Amazon Music Free option. Here you will be given access to thousands of stations and a select number of playlists without having to be an Amazon Prime member. However, you can only use this service on one device at a time and there is no offline playback for a free member. You also can play standard definition quality only.
If you want to try out Pandora, then the Pandora free plan is the perfect beginner's plan. This is an ad-driven plan meaning that you see lots of ads on the screen during your playtime. Furthermore, you can't skip songs as skipping is limited to only two songs. There are no track replays but you have access to all podcasts and songs in the library. The music quality is also limited to 64 Kbps.
Part 3. Amazon Prime Music vs Pandora Plus
If you are an Amazon Prime member, then you can access Amazon Music with your Amazon Prime membership. However, this does not mean that you have access to all the Amazon Music features. For example, you have access to 2 million songs only and can only play the standard definition quality. Moreover, you cannot download the songs for listening to offline. Yet, you can personalize playlists and stations and have access to unlimited ad-free plays. With Amazon Prime, you can only play Amazon Music on one device.
A comparable Pandora music plan to Amazon Prime is the Pandora Plus. For only $4.99/month, Pandora Plus will give you access to all podcasts and songs on the Pandora platform. All this will be ad-free. Moreover, you have unlimited tracks skips, limited offline listening. However, you still have limited track replays.
Part 4. Amazon Music Unlimited vs Pandora Premium
For Amazon Music vs Pandora Premium, here you can find more about them.
The best Amazon Music plan is the Amazon Music Unlimited plan. With this plan, you have access to all the 90 million-plus songs and other content forms in the Amazon Music library. You can personalize playlists and stations as you wish. Furthermore, you get access to different playback qualities including Spatial Audio, Ultra HD, HD and the SD. All these are ad-free plays. You can also download and listen to Amazon Music offline. If you opt for the unlimited family plan, then you can play your music on up to six devices at the same time.
Pandora Premium is the best plan you will get from Pandora music. With this plan, you will get access to all podcasts and music on the Pandora library. Furthermore, you have ad-free playback, unlimited track skips and you can listen to all your songs offline whenever you want. You can also create, personalize and share all your best playlists.
Part 5. Amazon Music vs Pandora Audio Quality
Amazon Music offers four music qualities that include: Standard Definition (SD), High Definition (HD), Ultra-HD and Spatial Audio. However, only the Amazon Music Unlimited plan subscribers have access to all four. The other users only have access to the standard definition quality. All songs on the platform are streamed as lossless FLAC files.
Pandora music streams its content in the AAC+ format. Free plan users have access to the 64 Kbps quality only. The paying customers have three qualities to choose from. These three are Low (32 Kbps), Standard (64 Kbps) and High (192 Kbps).
Part 6. Amazon Music vs Pandora Music Library
Amazon Music library is made up of 90 million albums, playlists and podcasts. Besides a huge library, you get recommendations of songs and playlists based on your taste. You can also discover new artists and select popular acts catalogues. This makes it easy to find songs and enjoy all your favorite content.
Pandora's music library is made up of over 50 million songs, lyrics and podcasts. It has an advanced music discovery feature to help you sort through the songs to discover new songs. You can use Pandora stories to see comments about tracks and artists and to check artist information.
Part 7. Pandora vs Amazon Music Device Limitations
Amazon Music makes it easy for you to listen to your favorite songs on as many devices as possible. The Amazon Music app is compatible with both iOS and Android operating systems. The desktop apps work perfectly well on both Windows and macOS operating systems. You can also play your Amazon Music on Fire OS and on all Alexa-enabled devices including smart TVs.
Pandora music has also done its fair share of work to make it easy for users to access the music library on almost any device. You can use the app on almost any operating system. It also works on personal computers, some smart speakers and car stereo systems too.
Extra Tips: Download Amazon Music Songs for Playing Offline on Any Device
If you love some playlists on Amazon Music that are not in Pandora, then we have a solution. Using AudFree Amazon Music Converter, you can download all your favorite songs for easy listening offline without the often-disturbing ads when you are a free user. You can also use this tool to convert your Amazon Music songs to any format for easy playing on any other device.
To download Amazon Music songs and use them offline, follow these steps using AudFree Amazon Music Converter.
Step 1

Set up the AudFree Amazon Music Converter

Download and install the AudFree Amazon Music Converter onto your desktop and then launch it. This will open your Amazon Music app. Then log into your account to start the process. Next, click on the "Three lines" button in the top right corner and then select "Register". The registration window will open, then enter the required details to complete the process.
Step 2

Choose your preferred music format for Amazon Music

Navigate back to the top right corner and click on the "Three lines" button again, then choose "Preferences", then "Convert". Now select your preferred song format of Amazon Music, such as MP3, WAV, FLAC and customize any other audio parameter as you want and save your changes.
Step 3

Add Amazon Music songs you want to download to AudFree

Search for the songs or albums you would want to convert and download. Tap on the individual song or album and then click "Share", then "Copy Link" to copy the link and paste it in the AudFree Amazon Music Converter's search box and then click the "+" icon. Repeat the process until you have all the songs or albums you want to download.
Step 4

Convert and download Amazon Music offline

Now simply click the "Convert" button for all the songs you have added to the tool to be converted and downloaded. Once the downloading is done, simply go and click the "Converted" icon to find the download songs. Now you can play Amazon Music on multiple devices.
The Bottom Line
Amazon Music and Pandora are some of the most popular music streaming services in the world. However, they differ in several ways.
For example, if you want the most extensive music library, then you will find it on Amazon Music. If you want the highest quality of songs or if you live outside the United States, then Amazon Music is your best bet. However, if you want to access to the largest must library for free, then Pandora is the best. If want to download your Amazon Music songs for listening offline or on unsupported devices, then consider using AudFree Amazon Music Converter. It will help you a lot.