Music streaming services have become increasingly popular in recent years, with Amazon Music and Pandora being two of the most well-known options. Both services offer millions of songs, personalized playlists, and a variety of subscription plans. However, there are some key differences between the two that may make one more appealing than the other.
Now, this article will take a closer look at Amazon Music vs Pandora, comparing them in those areas you care about. By the end, you'll have a better understanding of which service might be the best fit for you.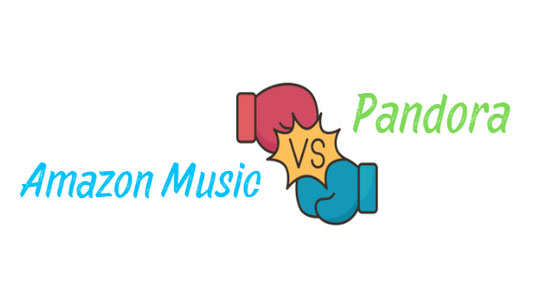 Part 1. Amazon Music vs Pandora: Overview
Before we compare the two services, let's look at them one by one. What is Amazon Music? It is owned by Amazon. This is why if you are an Amazon Prime member, then you enjoy Amazon Music for free. It offers users access to over 100 million songs, as well as curated playlists and radio stations on both Android and iOS devices and on all Amazon Echo and Alexa-enabled devices. This service is available in 46 countries worldwide.
Pandora, on the other hand, is a music streaming and automated music recommendation internet radio service owned by California (USA) based the Sirius XM Holdings. It was first started as an internet-based radio but has grown over the years into full-fledged music streaming services with millions of songs, playlists and podcasts. It is only available to users in the United States.
Part 2. User Interface
Amazon Music has a sleek and modern interface that is easy to use. The home screen has a clean layout, with large graphics and bold text that make it easy to find your favorite songs and playlists. The search function is also intuitive, with auto-suggestions that appear as you type in your query.
In contrast, Pandora has a more minimalist interface that focuses on simplicity. The home screen features a prominent search bar and a list of your recently played stations. Pandora's strength lies in its algorithm that creates personalized radio stations based on your listening history. The platform also offers a "thumbs up" and "thumbs down" feature that allows you to fine-tune your stations based on your preferences.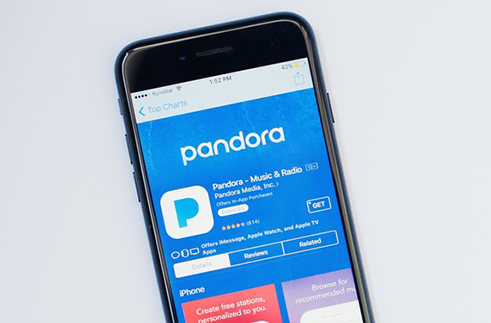 🏆 Winner: Pandora
Part 3. Music Library
When it comes to Pandora vs Amazon Music library, Amazon Music has a larger music library than Pandora, with over 100 million songs available to stream. This includes popular hits, as well as more obscure tracks across a wide range of genres. Amazon Music also offers exclusive content, such as live performances and original music, which can only be found on the platform.
Pandora has a smaller music library, with around 60 million songs available. However, it has an advanced music discovery feature to help you sort through the songs to discover new songs. You can use Pandora stories to see comments about tracks and artists and check artist information.
🏆 Winner: Amazon Music
Part 4. Subscription Plans
Now let's talk about the price aspect that users are more interested in. Amazon Music offers three main plans: Amazon Music Free, Amazon Prime Music and Amazon Music Unlimited. Amazon Prime Music is included with an Amazon Prime membership, which costs $14.99 per month. Amazon Music Unlimited is available for $10.99 per month, or $8.99 per month for Amazon Prime members to have the ability to get Amazon Music downloads.
Pandora also offers several subscription plans, Pandora Free, Pandora Plus and Pandora Premium. Pandora Plus costs $4.99 per month and offers users ad-free listening, unlimited skips, and offline listening. Pandora Premium offers all the features of Pandora Plus, as well as the ability to make and share playlists, for $9.99 per month.
| | Free | Premium Individual | Premium Family | Premium Student | Others |
| --- | --- | --- | --- | --- | --- |
| Amazon Music | Yes | $14.99/month(Amazon Prime); $10.99/month(Amazon Music Unlimited) | $15.99/month | $5.99/month | / |
| Pandora | Yes | $9.99/month | $14.99/month | $4.99/month | Pandora Plus: $4.99/month Premium Military: $7.99/month |
Both Amazon Music and Pandora offer competitive subscription plans with different features and pricing options to cater to different users' needs. In terms of Amazon Music Unlimited vs Pandora Premium pricing, Pandora is the better.
🏆 Winner: Pandora
Part 5. Sound Quality
Amazon Music offers four music qualities that include: Standard Definition (SD), High Definition (HD), Ultra-HD and Spatial Audio. However, only the Amazon Music Unlimited plan subscribers have access to all four. The other users only have access to the standard definition quality. All songs on the platform are streamed as lossless FLAC files.
See Also: Amazon Music Unlimited vs Prime Music
Pandora music streams its content in the AAC format. Free plan users have access to the 64 Kbps quality only. The paying customers have three qualities to choose from. These three are Low (32 Kbps), Standard (64 Kbps) and High (192 Kbps).
As for Amazon Music vs Pandora sound quality, Amazon Music's High Definition option is the clear winner.
🏆 Winner: Amazon Music
Part 6. Supported Devices & Regions
The Amazon Music app is compatible with iOS, Android, Windows and macOS operating systems. You can also play Amazon Music on Fire OS and all Alexa-enabled devices including smart TVs. Pandora is also available on a variety of devices, including smartphones, tablets, smart speakers, and desktop computers.
When it comes to regional availability, Amazon Music has a wider reach than Pandora. Amazon Music is available in over 46 countries, including the United States, Canada, the United Kingdom, Germany, France, Italy, Spain, Japan, and Australia. In contrast, Pandora is only available in the United States.
🏆 Winner: Amazon Music
By the way, Amazon Music song downloads are restricted in use and you can only use them on Amazon licensed devices. To break this restriction, we have prepared a solution, namely AudFree Amazon Music Converter. It is used to download all Amazon music with a free account for easy offline listening. What's more, you can also use it to convert Amazon songs to MP3, FLAC, WAV and other formats for playback on any other device.
To download Amazon Music songs and use them offline on any device, follow these steps using AudFree Amazon Music Converter.
Step 1

Choose preferred music format for Amazon Music

Navigate back to the top right corner of this tool and click on the "Three lines" button, then choose "Preferences" then "Convert". Now select your preferred song format of Amazon Music, such as MP3, WAV, FLAC and customize any other audio parameter as you want and save your changes.
Step 2

Add Amazon Music to AudFree Amazon Music Converter

Search for the songs or albums you would want to convert and download. Tap on the individual song or album and then click "Share", then "Copy Link" to copy the link and paste it in the AudFree Amazon Music Converter's search box. Then click the "+" icon, and repeat the process until you have all the songs or albums you want to download.
Step 3

Convert and download Amazon Music offline

Now simply click the "Convert" button for all the songs you have added to the tool to be converted and downloaded. Once the downloading is done, simply go and click the "Converted" icon to find the download songs. Now you can play Amazon Music on multiple devices.
Part 7. Social Features
Pandora has long been known for its social features, which allow users to share their favorite stations and songs with friends. With Pandora, you can create a profile, follow other users, and see what they're listening to. You can also connect with friends on Facebook and share your music activity there. Additionally, Pandora has a feature called "Crowd Faves," which shows you the most popular songs among other Pandora users.
On the other hand, Amazon Music is more focused on personalization and discovery than social features. While you can still follow artists and see what they're up to, there isn't as much emphasis on sharing your music activity with friends. That being said, Amazon Music has been making some strides in the social space. In 2020, the service introduced a feature called "Music HD" that allows users to stream high-quality audio and share songs with friends on Instagram, Facebook, and Twitter.
🏆 Winner: Pandora
Part 8. Artist Payment
Amazon Music pays artists based on the number of streams their songs receive. The more streams an artist gets, the more money they earn. Additionally, Amazon Music offers artists the option to participate in their Amazon Music for Artists program, which provides them with insights into their music's performance and audience engagement.
Pandora pays artists through a combination of royalties and advertising revenue. The company pays a fixed rate per stream, which is determined by various factors such as the listener's location and the type of account they have. It's worth noting that both Amazon Music and Pandora pay a fraction of a penny per stream.
🏆 Winner: Amazon Music
Part 9. Which Is Better: Pandora vs Amazon Music
Is Amazon Music better than Pandora? Amazon Music and Pandora are some of the most popular music streaming services in the world. However, they differ in several ways. You can refer to the comparison table below to get a better idea of the differences between the two.
| Streaming Service | Amazon Music | Pandora |
| --- | --- | --- |
| Max streaming quality | up to 24 bit, 192 kHz | 192kbps |
| Supported Formats | MP3, FLAC | AAC |
| Music Library | 100 million | 60 million |
| Music Library | Nearly 46 countries | 60 million |
| Availability | Nearly 80 countries | US |
| Supported Systems | Android, iOS, Desktop | Android, iOS, Desktop(not for free users) |
Both services have their strengths and weaknesses. Amazon Music has a larger music library and offers high-quality audio streaming at no extra cost with its HD plan. It's also available in multiple countries worldwide. Pandora's strengths lie in its personalized radio stations based on users' preferences and listening history. It's also more affordable than Amazon Music.
Ultimately, which service is better depends on your personal preferences and needs.