Falling asleep to music is a pleasant way to drown out the world and drift into a soft sleep. Some people like to enjoy Apple Music or Beats 1 Radio on their phone while falling asleep. But the only downfall is when that Apple Music wakes from a deep slumber in the middle of the night, or it plays all night and you wake up to a completely drained battery. You need a sleep timer that can help turn the music off after you've fallen asleep.
However, many people might not be aware of the existence of Apple Music sleep timer on their phones. So, in the article, we will show you how to set a sleep timer on iPhone and Android phones. Then you will be able to listen to Apple music late night without having to worry your phone battery draining overnight.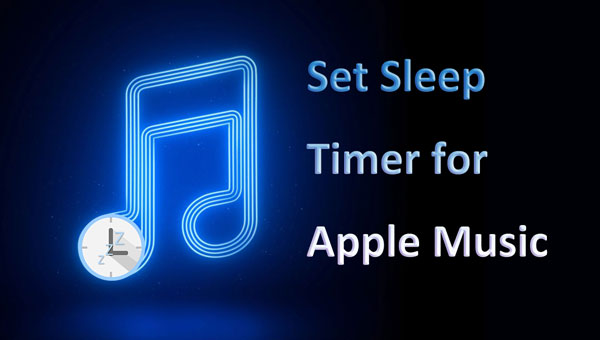 Part 1. Set Apple Music Sleep Timer on iOS Devices
Does Apple Music have a sleep timer? There is no direct sleep timer in the Apple Music app, but weirdly in Apple's Podcast app, it does have a built-in sleep timer. If you want to set a sleep timer for Apple Music, you will need the help of the timer in the Clock app.
Step 1. Start to play Apple Music or Radio on your iOS devices.
Step 2. Tap to open Clock and go to Timer from the bottom.
Step 3. Set the time for how long you'd like to play music.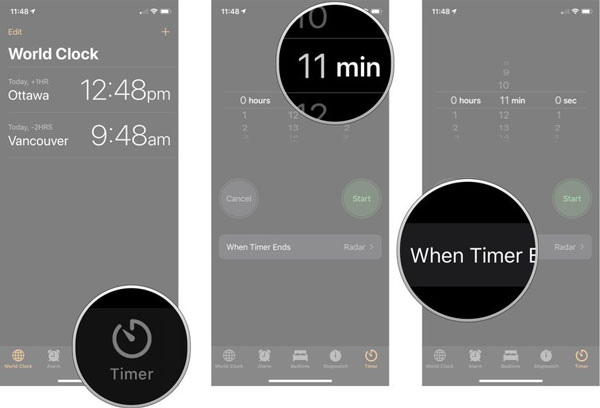 Step 4. Tap on When Timer Ends and scroll down to select Stop Playing.
Step 5. Press Set to save the change and return to the timer.
Step 6. Tap on Start to start the timer.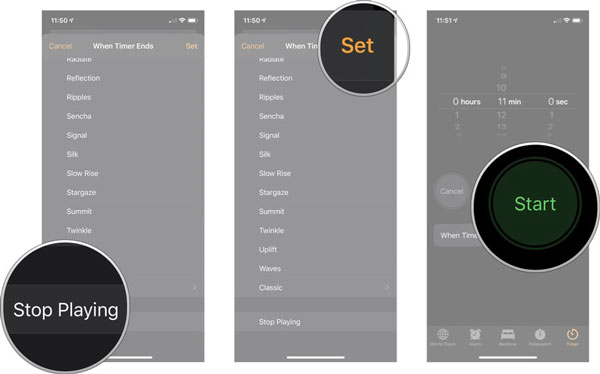 Now, you are all set. Go ahead to play your Apple Music while falling asleep.
It is said that the clock timer does not only work for Apple Music but any app playing audio too. This can be quite handy for late-night listening. However, some users report Spotify does not always work with this feature. Well, you may need to find out the answer on your own iOS devices to see if the timer works with certain third-party apps, or you can download a Spotify sleep timer from the App Store.
Also, your preference to stop playing media will be remembered, so next time you don't have to go through the whole set-up process again. All you need to do is set the time length and start the timer.
Part 2. Set Apple Music Sleep Timer on Android
Yet there is no built-in timer app for Android devices, there are many free useful third-party timer apps can be found in the Google Play store. And we have found three most popular sleep timer apps for you: Sleep Timer (Turn music off), Cozy Timer, Sleep Timer. They all work hand-in-hand with many popular music players.

These three user-friendly apps share similar set-up steps, so we will give a tutorial with quick steps, using Sleep Timer (Turn music off) as an example to set a sleep timer for Apple Music on Android devices.

Step 1. Find the app from the Google Play store and have it installed on your phone.
Step 2. Launch the app, and set the countdown timer in the main interface.
Step 3. Start the countdown timer, and you can check out the timer by pulling down the notification panel.
When the time comes, the sleep timer will softly fade your music out. As you can see from the picture above, this app is embedded with other thoughtful features. For example, if you haven't fallen asleep once the timer runs out, just simply shake your phone to extend it and keep playing the Apple Music.
More Tips: Download Apple Music for Any Media Players
If you want the same features from these sleep timer apps on your iOS devices, you can also find them in the App store. Actually, unlike the Apple Music app, a lot of media players do have a built-in sleep timer. Thus, an alternative way to play Apple Music with a sleep timer is to download and import them into other media players.
There are quite a few aspects you can benefit from downloading Apple Music to common audio formats. You can play the downloaded Apple Music on Amazon Echo while falling asleep, or you can use Apple Music as the ringtone or clock alarm. Not to mention that once you download Apple Music, you will no longer need to stream them using data and it also saves you some phone battery.
To download Apple Music for offline listening on any media players or devices, you can do it easily in 3 steps with the help of AudFree Apple Music Downloader. This great software is capable of downloading at 30X speed and convert them to common audio formats like MP3, FLAC, WAV, etc. While preserving the original quality of Apple Music, it can also keep all the ID3 tag info such as artist, genre, year. Why no download the free trial version to fully explore all functions of AudFree Apple Music Downloader yourself?
Summary: After reading this article, I guess you've learned how to set Apple Music sleep timer on your phone now. Enjoy your Apple Music and go ahead sleep on it! If there are other problems, feel free to discuss it with everyone by commenting below.