Many Spotify users search this question hundreds of times a day: "Does Spotify have a sleep timer?". Unfortunately, Spotify doesn't have a so-called sleep timer function. But Recently, Jane Manchun Wong, the engineer of Spotify, tweeted out some of the new features she was testing,which includes built-in sleep timer on Spotify.
It is quite heartening news. Up to now, for iOS users, they can use the built-in function called Timer on Clock app, which helps to stop Spotify music automatically during sleep. However, for android users, there is no internal installed sleep timer, which means the Sportify sleep timer application for android is still on-demand.
Spotify sleep timer would automatically stop the music after a stipulated period of time so that people can listen to Spotify music when falling asleep. In this article, we will recommend the top 3 Spotify sleep timer to android devices by the comparison of main functions and some highlight features. By carefully reading, Android users can find out the best Spotify Sleep Timer Apps.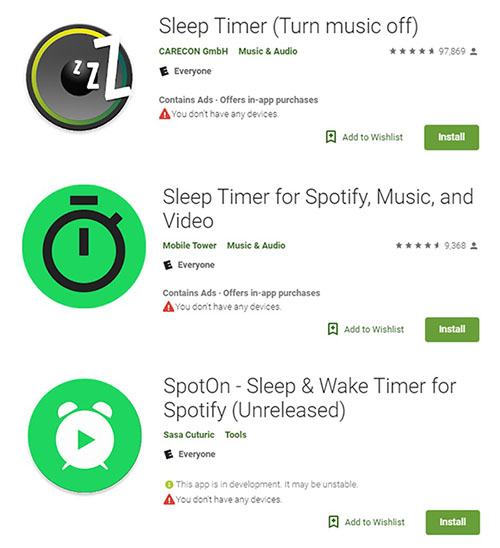 1. Sleep Timer (Turn music off)
Sleep Timer (Turn music off) is a professional versatile tool to help those who like to fall asleep while listening to music. Likewise, Android users can use this app to turn off Spotify along with sleeping. Lots of functions are also available.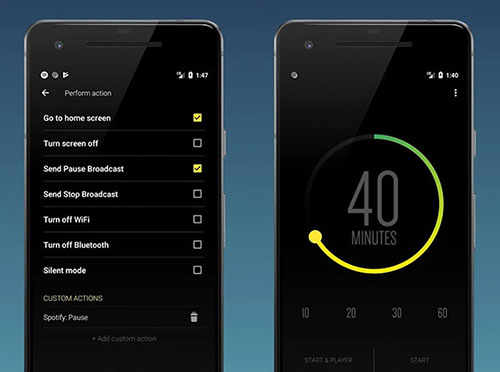 Pros:
(1) A number of music apps are available for setting music. like Spotify, Google Play Music, TuneIn Radio, YouTube, and etc.
(2) Additional special function like Shake Extend, which allows you to shake the phone to extend the duration of the timer. Therefore, you don't have to unlock your phone and hit the apps to reset the timer.
(3) Many other powerful functions can be used in the sleep settings. By adjusting perform function, you can set the perform function like "Turn screen off", "Send Pause Broadcast", "Turn off WiFi" and more. With the multiple functions, you can deal with any problem that you may come across while sleeping.
(4) The main Interface is simple and easy to use.
Cons:
Ads are built-in and show up on the main interface of the sleep timer. But it can be removed by purchasing the premium version.
2. Sleep Timer for Spotify, Music, and Video
Sleep Timer for Spotify, Music, and Video is a professional software for Spotify Android users. It can automatically stop the music after presetting time. The intuitive interface with time setting button helps you easy to operate. It is also available for many other music players and video players, or even YouTube.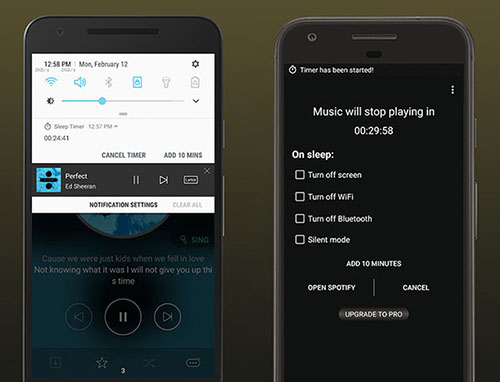 Pros:
(1) Various music apps are compatible with setting the sleep timers, for instance, Spotify, Google Play Music, YouTube, and many many more.
(2) Fade out music playing when falling asleep.
(3) Multiple languages are offered to choose.
(4) Highlight feature "Music lower volume" is provided for option to help you sleep better.
Cons:
(1) Only support to manually enter the time setting number.
(2) It is not a free app but contains ads that will pop up sometimes on the main interface.
3. SpotOn Sleep & Wake Timer for Spotify (Unreleased)
SpotOn Sleep & Wake Timer for Spotify is specialized in providing the sleep timer function for Spotify Android users to enjoy Spotify music along while sleeping.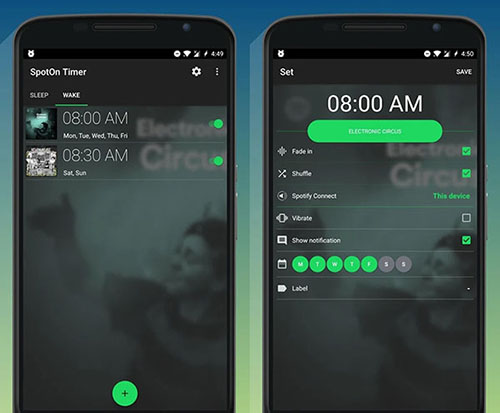 Pros:
(1) Two intuitive operating systems are available for setting timer. One of that is named "Sleep", and the other is called "Wake". Therefore, you can choose what you need to download rather than download 2 timers for sleeping and wake up for Spotify.
(2) Slowly fade-out music at night and fade-in in the morning.
(3) The main interface of the timer is concise to operate.
(4) Support to play music on other devices using Spotify Connect.
(5) It is a free app without ads.
Cons:
(1) It is an unreleased version in development. It may be unstable.
(2) Different from other sleep timers, it does not allow you to set stipulated period of time. It just supports you to set the sleep timer as several time points, like 5 minutes, 10 minutes, etc.
In Conclusion: The Best Spotify Sleep Timer Android Apps
We have listed 3 Spotify sleep timers to listen to Spotify sleep playlists in this article. Sleep Timer (Turn music off) and SpotOn Sleep & Wake Timer for Spotify (Unreleased) are both free to use, while Sleep Timer for Spotify, Music, and Video just costs a bit of money.
If you are looking for a free and multifunctional Spotify sleep timer for Android, Sleep Timer (Turn music off) is the best choice, since it is compatible with Spotify and numerous music players, provides many functional options like "Shake Extend" and many other powerful features to solve problems during sleep.