One of the reasons for the growing popularity of Apple Music is its unique features. One such is the built-in equalizer settings that allow you to change the sound delivery while listening to your favorite hits. You don't need to be a tech-savvy to use the Apple Music Equalizer app. Rather, the preset requires only a few movements to adjust the sound frequency.
Everyone's preferences are different, so what you need to do is to optimize the sound to the specific preferences you find appealing with EQ. How to do it? This article will explain how to set up Apple Music Equalizer on Android, iOS, Mac, PC and the 5 best EQ for Apple Music for your reference.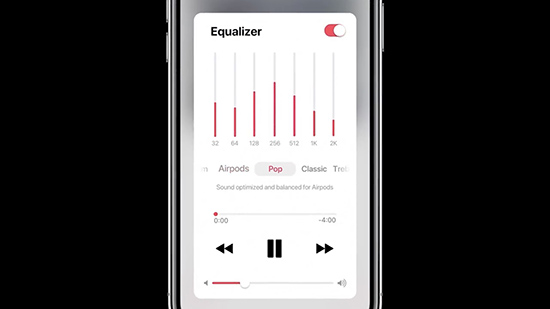 Part 1. How to Use Equalizer on Apple Music
It's simple to adjust Apple Music EQ settings because it only takes a few steps. Furthermore, you can make many adjustments, such as boosting bass, tuning clear vocals and more. Follow the steps below to learn how to do this on your computer or mobile device.
Adjust EQ on Apple Music for iPhone/iPad
Step 1. Click on the "Settings" app, then scroll mid-way and select the "Music" option.
Step 2. Tap on the EQ button under "Play" and select the desired equalizer.
Step 3. Open EQ to browse all available presets and select a favorite music effect.
Step 4. Go to Apple Music to play the song with the new sound effect.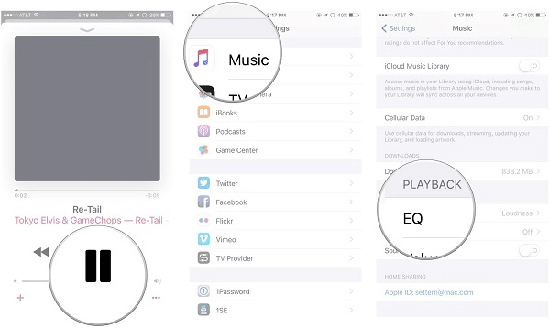 Set Equalizer on Apple Music for Android
Step 1. Launch the Apple Music app and sign in to your account.
Step 2. Tap the three-dot icon in the upper-right corner and select "Settings".
Step 3. Tap EQ under the Playback section.
Step 4. Drag the slider next to it to enable the EQ and select a desired preset.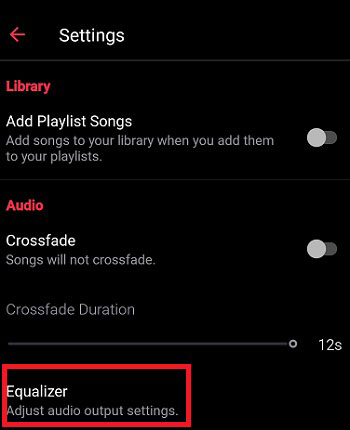 Change Apple Music Equalizer on Mac
Step 1. Launch the Apple Music application on your Mac desktop.
Step 2. Select Window > Equalizer.
Step 3. On the pop-up screen, select a preset or drag the slider to adjust the sound parameters.
Step 4. Tap the "On" button to turn on the Apple Music Equalizer feature.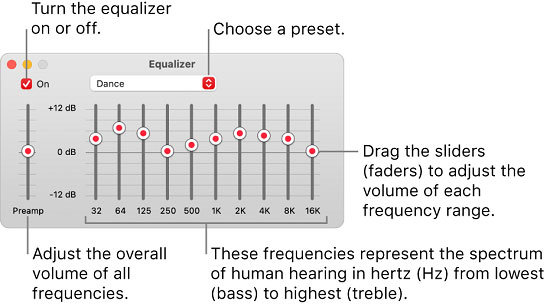 Set up Apple Music EQ on PC
Step 1. Launch the iTunes app on your PC, tap View option in the menu bar.
Step 2. Click Show Equalizer option.
Step 3. Choose the desired preset and adjust the frequencies by moving the sliders.
Step 4. Hit the 'On' button to enable Equalizer for Apple Music.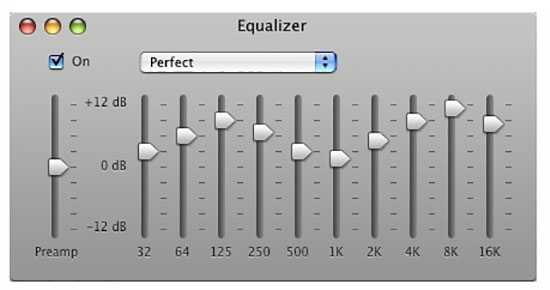 Part 2. Top 5 Best Apple Music Equalizer for Android/iOS
#1 Equalizer FX: Bass Booster App (iOS)
It is the best Apple Music EQ app for iPhone and iPad. With its powerful 7-band equalizer and dynamic bass tuning features, you can quickly create your own custom presets. It also includes a bass booster and loudness enhancer to adjust the sound effects of your music to suit your preferences. You can also use the audio filters to modify the frequency envelope of the sound and enhance the stereo effect.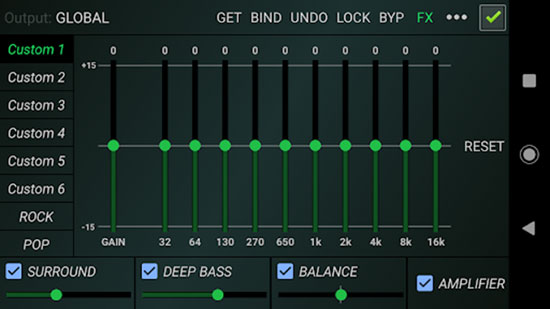 #2 Boom: Music Player & Equalizer (Android & iOS)
It is one of the best bass boosters and equalizer apps for Android and iOS. With a customizable 16-band equalizer, 3D surround sound and hand-crafted presets, you can immerse yourself in your favorite music. You can also create your own custom presets to enjoy music the way you want. It also allows you to listen to music from Tidal streaming service or stored on Dropbox and Google Drive.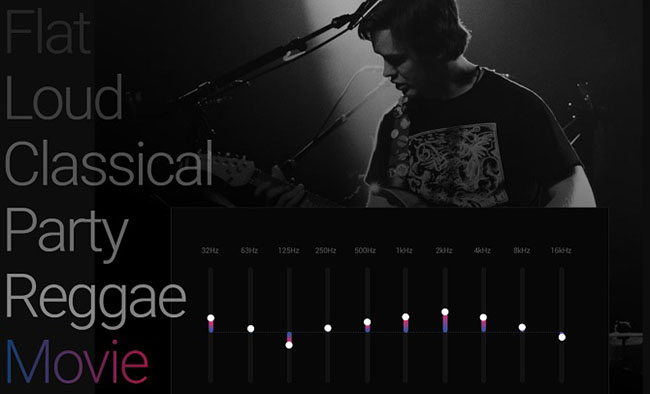 #3 Equalizer+ Pro: HD Music Player (Android & iOS)
Equalizer+ is an all-in-one music player, equalizer, bass enhancer. With this Equalizer for Apple Music, you can mix, edit and customize the sound of your tracks to get the best music listening experience. You can adjust the volume and give more depth to your tracks with the 7-band equalizer, as well as 10 equalizer presets based on the music genre.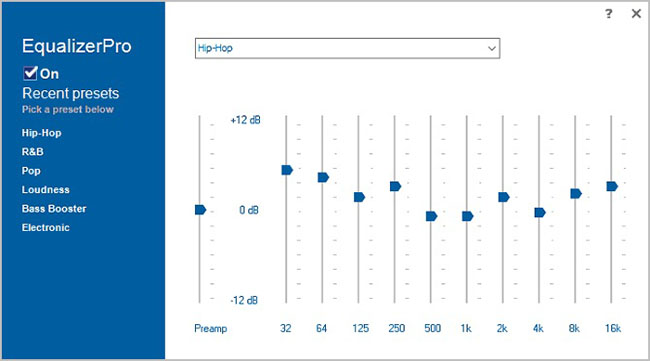 #4 Music Volume EQ (Android)
It is an equalizer, bass enhancer and virtualizer for Android devices. It can also be used as a music player for your phone to play your music with 3D effects. Configured with a 5-band equalizer, it can boost audio, adjust bass and treble levels, and create custom sound profiles to suit your preferences.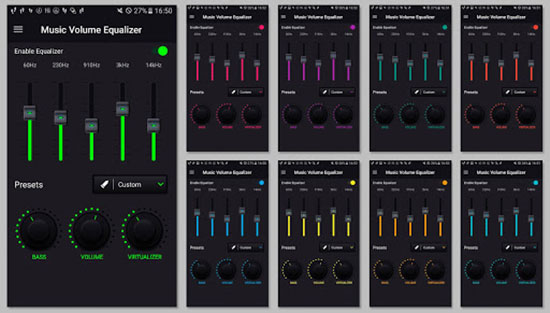 #5 Flat Equalizer: Bass Booster and Volume Booster (Android)
Flat Equalizer provides you with an equalizer, a bass booster, a volume booster and a virtualizer. For best sound results, it is recommended to connect this application with headphones or speakers to feel the best sound quality. Its outstanding features are the 5-band equalizer controller and the surround sound effects. You can enrich your music collection with presets covering various music genres.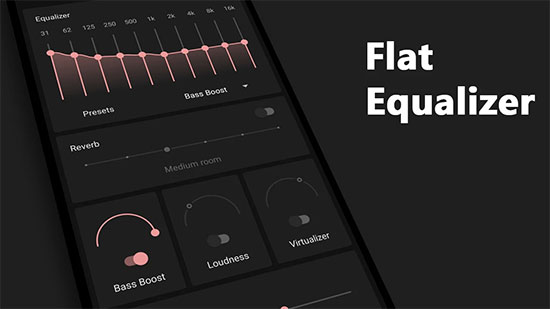 Part 3. Best Equalizer Settings for Apple Music
It is not a difficult task to tweak your Apple Music custom EQ. What is important is how to set the best equalizer settings for Apple Music as there are multiple presets here for you to choose from. These presets are designed by experts to match the taste and music style of most people. You can learn about the following important Apple Music EQ settings so that you can listen to Apple Music the way you like.
Acoustic: It emphasizes the bass and treble while balancing the midrange and greatly improving the mix. It can have a huge impact on the sound quality, making it really stand out.
Bass Enhancer: It boosts the bass and improves the overall sound. If used with bass headphones, you can fully immerse yourself in the sound effect.
Treble Booster: It purposefully increases frequencies above 2500Hz and emphasizes higher pitched sounds, which in turn creates a brighter, more atmospheric sound.
Deep: It is mainly used to boost the bass and midrange and reduce the treble part.
Part 4. How to Set Equalizer for Apple Music without Problem
You can also encounter problems when you try to apply the above equalizer app to set up Apple Music. Because Apple music is protected by digital rights management and cannot be used on unauthorized devices. In this case, you should convert Apple music to a common format in order to set up EQ without any obstacles.
Here, we come across AudFree Apple Music Converter, which is dedicated to remove encryption from Apple Music. It can convert Apple Music songs to MP3, AAC, M4A, M4B, WAV and FLAC. It will run at 30X faster speed, while the output audio quality and ID3 tags are retained. Then you can effectively apply the desired Apple Music EQ settings to the converted songs.
Step 1

Import Apple Music to AudFree Auditior

Open AudFree Apple Music Converter, iTunes will be launched automatically. You can click the first "Load iTunes Library" tab to import protected Apple Music. Or simply drag and drop them to the home screen.
Step 2

Customize Output Format for Apple Music

You now need to customize the output format so that you can set EQ on all Apple Music equalizers. To do this, touch the 'Format' button so as to open the format window. Next, define output format and other output settings like bit rate.
Step 3

Convert Apple Music for Equalizer

Once you have customized the Apple Music output format, it is now time to remove the protection. Click on the 'Convert' button so as to commence the conversion process. Once this is done, you can now set EQ on all Apple Music to your most preferred presets without any further problem.
Part 5. The Bottom Line
In short, you can follow this article to adjust Apple Music EQ settings. Also, here are 5 best Equalizer for Apple Music with unique features. They enable you to fully explore your fills and change your musical journey to a different level.
However, mishaps can happen that prevent you from getting that perfect sound. That's where AudFree Apple Music Converter comes into play. With it, you can convert Apple Music to MP3, WAV, FLAC, etc. and in turn set Apple Music on all EQ and get quality music that you desire.