With the boom in music streaming, music plays an integral role in our daily life. Among them, Apple Music is widely popular among music lovers for its hot and well-curated songs and playlists. Whether you're on your daily jog or just resting your eyes, you can find solace in Apple Music playlist.
In fact, with so many good Apple Music playlists to choose from, it can be a bit overwhelming. So, to save you time, we've compiled a list of the top best Apple music playlists you can't miss. Just follow along to open and enjoy an Apple Music playlist.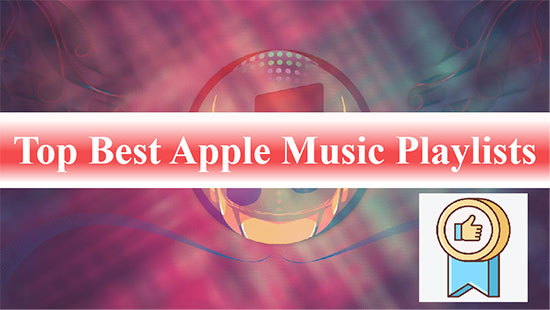 Part 1. Top Best Apple Music Playlists
Top 1. It's Lit!
This playlist contains real pop music as it curates the best tracks from Drake, Lil Baby, Lil Tjay and more. Also, it is regularly curated and updated by Apple with the best vocal versions, good R&B, and plenty of hip-hop from around the world. The collection of 100 songs can be played for 4 hours and 48 minutes, which is waiting to be explored.
Top 2. Sleep Sounds
This is the best bedroom pop apple music playlist, the latest tracks are specially selected and filled with calming sounds to soothe your mind. If you have trouble sleeping, then it's the antidote because it will help you relax deeply and let you fall asleep naturally like a child. These songs are like gentle vines with a hint of nature to help your brain stop whirring.
Top 3. Top 100 Global
Sometimes you can get stuck in a music rut, but that can't happen once you pay attention to this top playlist on Apple Music. It's completely packed with the world's most popular tracks, and the Top 100 Global playlist is updated daily so you can get a hug of the world's top music on any given day.
Top 4. Unwind
The Unwind Apple Music playlist is a blend of indie pop, electronic and R&B music. Whenever you want to release and get rid of stress, this constantly updated Apple Music playlist is a timely cure. Pour yourself a cup of tea and relax with the Unwind music collection.
Top 5. The Plug
This best rap playlist on apple music covers new releases from rap's rising stars, from Baby Keem to Juice WRLD. If you're passionate about contemporary rap, then you can find new and great entries in the rap world here ranging from bass-heavy trap songs to bouncy tracks.
Top 6. In My Room
This nice Apple-curated playlist serves as the soundtrack at the end of a long day. In My Room, filled with the calming whispers of artists like Joji and Khalid, it will give you an ethereal feeling. Its simplicity and quietness make it one of the most relaxing pieces of music you'll find on Apple music playlists.
Top 7. Breaking R&B
Whether you're at work or on your daily commute, or just turning on your alarm clock to get ready for bed, the Breaking R&B playlist will get you in the zone and into a new class of R&B. Love, lust, hurt, and joy - all the sensual thoughts of the subconscious emanate through sound while immersing you in a soothing, satisfying and freeing dream state.
Top 8. The New Atlanta
Containing everything from 21 Savage to Future, Lil Baby and Lil Yachty, The New Atlanta is recognized as an impenetrable bastion of rap. It contains rap songs in every genre you can imagine that will blow your mind. With different aesthetics, the music just won't please everyone, but the name Atlanta is convincing enough.
Top 9. Motown Love Songs
Motown Love Songs is a powerful collection of romantic ballads, such as those by Smokey Robinson, Stevie Wonder and Boyz II Men. In these passionate times, everyone can get a perspective on R&B music from this best Apple Music hip hop playlist.
Top 10. Heartbreak Pop
When you are going through a bad life and feeling overwhelmingly painful and confused, here the music of Justin Timberlake, Shawn Mendes, Demi Lovato, Justin Timberlake and others can keep pushing you and give you the strength of determination. You can find emotional resonance in Heartbreak Pop Apple Music playlist.
Part 2. How to Listen to Apple Music Playlist Offline for Free
As you may know, Apple Music, a popular paid streaming music service, offers top-notch Apple Music playlists. You can only get access to Apple Music playlist if you subscribe to Apple Music. However, if you turn to the best AudFree Apple Music Playlist Converter, there is still a way for you to listen to Apple Music playlist offline for free, even if you cancel your Apple Music subscription.
In fact, it is a powerful tool dedicated to download and convert Apple Music playlist to MP3, AAC, WAV, FLAC and other common formats. In turn, you can get unprotected Apple Music files on your computer locally. With the help of this converter, you can enjoy Apple Music offline without subscription whenever and wherever possible.
How to Listen to Apple Music Playlist Offline for Free
Step 1

Add Apple Music Playlist to AudFree Auditior

Download and launch AudFree Auditior on your computer and click the first Add button in the bottom left corner to import any Apple Music playlists you like. Alternatively, you can drag and drop Apple Music playlists into the main interface directly.
Step 2

Adjust the Output Format of Apple Music Playlist

Once you have finished adding Apple Music, click the Format button at the bottom right corner of the interface to open the settings window. At this time, you can convert the Apple Music playlist format such as MP3, FLAC, etc. It can also customize other Apple Music parameters, after that click the OK button.
Step 3

Listen to Apple Music Playlist Offline for Free

Finally, click the Convert button and it will start the process of downloading and converting Apple Music playlist. Once it is done, you can navigate to the Apple Music files on your local computer. This way you can have the free Apple Music playlist forever without subscription.
Part 3. FAQs about Apple Music Playlist
Q: How Many Playlists Are Available on Apple Music?
Apple Music offers more than 30,000 expertly curated playlists in a variety of genres, from alternative rock to classical music. Besides, Apple Music allows users to create unlimited Apple Music playlists to customize their music listening experience.
Q: How Many Songs Can I Have on an Apple Music Playlist?
When a user creates a new playlist on Apple Music, there is no limit to the number of songs that can be stored on the playlist. The only major limitation comes from the storage space in the iCloud Music Library, which can store up to 100,000 songs.
Q: What Happens to Apple Music Playlists after My Subscription Expires?
Once you cancel your Apple Music subscription or your membership expires, any previously downloaded Apple Music playlists will be deleted. Just renew your membership or use the AudFree Apple Music Converter mentioned above and you'll be able to get your Apple Music playlists again.
Part 4. In Conclusion
This article provides you with best playlists on Apple Music for your reference. Also, if you want to listen to any preferred Apple Music playlists offline without any restrictions, AudFree Apple Music Converter will perfectly achieve your goal. Now it's time to start enjoying Apple Music playlists properly.