As the top music streaming service, Amazon Music offers a library of over 100 million songs and a variety of carefully crafted playlists, stations and podcasts based on mood, theme or genre. In turn, music fans are able to navigate the vast world of music and find their way through the musical wilderness relying on the perfect Amazon playlist.
If you're stumped by the sheer amount of Amazon Music playlist, don't worry, this article has compiled a selection of top playlists curated by Amazon Music experts for you to choose from. In addition, you'll also learn about an efficient way to download playlists on Amazon Music without a subscription. Without further ado, let's get into these epic Amazon Music playlists.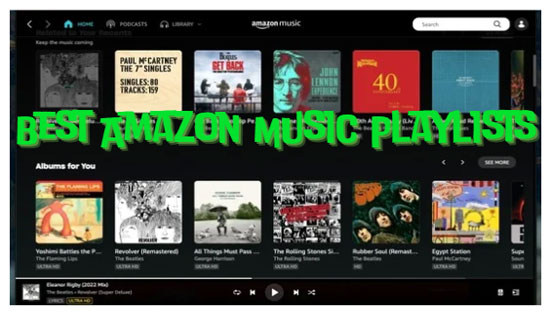 Part 1. Top 10 Best Amazon Music Playlists
1. Country Heat
Country Heat represents the hottest and best music in country music right now. It is a country music playlist launched by Amazon Music for markets outside the United States, offering a superb service to country fans. This carefully curated playlist contains new and established country artists and is available in over 35 countries worldwide.
2. Mellow'70s Gold
The music of the 70s was not bound by rules and encompassed disco, funk, new wave, folk, southern rock and more. Mellow Golden is used to describe this particular genre of music, which combines the best of pop, soul and relaxed music. This playlist on Amazon Music features a smooth, relaxing and often sentimental sound.
3. All Hits
This playlist gives you the hottest songs in the world, and you'll find new tunes that you're constantly hearing on TikTok. All Hits is curated by Amazon Music experts and updated every Friday. It contains the biggest songs in the world and you can stay awake through these mixes of upbeat and lively music.
4. Classical Focus
This Amazon prime music playlists mainly consists of a curated collection of distinctive classical masterpieces. It is also known as the better Amazon Music playlists for work because the tranquil mix of classical music helps you to concentrate. It can help you to relax and calm down if you are feeling tired or stressed.
5. Mellow'80s Gold
Miss those 80's radio hits with a lighter sound, the Mellow Gold genre has elements of soft rock and folk rock, similar to classic rock from the 80's. If you're looking for 80's radio hits, Mellow Gold is probably the perfect genre for you.
6. Classic Rock Hits
It is billed as a collection of classics from rock legends spanning a decade that will take you back to your good old rock days. Generally, classic rock mostly appeals to adult listeners, but with the growth of the internet, music associated with the format is gaining more exposure among younger listeners. With Classic Rock Hits, it's easy to get into rock star form.
7. Viral Hits
Viral Hits contains famous tracks from the internet, it may be music that the public must know or music to remember. You may be surprised to find that some of the songs on this Amazon playlist are already classics and hits. If you are willing to kill time, it will definitely give you the perfect musical experience.
8. Oldies Hits
Old tapes and CDs have gone out of fashion, but as the saying goes, classics never go out of fashion, and you can listen to those timeless classics from the 50s, 60s and 70s with the carefully curated Oldies Hits. Oldies is a term that refers to the genre of music from the second half of the 20th century, particularly from the mid-1950s to around the 1980s. If you want to embark on a nostalgic journey, Oldies Hits is perfect for you.
9. Acoustic Chill
Come and reap the rewards of laid-back acoustic tunes. This playlist captures the mellow side of pop and indie music. It's a cool playlist for relaxing and lounging, including hot contemporary acoustic artists. Whether it's a lazy afternoon or a leisurely break from work, Acoustic Chill's music will put you at ease.
10. Gentle Afternoon Naps
If you're having trouble falling asleep, this best sleep playlist on Amazon Music will help you soothe your body and mind as it is full of slow and soft tracks. Close your eyes and feel the most subtle and soothing moments. If you're looking for a study playlist in the background, it can also create a warm, familiar feeling to add an air of calm to any environment.
Part 2. How to Download Amazon Playlist without Subscription
The best playlists on Amazon Music above are intriguing enough, aren't they? When it comes to downloading Amazon Music playlists, the common method is through Amazon Music prime or unlimited subscription, while it is a bit difficult for free users. Therefore, we have found the perfect tool to get Amazon playlists locally for all users, namely AudFree Amazon Playlist Converter.
It is an innovative and professional Amazon playlist downloader and converter, specially designed to download Amazon Music Unlimited and HD music, playlists, albums, etc. to your computer locally. It can effectively convert Amazon playlists to popular audio formats such as MP3, AAC, WAV, FLAC, etc. What's more, you can keep Amazon Music playlists at 320kbps for offline playback on any device.
AudFree Amazon Music Downloader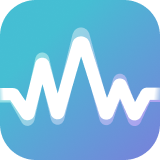 Convert Amazon Music playlist to MP3, AAC, WAV, FLAC, etc.
Save playlists on Amazon Music locally for free use
Play Amazon Music playlists on any platform offline
Download playlist from Amazon Music without Subscription
Step 1

Add Amazon Playlists to AudFree Amable

Open AudFree Amazon Playlist Converter, then it will run the Amazon Music application all at once. Browse your Amazon Music library and select the playlist you want to download. After that copy and paste its link into the search bar and press the Add icon to load the tracks.
Step 2

Configure Output Parameters for Amazon Music Playlist

Click on the Menu bar in the top right corner and select Preferences section from the drop-down menu. In the pop-up window, switch to the Convert bar, then you are able to set audio parameters of the playlist on Amazon Music, such as output format, bit rate, sample rate, channel, codec, etc.
Step 3

Download Amazon Music Playlist Locally

Now hit on the Convert button in the bottom right corner and it will immediately download the playlist from Amazon Music. Once done, the Amazon Music files will be saved to the target folder on your computer and can be viewed by simply tapping the Converted button. In turn, you can listen to playlists on Amazon Music offline without subscription and app. Also, you can transfer those Amazon Music playlists to Apple Music and other music services without hassles.
Part 3. FAQs about Amazon Music Playlist
Q1: Are Amazon Playlists Free?
Yes, the free version of Amazon Music offers top-notch playlists and thousands of radio stations. However, free users must put up with ads and there is no download function.
Q2: Does Amazon Prime Music Have Playlists?
Of course, if you're an Amazon Music Prime member, you can enjoy thousands of playlists and radio stations, the largest ad-free catalogue of top-rated podcasts, and 100 million ad-free songs at no extra cost.
Q3: How Do I Organize My Amazon Music Playlist?
Navigate to your Amazon Music Library and select the playlist you want to edit. Tap on the More options menu next to the song and select Edit. Then tap and hold the three horizontal lines next to the song title, then drag and drop the songs as needed to manage and change the playing order.
Part 4. In Conclusion
Here are the top 10 playlists on Amazon Music you can't miss. Whether you're into hip-hop, rock, disco, pop or have different musical tastes, you'll find an Amazon music playlist to suit your needs. You can share those Amazon Music playlists with your family members and friends without restrictions. Also, if you find other Amazon playlists worth recommending, please feel free to share them with us in the comments section.