Many Apple users often wonder with the question, "Does Apple Music have podcasts?". In fact, the Apple Music app has a few scattered podcasts, but users can download the dedicated Apple Podcasts app to access a wide range of Apple Music podcast. More importantly, Apple Podcasts has millions of recorded episodes available for fans to listen to, subscribe and download at any time.
Typically, every Apple user's device comes with an Apple Podcasts app. If you're having trouble finding podcasts on Apple Music, no worries, this article will show you the official way to listen to Apple Music podcast for iOS/Android, Mac/PC and a perfect solution to enjoy Apple Music podcasts on any device without subscription.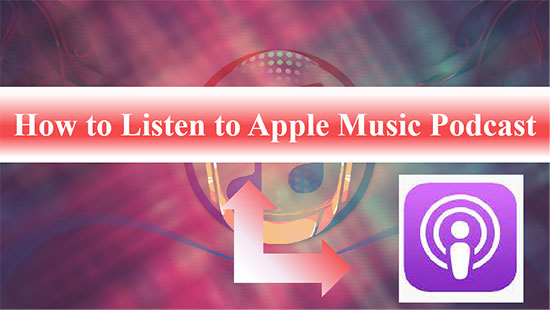 Part 1. How to Download Apple Music Podcast for iOS/Android
You simply need to use your iOS/Android device to enjoy millions of Apple Music podcasts on the Internet. Follow the steps below to learn how to access Apple Music podcasts on your Android or iOS phone.
How to Listen to Podcasts on Apple Music for iOS
In reality, as long as you have an iOS device such as an iPhone, iPad or iPod, you are allowed to download Apple Podcasts from the App Store directly(it may have been downloaded to your home screen as the default app). After that, you are capable of selecting and listening to a wide variety of Apple Music podcast.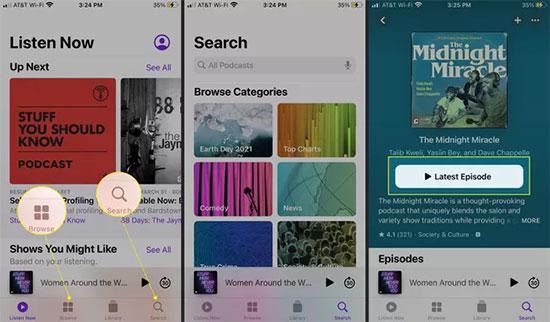 Step 1. Open the Podcasts app on your iOS device and find your favorite shows by tapping Browse or using the Search Bar to find podcasts.
Step 2. Tap on a show and enter its home page to see its information. Tap the latest episode, or tap an episode from a list of episodes.
Step 3. Podcast playback controls will appear at the bottom of the screen. Tap the Control bar at the bottom to go to full-screen mode, where you can access additional content.
Step 4. If you come across an Apple Music podcast that you like, you can click the "Subscribe" button and receive updates on new episodes afterwards.
How to Get Apple Music Podcasts for Android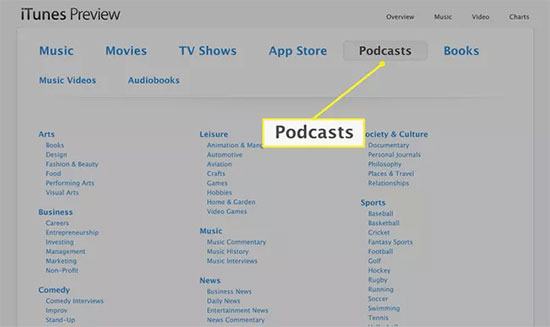 Step 1. Open the web browser on your Android device, go to the iTunes preview page and select the Podcast tab.
Step 2. You can select one of the categories to search for Apple Music podcasts by topic. If you know the specific name of the podcast, just search in the search bar at the top of the screen.
Step 3. Find the podcast you want and open the information screen, you will see a list of episodes and a link to listen to the podcast online. Select an episode and click on icons like "Listen" or "Play" to play the Apple Music podcast episode.
Step 4. If you like, select the download link with the down arrow to save the podcast episode to your Android device.
Part 2. How to Find Podcasts on Apple Music for Mac/PC
If you are planning to download Apple Music podcast through your Mac/PC computer, then try the following tutorial to do it with ease.
How to Find Podcasts on Apple Music for Mac
If your Mac is running on macOS Catalina or higher, it's able to use the Apple Podcasts desktop app to get a podcast on Apple Music easily.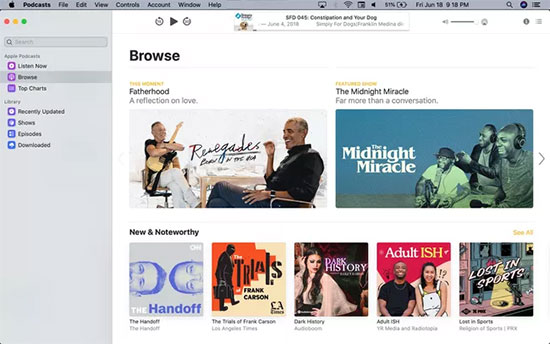 Step 1. Open the Apple Podcasts app and tap the Browse option in the sidebar menu of the screen. Or, just click the search box at the top to search for a specific Apple Music podcast.
Step 2. Once you've found the podcast show you want, tap on it to see its profile. On the show's profile page, select the Subscribe button, after which it will automatically download new episodes as they become available.
Step 3. Select the play control button at the top of the window, then choose to play an episode of the Apple Music podcast.
How to Listen to Podcast on Apple Music for PC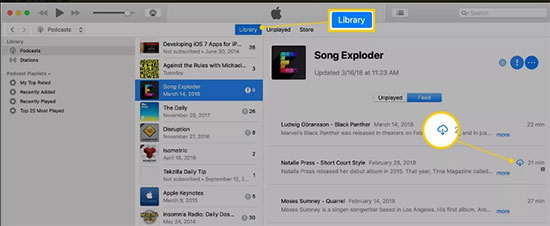 Step 1. Open the iTunes app on your computer in the pop-up menu on the top left and select Podcasts, then click the Store button in the navigation bar.
Step 2. Click on the search bar in the upper right corner of the iTunes window and type in the name of the corresponding Apple Music podcast. As you type, iTunes will display a list of items that match the search text you entered.
Step 3. Select the item you want, then click the Preview button. After that, click the Get button next to the episode to download a single episode of the Apple Music podcast.
Part 3. How to Listen to Podcasts on Apple Music without Subscription
In general, some users subscribe to their favorite Apple Music podcasts to unlock additional benefits such as ad-free listening, extra episodes, early access, archived episodes, and more. However, some people often complain that the subscription fee can be a bit expensive. So here we will present a perfect solution to listen to Apple Music podcast without subscription and you can enjoy your preferred podcasts on any device as you like.
To achieve this goal, you need the help of a professional third-party tool - AudFree Apple Podcast Converter, which is dedicated to convert and download Apple Music podcast without any restrictions. What's more, it is able to convert various Apple audio like Apple Podcasts, iTunes music, Apple Music to MP3, FLAC, WAV, AAC and other common formats without any quality loss.
With the help of this comprehensive tool, you can easily get local files of Apple Music podcasts with full ID3 tags preserved. After that, you can transfer and upload Apple Music podcast to any ideal device for playback, for example, you have the freedom to listen to Apple Podcast with Alexa on hot Amazon devices without any problem.
How to Play Apple Music Podcast without Subscription
Step 1

Import Apple Music Podcast to AudFree Auditior

Launch the AudFree Apple Podcast Converter and download your favorite podcasts on the Apple Podcast app or iTunes app to your computer. Then click the second "Add Files" button on the AudFree Auditior homepage to add podcast files to this converter.
Step 2

Set Output Format of Apple Music Podcast

Please click the "Format" icon at the bottom right corner to open the setting window, where you can choose the Apple Music podcast output format as MP3, WAV, FLAC, etc. For a better listening experience, you can set other parameters such as sample rate, bit rate, etc.
Step 3

Download and Convert Apple Music Podcast

Just click the "Convert" icon to start the downloading and converting process. When it's done, follow the "Converted" button to view all Apple Music podcast files. In turn, you have the privilege to listen to Apple Music podcast on any desirable device without further subscription.
Part 4. In Conclusion
Now, when you know how to listen to Apple Music podcast on iOS/Android, Mac/PC in the official way, you can satisfy your requirements. Besides, if you'd like to play Apple Music podcasts without subscription, AudFree Apple Podcast Converter will be the best helper for you. Just give it a try to enjoy Apple Podcasts with freedom.