It's time to prepare for the coming Halloween holiday to have a spooky good time. Will you choose to make Halloween-themed costumes, worm-shaped sweets, carve Halloween pumpkins or just go trick-or-treating? Please don't miss a load of banging Halloween songs, which could be the killer to help you and your guests guide your inner ghosts, ghouls or goblins.
When it comes to best Halloween songs 2018 for the spookiest party, Apple Music could be a recommended streaming music site to get your Halloween music, in which you can discover kinds of tunes, such as pop, rock, dance, and kids Halloween songs. Just check out the following list of top 9 best Apple Music hair-raising Halloween tracks for your Halloween party.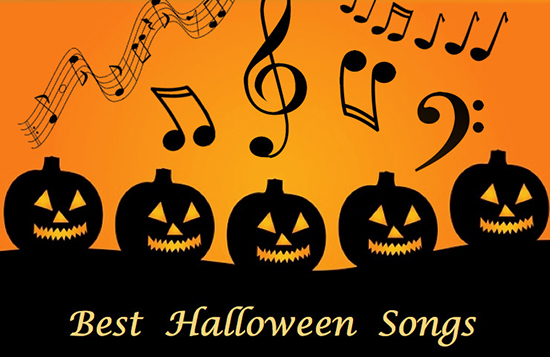 #1. Thriller – Michael Jackson
If you asked me which is the scary Halloween music on Apple Music, there is no doubt that I will say 'Thriller' by the American singer Michael Jackson, which is one of the most popular Halloween pop songs in the UK. This is also the reason why I put Thriller in the first place. With horror themes and elements in the lyrics, you can also get some frightening sound effects, including thunder, feet walking on wooden planks, winds, etc. to put yourself in Halloween spirit.
#2. This is Halloween – Marilyn Manson
This is Halloween is a song including int the Halloween-themed movie, The Nightmare Before Christmas, whose music and lyrics were written by Danny Elfman. There is worth to mention that this Halloween music is used as the background music for the Halloween Town world in the video game Kingdom Hearts. Also, you can listen to this more modern Halloween song in both HalloWishes at the Magic Kingdom and at Disneyland's Halloween Screams.
#3. Monster Mash – The Misfits
More like Apple Music classic Halloween songs? No problem! Monster Mash as the best-known song by Bobby "Boris" Pickett is your soup, which was released in 1962. This monster-themed Apple Music debuted on No.1 on the Billboard Hot 100 chart before Halloween of that year. Since then, it has been a favorite of an annual Halloween holiday.
#4. Spirit in the Sky – Norman Greenbaum
Have you heard Spirit in the Sky ever? If not, it's time to collect to your Halloween playlist. When you listen to this song, you will find there is an immaculate heavenly conception. In fact, this one of the best Apple Music Halloween music is inspired from cowboys and Indians, Porter Wagoner and a fictional preacher. Recorded in the late 1969, Spirit in the Sky became a gold record, hit on No.3 on the US Billboard Hot 100 chart with selling two million copies.
#5. Hells Bells – AC/DC
Are you the die-hard fan of hard rock band AC/DC? If yes, you might have enjoyed the Hells Bells, which is the second single or the first track of Back in Black, which is the comeback album after the death of Bon Scott, the lead singer in this band. As consequence, "Hells Bells" sets a mournful tone with its slow, ominous build, which is suitable for Halloween atmosphere.
#6. A Nightmare on My Street – DJ Jazzy Jeff & The Fresh Prince
Released in early 1988, A Nightmare on My Street is the single from the second studio album by DJ Jazzy Jeff and The FRESH Prince. As its name suggestion, it focus on the concept of nightmares and sings the party-friendly ghost story. This song reached the number 15 on the Hot 100 as one of the U.S. most popular songs for Halloween.
#7. Ghost in This House – Shenandoah
From its title of this song, we will guess that it is related with Halloween topic. Written by Hugh Prestwood, Ghost in This House was recorded by the Shenandoah, the popular American country music group. It came with music and music video. In this video, you will see a woman is wandering all alone in her house.
#8. Sympathy for the Devil – The Rolling Stones
Why I will choose this Apple Music song to make your Halloween playlist for spooky party is that it contains the special feature, the samba drums with a primitive background and the Inspiration comes from a very long historical figure - the figures of evil and figures of good as Jagger stated. Besides, The Rolling Stones has placed Sympathy for the Devil at the No.32 on the list of the "500 Greatest Songs of All Time" in its magazine.
#9. Ghost Town – The Special
Are there some kids taking place in the Halloween party? Don't miss the best Halloween music for kids on Apple Music, called Ghost Town. Although it seems there are no themes about kids, such as unemployment, urban decay, deindustrialisation and inner-city violence, the lyrics and childish tunes, such as la-la-la can guide kids to dance excitingly.
Create A Halloween Playlist with Apple Music Songs
In this case, we also introduce another way to create your exclusive Halloween playlist on Apple Music for playback on any device and player as you like. The only tool you need to equip with is AudFree Apple Music Converter, which is designed to remove DRM from Apple Music playlist and convert DRM M4P songs to MP3 so that you can use Halloween Apple Music songs anywhere.
You can only import target Halloween music from Apple Music to AudFree Apple Music Converter, set the output format as MP3 and then click the Convert button to convert Apple Music songs to one playlist on the same music folder. For more detailed tutorial, please visit this page: Convert Apple Music DRM M4P to MP3.