Halloween, one of America's most favorite holidays is coming soon with the appearance of the pumpkin lantern on grocery store shelves and a wide variety of decorations like spiders and skeletons on the street. What will you do at a spooky Halloween party, have a scary movie marathon, or dress up as your favorite movie character?
It's time to start preparing for this spookiest holiday. To add a richer Halloween atmosphere, why not to select the Spotify Halloween playlist to get everyone in the holiday spirit. With more than 60 million songs, Spotify offers numbers of Halloween playlists according to catagories, such as the ultimate Halloween playlist, Classic modern, spooky and sexy Halloween playlist, etc. To get rid of the hassle of finding the best Halloween playlist Spotify, here, we have gone ahead of time and collected the Top 7 most recommended Spotify Halloween playlists for you.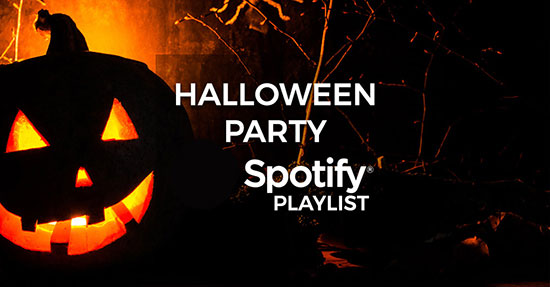 # 1. Fearsome Halloween Essentials for Kids
Here we put this playlist in the first place of the list Spotify Halloween playlist, as kids are always most excited for Halloween. If you are a host for a kid Halloween party, you need to look for some Halloween Spotify playlists for kids with explicit lyrics that are safe to play. Fearsome Halloween Essential curated by Halloween Kids and Kids' Halloween Party is a nice choice. This album includes a mashup of 34 songs for kids with a semi-spooky All Hallows' Eve fell, such as the classic 'Monster Mash', Superfreak, Highway to Hell, Bad Moon Rising, etc.
#2. Halloween Teens for Teenagers
It could be quite difficult to recommend a Teens Halloween playlist as every teen has his own music taste. Can't please everyone? Well, maybe you can! Halloween Teens is created by official Spotify for teens. This playlist for Halloween is made up of 39 songs from well-known singers, such as Lady Gaga's Monster, Billie Eilish's bury a friend, and DJ Jazzy Jeff's A Nightmare on My Street.
#3. Halloween College Party Playlist
It's known there must be many grand college Halloween parties every year. A subject-oriented playlist can be a key factor that decides whether a college Halloween party is great or not. With more than 50 songs ranging from Drake's Hotline Bling to Halloween Party, the line 'it's Halloween, let's party' is put in the description box of this playlist on Spotify. Moreover, this playlist is the perfect combination of classic and modern music.
#4. Ultimate Halloween Playlist for Office Halloween Party
Ultimate Halloween playlist comprises over 100 spookiest tracks fulling of very scary and creepy songs. So, this playlist is more suitable for adults. If you are looking for the official Halloween playlist, it could be a great option with all types of Halloween-themed songs, such as Michael Jackson's Thriller, which is one of the most popular Halloween soundtracks around the world.
#5. Disney Halloween Playlist for Disney Lovers
By Walt Disney Records, Disney Halloween is a recommended best Spotify Halloween playlist for children, but also for people who fall in love with Disney. When you browse and search Disney Halloween songs playlist, you will find out that this playlist is listed on top with 40 spooky Halloween songs, not only from Disney-themed music, such as This is Halloween from one of the best Disney Halloween movies The Nightmare Before Christmas, not also full covers produced with a little more electric gusto.
#6. Modern Halloween Playlist
This playlist recommended here is curated for a Halloween party where there are co-workers, friends, or family members. You can think of it as a Spotify Halloween playlist available for all ages. This friendly playlist features modern jams with a darker twist. With the perfect spooky music backdrop in your Halloween party, everyone will flood the Halloween feelings in mind.
#7. Classic Halloween Playlist
This playlist offers the classic, creepy-crawly sounds of Halloweens past and will definitely bring back a lot of childhood memories for many. It comprises of Don't Fear the Reaper, Ghostbusters, Monster Mash, etc., ranging from classic movie soundtracks to the spookiest radio hit. Once the music starts, everyone can get the creepiest, most bone-chilling tunes.
Tricks to Download Spotify Halloween Playlist for Playback Everywhere
The above playlists can't meet your aesthetic? Please don't worry. Spotify encourages users to create their personal exclusive Spotify playlists. The only thing you need to do is to discover all favorite Halloween songs and then put them together by creating a new playlist in the Spotify app with ease. You can also make a collaborative Spotify playlist and share the link with your friends so that everyone at the Halloween party can add or delete songs to this playlist.
It's important to note that no matter you are a Spotify free or Premium member, you can't take Spotify playlists away from the Spotify app itself due to digital limitations embedded in all Spotify content. If you would like to play Spotify Halloween playlists on other devices that are incompatible with the Spotify app or add the spooky music to a self-made video, we here recommend AudFree Spotify Playlist Converter.
This professional tool is well-designed to remove all limitations from Spotify tracks and convert playlist to MP3 or other common audio formats for offline playback on any device. After conversion, you can make full use of those best Spotify Halloween playlists. For a detailed tutorial on how to download Spotify Halloween playlist with ease, please refer to: Download and Convert Halloween Spotify Playlist to MP3.