Once Autumn creped in, it marked the onset of a celebration mood. The fourth Thursday of November is to be the climax and the beginning of this celebratory journey especially if you live in the Mid-West of the USA. Just as the trees begin to shed leaves in readiness for the winter season, Thanksgiving period alike draws nearer in preparation for Christmas holidays.
This is the time for a special get together for families and friends. Amidst all the merrymaking inclusive of cranberry sauce, pumpkin pie, stuffing, and a turkey, Thanksgiving songs have to put on a trademark for a memorable event. Peruse through our list for that special song during this season.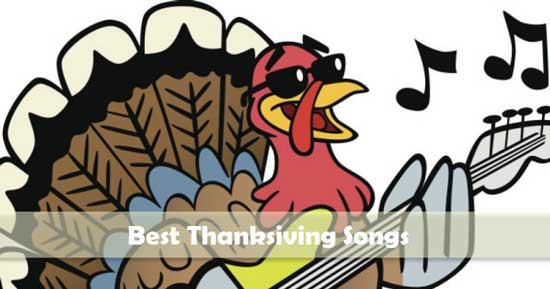 #1. Kind and Generous – Natalie Merchant
Natalie's Thanksgiving music is probably the best I have ever listened to. This song expresses a total gratitude and thankfulness from a special person. It was actually the first single that Natalie produced yet it managed to reach the top 20 on the Hot 100 Billboard. It being the first on our list explains why it should be the first on your selection as well.
#2. Thank You Friends – Big star
The word 'Thank You' in its title has a great impact on anyone's life. A thank-you in a song just draws all the sorrows away and brings forth bright light in a sparkle of time. The Big Star had no better way than to say it in a song. Having lost their frontman Alex Chilton, the Big Star knew where to get their total strength from. This song is for friendly support for all those who needed it and for remembrance. It is indeed a motivational song of all times.
#3. Thanks for My Child – Cheryl Pepsii Riley
Yeah, its right to thank God for everything in our lives. Cheryl knows it best as she expresses thankfulness for all the children. This song made history when it went straight to number 1 on the R&B music chart. It is good listening to especially if you are feeling thankful or getting ready for a Thanksgiving event.
View Also: More Thanksgiving Songs for Kids
#4. I Say a Little Prayer – Aretha Franklin
Prayer is the shield as most people put it. It is even more fascinating when in form of Thanksgiving worship songs. The Queen of Soul as she is referred to was just blessed with a powerful singing voice. The message is home from 'the moment I wake up' to 'you'll stay in my heart forever'. It is worth listening to during this Thanksgiving as you usher in Christmas season.
#5. What a Wonderful World – Louis Armstrong
From its inception in 1967, many artists such as Rod Stewart and Ziggy Marley among others have covered the song in a most fantastic way. Louise's intention was for this song to be a soothing medium to the political strife that was being experienced. Additionally, 'What a Wonderful World' has worked so well in aiding for the celebration of our world and Thanksgiving alike.
#6. Thanksgiving Song – Mary Chapin Carpenter
This is among the Thanksgiving songs that suits get together family party of all times. There is no better way to be grateful for each other than holding hands and gathering around the table. Besides, when Thanksgiving is meant to have an impact, believe me that friends and family will have to travel home from far. All your sorrows will vanish with the help of this song especially when you download it and listen to it offline later on.
#7. Thank You – Dido
This classic music for Thanksgiving is all entertaining and encouraging alike. Dido knows best how things can come from worst to better. What matters is having the right people in place to walk you through the valleys and hills. Learn to appreciate those important people who have held your hand in your darkest days by listening to this music.
#8. I Want to Thank You – Alicia Myer
Alicia brings it all well with her words and the music at large. Knowing that someone was sent who truly loves her shows a step of faith in everything. There is actually light at the end of the tunnel for all those dark moments. This is one of the Thanksgiving rock songs that will light your path as you lift your voice to God in Heaven in appreciation.
#9. Thankful – Kelly Clarkson
Kelly has ever become the winner of American Idol singing competition. I guess this propelled her to offer something more. It was in April 2003 when she released this Thanksgiving music, Thankful. It is one song of a kind that celebrates people in one's own life. Besides, this music hit the number 1 on the U.S. Album chart, selling over 2 million copies.
#10. Family is Family – Kacey Musgraves
Just like the Sister Sledge, we are family, Kacey also reminds us that family is family. Nothing is ever going to change this no matter what. It's all about a story from Kacey sister about Marfa, a small town in Texas. The bottom line is that there is promise with the little you know as compared to a big city which isn't going to come back to you as much. The family is very transparent and more so, blood is thicker than water.
More Tips: Apple Music Thanksgiving Songs MP3 Download
Most people actually underestimate the power of Thanksgiving songs. It could be that it is not so much spoken of as Christmas or Halloween. That being the case, remember that it is sandwiched between these two important holidays. Even though it may seem a tuneless affair, our list proves that Thanksgiving is an all-time round affair.
If you have trouble getting any of these amazing songs, you are at liberty to use our AudFree Apple Music Converter. This tool lets you download Apple Music Thanksgiving songs to your computer and convert them to MP3, FLAC, WAV, AAC, and other audio files. The good thing is that it lets you save all your songs from Apple Music on your devices forever and listen to them anywhere freely. For more detailed info, please visit this complete tutorial: How to Remove DRM from Apple Music.