December is a celebratory month all over the world. It is winter and Christmas is here with us again. The streets are filled with decorations, all in an effort to spice the 'Christmas' feeling. Children are infatuated with this bubbly season. And kids are anxious to make nostalgic Christmas experiences.
Christmas kids songs and performances are paramount ingredients. It could be a fantastic, exciting, and memorable Christmas for kids. In the event that the children can sing the tunes, it turns out to be more intriguing for kids.
In this case, here are the top 10 funny and easy Christmas songs for kids. You can choose some of them to listen to and sing with your children to have a forgettable Christmas Day.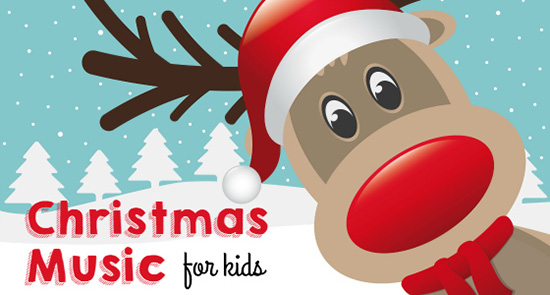 #1. We Wish You a Merry Christmas
The song is a red light that ushers in the Christmas festive season. It carries a specific level of passion and mental energy for everyone, especially kids. The Christmas carol dates back to the 16th century and has its origin in England. No much is known about the song. This current predicament does not inhibit its popularity as a favorite Christmas music for kids. It has simple lyrics and incredible tunes. Hence, it's an easy Christmas song for kids to sing.
#2. Santa Claus Is Coming to Town
Eight decades after playing on Eddie Cantor's radio show, Santa carol has continued to loom among kids Christmas songs. It is upon guardians to make sure that kids come up with a nice list on Christmas since Santa has a priority on that day. John Frederick and Haven Gillespie composed the song. In essence, the song advocates for good behavior amongst kids especially during Christmas times.
#3. Jingle Bells
This Christmas melody happens to the ultimate Christmas piece today. Its composition is natural to memorize accompanied by great tunes which make it fun for kids. Initially, in 1857, the song was a drinking song. But it has over the last one century evolved to a Thanksgiving song. And eventually, it's one of the most incredible and funny Christmas songs for kids and preschoolers.
You can play the song with diverse types of musical instruments and still enjoy the tunes. This classic Christmas tune is quite memorable. It is easy to sing along and your kids will be singing it once they listen to its easy lyrics.
#4. Rudolph the Red Nose Reindeer
It ranked behind the White Christmas as the best-selling song among children's Christmas songs. Initially, the idea was written as an autobiographical kid's book by Robert may in the late 1930s. But later it turned to Christmas carol. The long-anticipated Santa is expected to deliver Christmas gifts to kids. It will create a somewhat nostalgic memory.
#5. Deck the Halls
Deck the Halls Christmas carol is over four centuries old. The initial version of the same was Nos Galan, which was more of a Welsh New Year's Eve song. However, the piece was modified in the 19th to its present version. Thomas Oliphant happens to be the man behind the smiles on kids with regard to the translation of the best Christmas song for kids.
The hymn has featured in re-known Christmas specials. For example, the Sesame Street Christmas Special and The Grinch in 218 among many others.
#6. White Christmas
We can all agree that this remains the saddest but most popular Christmas song for kids of all time. It was first heard on-air in 1941 during the Second World War. White Christmas was a comforting song for soldiers after the bombing of Pearl Harbour. And families who were anxiously waiting for their family members at home.
#7. Silent Night
The piece is a vintage Christian Christmas song for kids. The melody delineates the spiritual aspect of Christmas. To Christians, it is not only a festive and a holiday but a day season to celebrate the birth of Jesus Christ. This is a perfect and quiet Christmas music for kids that goes deeper beyond the festivities. And it delves into the real reason why we celebrate Christmas.
#8. All I Want for Christmas Is My Two Front Teeth
This classical Christmas music for kids happens to relate to elementary kids easily. It is one of the greatest Christmas songs for kids to perform. At this age, missing front teeth incidences are common. And it's usually embarrassing moments especially during Christmas celebrations for kids. Losing your front teeth is not a 'great thing.' The performance of this kids Christmas music is prodigious and delightful.
#9. The 12 Days of Christmas
For kids, a Christmas season with no gifts is not worth remembering. The song is about receiving 12 different gifts after the 25th of December. The melody helps enhance count and memory abilities for kids. The fact that it is repetitive and involves gifts makes it famous and a favorite for most kids.
#10. Away in a Manger
This particular melody features as the first common piece sang by kids across the world. Like many other old carol songs, the author of 'Away in a Manger' remains unknown. Its lyrics have been done by a lot of composers with the most popular version coming from James R. Murray. The tune is a darling to most Sunday school kids, especially during the Christmas season.
Extra Tip: Play Apple Music Christmas Songs for Kids Anywhere
Christmas has only once a year. A Christmas Day without Christmas songs would be incredibly dull. It's apparently not worth spending your time celebrating. Since time memorial, generations have continued to cherish this opportune moment. And people will create new and memorable experiences with those whom they love.
The traveling experience, kids' festivals, and cuisine tend to overjoy the kids. But on the other Christmas songs for kids keep the enchanted all through this festive month. The hymns make them feel appreciated and loved by the immediate environment.
Luckily, the internet today provides us with platforms. We can easily download these Christmas music for Kids. With regard to this, I will recommend AudFree Apple Music Converter. It empowers us the ability to download all funny kids Christmas songs from Apple Music. It will convert children's Christmas songs to common audio files, like MP3, FLAC, and more.
To get your common Christmas songs for kids, please install the software on your computer. And then, open it. You will see iTunes will be launched automatically. Import Apple Music Christmas kids songs to AudFree Apple Music Converter. Customize your output format and click the 'Convert' to get offline Christms files. After that, you can enjoy and play Christmas songs on any device with your kids.