Thanksgiving is one of the most important holidays in a year. Friends and families can come to celebrate it together and improve the connection. However, kids need an interactive mode of teaching and we all know that it is a daunting task. This is where Thanksgiving songs for kids come in. There are tons of songs that have been developed by professions specifically for children. Our list has the topmost collection that you can use to teach your kids other ways of giving thanks. Let's check them out below.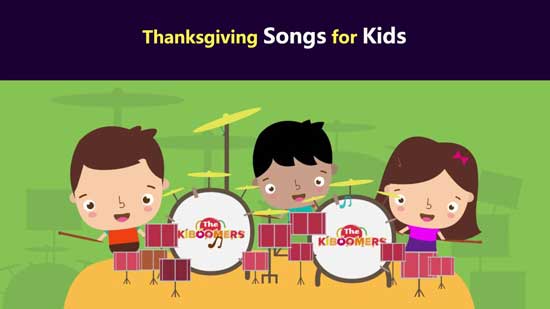 Part 1. Top 10 Thanksgiving Songs for Preschoolers
In this part, we will show you the detail of top 10 Thanksgiving songs for toddlers. Just check them out one by one.
#1. Thanksgiving Feast
This is where forks meet spoons. Thanksgiving Feast is perfect for teaching kids good eating habits in the most hilarious manner. The eatables here include turkeys, mashed potatoes and dry corn among other foodstuffs. Apart from that, this turkey song for kids teaches kids how to be appreciative whenever someone does a favour. Besides, it is a family affair and since children learn best by watching, they'll grow up knowing that it is vital for family members to stay and eat together.
#2. Little Pilgrim
Among the top Thanksgiving songs for children is this song. Little Pilgrim is about a heroic journey of a little boy who goes on a grand adventure. Amidst the walk, he encounters numerous children, animals, women, and men summing to fifty-three. Your kids will surely love the unfolding story as they learn the concepts of Thanksgiving in the most fun way.
#3. A Turkey Dance
This is an easy Thanksgiving song for preschoolers as it is encompassed with easy to learn steps, taken each at a time. Your kids will simply follow the gigs of the trainer until the end. Besides, this song is very interactive especially with the little children, making it among the Thanksgiving songs for kindergarten children that will suit your twos and threes. Let them learn how to say thank you in the most appealing way, a trait they'll learn from this music.
#4. Thanksgiving Songs - The Uncle Brothers
These songs will surely make a great gift for your kids this season. Get a mix of traditional as well as fun original songs at a go. It is also a good collection to teach kids how to be thankful in several ways. With this kind of music, I am sure your kids will never be the same again. They'll actually know when and how to appreciate people including you.
#5. Happy Thanksgiving - Debbie Friedman
This is a product by one of the most popular creators of Jewish music of all times. It is actually a Thanksgiving folk song that was first recorded live way back in 1990. From then, it rose to be among the best Thanksgiving songs for toddlers that parents use to teach children in the most interactive manner.
#6. Thanksgiving Dinner Song Lyrics for children
Here comes another turkey song for kids which doubles up like a Thanksgiving tutorial. It is all about kids enjoying their delicacy dishes of muffins, stuffing and much more a turkey. For about one and a half hours, your kids will have the perfect company for their evening meal. They'll also master the basics of saying thank you in the most adorable manner.
View also: How to Get Lyrics on Spotify
#7. Over the River and Through the Woods - Quincy Choral Society
The children of the Quincy Choral Society know it best when it comes to entertaining their fellows. This music comprises of well-laid learning tunes that will appeal to not only children but the entire family alike. Besides, it is accompanied by piano making it appealing to the fullest. This song will even bring some appetite to those kids you deem as poor eaters.
#8. Ten Little Turkeys song of Thanksgiving
This falls under the Thanksgiving music for kids which are also meant for numbering lessons. It will teach kids how to count from 10 to 1 in the most interactive way. The enjoyable lyrics cannot go unmentioned, with the inclusion of the 10 little turkeys moving while falling one by one. The counting reduces as the turkeys vanish each time.
#9. ALBUQUERQUE Turkey
This interactive kids' song is about a turkey who is finely feathered. He wobbles and gobbles not knowing that one day he'll be eaten as barbeque. Though not with Albuquerque turkey, because he is the best pet and far much better than any cat or dog you can see around. This song is the bomb when it comes to teaching kids table manners.
#10. Do the Turkey Hop Song
Do-the-turkey hop song surely tops in the Thanksgiving songs for preschool. If there is any better way to teach your kids how to do the gigs, then it got to be with this song. Watching them do the run, the hop and flapping their wings will just make your day. Wait! You haven't seen anything yet until they flap their wings and shake their tails like a real turkey. This is total fun and will really suit not only preschool but kids of all ages.
Part 2. How to Download and Listen to Thanksgiving Songs for Kids Offline
Someone once said that when you teach a kid the way he should go, he will surely not depart from it. This perfectly explains what Thanksgiving songs for children do. A child will learn by what he sees more than what he is told. We have summed up the best songs that will surely take you a long way. If you are searching for kid-appropriate music this Thanksgiving season, be rest assured that now you have the best. Simply download your favorite selection to your iPhone or another device.
In the event that you are not able to download MP3 Thanksgiving songs for kids from Spotify if you are a free user, use a third-party software. AudFree Spotify Music Converter is highly recommended. Furthermore, it is available for free and premium Spotify users and will work on your Windows and Mac operating systems. Then you can use it to download and convert Thanksgiving songs for children to plain audio formats. And then you and your kids can listen to those songs offline anytime and anywhere.
Now, simply download and install AudFree Spotify Music Converter on your computer. Then follow the steps below to see how to use it to download all your favorite Thanksgiving songs to MP3 for offline playback.
Step 1. Once installed the AudFree program, then open it from your computer. At the same time, the Spotify app will be shown as well.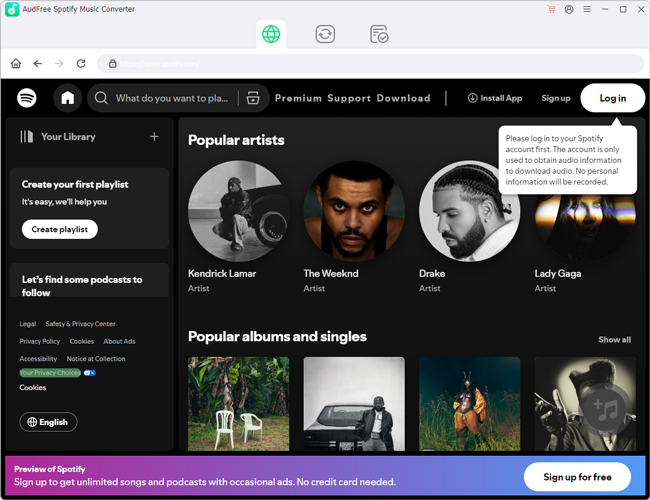 Step 2. Head to log in to your Spotify account in the Spotify app. Then find any Thanksgiving songs that you want to download for your kids. Then drag it to the AudFree tool's main screen. Or, you can copy the link to the song and paste it into the search bar on the top of the AudFree program. And then you need to click on the + icon to import songs.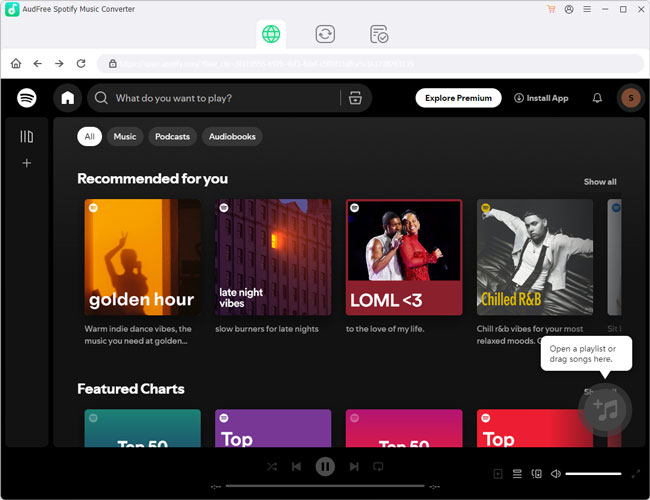 Step 3. After that, tap the menu icon at the top bar on AudFree and then click 'Preferences'. Next, in the new window, choose 'Convert' and you can start to reset output format, bit rate and so on for Spotify audio tracks. Then touch 'OK'.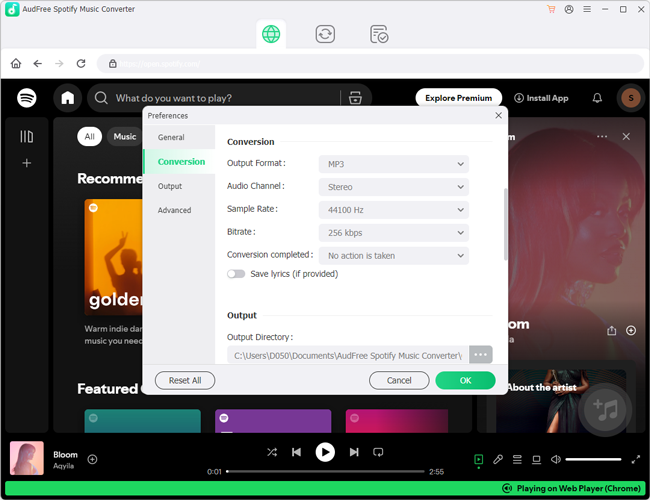 View also: How to Convert Spotify Songs to MP3
Step 4. Later, press 'Convert' to start to download and convert Thanksgiving song for children. At last, you will get local Spotify audio files and listen to them offline with ease.