Kids love parties, especially when customized to their level. There is a particular level of frighten or joy which they can manage. Besides birthday parties, Halloween parties are also adored by children. However, a little caution is needed when it comes to music selection. It's all yours from creepy, rocking, silly to spooky halloween music for kids. More so, these songs entail lots of fun dances, finger plays, delightful animation, and action altogether. Scroll down this list to unleash the greatest track of all time.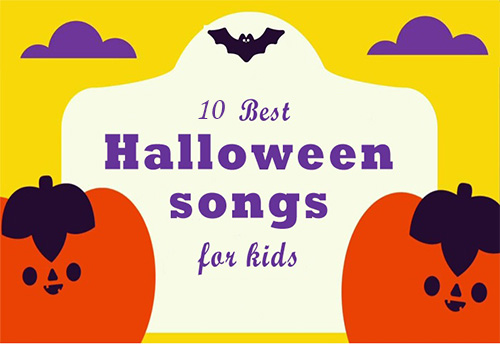 #1. Pumpkin, Witches, and Ghosts
This kid's song has lots of animation, a trait that makes it loved. It is fun and will suit a kid of any age. It's about little pumpkins and how to carve a face and make a jack-lantern. Ooh and remember to put the ten witches on a broom and fly them away to a far off destination. In the midst of all these, the ghosts come to scare and then disappear in thin air; real fun indeed.
#2. Ten Little Monsters – Mike Brownlow and Simon Rickerty
This is among the cute Halloween songs for kids of all times. It is all about your kids and how to count as they get amassed in this monsters' game affair. The little monsters include a mummy, a zombie, a skeleton and much more. The music is well laid off such that all a kid gets is a mix of entertainment and scare.
#3. The Chills – Creepy Songs for Courageous Kids
Only the courageous kids can pull through this. However, the scare just doesn't happen for the less curious but the daring. These four characters who are dressed in scary masks go out in the field to do what they know best. In no time, you ought to take on your heels as you'll realize that there is something frightening around the corner.
#4. Stirring Our Brew – Jaylene
It is the busy bee action in this song that makes it another best Halloween song for kids. Stirring and then sweeping hands out forward puts any kid in the action mood almost instantly. To add some spice, tiptoeing and then finally coming out with a loud voice will scare your kid to sleep after that hectic Halloween party.
#5. Hedwig's Theme – Harry Potter
This music is all about wizards and night runners. The opening notes are reason enough to rekindle even the most deem light. As the music continues, all wizards get a little of sensational feeling and decide to dash out of their houses. There is more to than just mischievous spells waiting right in the dark.
#6. Don't Fear the Reaper – Blue Oyster Cult
The term 'death' just brings some cold chills no matter your age. Don't Fear the Reaper is also among Halloween songs for kids which has imaginations on what death is about. It portrays that surely death is inevitable. Watch it and know what really happens.
#7. Purple People Eater – Sheb Wooly
Sheb Wooly knows how to squeeze those goosebumps even amidst a hot sunny afternoon. Any kid would love to know where purple people live and whether they are connected to the Halloween season. A total imagination of a different genre of personality is depicted here. The music revolves around a strange creature who is one-eyed and one-horned. He flies around looking for anyone with purple skin. In the turn of events, this creature lands in a rock'n'roll band.
#8. Witch Doctor
Witch doctors are always not to any good at all. This scary Halloween song for kids is a good choice for inclusion in that party dance. It is a story of a man who is in love with a certain lady. The lady in question does not want anything to do with the man and so, the man's last option is to visit a scary witch doctor to help him out. It turns out that the man cannot understand the witch doctor's language which comes out as a scare instead. Your kids would dearly love the 'Alvin and Chipmunks' version.
#9. 12 Days of Halloween
Just like the 12 Days of Christmas song, this kids' Halloween songs is a real entertainer. However, what your true love will give you may scare you aware as early as the fifth day. Talk of an owl in a rotten oak tree, treaters, three black cats, and four skeletons. By the eighth day, you will surely know that its Halloween time. Good luck with eight monsters shrieking and nine ghosts a-booing.
#10. A Nightmare on My Street – Jazzy Jeff
If there is any Halloween music for children that gets them scared then it got to be 'A Nightmare on My Street'. This scarecrow will hit them right after they crawl into bed. The scary part of him is that he is burnt up like a weenie but will only show up at night. This creepy music will leave your kid soaked with sweat in the middle of the night.
Download Apple Music Kids Halloween Songs as MP3
Even though some of our top 10 Halloween music for kids were not initially composed for children, you will agree with me that numerous generations grew up on these genres. Halloween wouldn't be complete without some of the music of all times like 'Don't Fear the Reaper' and 'A Nightmare on My Street' which are all the 80's say. Music is an all-time thing and it isn't any different when it comes to Halloween music for kids. In most cases, it doesn't end at just the download but playing it in a format of choice.
For this reason, I highly recommend AudFree DRM Audio Converter. This third-party software lets you download and convert Apple Music Halloween songs for kids to MP3. This will unlock all potentials to play on several devices as you wish. Apart from being easy to use, it is encompassed with powerful features for greater performance ability. Anywhere, hope you have a happy spooky Halloween holiday with your children.