Q: I usually directly buy audiobooks from iTunes store as it offers kinds of book catalogues. Sometimes, some audiobooks are unavailable in iTunes but I could find them in Audible store and purchased them from Audible to expand my audio book collection. Besides, I have received a bunch of audiobooks on CD as gifts from my friends. I'd like to know whether there are some effective ways to add audiobooks to iTunes for playback together?
It's not a difficult task to import and organize audiobooks CDs in iTunes, since iTunes app has the ability of ripping audiobooks from CDs. Meanwhile, when it comes to the solution on how to download audiobooks from Audible to iTunes, you can also easily import Audible audio books. Even if for MP3 audiobooks, there is a possible method to move them to iTunes for listening.
To get rid of unnecessary hassle, here we will introduce detailed tutorials on getting audiobooks CDs, MP3 audiobooks and Audible books to iTunes respectively. You can refer to the right one according to the kind of your audiobooks.
Part 1. How to Add Audiobooks CDs to iTunes Library
Although iTunes allows users to extract audiobooks from CDs, there are still somethings to take into consideration when ripping. In general, all audiobooks ripped from CDs will be saved in Music library instead of Audiobooks library automatically. And sometimes iTunes couldn't preserve the right album art in digital audio books. To avoid two wrong things happened, you can refer to the following steps one by one.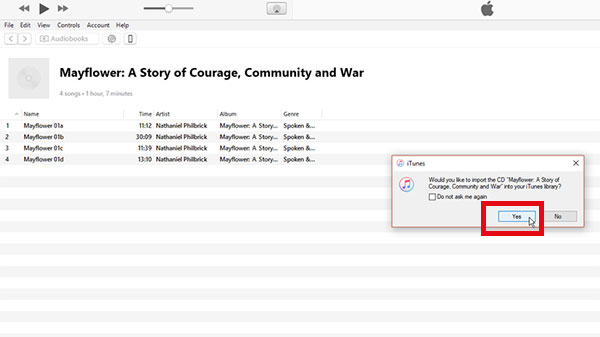 Step 1. Import Audiobook from CDs. Launch iTunes first and then please insert one CD into your computer's CD/DVD tray. Now there is pop-up window, in where you can see multiple CD lookup results. Please choose the most matches of the name and description about your audiobook CD and click OK.
Step 2. Upload Audiobooks to iTunes. At the same time, iTunes will ask if you'd like to import it to your library, please confirm it to start importing process.
Step 3. Eject Audiobook CD. When the syncing process is done, iTunes will prompt you. Then just hit on the 'Eject' button in the upper-right corner. Now you can insert the second CD and consolidate all audiobook from CDs into iTunes library.
Step 4. Move Imported Books to Audiobooks Library. If your audiobooks are saved in wrong library, there are two ways for you to change it. One is to change the extension for each track from .m4a to .m4b. The other is to move the content to your iTunes Audiobooks folder directly.
Part 2. How to Add Audible Books to iTunes
It's well-known that iTunes is authorized by Amazon as the official music player to play and listen to Audible audiobooks. Based on this convenient access, it's easy to import Audible books to iTunes. It's different to upload audiobooks to iTunes on Mac and PC. So here, we will introduce one by one.
Download Audible Books to iTunes on Mac
Step 1. Navigate to Audible site and sign in your Audible account name and password.
Step 2. Discover the audiobooks that you'd like to download to iTunes and then click the 'Download' button to launch downloading process.
Note: If you don't sign in your account details, at the same time, you will receive a pop-up message asking you to 'Authorize the computer'. Please click 'Yes' to input your account details to confirm it.
Step 3. When all audiobooks are downloaded on your computer, you can also find them on your iTunes library directly.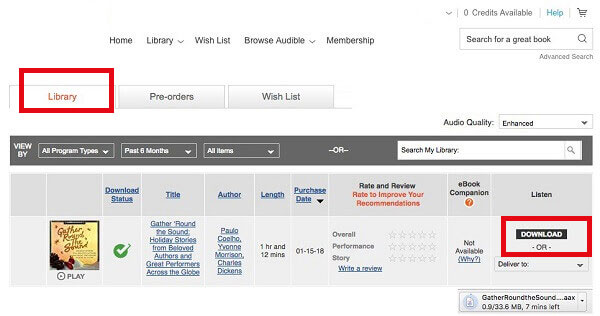 Get Audiobook from Audible to iTunes on PC
Step 1. Please download all Audible books on your Windows computer first.
Step 2. Fire up iTunes and click the 'File' from the top-left menu bar > 'Add File to Library' option.
Step 3. Scan the media folder on your computer and then you can start to locate the audiobook folder that you downloaded Audible files.
By default, all Audible books are saved on the folder: C:\Users\Public\Documents\Audible\Downloads.
Step 4. Select your audiobooks and click the 'Open' button and then audio books will be synced to iTunes automatically.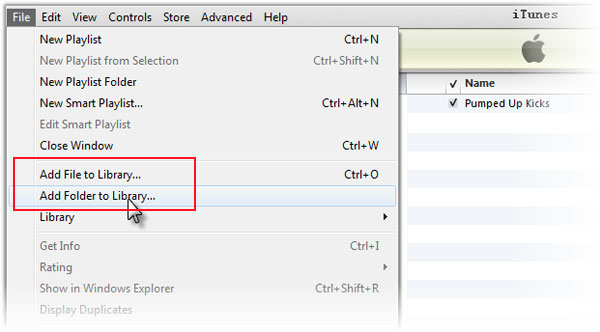 Bonus: How to Transfer Audible Books to Other Music Players
Apart from putting Audible AA/AAX audiobooks to iTunes, if you are still planning to listen to Audible books on other music players, like MusicBee, Angel's Vox, etc. there is alternative way to fix it out.
Some music players are not authorized by Amazon to play audiobooks, but you can use a professional Audible converter, like AudFree DRM Audio Converter to convert Audible AA/AAX files to common music player compatible audio files, like MP3, FLAC, WAV, AAC, M4A and M4B.
What's more, this smart Audible solution is able to split audio books by chapters, which can make audiobook player more convenient and easier.
Step 1. Install and Launch AudFree DRM Audio Converter on your Mac or Windows computer and drag and drop the downloaded Audible files to the main interface.
Step 2. By clicking the 'audio' icon to open setting window, in which you can set output format as MP3, FLAC, or others and customize other audio parameters.
Step 3. When all settings are ready, please click the 'Convert' button to start converting process. After conversion, you can locate all MP3 audiobooks and import them to any other music player without problem.
Part 3. How to Transfer MP3 Audiobooks to iTunes
Some audiobooks coming from other online audiobook stores, like Librivox, Overdirve and more are encoded in MP3 audiobook format. This kind of MP3 audiobook has a lower bit rate and larger length. As for importing them to iTunes for playback, you can refer to the following guide.
Step 1. Open iTunes on your computer and click 'File' > 'Add Files to Library' to allow you to locate MP3 audio files.
Step 2. Once you have discovered MP3 audiobooks, please highlight your audiobooks and click 'Open' to upload all MP3 books.
Step 3. All MP3 audiobooks are under the Audiobook section of iTunes. If you don't find them, please right click the MP3 files and select 'Get info' to choose 'Options' column to check whether 'Media Kind' have been changed to 'Audiobook' option already.
No matter which audiobooks you have, you can choose the right way to add audiobooks to iTunes for playback together without limit now.