Audiobooks have really revolutionized the art of storytelling and have made it easier to get a narration of your favorite book. This enables you to do other duties such as running or exercising while getting the juiciest stories from your audio device.
There are many audiobooks that you can select depending on your taste in genre ad narrator among other factors. Below are the top ten recommended audiobooks that you need to have on your next listening session.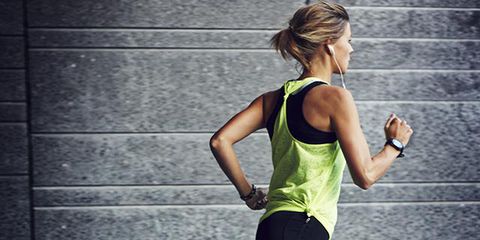 *1. Dare To Lead By Brene Brown
It may be impossible to picture a thriller and an inspirational story coupled into one. However, Dare to lead by Brene Brown is one exception. Narrated by the author, this is one awesome audiobook that speaks of the characteristics of a good leader. To top it up, it comes with inspirational tips that you can highly benefit from.
Being narrated by the author gives this audiobook a natural feeling when you hear the words from the narration. One of the best audiobooks for running owing to its content and also its presentation.
*2. Bird Box By Josh Malerman
This is a thrilling audiobook coming fast on the trails of the released movie sharing the same title. This audiobook speaks of events in the world where some forces are let loose and can make you crazy once you see them. As a result, the key protagonist of this movie moves from one safe place to another while blindfolded.
If this does not provide with the much-needed thrill while taking a run outside, then nothing can as the suspense and narration is at par to depict the entire mood of this audiobook.
*3. The Graveyard Book By Neil Gaiman
The graveyard book is a good audiobook that you can listen to especially if you want the thrill and spookiness. The narration is about the story of Nobody Owens who apparently lives in a graveyard and is raised by ghosts after the brutal murder of his family.
This audiobook is recommendable owing to the thrill and twists that may have your hair raise. The graveyard book is one of the best audiobooks to listen on runs due to the scary aspect it possesses and if on a lonely path can give you the nudge of pacing faster.
*4. The Reckoning By John Grisham
The narration is set in a fictitious town of Clanton in Mississippi after World War 2. Here a reverend has been murdered in such a bizarre manner. What follows is a series of legal drama in a bid to unravel the push behind the murder. This is a very interesting narration that like many of Grisham's works, delves into the legal aspect and the trial with a hint of thrill in it.
This is a good audiobook for running especially if you are into thrillers with a legal or jury theme.
*5. The Radical King By Dr. Cornel West
The radical king is an audiobook that brings to life the late great leader, Martin Luther King junior. It is more inspirational as you get to hear some of his never heard before messages that paint a picture of how great he was as a leader. For a morning run, this is a good companion that will give you an inspiring boost of energy same to some knowledge of the activist.
The narration is of good quality with some voice actors being brought on board to work out Martin Luther's voice.
*6. TomiAdeyemi's Children Of Blood And Bone
This is a nice audiobook that you can have while runningand it introduces you to the West African mythology where magic is a mainstay. With magic and mythology as its foundation, this audiobook tries to analyze issues in our new age such as race, gender, social injustice among many others.
It also speaks of leadership which is well represented in this narration which also speaks of an oppressed community that has to do something to stand up for themselves. If you are into fantasy and social issues then this is the right audiobook for you.
*7. Everything Here Is Beautiful By Mira T. Lee
Everything here is beautiful is one of the best audiobooks for running especially in the morning or on a weekend. It speaks of two sisters who are faced with depression after the passing away of their mother. One of the sisters, the eldest, starts hearing voices and is really affected by the death of her mother. The younger has to come to her aid in this situation for them to pull through.
This is an inspiring book especially in the face of depression and can give you a tin of hope in dealing with a rather stressful day.
*8. Bad Blood By John Carreyrou
If you are into investigative matters and exposes, then this is the right audiobook for you. It focuses on Theranos, a Silicon Valley biotechnology firm, and its downfall.
Theranos was founded by Elizabeth Holmes who claimed that her firm could carry out various blood tests from a single finger prick. This happens to be false and the narrator takes you through the unraveling of this startup.
*9. Song Of A Captive Bird By Jasmin Darznik
This is an inspirational audiobook that speaks of an Iranian poet who goes through thick and thin in order to defy society and live her dream. This is a great audiobook for running especially when you need a touch of hope to pull through a difficult situation.
*10. The Woman in the Window by A.J. Finn
This is a great thriller that you really need to acquire especially if you love the aspect of suspense. It focuses on a woman who loves spying on her neighbors from her window. This is until new neighbors move in and she witnesses something that she did not expect and her world starts to crumble. This audiobook is a must get to let you into the thrill behind the window.
Where and How to Listen to Running Audiobooks
After we have listed the top 10 best running audiobooks, here, we will give a hand on the tricks of listening to audiobooks better. As for where to get the audiobooks for running, the answer must be Audible or iTunes store, the world's two largest online digital audiobook store. You can discover and purchase all the audiobooks we collected above.
To listen to audiobooks on your portable devices without problem, you can get help from AudFree Audiobook Converter, which can not only remove DRM from Audible and iTunes audiobooks but also convert protected audio books to MP3, FLAC, WAV, M4A, etc. Thanks to this smart audiobook converting tool, you can play them on any device offline when running.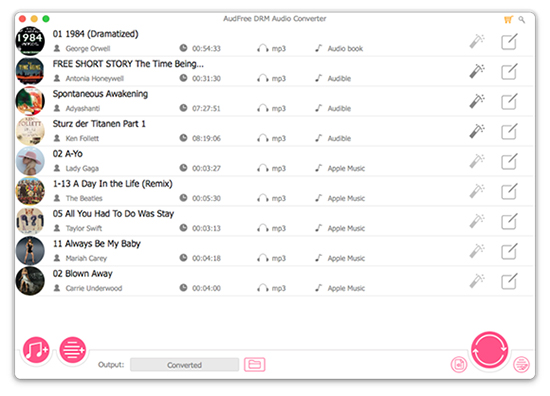 In Conclusion
These are some of the best audiobooks for running that will ensure your runs will never be the same again. With the help of AudFree Audiobook Converter, you can also listen to running audiobooks on your portable player offline outside. Most of the audiobooks are thrillers that will get you into the tensed mood awhile running making up for an exciting experience.