The love of books can drive anyone crazy, especially if you are addicted to reading. Different categories of books influence many of us in several ways. However, the reading culture is not so friendly to some people.
Thanks to the availability of Audiobooks. You can now relax and have someone else read the books to you in an interesting manner. This is probably the reason why everyone wants to be locked into Audible as compared to Playster, Overdrive, Kobo, among other sites. Despite being the best in line, you know how fast you can burn your monthly credits once you exhaust its 30-day free trial?
Here's the kicker! You can continue the free ride. Yes! You can get free Audiobooks on Audible even without being an Audible subscriber. You only require being an Amazon Prime member.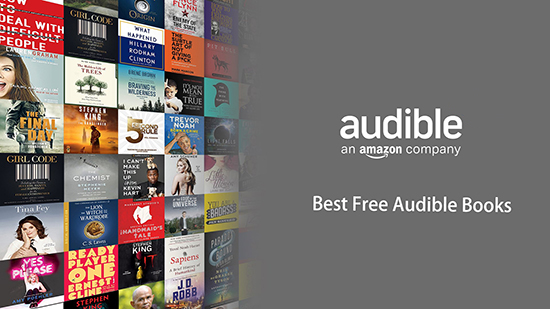 Part 1. Top 10 Free Audible Books for Your Take in 2019
#1. The Magic of Thing Big
For about 4 hours, David Schwartz will be talking to you on how to grow big in your life. Being narrated by the author himself, you are sure to get all the motivational insights plus all the necessary useful methods for being not only bigger but happier in life.
#2. Bloodchild and Other Stories
This also falls among the free audiobooks on Audible. Written by Octavia Butler and read by Janina Edwards, Bloodchild will enlighten you on tales of alien races. Actually, this is fiction in real sense. Listen to it for some in-depth inspiration of all times.
#3. The Greatness Guide 2
Drawing a propelling speed from The Greatness Guide, Robin Sharma goes a notch higher with additional ways on how you can make your life better. This audiobook is filled with better-yourself tips touching on time management, goal setting, family life and being a holistic person within you.
#4. May Cause Miracles
You'll love the approach that this Mistress of Miracles gives in readiness for a totally positive change. Gabrielle Berstein has laid down about 40 powerful ways you can employ for incredible transformation. This Audiobook teaches you how to drive away fear as you embrace faith and perseverance to make the unimaginable happen. Remember, miracles only happen if you believe in them!
#5. Awaken the Giant Within
This is a self-help genre, filled with motivational insights on how to stand tall like a giraffe. For roughly 2-hour free audiobooks on Audible, let Tony Robbins and Alexey introduce to you the concept of getting off from your cocoon and becoming the master of your fate.
#6. Think and Grow Rich
Napoleon Hill is one of the renowned authors who dwell on better-yourself content. Now that you can attain this free audible book on Amazon, why not explore its heights and become one of the richest guys on the block. Don't freak out of the 7 hours and 40 minutes run time, the content is arranged in short and dependable universal principles for utmost understanding. So if you are gearing towards the path of the rich, this is the Audiobook to carry along on that next long trip.
#7. Rich Dad and Poor Dad
Robert Kiyosaki is another author full of wisdom and insights. Listen along and learn the perception of money from the main characters; the rich dad and the poor dad. By the end of the day, would you work for money or would you let money do all the work for you? Food for thought from this free audible book online!
#8. Becoming
Perhaps, you need something to inspire you into becoming who you ought to be. Michelle Obama does it very well with her free Audible book "Becoming". This Audiobook will keep you locked up with an inspirational story about the first Afro-American first lady. Actually, she tells of her own story in a proud manner, carefully taking you through her experiences from childhood to being the First Lady of the most powerful country.
#9. People Who Eat Darkness
Richard Lloyd Parry dives us into some horror-tales with this harrowing free Audible Audiobook with Amazon prime. There is a way in which Simon Vance brings out the horror voice as he narrates the story about Lucie Blackman. Just about 21 years of age, Lucie arrives in Tokyo but suddenly disappears into the darkness. The sad ending is what will make you coil in your seat more. Lucie is later found buried in a cave, an act that jilters more questions than answers.
#10. Women and Weight Loss Tamasha
Probably, every woman wants to stay in some good shape; if not to fit into that outstanding wedding gown, then to have a baby. Rujuta Diwekar understands this pretty well, perhaps the reason for drawing attention to health and fitness. With a run time of about 11 and a half hours, this free Audiobook enlightens on how remaining healthy is as easy as 1-2-3. Nutrition, Sleep, Exercise, and Relationship are all a woman need to fall into the category of "a healthy lifestyle".
Part 2. Play Free Audible Audiobooks on MP3 Player
In the event that you cannot play your Audible books in MP3 format, you may need to get the help of software for this purpose. AudFree Audible Audiobook Converter is able to convert all Audible books to an MP3 player for playback. Follow these steps to convert any free Audible book Amazon to the desired format.
Step 1

Sync your DRM Audiobooks to iTunes Library

Once you open up the iTunes store, you can access the 'My Audiobooks' menu. Then go to the 'File' icon, click on it then open the 'Library'. Next, click on the 'Import Playlist' button option to stream Audible books.
Step 2

Import your Audiobooks to the Converter App

At this step, you can either use the 'Add' button or directly drag the DRM protected Audiobooks and drop them to the AudFree conversion window. In either way, you would have added the Audiobooks for conversion.
Step 3

Set the Output Format for Free Audible Books

This step lets you set the output format as well as other parameters. Simply click on the 'audio' icon and choose the desired output format, MP3. Likewise, you do several edits by tapping on the 'Edit' icon. Some of the parameters you can change include title, artist, cover and much more.
Step 4

Convert Audible Books to MP3

In order to hit your target, click on the 'Convert' button found at the lower-right corner of the screen. Allow the software time to convert all the Audiobooks that you had earlier added in the list. Once the process is complete, you'll be able to transfer converted Audible books to an MP3 player for playback.
The Bottom Line
With the availability of tools like AudFree DRM Audio Converter, it has become easier to convert any file to the desired format. So, make use of this advantage and convert Amazon prime free audible Audiobooks to MP3 format for offline playing.