Amazon Audible offers many benefits to its members. For instance, users can get 1 audiobook and 2 Audible Originals per month, among which Plus members are allowed to buy additional books at any time for 30% off the list price, etc. Despite that, many audiobook lovers are still willing to search for the best Audible alternatives, which is cheaper than Audible or even free to use.
So here comes the question for the Audible members: how to cancel Audible subscription? What will happen to the purchased audiobooks after the Audible membership expires? Don't worry, on this page, we will tell you several methods on how to unsubscribe from Audible and more significantly, how to keep audiobooks forever after expiration. Read to get what you need.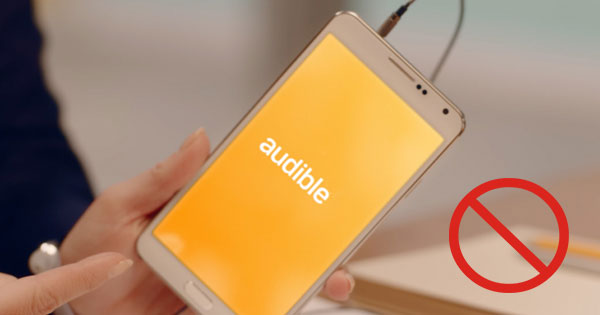 Part 1. How to Cancel Audible Membership on Amazon/Audible.com [For Desktop]
Normally, it is not difficult to cancel an Audible subscription. Just follow the guidance from Amazon's official website. Here, in order to save your time to search for it, we will list the steps to cancel Audible on Amazon as below:
How to Delete Audible Subscription via Audible.com
Step 1. Navigate to Audible.com and log in to your Amazon or Audible account.
Step 2. Hover on your upper-right Profile/Username. From the drop-down menu, pick 'Account Details'.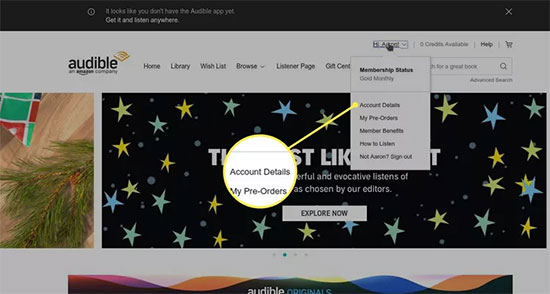 Step 3. On your account details page, choose 'Membership details'.
Step 4. Scroll down to the 'Your membership' section and hit the 'Cancel membership' button.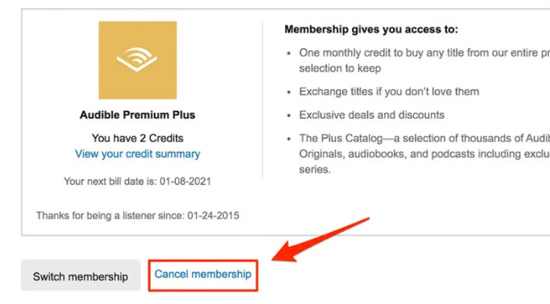 Step 5. Audible will prompt you that if you have unused credits you can use them to redeem or purchase titles before canceling.
Step 6. Proceed to hit the bottom 'Continue to cancel' button and choose why you are canceling.
Step 7. Once done, click 'Continue canceling' > 'Confirm cancelation'.
Note:
The above instruction is available on the Audible website. It won't work on a phone or tablet.
Deleting the Audible app will not cancel your subscription.
After the cancelation is done, you will receive an automated email to prove your plan's change.
It can be used to cancel the Audible free trial.
Part 2. How to Cancel Audible Membership on Phone via Google Play [For Android]
If you are using an Audible Android app, it is also feasible to remove Audible membership from the Google Play Store. Here is how to do that with specific steps:
Step 1. Boot up the Google Play Store on your Android device and click on your Profile in the top right corner.
Step 2. Proceed to choose 'Payments and Subscriptions' > 'Subscription'.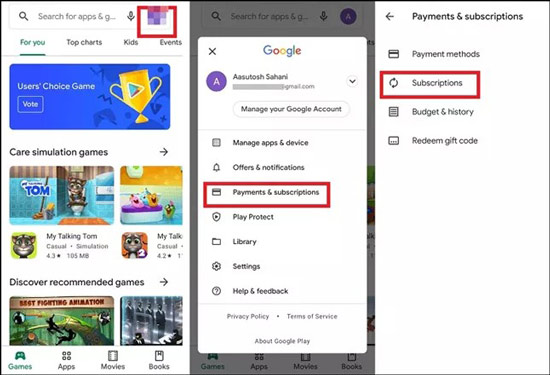 Step 3. Click on the 'Audible' option then.
Step 4. Then choose 'Manage subscription' and hit the bottom 'Cancel subscription' button.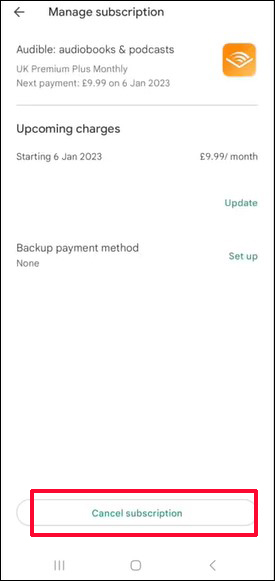 Step 5. Choose the reason why you unsubscribe to Audible and click on 'Continue' at the bottom.
Step 6. Confirm the cancelation by choosing 'Cancel subscription' from the pop-up.
Part 3. How to Unsubscribe from Audible on iPhone via Apple App Store [For iOS]
Likewise, if you prefer to listen to Audible books on your iPhone, there is also a way to cancel the Audible Premium Plus or Plus plan. Just follow us to explore more details.
Step 1. You can either launch the Apple Apple Store or go to the Settings app on your iPhone.
Step 2. Click on 'You Name' and select 'Subscriptions' from the list.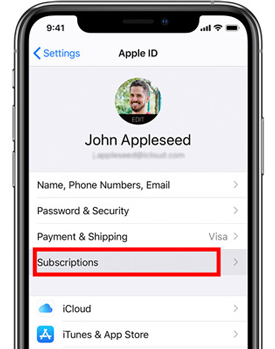 Step 3. Proceed to choose 'Audible'.
Step 4. Then hit the 'Cancel Subscription' option.
Part 4. How to Pause Audible Membership
It is recognized that all downloaded titles and unused credits will be lost once you cancel Audible subscriptions. Fortunately, Audible endows its users with the ability to pause Audible membership for up to 90 days every year. During this time, you can keep your unused credits and downloaded books in Audible. And your subscription can resume at no cost within 3 months.
Step 1. On the Audible app or website, hover on your Profile picture.
Step 2. From the drop-down list, choose 'Account Details'.
Step 3. Then click on 'Membership details' and look at the 'Your membership' section.
Step 4. Finally, hit the 'Pause membership' button on the left of 'Cancel membership'.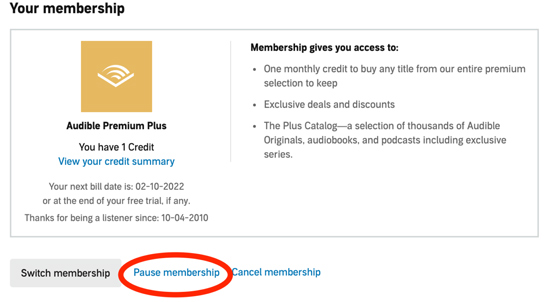 Note:
During this period, your subscription will be renewed automatically till you cancel it.
It is eligible to pause the Audible membership that is billed via Google Play or Apple App Store.
Part 5. How to Stop Audible Membership But Keep Books Forever
After you cancel your Audible membership, all purchased titles in the library won't be lost. And if you are still an Audible Plus subscriber, you can download books across multiple devices. But if you unsubscribe to the basic Audible Plus plan, all downloaded audiobooks in the library will be automatically cleared away at the end of your free trial or subscription.
But don't fret. Here is an all-in-one solution that helps you keep your favorite books in the local drive after Audible membership cancelation. That is AudFree Audible Book Converter for Wins/Mac, an excellent tool that downloads and converts every audiobook from Audible. It facilitates you to convert the AA/AAX audiobooks into local files in MP3, FLAC, WAV, AAC, M4A, M4B, and more unprotected formats.
With a 30X faster speed, this great tool can download a batch of audiobooks with all original audio quality and ID3 tags kept after converting. In this way, you have the ability to keep as many Audible audiobooks as you want locally and play them on any device or player seven without the Audible subscription or app.
AudFree Audible Audiobook Converter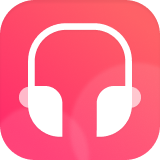 Losslessly bypass DRM from Audible audiobooks
Convert Audible AA/AAX to MP3, FLAC, M4A, etc.
Save original ID3 tags and all chapters in converted files
Split large audiobooks into chapters in smaller size
How to Keep Audible Books After Canceling
Before canceling, please download your loved audiobooks from Audible with your current Audible account. If you are new to Audible, you can download free Audible books with its free trial. Then look into the user guide to see how to keep Audible books before you cancel the free trial or subscription.
Step 1

Sync Audible Books to iTunes library

Download and install the AudFree Audible Converter on your computer desktop. Open the iTunes library and import audiobooks to iTunes in its 'My Audiobooks' section. Simply check 'File' > 'Library' > 'Import Playlist'. Please don't forget to authorize iTunes with your Audible account.
Step 2

Add Audible Books to AudFree Audible Converter

Now you have two ways to add Audible downloaded titles to AudFree Auditior. One is to use the first Add button named 'Load iTunes Library' to select audiobooks from the iTunes library. The other one is to directly drag and drop audio files into AudFree. These two methods are suitable for those copyright-protected audio files. As for the common audio files, please hit the second 'Add Files' button.
Step 3

Define Output Settings for Audible Titles

You are allowed to reset the output format based on your requests. Just hit on the first 'Audio' icon next to the 'Convert' bar. A new settings window will appear where you can adjust the output music format to convert Audible audiobooks to MP3, AAC, M4A, WAC, or any other. Moreover, the audio quality can be customized by altering the codec, channel, sample rate, or bit rate.
Step 4

Export Audible Books as Local Files to Keep Forever

Simply tap on the big 'Convert' button at the bottom right to start converting. Once done, check the converted Audible audiobooks by clicking the bottom File icon. All Audible audio files in the target folder now belong to you. Just enjoy them on any device you want even though you stop your Audible membership.
Part 6. More FAQs about Audible Cancel Subscription
Q1: If I cancel Audible do I keep my books?
You can keep and listen to the Audible titles purchased with credits or credit cards forever after cancelation. However, the downloaded books will be inaccessible offline in the Plus Catalog if you stop Audible subscriptions.
Q2: If I cancel Audible do I keep my credits?
Nope. Once you unsubscribe to Audible Premium Plus, all the unused credits will be lost.
Q3: Can I still listen to Audible if I cancel?
Audible is a subscription-based service. Yet, similar to Apple Music, it doesn't offer a free version, in which Audible Plus is basic and requisite to access the content in Audible. That means, if you cancel Audible Plus, you cannot listen to Audible books.
Q4: Audible charged me even though I canceled. How to fix it?
Please note that you don't cancel Audible membership complately if you just delete the Audible app. Follow the above channels to stop the paid service. Or you can opt to remove your credit or debit card from Audible by going to My Account > Payment Options. Then choose your credit card and tap on Delete.
If none of them works, just contact Audible or Amazon Customer Service for deep assistance.
Q5: Audible won't let me cancel, why?
Please disable the ad-blocker from the browser before that. Or, go to the Audible customer support chat. However, if you have activated two-factor authentication, you cannot cancel the subscription until the next billing.
Part 7. Conclusion
Here are the 3 methods on how to cancel Audible membership. Besides, you have known the expert software AudFree Audible Books Converter. It entitles you to back up your Audible library and save all your titles as local files in the local drive before canceling. This way, you can listen to the collected audiobooks offline anywhere at any time without the Audible membership or app.