As you know, Deezer is an online music streaming platform with over 80 million songs for people with different musical tastes. Sometimes, you may switch from Deezer to a more popular platform such as Spotify, what about those downloaded Deezer playlists? Is it possible to transfer Deezer to Spotify directly?
Luckily, there is always a way to import all your saved Deezer songs and playlists to Spotify. This article will share multiple solutions to effectively transfer music from Deezer to Spotify. Without further ado, keep reading to choose the right method.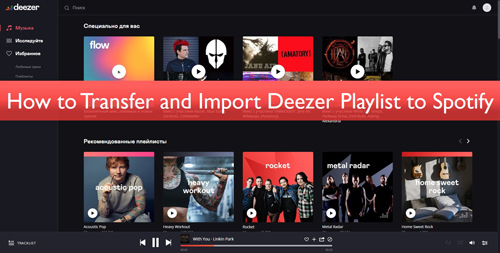 Part 1. Convert and Transfer Deezer to Spotify - AudFree Deezable
Many Deezer and Spotify users ask, "can I transfer my Deezer playlist to Spotify?". Well, you can't add Deezer music to Spotify directly. What you can do instead is getting a third-party software to convert and download Deezer songs locally and then transfer them to Spotify as local files. This is the most straightforward thing to do it, and the downloaded Deezer songs can not only be imported to Spotify, but can also transferred to multiple other devices.
For this solution, we recommend AudFree Deezable, a professional and powerful Deezer music converter that allows you to convert Deezer songs into FLAC, MP3, WAV, etc. at fast speed. Moreover, it keeps the sound quality of every converted song intact along with its ID3 tags. You need to follow just a few simple steps, and you can convert Deezer playlist to Spotify with ease.
Main Features of AudFree Deezer Music Converter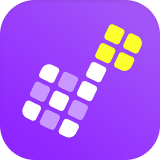 Download Deezer songs, playlists, albums to your PC as local files
Convert Deezer music to FLAC, MP3, FLAC and other common audio formats
Transfer Deezer playlist to Spotify, YouTube Music, Tidal, etc.
Convert Deezer songs at 5X speed for both Mac and Windows users
How to Download Deezer Playlist to Local Computer
Step 1

Download AudFree Deezable and launch it

After downloading AudFree Deezable, you need to launch it. When the software is launched, you will see the Deezer desktop app will be opening at the same time, and you need to add your Deezer credentials to log in.
Step 2

Customize Deezer music settings for adding to Spotify

Spotify is only compatible with following audio file formats: MP3 and M4P. Under this circumstance, it's necessary to adjust the Deezer playlist output format as MP3. To do that, please click the top Menu bar to choose the 'Preferences' > 'Convert' option to alter the output format and other audio parameters of Deezer playlists.
Step 3

Add and convert Deezer playlist to Spotify-supported local files

Open Deezer and start adding the songs that you want to convert by copying and pasting the Deezer playlist link to the address bar of AudFree Deezable. After the Deezer songs are added, click on the "Convert" tab to begin the download and conversion process. The Deezer playlists will be saved in the local output folder that you choose in the beginning.

How to Add Local Deezer Files to Spotify

You will have Deezer songs downloaded to your computer as local files. This section will help you understand how to move and copy Deezer playlist to Spotify.

Step 1: Launch the Spotify app and click on your profile name.

Step 2: Hit on the "Settings" tab and when the settings window opens, click on the "Local files" tab.

Step 3:You will have to enable "Show local files" and tap the "Add a source" icon in the "Music library" section.

Step 4: Find the Deezer song local file and upload it to Spotify. Then Deezer song will be displayed in the local file option in the left column of the main Spotify screen.

See Also: How to Add Local Files to Spotify
Part 2. Transfer Music from Deezer to Spotify Free - FreeYourMusic
FreeYourMusic is a tool for migrating Deezer playlists to Spotify for Mac, Windows, Linux, iOS and Android users. It can transfer data between 20 streaming services such as Deezer, Spotify, Apple Music, Amazon Music, Pandora, YouTube Music and many more. With its free trial, you can move a limited number of songs, playlists from Deezer to Spotify.
Step 1: Get FreeYourMusic and select Deezer as a source. This will allow you to export music from Deezer to Spotify.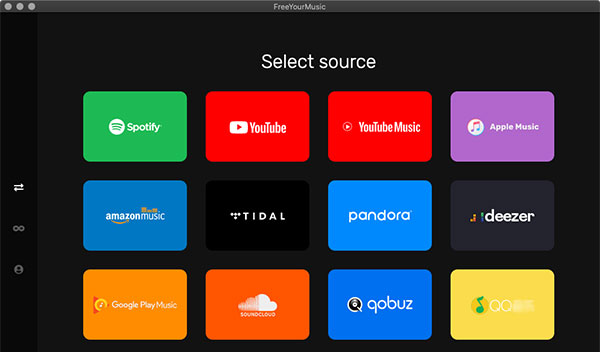 Step 2: You will be asked to select a destination. Please choose it as Spotify.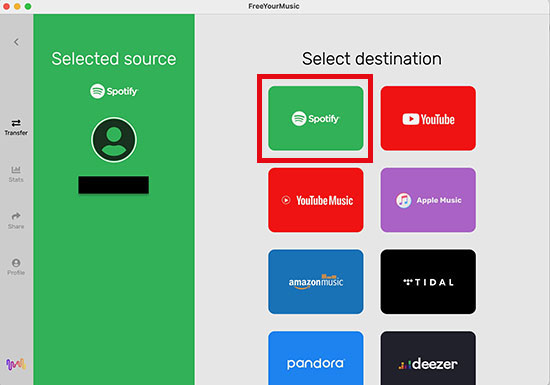 Step 3: Now, find the tracks, albums, and playlists you want to transfer from Deezer to Spotify. And when all are done, you will quickly convert Deezer playlist to Spotify.
Part 3. Import Deezer Playlist to Spotify Online- Soundiiz
Soundiiz is an online playlist converter for the transfer of playlists on numerous platforms. This efficient tool is available for Spotify, Deezer, Dailymotion, Groove, SoundCloud, YouTube, Qobuz, Rhapsody, Tidal and many more. It also offers a large number of advanced features such as splitting, merging, joining and rearranging playlists.
Step 1: Visit soundiiz.com and click 'Start Now'. Then sign up with your Twitter, Apple, Facebook or Google account.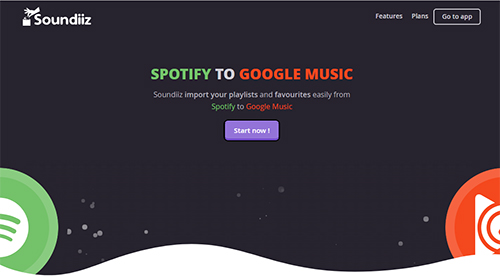 Step 2: Once you see the Soundiiz interface, click on the "Platform to Platform" option. In the Source tab, select Deezer and enter your Deezer account information.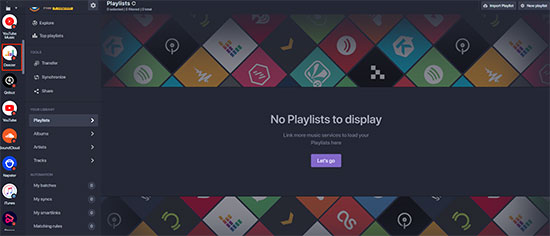 Step 3: Select the playlists you want to transfer from Deezer to Spotify, ticking the appropriate box to the left of each playlist. Then tap the Convert button on the top toolbar.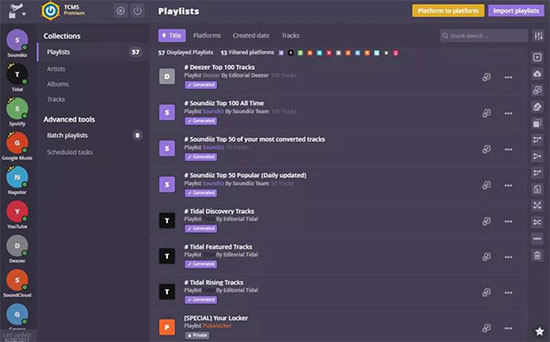 Step 4: Select Spotify as the destination and sign in to your Spotify account, after which the transfer process will begin.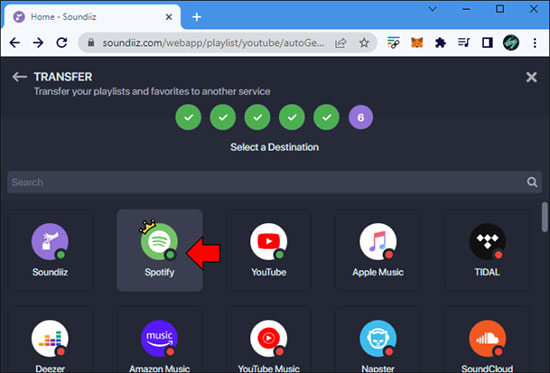 Part 4. Export Deezer Playlist to Spotify - TuneMyMusic
Here's another easy way to migrate Deezer to Spotify using TuneMyMusic, which has officially partnered with Spotify and Deezer platform to convert music libraries, sync playlists and more. The steps are easy to follow, and you will only have to visit their official website to get started. Here are the steps that you need to follow:
Step 1: Visit www.tunemymusic.com and click on the "Let's Start" tab.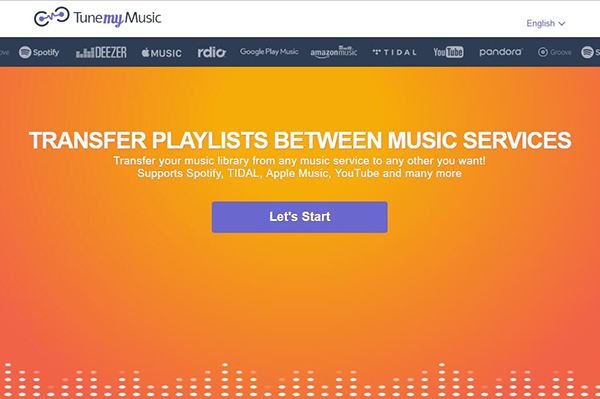 Step 2: Next page will ask you to select the source, Deezer, in this case.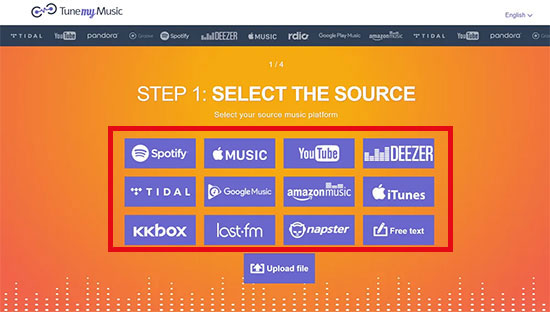 Step 3: You will have to select the playlist you want to move. You can copy the URL of the Deezer playlist and paste it onto the search bar. Alternatively, you can load the playlist directly from the Deezer account.
Step 4: Fourth, select the destination, which will be Spotify. Then, click on the "Start Moving My Music" tab to move Deezer playlist to Spotify.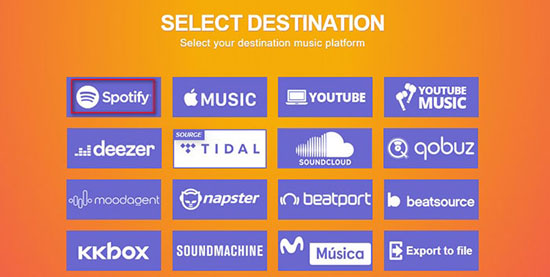 Part 5. Transfer Playlist from Deezer to Spotify - MusConv
Finally, you can try MusConv music migration service to transfer Deezer music to Spotify. It works between over 50 music services and is compatible with Windows and macOS computers. You'll need to choose a paid plan, with the lowest plan starting at $6.99/month. Please refer to the detailed steps for transferring Deezer songs to Spotify using MusConv below.
Step 1: Download MusConv from its official website. Install it on your Windows or Mac computer and launch it.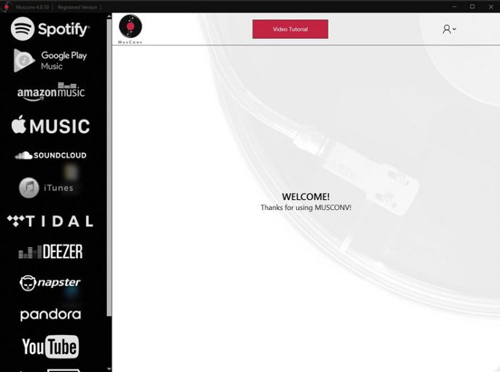 Step 2: Select the source of the music service as Deezer, and enter your Deezer credentials to log in.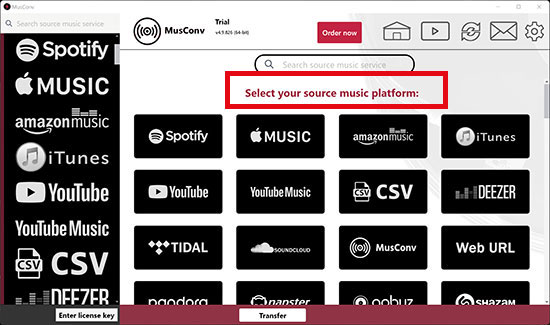 Step 3: Once you have selected the source, you will have to choose which Deezer playlist you want to transfer. You can also select the artist or album if you wish.
Step 4: Click on the Transfer button and select target music service as Spotify to start transferring the Deezer playlist.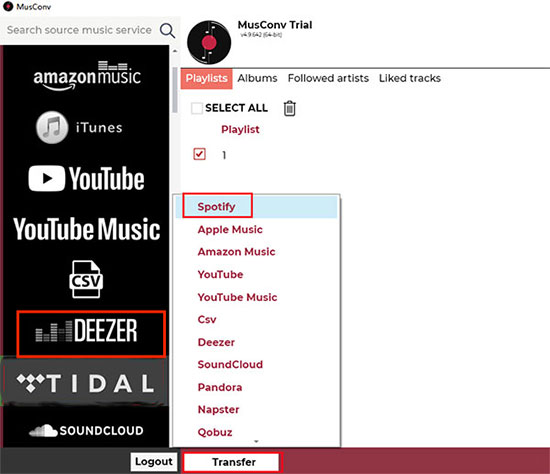 Part 6. In Conclusion
These are the five ways you can transfer Deezer to Spotify effortlessly. Out of all the ways, the one that truly stands out is AudFree Deezable. Because it gives you the freedom to transfer local Deezer songs to any device and app, including the Spotify app. You can download AudFree Deezable on your Mac or Windows computer and start using it immediately to import Deezer playlist to Spotify without any hassle.