Spotify and Deezer are both well-known music streaming services, which offers free and premium subscriptions for users to explore music files quickly and easily. Both of them can offer a wide variety of different songs for listening and it could be better to transfer playlist from Spotify to Deezer to get a bigger music collection for nice playback.
In this case, you might wonder to know whether there is an effective tool or workaround to transfer playlist between Spotify and Deezer without losing any song and playlist from each platform. So, today, we will focus on Spotify to Deezer and share your four professional ways to convert Spotify playlist to Deezer online and offline.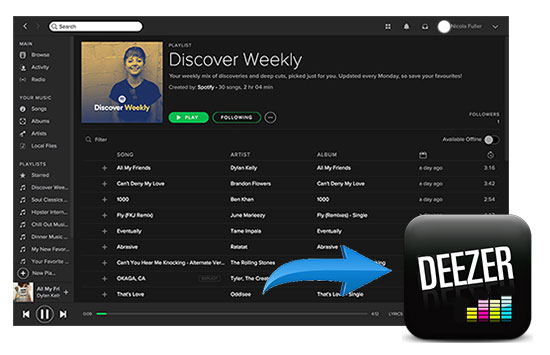 Part 1. Convert Spotify to Deezer with Spotizr
Why I put this tool as the number one place is that Spotizr is specialized in importing any Spotify playlists to Deezer in a fast way. As consequence, this smart Spotify playlist converter offers the easiest and simplest way to convert Spotify to Deezer. Even it doesn't require you to log in your Spotify account details but only the URL of the Spotify playlists that you'd like to sync. Check the detailed steps as below: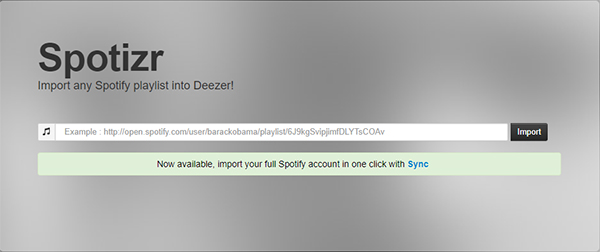 Step 1. Open your web browser and input the web link http://spotizr.com/ at the address bar.
Step 2. Find and copy the URL of playlist on Spotify and paste it to the search bar on Spotizr.
Step 3. Simply touch the Import button, it will pop up the Deezer website page, in which please sing in your Deezer account. And then, Spotify playlist will be moved to Deezer automatically.
Part 2. Spotify Playlist to Deezer with Mooval
Mooval is a free and easy music converter to move music streaming files from one platform to another. This online tool is available for the following three music sites as export service and import service, including Deezer, Spotify as well as Napster. That's to say, with the help of Mooval, you can not only transfer playlist from Spotify to Deezer but also add Deezer to Spotify with a few clicks. For the complete guide, please refer to the following steps:

"
Step 1. Navigate to the official website page by clicking the http://www.mooval.de/ link.
Step 2. Select the export source as Spotify and import source as Deezer by using the triangle button.
Step 3. Please hit on the Connect tab and then you will be redirected to the official websites of Deezer and Spotify to authorize Mooval to access to music data.
Step 4. It will start analyzing and the playlists on Spotify but not available on Deezer. After that, you just need to click Move to export Spotify playlist to Deezer.
Part 3. Import Spotify to Deezer with SongShift
SongShift is different from the above two tools as it is a simple playlist transfer for iOS devices. If you would like to take control of your music playlists on mobile, this tool is the best option, which can shift your playlists across lots of popular streaming music services, including Apple Music, Spotify, Deezer, Tidal, Pandora, Napster, LastFM, and Discogs. You can use it to import 100 Spotify songs to Deezer with no cost. For more, you need to charge $3.99 to get the full version. Let's see how it works.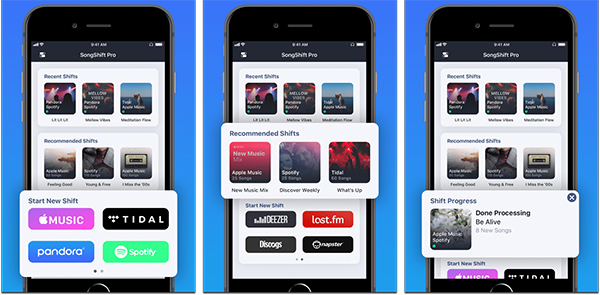 "
Step 1. Download and install SongShift app on your iOS mobile devices.
Step 2. Open it to choose Begin New Shift, and select Spotify as source and Deezer as the destination.
Step 3. Start to add Spotify tracks to wanted playlist and move your playlist to Deezer automatically.
Part 4. Spotify to Deezer using AudFree Spotify to Deezer Converter
No matter you choose which one from the three Spotify to Deezer converters we listed on the above part, you can easily get Spotify songs on Deezer music library. But you should know is that with using any of those above tools, you can transfer the titles of Spotify tracks and you need to download moved music files on Deezer again for playback.
Here, we'd like to introduce another different yet useful way to make Spotify to Deezer possible – AudFree Spotify to Deezer Converter, with which you can download songs and playlists from Spotify to local computer and convert Spotify to MP3, AAC, FLAC, WAV so that you can export Spotify playlist downloads to Deezer library instead of downloading them again. The free trial version can download one-minute song for each track, you need to pay for $19.95 to unlock this limitation. Here's the guide: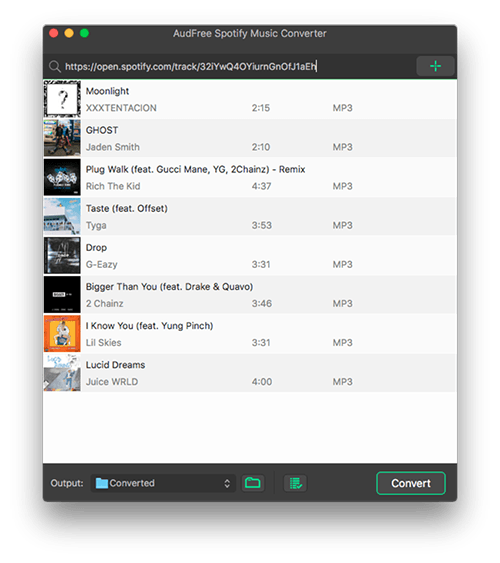 Step 1. Import Spotify Files to AudFree. Open AudFree Spotify Music Converter on your computer, upload Spotify playlists or albums to it by copying and pasting Spotify URL to search box or dragging and dropping them to conversion window.
Step 2. Set Spotify output format as MP3. Navigate to the top menu bar and choose Preferences -> Convert to open the setting window, in which you can define MP3 as output format, adjust conversion speed, customize output quality, etc.
Step 3. Download local Spotify MP3 files. Now, you can start the downloading process by touching the Convert button at the bottom-right corner, AudFree Spotify Music Converter will download and convert Spotify playlists to MP3.
Step 4. Import Spotify to Deezer. Go to the official Deezer website, hit on the My Music -> More -> My MP3s button to choose the converted Spotify MP3 files on your computer drive and then upload them to Deezer with ease.
Part 5. Final Verdict
There are four great ways on Spotify to Deezer. If you only need to convert Spotify to Deezer easily, Spotizr is a nice tool as it's free. But you also don't want to loss any song or playlist on Spotify, AudFree Spotify Music Converter is much better than Spotizr.
If you usually hang out on many streaming music sites, Mooval and SongShift are your options, as they are opular music services. You can choose one acccompatible with many pording to your device. Mooval is available for computers while SongShift supports iOS devices.
In short, no matter which way you choose, you can transfer playlist from Spotify to Deezer successfully. Do you have any other tool or solution on Spotify to Deezer? Just share it with us in the comment area.