Q: "How can I import my playlists from Tidal to Deezer? I have several Tidal playlists that need to migrate to Deezer. Please advise." —— Tom from Deezer community
With over 56 million tracks and 30,000 radio channels, Deezer now is available to more than 185 countries throughout the world. Deezer vs Spotify and Tidal vs Deezer have been the hot topics for many years. From my point of view, Deezer's large music library is about the same as Spotify's, and the music quality of Deezer Elite is neck and neck with Tidal HIFI. Deezer could be the best mentor to lead you to start the journey of streaming music, so to speak.
To migrate Tidal playlists to Deezer, there are multiple methods. In this post, I would like to carefully select and find out the most useful way to import Tidal playlist to Deezer by far. Read on this article if you're interested in it.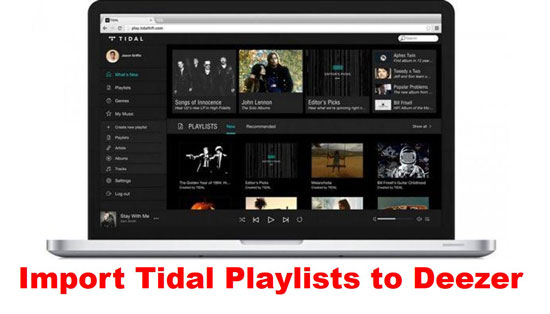 Part 1. Move Tidal Playlist to Deezer: Tool You Need
If you have tried to move your music to Tidal, you should know some online syncing tools like Soundiiz, TuneMyMusic, FreeYourMusic, and so on. These online tools are convenient to copy and paste your music playlists from Tidal to Deezer, on the premise that your music resource is findable in both Tidal and Deezer. The Tidal exclusive artists and songs are not available to move to Deezer. Therefore, using those playlists-transferring online tools are not qualified as perfect solutions.
What I am going to show you is the most comprehensive solution to transfer Tidal playlist to Deezer, covering the common songs and the Tidal exclusive tracks. This almost perfect method requires to use an offline tool called AudFree Tidal Playlist Converter, which is awarded as the top offline converting software for Tidal Music. Specialized for downloading and converting Tidal tracks, this powerful software is able to download Tidal songs as real local files and save local Tidal tracks in 6 main audio formats, containing MP3, AAC, FLAC, WAV, M4A, and M4B.
In addition, with the support of the latest converting skills, this tiny tool is able to extract almost 100% lossless quality from Tidal HIFI and Tidal Master audios. The converted Tidal audio files contain the full list of ID3 tags, such as artists, albums, album arts, titles, track numbers, and so forth. With the utilize of AudFree Tidal Music Converter, it is simple to get Tidal music downloads and upload Tidal playlist to Deezer from your local devices.
Part 2. How to Transfer Tidal Playlist to Deezer: Step by Step
Now let's view the detailed steps on how to stream Tidal music to Deezer via the help of AudFree Tidal Music Converter. Please make sure your Tidal subscription is still activated and there is a Tidal desktop app installed on your computer.
Step 1

Select playlists in Tidal and load them to AudFree

Download and install the right version of AudFree from the above links. Open the converter and the desktop Tidal app will automatically open. In the Tidal app, select all playlists that you would like to migrate to Deezer. Hit the '...' icon beside the playlist and choose 'Share' > Copy Playlist Link. Then paste the link to the search bar in AudFree's main interface. Hit the plus button to add all selections into AudFree.
Step 2

Reset output sound settings of Tidal songs for Deezer

In AudFree's main page, find and open the menu icon from the top taskbar. Under the drop-down menu, choose 'Preferences' and click 'Convert'. Now you have entered the settings page for resetting the output parameters as you want. To be compatible with the Deezer player, please set the output format to MP3, bitrate to 320 kbps, sample rate to 48000 Hz.
Tips: To keep the best output quality of Tidal audios. Here are 3 references for Tidal Premium, Tidal HIFI, and Tidal Master. For Tidal Premium: MP3 or AAC, 320kbps, 48000Hz. For Tidal HIFI: FLAC or WAV, 16bit, 44100Hz. For Tidal Master: FLAC or WAV, 24 bit, 96000Hz.
Step 3

Start to download and convert Tidal to Deezer

Hit the 'Convert' button from the lower right side of AudFree's main window. The program will activate and start the conversion. It will end the converting process automatically so just leave it to run. When the conversion is over, please hit the folder icon with a red tip. And you will be navigated to the local 'Converted' folder where preserves all your Tidal audio downloads.
Step 4

Import Tidal tracks to Deezer

Visit deezer.com from any browser on the computer. Find and open 'Favorites'. Choose the 'More' option. Click 'My MP3s' and choose all local Tidal tracks. Now you can listen to your Tidal playlists in Deezer music library.