Music streaming services such as Spotify or Deezer have completely altered how we access and listen to music these days. As for as I'm concerned, I no longer buy physical music CDs because it is easier to access any song that you want online.
Recently, there are so many people wondering which is better, Deezer or Spotify. But they offer almost the same services. It's impossible to choose one over the other. As a newbie, it is always important to consider the difference between Deezer and Spotify.
Spotify and Deezer are some of the best music streaming services you should consider. To make the right decision, here is a side-by-side comparison of Deezer vs Spotify.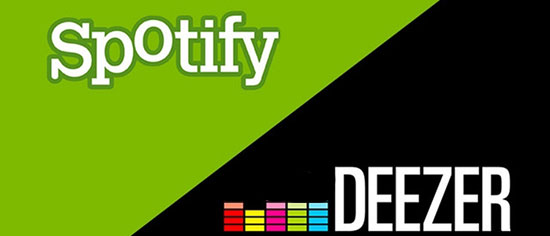 Deezer vs Spotify Quality
The Deezer vs Spotify sound quality is one of the most important factors to consider when you want to subscribe to a given service. The standard Spotify steam songs are at 160kbps. While the lowest tier for Deezer stream is at 128kbps.
The Deezer vs Spotify bitrate for the premium subscribers is the same, 320kbps. Deezer sound quality goes a step further by providing subscribers with the hi-definition CD-quality at 1,411kbps. This gives Deezer subscribers an upper hand especially when one wants CD-quality songs.
Is Deezer better than Spotify? In terms of available types the Spotify vs Deezer sound quality, Deezer wins.
Deezer vs Spotify Music Library
The next important parameter to consider is the number of songs on a music streaming service. Deezer versus Spotify music library, which one wins? Let's make a complete Deezer and Spotify comparison of music library.
Spotify prides itself with having more than 30 million tracks in its library. These songs are available in 58 countries for your enjoyment.
Deezer, on the other hand, has over 40 million tracks in its library. The songs are accessible in over 180 countries.
If you travel a lot and love to sample local tunes whenever you travel, then you will love Deezer. Because it has more local songs than any other music streaming services. But, if you don't travel a lot then there is not much difference in the tracks you access on both Spotify and Deezer.
Deezer vs Spotify Price
When it comes to the subscription fee between Spotify and Deezer, we need to introduce them respectively.
There are two different choices for Spotify users, including Spotify Free and Spotify Premium. But Spotify Premium is divided into three different types. It contains Spotify Premium for Student at $4.99 per month, Spotify Premium for Individual at $9.99 per month as well as Spotify Premium for Family at a discounted price of $14.99 a month for all five members.
There are three tiers offered by Deezer. An ad-supported Discovery tier, a premium version that runs $9.99 per month and an Elite version for $14.99/month, also called Deezer HiFi.
Deezer and Spotify Free are similar. Speaking of Deezer HiFi vs Spotify Premium, the most advantage of Deezer HiFi is that allows subscribers to stream hi-def CD-quality 1,411kbps, 16/44.1 kHz music. But as you know, the price is much expensive than the Spotify subscription fee.
Deezer vs Spotify Listen Offline
When subscribing to a music service, you want one that will let you listen to your favorite songs offline.
Spotify allows premium subscribers to download up to 3,333 tracks for a 90-day period. This allows you a chance to listen to many of your favorite songs while offline. Also, you can download Spotify songs for free to your computer with a professional third-party tool.
Deezer, allows subscribers to download a limitless number of songs. But, for mobile users, the maximum number of songs per playlist that you download is 1000 songs. By the way, you can have longer playlists if you are using a personal computer. Deezer thus offers subscribers a chance to listen to more songs while offline than Spotify. Without a Deezer subscription, 'Deezer Free Music Download' is a recommended way to get offline Deezer playlists.
Deezer vs Spotify User Interface
The design of a music streaming service is one of the most important things to consider. It is important that the design is easy to use. So that you can easily navigate and find great songs to listen to every time you feel like.
Deezer so far has some of the best user interfaces in the market. It has a simple design for both the web version and the mobile version. This makes it easy to navigate the app and play your favorite songs.
Spotify has a user interface that is quite complex when compared to Deezer. But it is quite usable and this why the platforms have millions of active subscribers each year.
Deezer vs. Spotify Music Discover
Another great factor to consider when comparing Spotify vs Deezer is the music discovery feature. With millions of songs on each platform, it will be impossible to listen to all the songs in one's lifetime. However, it makes it easy for listeners if there is a music discovery feature to help you discover new and amazing songs from time to time.
Deezer has a cool feature named "Hear This" that helps you discover fresh tunes that you haven't listened to in ages. This feature tracks your music taste and recommends new tracks and albums by your favorite artists. It also makes recommendations based on your music streaming habits and those of individuals who have the same music taste as you.
Spotify has the 'Discover Weekly' feature to find new music on Spotify. It creates an awesome playlist with 30 songs that the systems thinks you have never listened to but falls within your music taste. The playlists are personalized for each individual user. Everyone has a unique playlist that is perfect for their individual music taste.
How to Transfer Spotify Music to Deezer
If you want to switch from Spotify to Deezer, it's better to transfer Spotify playlists to Deezer. To transfer songs from Spotify to Deezer, you need to download and convert Spotify tracks to MP3, and then upload them to your Deezer account.
To do this more effectively you will need a powerful Spotify to Deezer converter. The best tool is the AudFree Spotify Music Converter. It's well-designed to convert Spotify to MP3 format so that you can import them to your Deezer account.
The following is the simple tutorial:
Step 1. Launch this application on your computer and then log into your Spotify account.
Step 2. Find and select each song or playlist you want to convert to MP3 for uploading on Deezer and add the songs and playlists on the program.
Step 3. Open the format window and select MP3 as the format to convert your songs to. Now click convert to start the conversion.
Step 4. Once your songs have been converted to MP3 format, log into your premium Deezer account and upload the songs to the account.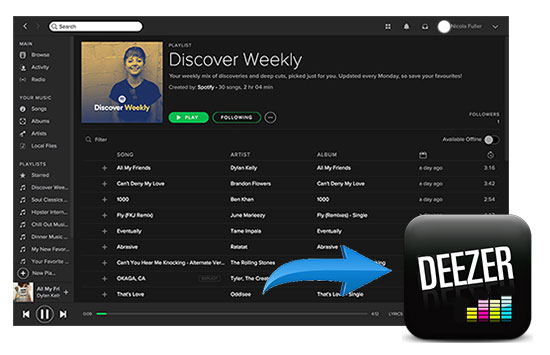 Conclusion and Suggestion
Deezer and Spotify are the two leading music-streaming services for many reasons. They all have a high number of songs in their libraries. They offer high-quality audio streaming. They make it easy for users to discover new songs. And they offer a large number of songs for users to listen to offline. You can have a quick glance at the difference between Spotify and Deezer.
| | Deezer Music | Spotify Music |
| --- | --- | --- |
| Support Free Plan | Yes | Yes |
| Month Subscription Fee | $9.99 for individual, $14.99 for 6 family users | $9.99 for individual, $14.99 for 6 family members |
| Free Features | ad-supported, online listening, no scrubbing | ad-supported, shuffle play, online playback |
| Free Trial | 30 days | 3 months |
| Music Library | 53 million tracks | 35 million songs |
| Audio Quality | 320 kbps MP3 quality for Premium | 320 kbps Vorbis Ogg quality for Premium |
| Paid Features | offline listening, ad-free, scrubbing | higher quality, offline mode, ad-free unlimted skips |
The final choice between Deezer vs Spotify, should a personal choice. This is because although the two services have their strength and weaknesses, they are so close that personal preference may do the trick.
For example, if you want a service where you can listen to many songs for free, then Spotify wins. But, if you want to listen to an unlimited number of songs offline then you should consider Deezer.