Music streaming services such as Spotify or Deezer have completely altered how we access and listen to music these days. As for as I'm concerned, I no longer buy physical music CDs because it's much easier to get any song we want online. Recently, there are so many people wondering which is better, Deezer or Spotify, as they offer almost the same service and it's impossible to choose one over the other.
Indeed, Spotify and Deezer are some of the best music streaming services you should consider. As a newbie, it's always important to understand the difference between Deezer and Spotify. To make the right decision, here is a side-by-side comparison of Deezer vs Spotify in different aspects.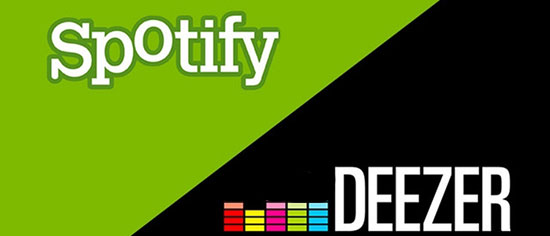 #1. Does Deezer vs Spotify Offer Better Sound Quality?
Deezer quality vs Spotify is one of the most important factors to consider when you want to subscribe to a given service. The audio quality of Deezer Free tops out at 128kbps, while Spotify Free's audio quality tops out at 160kbps. At the highest audio setting, Deezer vs Spotify bitrate for the premium subscribers is the same, 320kbps. What's more, Deezer HiFi takes the sound quality a step further, offering users a high definition CD quality of 1,411kbps, which gives Deezer subscribers the upper hand, especially when one needs a more refined and original sound.
In terms of formats, Spotify has only lossy file options, AAC and Ogg Vorbis. Deezer is available in MP3 and lossless FLAC format. Obviously, FLAC offers better sound quality compared to the lossy formats. Therefore, Deezer HiFi is slightly better with its CD quality audio.
Deezer vs Spotify sound quality, is Deezer better than Spotify? In terms of available genres, Deezer wins.
| Platform | Deezer Free | Spotify Free | Deezer Premium | Spotify Premium |
| --- | --- | --- | --- | --- |
| Sound Quality | Basic (64kbps) / Standard (128kbps) | Normal (96 kb/s) / High quality (160 kbps) | 320kb/s or 16-bit/44.1kHz Deezer HiFi | 320 Kbps |
| Format | MP3 | AAC, Ogg Vorbis | MP3, FLAC | AAC, Ogg Vorbis |
#2. Which Has a Extensive Music Library, Spotify vs Deezer?
The next important parameter to consider is the number of songs available on the music streaming service. Deezer vs Spotify music library, which one wins? Let's make a complete comparison of their music libraries.
Spotify prides itself on having over 82 million tracks in its music library, available in 58 countries, for your enjoyment. Both exclusive services and super powerful brand can be found on Spotify. On the other hand, with a library of more than 90 million songs, Deezer has covered more than 180 countries, absorbing the most popular music from each region.
If you travel a lot and love to sample local tunes whenever you travel, then you will love Deezer because it has more local songs than any other music streaming service. But if you don't travel a lot, then there is not much difference in the tracks you access on both Spotify and Deezer.
#3. Does Deezer Cost More than Spotify?
When it comes to the subscription fees between Spotify and Deezer, we need to cover them separately.
There are two different choices for Spotify users, including Spotify Free and Spotify Premium. But Spotify Premium is further divided into four different types. It consists of Spotify Premium for Student at $4.99 per month, Spotify Premium for Individual at $9.99 per month, Spotify Premium for Duo at $12.99 per month, as well as Spotify Premium for Family at a discounted price of $15.99 per month for six members.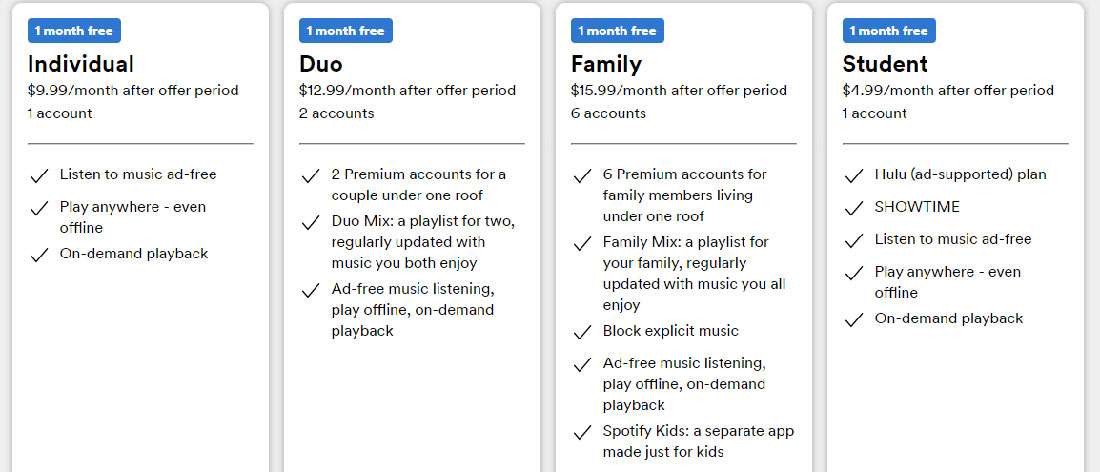 There are three tiers offered by Deezer. An ad-supported Discovery tier, a premium version that runs $10.99 per month and an Family version for $17.99/month. Today, Deezer HiFi is included in the Deezer Premium and Family plans.
Deezer Free vs Spotify Free is similar. Speaking of Deezer Premium vs Spotify Premium, the most advantage of Deezer is that it allows subscribers to stream high definition CD-quality 1,411kbps, 16/44.1 kHz music. But as you know, Deezer price is much more expensive than the Spotify subscription fee.
| Platform | Spotify | Deezer |
| --- | --- | --- |
| Free Plan | √ | √ |
| Premium Individual | $9.99/month | $10.99/month |
| Premium Duo | $12.99/month | / |
| Premium Student | $4.99/month | $5.99/month |
| Premium Family | $15.99/month | $17.99/month |
#4. Do Spotify and Deezer Have an Offline Listening Mode?
When subscribing to a music service, listening to favorite songs offline is essential for music lovers.
Spotify allows Premium subscribers to download up to 10,000 songs on 5 different devices, which gives Spotify Premium subscribers the opportunity to listen to their favorite songs, albums, playlists offline. Meanwhile, you need to surf the Internet at least once every 30 days to keep up with the downloaded content.
Deezer, allows subscribers to download a limitless number of songs. But, for mobile users, the maximum number of songs per playlist that you download is 1000 songs. By the way, you can have longer playlists if you are using a personal computer. So Deezer offers subscribers a chance to listen to more songs while offline than Spotify.
#5. Which Has a Better User Interface, Deezer or Spotify?
The design of a music streaming service also affects the music experience. It is important that the design is easy to use so that you can easily navigate and find great songs for listening every time you feel like.
By far, Deezer has some of the best user interfaces on the market, such as bright interface with lots of colors and a nice uniform font for everything. Besides, it has a simple design for both the web and mobile versions, which makes it easy to navigate the app and play your favorite Deezer songs.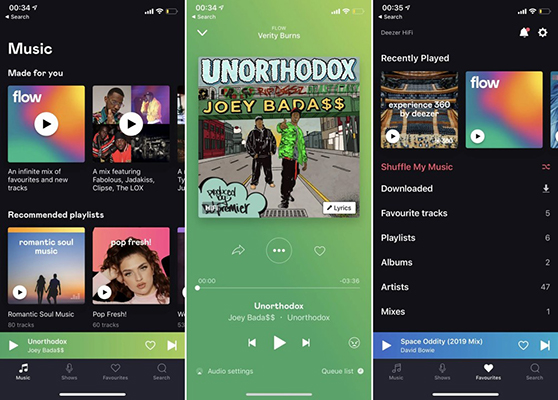 Compared to Deezer, Spotify has a user interface that is quite complex with a dark theme. But it is quite usable and this why the platforms have millions of active subscribers each year. Most people like Deezer's light, clear and simple design and find it easier to navigate than Spotify's dark, rather complex interface.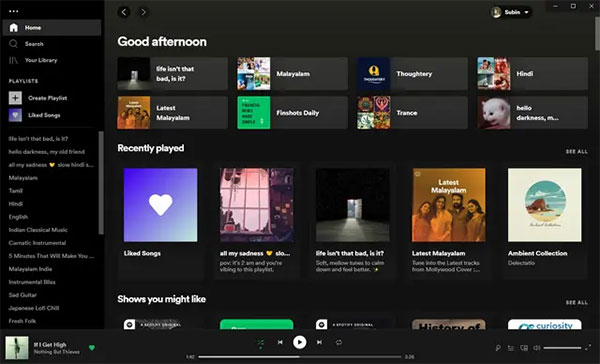 #6. Does Deezer vs Spotify Have a Better Music Discovery Feature?
Another great factor to consider when comparing Spotify vs Deezer is the music discovery feature. With millions of songs on each platform, it will be impossible to listen to all the songs in one's lifetime. However, it would be easy for listeners if there is a music discovery feature to help you discover new and amazing songs from time to time.
Deezer has a cool feature named "Flow" that helps you discover fresh tunes you haven't listened to in ages. This feature tracks your music tastes and recommends new tracks and albums by your favorite artists. It also makes recommendations based on your music streaming habits and those of individuals who have the same music taste as you. Actually, it provides an infinite playlist, and the more you use Deezer, the more it will reflect your tastes.
Spotify has the 'Discover Weekly' feature to find new music on Spotify. It creates an awesome playlist with 30 songs that the systems thinks you have never heard of, but fall within your musical tastes. The playlists are personalized for each user, and everyone has a unique playlist that is perfect for their individual music taste.
#7. Deezer vs Spotify: Which Has the More Convenient Social Features?
A surprise to many is Spotify's social features. Spotify can connect with Facebook to find your friends' profiles, view and follow their music playlists. In addition, once you've followed someone, you can look over their live listening activity under "Friends Activity". If you don't want people to view your music activity, you can choose to hide friend activity on Spotify.
Deezer also allows you to track and view your friends' profiles. However, Deezer does not have the ability to check your friend's live listening activity. By the way, since there are more users on Spotify, you will most likely find more friends on Spotify than Deezer.
#8. What Additional Features Are Available, Deezer or Spotify?
Ever heard of listening statistics? Every year Spotify publishes statistics in the form of an interactive graph for every Spotify user to view, called Spotify Wrapped. These graphics show you the songs you've listened to the most during the year, your new favorite artists, time spent, and more.
At the same time, Deezer has a similar feature called the Stateeztics app, which, unlike Spotify, is updated continuously rather than once a year. With this feature, you can see how many songs you listen to on average per day, top tracks from the past 30 days, etc.
#9. How Much Do Spotify and Deezer Pay Artists?
Despite being the most popular platform, Spotify pays artists an average of between $0.003 and $0.005 per stream, which is relatively low. Furthermore, Spotify follows what is known as a "pro-rated" or "platform-centric" distribution model, where artists are paid based on the percentage of their overall streams.
Deezer, on the other hand, pays $0.0064 per stream to artists. It pays approximately $1 per 178 streams. Instead of the prorated model it uses, it pays the artist for each stream. This way, the artist gets more without having to take into account the share of the record company, distributor and other parties.
Deezer vs Spotify: Which is Better
Many people have a question in their mind, namely which is better Deezer or Spotify? In order to give users a more intuitive understanding of the difference between Deezer and Spotify, the following table compares Spotify and Deezer from different aspects, just check out the details.
| | Deezer Music | Spotify Music |
| --- | --- | --- |
| Support Free Plan | Yes | Yes |
| Month Subscription Fee | $17.99/month(Family) $10.99/month(Premium) | $9.99/month(Individual) $12.99/month(Duo) $15.99/month(Family) $4.99/month(Student ) |
| Free Features | ad-supported, online listening, no scrubbing | ad-supported, shuffle play, online playback |
| Free Trial | 1 month | 1 month |
| Music Library | 90 million tracks | 82 million songs |
| Audio Quality | 320 kbps MP3 quality for Premium 1,411kbps FLAC quality for Deezer HiFi | 320 kbps Vorbis Ogg quality for Premium |
| Paid Features | offline listening, ad-free, scrubbing, high fidelity sound | higher quality, offline mode, ad-free, unlimted skips |
| Pay Artist | $0.003-$0.005 per stream | $0.0064 per stream |
| Number of Users | 16 million | 456 million |
| Supported Devices | Android and iOS devices, computers, TVs, car or home audio systems, game consoles | Android and iOS devices, computers, TVs, car or home audio systems, game consoles, wearables |
Bonus Time: How to Transfer Playlist between Spotify and Deezer
If you want to transfer playlists between Spotify and Deezer, you'd better download Spotify and Deezer playlists to your computer locally in advance, then you can freely upload them to your Deezer or Spotify account. To do this more efficiently, you will need powerful third-party tools to assist you.
How to Convert Spotify to Deezer via AudFree Spotify Music Converter
On the one hand, if you want to convert Spotify to Deezer, AudFree Spotify Music Converter is your best helper. It is well designed to convert Spotify to MP3, FLAC, WAV and other formats for offline listening. What's more, it can download Spotify songs to your computer for free, which makes it very convenient to transfer Spotify playlist to Deezer.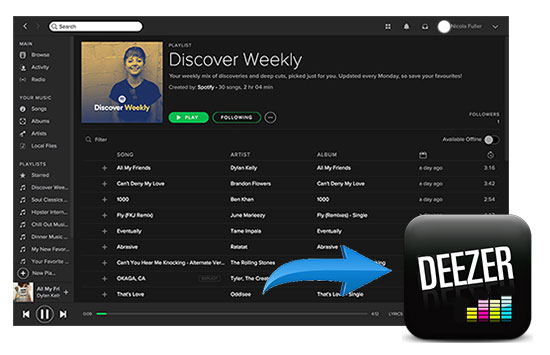 Step 1. Launch AudFree SpoDable on your computer and then log into your Spotify account.
Step 2. Select your favorite Spotify songs, then drag and drop them directly to the conversion window of AudFree SpoDable.
Step 3. Click Preference in the upper right corner to open the settings window and choose the MP3 format and parameters of the converted songs. Now click the Convert button to start converting and downloading Spotify Music.
Step 4. Go to Deezer official website, click My Music > More > My MP3 button, then you can upload Spotify MP3 files to Deezer from your computer.
How to Convert Deezer to Spotify via AudFree Deezer Music Converter
On the other hand, if you want to transfer Deezer to Spotify, then don't miss AudFree Deezer Music Converter. It is dedicated to download Deezer Music, podcasts, playlists as normal local files. To provide the best quality music experience, it also converts Deezer Music to FLAC lossless format so that you can enjoy CD quality audio. In turn, converting Deezer to Spotify will no longer be a problem.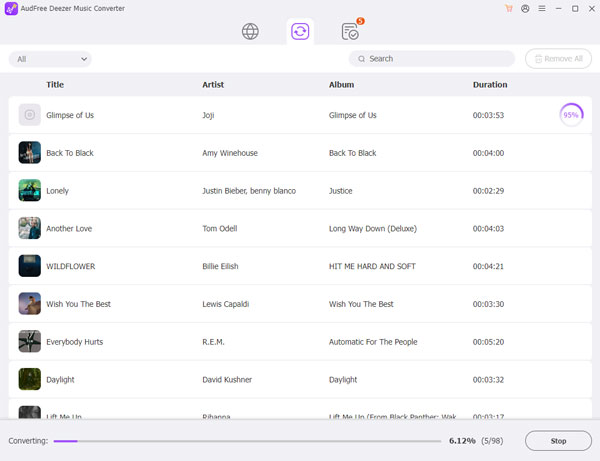 Step 1. Open AudFree Deezable, click Menu icon > Preferences > Convert Options to start adjusting Deezer Music output format and other audio parameters.
Step 2. Copy and paste the URL of Deezer Music into the search bar at the top of AudFree Deezable, and then click the '+' icon.
Step 3. Click the 'Convert' button to start the conversion and download process. After that, find the Deezer Music files in the destination folder on your computer.
Step 4. Open Spotify desktop app and select Settings > Local Files > Show Local Files, then it's able to smoothly upload local Deezer files to Spotify without any problems.
Conclusion
Is Deezer better than Spotify? This answer is not definitive, as the ultimate choice between Deezer vs Spotify should be a personal one. Although both services have their strength and weaknesses, they are so close that personal preference may do the trick. So think about what you are looking for in a streaming service and then make the most appropriate option.