The annual Amazon Prime Day deals are live now with fantastic buys on Amazon hot products and services. For audiobook lovers, Amazon is now offering exclusive discount on your next three months of the Audible. Specifically speaking, if you sign up now (or re-activate the Audible subscription), you can get 66% off on Audible membership (which is normally $14.95 per month) for just $4.95 each in the next three months.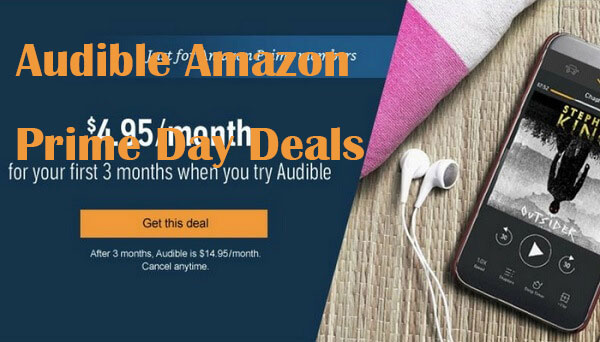 To get this deal, you are required to become a Prime member first. If you haven't subscribed Amazon Prime yet, you can now get a free 30-day trial in order to take advantage of all Prime Day deals right now, and have all the other benefits like free 2-day shipping and more on the big day.
Once you joined this promotion, you'll be billed monthly with $4.95 membership fees. But if you find it's not what you want, you can cancel the subscription at anytime. If you want to keep the Audible membership after three months, you'll then be charged for $14.95 again.
More about Audible & Audible Audiobooks
Audible.com has the world's largest library of spoken audios, including audiobooks, podcasts and more. Within the subscription of Audible, you'll receive one credit each month, with which you can get one free Audible audiobook regardless of its price. If you want to get additional audiobooks beyond the credit, you can receive up to 30% discount due to the exclusive membership. Besides, you are allowed to exchange the audiobooks for free if you don't like them afterwards. Moreover, even if you cancel the subscription, you can keep these audiobooks forever.
Listen to Audible Books on More Devices
Audible makes listening audiobooks easy on a range of devices, such as Amazon Kindles, Echo speakers, and more. However, since Audible audiobooks come with DRM, the copyright protection technology, you'll find it's hard to play Audible books on other popular devices, like iPod, Apple Watch, Sony Walkman, etc.
Don't worry, though. If you are facing such annoyance, simply try AudFree Audible Audiobook Converter, a smart DRM removal tool for Audible that can completely remove DRM from Audible audiobooks by converting the protected AA, AAX to MP3, M4A, AAC, WAV, FLAC, etc. Once converted, you'll be able to put the Audible books on any device or player as you like.
What is Amazon Prime Day
Amazon Prime Day is the second biggest shopping event of the year. It was firstly launched in July 2015. It's a day that Amazon organized third party sellers to offer aggressive discounts to match sales found on Black Friday. Prime Day 2018 has been officially announced on Monday, July 16, 2018, featuring 50% more Spotlight Deals and more than one million deals globally. This year, Prime Day will be expanding from 30 hours to 36 hours in total till the end of July 17, 2018. For more deals of Prime Day this year, check out the official promotion page.