With the development of technology, listening to audio books has replaced reading printed books. There are many people who prefer to enjoy audiobooks on their electronic products. Under this circumstance, there is an endless stream of websites offering audiobooks. They are the products of this era.
Audible.com is an undisputed top-leading seller and producer of audiobooks. But, today, we will focus on Audible alternatives in 2023 in this article. If you are interested in services similar to Audible, congratulations, you're in the right place. In the following sections, you will meet 8 cheaper alternatives to Audible and the top 5 free Audible alternatives.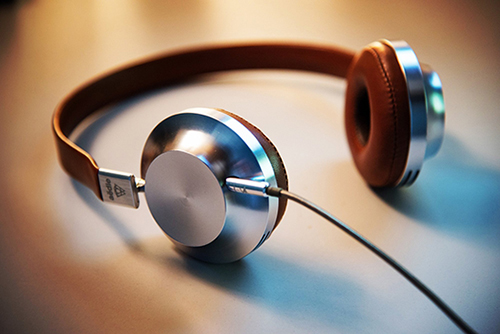 Part 1. What Is Audible
How it serves us: Audible is an online store selling digital audio files, including books, magazines, podcasts and more. It offers the world's largest audiobook library of more than 520,000 audiobooks. It has many genres from popular audiobook publishers, entertainers, broadcasters and others.
What are its benefits: Audible Plus costs $7.95 per month for unlimited Audible Originals, podcasts and audiobooks. Audible Premium Plus costs $14.95 per month. It allows subscribers to download Audible audiobooks. Subscribers are entitled to a 30% discount on additional audiobooks with no credit. Also, you get one free Audible book per month and keep them forever.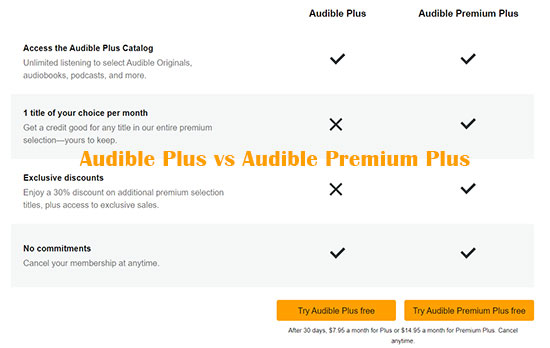 What are its drawbacks: Audiobooks downloaded from Audible are encoded in AA or AAX format. It restricts Audible members to play audiobooks on authorized devices and players only. Unless you use AudFree Audible Converter to convert Audible AAX to MP3, you can't break the playback limitation. In addition, Audible offers a 30-day free trial for new users. However, once the trial period ends, you will be charged a monthly Audible subscription fee.
Given this situation, many users are eager to find free or cheaper Audible alternatives to enjoy books widely.
Part 2. Cheaper Alternative to Audible- Top 8
Is there a cheaper alternative to Audible with fascinating features and performance? In fact, there are countless apps like Audible there, many of whom offer cheaper audiobooks than Audible. Now, we'll present 8 cheaper Audible alternatives to save money.
#1 Audiobooks Now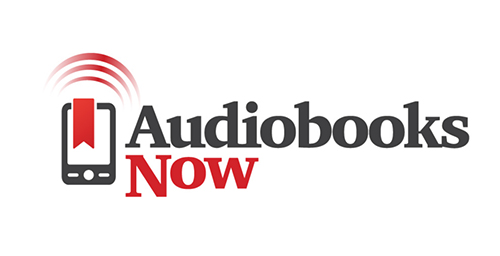 How it serves us: Similar to Audible, Audiobooks Now is probably one of the best apps like Audible but cheaper. It is available for both Android and iOS devices. It has a smaller library of over 250,000 titles and offers 2,000 audiobooks for free users. It comes with a premium subscription, Club Pricing Plan. You can subscribe to it for just $4.99 per month.
What are its benefits: Its monthly subscription fee is cheaper than Audible. Under the Club Pricing Plan, you can get 50% discount on audiobooks. Also, Audiobooks Now allows you to purchase regular audiobooks at a discount of almost 40%.
What are its drawbacks: Audiobooks Now's audiobook library is smaller than Audible's.
Recommends: ☆☆☆☆
#2 Audiobooks.com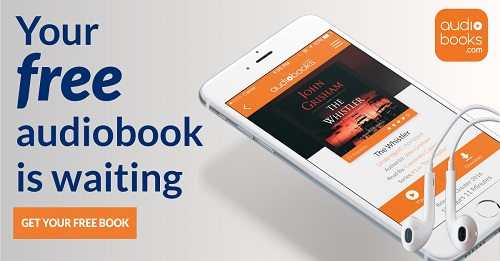 How it serves us: Audiobooks.com is the first cloud-based audiobook service. It was launched by Simply Audiobooks and offers audiobooks for rent, download and sale. As one of the sites similar to audible, Audiblebooks.com also operates on a credit system. Its library offers over 375,000 paid audiobooks, 10,000 free audiobooks and 100 million podcast episodes.
What are its benefits: For the same Audible Premium Plus subscription fee, you can enjoy unlimited access to over 100,000 incredible audiobooks. You can get one free audiobook per month, buy extra book credits at any time and get other books at lower prices.
What are its drawbacks: Compared to other Audible cheaper alternatives, it's expensive.
Recommends: ☆☆☆
#3 Downpour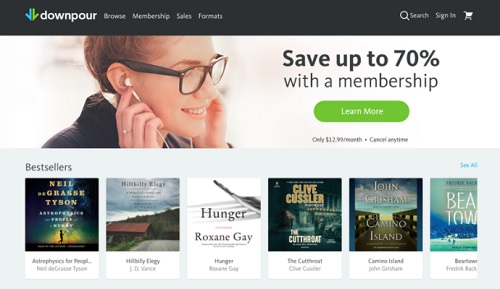 How it serves us: Downpour is a one-stop audiobook store that allows users to buy and rent audiobooks according to their preferences. Each audiobook has a different rental period, which may range from 30 to 60 days. It has over 80,000 titles in its catalog, including contemporary fiction and non-fiction, classics, New York Times bestsellers and more.
What are its benefits: Audiobooks in Downpour are not protected, which means you can play audiobooks on any device and music player with no restrictions. You can rent audiobooks from Downpour and save up to 70% on rent. Or you can become a paid member of Downpour for $12.99 per month. The latter also offers a free audiobook.
What are its drawbacks: The subscription fee is a bit expensive. Compared to other alternatives for Audible, Downpour's book selection does not seem to be as extensive.
Recommends: ☆☆☆☆
#4 Nook Audiobooks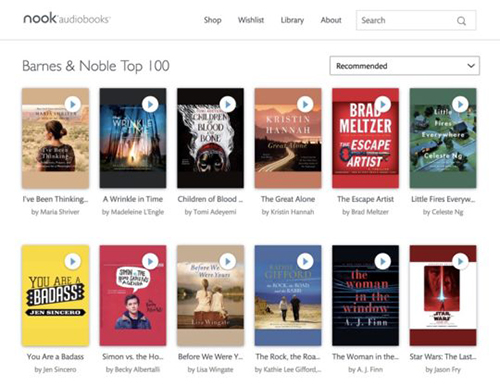 How it serves us: As one of the strong competitors of Kindle, Barnes and Nobles, the largest book retailer in the US, has released Nook Audiobooks to compete with Audible. You can find a collection of over 100,000 titles in the Nook Audiobook library. You can use the Nook Audiobook app to purchase, download and listen to your favorite audiobooks.
What are its benefits: It works a little differently than other Audible cheaper alternatives. You don't need a monthly Nook Audiobooks subscription to get audiobooks. When you find an audiobook you like, you can just buy it and get a discount of up to 40%. So, it can be a good Audible player alternative.
What are its drawbacks: Audiobooks are locked by digital rights management protection.
Recommends: ☆☆☆☆
#5 Kobo Audiobooks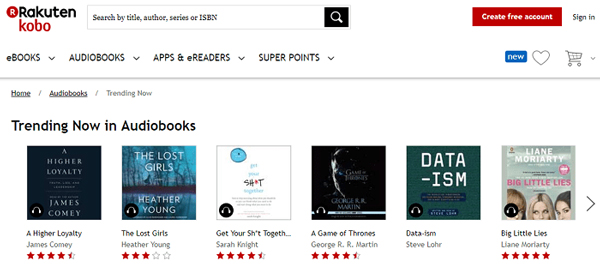 How it serves us: Kobo is a digital reading platform featuring eBooks, audiobooks and podcasts, launched in 2017 by Canadian parent company Rakuten Kobo. It has a large library of over 5 million books covering almost all genres and categories.
What are its benefits: Its audiobook subscription costs only $9.90 per month, which is much cheaper than Audible Premium Plus. With the elegant-looking user interface, it can bring a nice audio listening experience. Besides, there is a super handy night mode for your choice.
What are its drawbacks: Kobo's points redemption policy is not particularly clear. It is only compatible with Android and iOS devices, and does not support computer operating system
Recommends: ☆☆☆
#6 Scribd

How it serves us: Launched in 2007, Scribd is an audiobook and ebook subscription service offering millions of titles. It has become the world's best digital library platform, with more than 80 million readers worldwide. For a monthly membership fee of $9.99, you can enjoy unlimited access to audiobooks, eBooks, magazines and sheet music.
What are its benefits: With its intuitive interface, Scribd is a good, cheaper alternative to Audible app. For just $9.99 a month, Scribd members can read as many Scribd books as they want. Scribd subscribers are entitled to 1 audiobook credit and 3 book credits. And any member can upload their short stories and books to the platform for others to read.
What are its drawbacks: Some audiobooks on Scribd are not available for download.
Recommends: ☆☆☆
#7 Chirp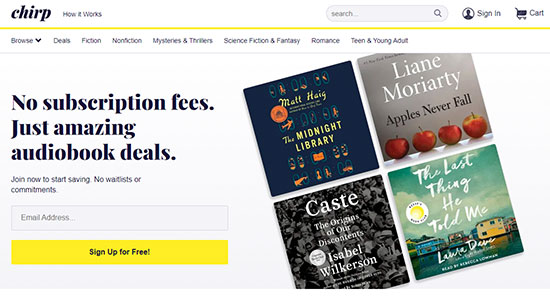 How it serves us: Chirp is BookBub's audiobook platform where listeners can find high quality and limited time deals on audiobooks. Depending on your preferences, you can browse the Chirp website to check out great deals on audiobooks such as popular deals, hot deals under $2, highly rated deals, and more.
What are its benefits: When you want to listen to a specific book, you can use Chirp to catch those limited-time deals that you can't miss. Chirp doesn't have free audiobooks, however, deals can be as low as $0.99 and it's free to sign up to use the service.
What are its drawbacks: Audiobooks purchased from Chirp are subject to digital rights management and can only be listened to in the Chirp app. You can only purchase books on the Chirp website, not the Chirp app.
Recommends: ☆☆☆
#8 Google Play Audiobooks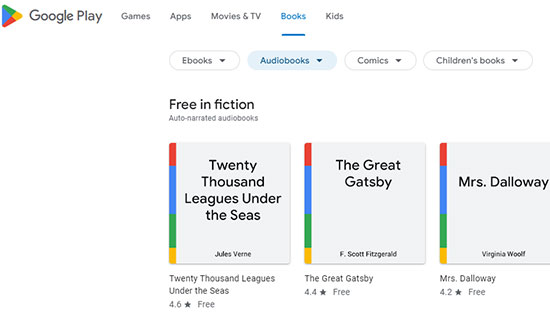 How it serves us: Google introduced audiobooks to the Google Play Store in 2018, launching in 45 countries in nine languages. It does not use any membership plans and you need to buy books at shelf price. Purchased audiobooks can be read on your phone and Google Home devices via Google Assistant.
What are its benefits: It integrates with Google Assistant, allowing you to read at any time with voice commands. You can ask Google Assistant for information about the book, such as the author. So far, Google is running a promotion with most audiobooks at a big discount, some even below the original price. It also offers a 50% discount on your first audiobook.
What are its drawbacks: Google will not provide refunds for most Google Play Audiobook purchases.
Recommends: ☆☆☆
Part 3. Free Audible Alternative - Top 5
Are there apps like Audible but free? The answer is positive. Audible provides the option for free Audible books, but almost all are out-of-date. Therefore, here you can meet 5 Audible free alternatives.
#1 OverDrive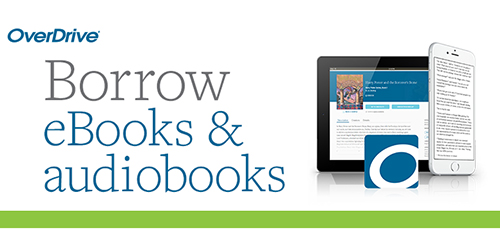 How it serves us: Founded in 1993, OverDrive specializes in providing a variety of digital content, including e-books, audiobooks, magazines and streaming video. You can access all the audiobooks available in your local public library through the OverDrive app or online website. With the help of the digital media lending system, users can rent and listen to audiobooks at OverDrive for free. The only prerequisite is that you are a member of your local public library.
What are its benefits: The OverDrive service is completely free, allowing users to enjoy eBooks and audiobooks without a paid subscription. It is supported by more than 45,000 libraries, enabling you to borrow resources from your local library. All you need is a student ID or library card. OverDrive can be ranked first about the best free apps similar to Audible.
What are its drawbacks: Audiobooks you want might be not available in the local library.
Recommends: ☆☆☆☆☆
#2 LibriVox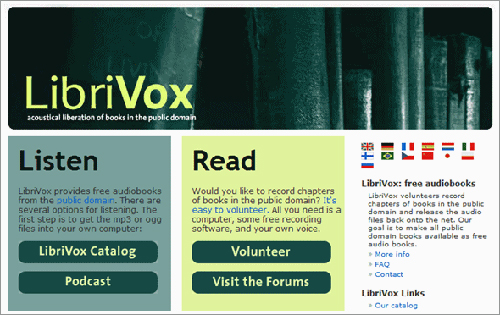 How it serves us: LibriVox is one of the best free audiobook alternatives to Audible on the market. It is actually a non-commercial, non-profit and ad-free project where volunteer voice actors from all over the world record classic books in the public domain for listeners on LibriVox. It is a completely free audiobook platform for users with 15,000 audiobooks, including classics, biographies and memoirs, romance novels, poetry, and more.
What are its benefits: You can get over 15,000 public domain audiobooks for free. Public domain books can be downloaded freely and are no longer protected by copyright. So you can listen to free LibriVox audiobooks on your computer, Android and iOS, or even burn them to CD.
What are its drawbacks: All books in LibriVox are read by ordinary people like you, and the quality of audiobooks can vary greatly, which in turn leads to a bad listening experience. Also, this platform sometimes lacks the latest audiobooks.
Recommends: ☆☆☆
#3 Project Gutenberg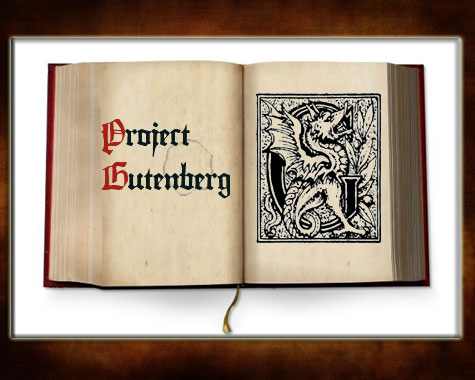 How it serves us: As a Wikipedia-style website, Gutenberg Project is the same as Librivox. But it can offer over 60,000 audiobooks from the public domain, allowing you to listen to audiobooks read by people or with a computer program. You can find some of the world's greatest literature here, with an emphasis on older works whose U.S. rights have expired.
What are its benefits: Gutenberg Project offers more than 60,000 free e-books for you to read, including classics, crime, geography, history, music, and more. You can also find classic reads like The Adventures of Sherlock Holmes on this audiobook site. It supports not only English, but also more international and regional languages, including French, Chinese, Swedish, and more. Therefore, it deserves to be one of the free Audible alternatives.
What are its drawbacks: The latest audiobooks are missing from the Project Gutenberg library.
Recommends: ☆☆☆☆
#4 Hoopla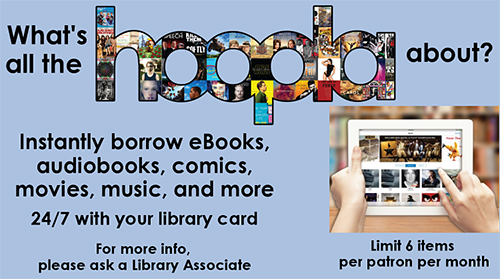 How it serves us: As a digital media service, Hoopla allows users to borrow audiobooks, e-books, music albums, comics, TV shows and movies. It has a huge collection of over 500,000 titles to choose from, and titles are updated regularly. It can be connected to your local library account, allowing you to borrow 10 to 20 books per month immediately, depending on your library.
What are its benefits: Hoopla is completely free to use and the content is also free. With it, you can check out any eBook, audiobook, movie, CD, TV show, etc. from the library immediately without having to wait weeks or months. Even if you forget to return a book, Hoopla doesn't charge a late fee. Also, you can keep a borrowed audiobook for three weeks and a movie for about three days.
What are its drawbacks: Some libraries may only allow you to borrow a certain number of books per month. If you accidentally check out the wrong book, this counts as you checking out a book. You can't highlight content in an eBook yet.
Recommends: ☆☆☆
#5 Spotify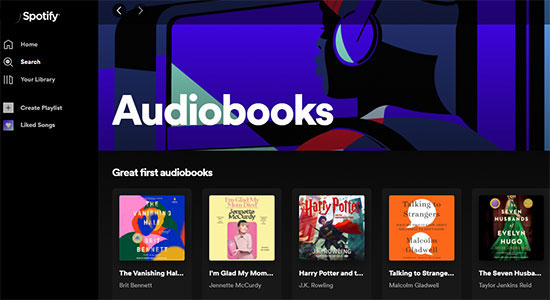 How it serves us: Spotify is a music streaming platform that is known for its music. However, it also offers a large selection of audiobooks that can be accessed through the Spotify app. Spotif Library's books include biographies, children's storybooks, science fiction and more, catering to all ages. It does not have any kind of subscription model for audiobooks and only offers a basic on-demand purchase service.
What are its benefits: You can access the entire Spotify audiobook library for free, without a subscription. Spotify also offers some free audiobooks and more social features. With Spotify's speed listen feature, users can listen to audiobooks at a faster pace. By the way, you can use AudFree Spotify Audiobook Converter to convert Spotify audiobook to various formats without premium.
What are its drawbacks: Spotify premium subscribers don't get any audiobook deals and can only buy audiobooks at a fixed price. Compared to Audible, Spotify's audiobook selection is more limited.
Recommends: ☆☆☆
Part 4. Comparison of Audible and Top 13 Audible Alternatives
Can't decide which alternative to Audible books? To make your decision easier, we will show you a comparison of Audible and 13 services similar to Audible from the most important details such as price, library, OS.
| | | | |
| --- | --- | --- | --- |
| | Price | Titles | Supported System |
| Audible | Audible Plus ($7.95/month) Audible Premium Plus ( $14.95 /month) | More than 520,000 | iOS, Android, Windows, Mac |
| Audiobooks Now | $4.99/Month( 50% off for every purchase) | Over 85,000 | iOS, Android, web browser |
| Audiobooks.com | $14.95/month for 1 credit+purchase additional credits any time | Over 1,000,000 | iOS, Android |
| Downpour | $12.99/Month for 1credit+buy or rent audiobooks | Around 80,000 | iOS, Android, web browser |
| Nook Audiobooks | No subscription required | Over 100,000 | iOS, Android |
| Kobo Audiobooks | $9.99/Month for 1 credit+buy audiobooks with credits or money | Over 5000,000 | iOS, Android |
| Scribd | $9.99/month | Around 70,000 | iOS, Android, web browser |
| Chirp | No subscription required | 60,000 | iOS, Android, web browser |
| Google Play Audiobooks | No subscription required | No data from Google | Android, iOS, web, home speakers and devices that use google assistant |
| OverDrive | Free | Over 2 000,000 ebooks, audiobooks and vidoes | iOS, Android, Windows, Mac |
| LibriVox | Free | Over 15,000 | Web browser |
| Project Gutenberg | Free | Over 60,000 | iOS, Android, Windows, Mac |
| Hoopla | Free | Over 500,000 | iOS, Android, Windows, Mac |
| Spotify | Free | Over 300,000 | iOS, Android, Windows, Mac |
Now that you have learned about these Audible similar apps, whether it is free alternative to Audible or cheaper Audible alternative app, you can choose the best alternative to Audible for you based on your actual needs and their pros and cons.
What's more, before switching to other Audible alternatives, don't forget to use AudFree Audible Audiobook Converter to download and backup your Audible audiobook collection locally. In this way, you can enjoy your favorite Audible books offline anytime without losing any of them.
Also, do you have other apps like Audible to listen to audiobooks? If so, let's hear your voice in the comment area.