With the development of technology, listening to audio books has replaced reading printed books. There are many people who prefer to enjoy audiobooks on their electronic products. Under this circumstance, there is an endless stream of websites offering audiobooks. They are the products of this era.
Audible.com is an undisputed top-leading seller and producer of downloaded audiobooks. But, today, we will focus on Audible alternatives in 2021 in this article. If you are interested in the Audible alternative, congratulations, you are right here.
In the following sections, you will meet the top 6 best free Audible alternatives and 3 cheaper alternatives to Audible.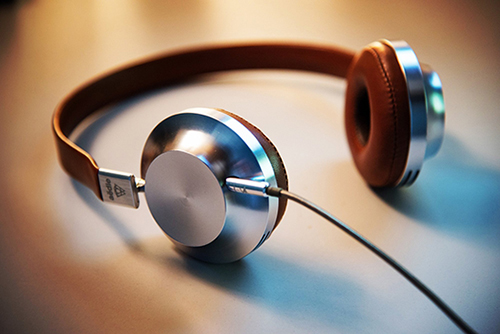 Part 1. What Is Audible
Audible is an online store selling digital audio files, including books, magazines, podcasts, and more. It offers the world's largest audiobook library of more than 200,000 audio programs. It has many genres from popular audiobook publishers, entertainers, broadcasters, and others.
Is there a free version of Audible? Or is there a cheaper version of Audible? The answer could be dialectical. Because Audible provides a 30-day free trial with the new users. But once the trial time is over, you will be charged a monthly Audible subscription fee.
Audible Plus takes $7.95 per month to get unlimited plays for Audible Originals, podcasts, audiobooks. While Audible Premium Plus costs $14.95 every month. It allows users to download Audible books. A subscriber has the right to buy extra audiobooks without credits for a 30% discount. Also, you can get a free Audible book per month and keep them forever.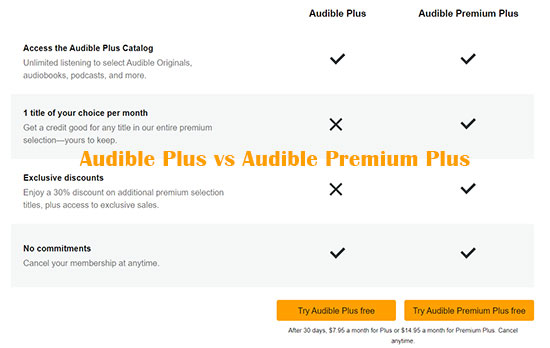 What's more, audiobooks downloaded from Audible are encoded in AA or AAX formats. It limits Audible members to play audiobooks on authorized devices and players only via the Audible app. In view of this situation, it is best to find free or cheaper Audible alternative to widely appreciate books.
Part 2. Free Audible Alternative - Top 3 Best
Are there sites like Audible, but free? The answer is positive. Audible provides the option for free Audible books, but almost all are out-of-date. Therefore, here, you can meet 3 free apps like Audible.
1. OverDrive
As for the best Audible free alternative, OverDrive could be put in the No.1 place. It's worth mentioning the way of providing audiobooks by OverDrive. It has the ability to get all audiobooks that available in the local public library.
With the aid of its digital media lending system, users can rent and listen to audiobooks at OverDrive at no cost. The only premise is you are one of the members of your local public library. The overDrive app is available for Android and iOS devices. Thus, you can enjoy audiobooks easier on portable devices.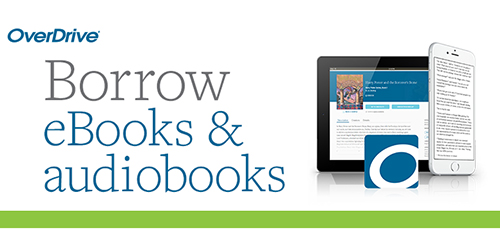 Pros:
* Free of charge;
* Support a large audiobook library.
Cons:
* Audiobooks you want might be not available in the local library.
2. LibriVox
The second free alternative to Audible is LibriVox. Like OverDrive, it is a completely free audiobook platform for users. It enables users to download audiobooks without restrictions.
You can get over 15,000 audiobooks that are under the public domain. (Public domain books can be downloadable freely and no longer under copyright). So LibriVox is a great place for you to discover an old classic for free.
It's well-noted that OverDrive comes with a built-in audio player to play audiobooks. But so doesn't LibriVox. All books available in LibriVox are read by ordinary people like you. Because of this feature, the quality of audiobooks will vary greatly.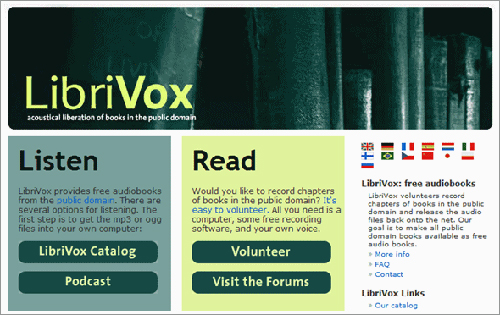 Pros:
* Free to download over 15,000 audiobooks.
Cons:
* Might get poor listening experience;
* Be Lack of the latest audiobooks.
3. Project Gutenberg
As a Wikipedia-style site, Project Gutenberg is the same as Librivox. But it can offer more than 56,000 audiobooks from the public domain. It allows you to listen to audiobooks read by human-read or using a computer program.
This audiobook site is also recommended to find an old classic such as The Adventures of Sherlock Holmes. It not only supports English but also more international and regional languages. It including French, Chinese, Swedish, and more. So it deserves one of the free alternatives to Audible.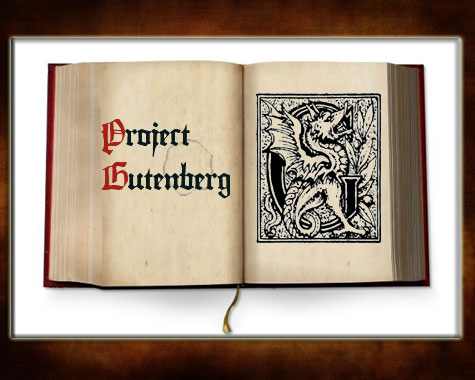 Pros:
* Support a wide variety of international and regional languages.
Cons:
* Be Lack of the latest audiobooks.
Apart from the above Audible player alternatives, there are still many other apps like Audible but free. For example, Hoopla, Libby, eStories, and Spotify. For detailed information about these free Audible alternative, you can visit official sites.
Part 3. Cheaper Alternative to Audible- Top 6 Best
You might think Audible free alternatives are not good. So is there a cheaper alternative to Audible with charming features and performances? As a matter of fact, there are countless Audible competitors here. Many of them provide cheaper audiobooks than Audible. Now, we will introduce 6 cheaper Audible alternatives to save money.
4. Audiobooks Now
Similar to Audible, Audiobooks Now could be the best Audible alternative. It's available for both Android and iOS devices. It offers a smaller collection of 85,000 around in the library for free users. It comes with a premium subscription, Club Pricing Plan. You can subscribe to it at $4.99 per month only.
After that, it's able to access all audiobooks, which is cheaper than Audible monthly subscription fee. Under the Club Pricing Plan, you can get 50% off on audiobook purchases. Also, Audiobooks Now allows you to buy regular audiobooks at nearly 40% off. There is no doubt that it's the best free alternative to Audible.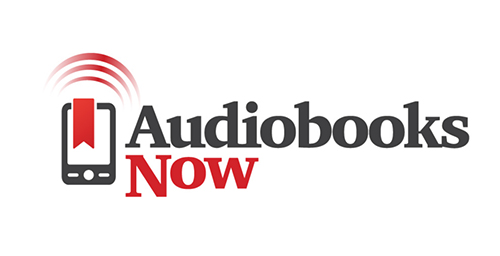 Pros:
* Much lower monthly subscription free for $4.99;
* Provide a bigger discount while purchasing audiobooks.
Cons:
* Audiobook library is smaller than Audible.
5. Audiobooks.com
Audiobooks.com is the first cloud-based service for audiobooks. It was launched by Simply Audiobooks offering audiobooks for rental, download, and sale. For the same Audible Premium Plus subscription fee, you can access over 100,000 incredible audiobooks.
As the alternative to Audible, Audiblebooks.com also runs on a credit system. You can get one free audiobook every month, buy extra book credits at any time and get other books at lower prices.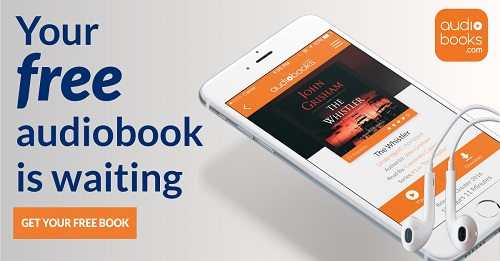 Pros:
* Get one free audio books per month;
* Purchase any other audiobook at reduced prices.
Cons:
* It's expensive when compared to other Audible alternatives.
6. Downpour
There are two advantages of Downpour, compared to other Audible alternatives. One is that audiobooks in Downpour are not under protection. It means that you can play audiobooks on any device and music player with no limit.
The other key point is that Downpour allows users to both purchase and rent audiobooks as they like. You can rent an audiobook from Downpour, which can save up to 70% off on rental price. Or you can be a paying member of Downpour at $12.99 per month. The latter one also gives you a free audiobook like Audiobook.com.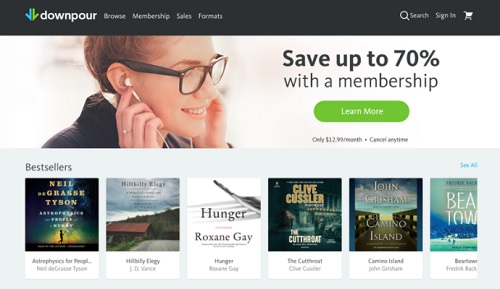 Pros:
* Play audiobooks on all devices and players without limits;
* Rent favorite audiobooks to save money.
Cons:
* A little expensive to the subscription fee.
7. Nook Audiobooks
As one of the strong competitors of Kindle, Barnes and Nobles, the largest US retailer for books has released Nook Audiobooks to compete with Audible. You can find a collection of over 60,000 titles in the library of Nook Audiobooks.
It works a little bit differently than other cheaper alternatives to Audible. There is no monthly subscription plan. You don't need to subscribe to Nook Audiobooks to get audiobooks.
When you find a favorite audiobook, you can directly buy it. After that, you can use the Nook Audiobook app to download and listen to audiobooks. Thus, it could be a good alternative player for Audible.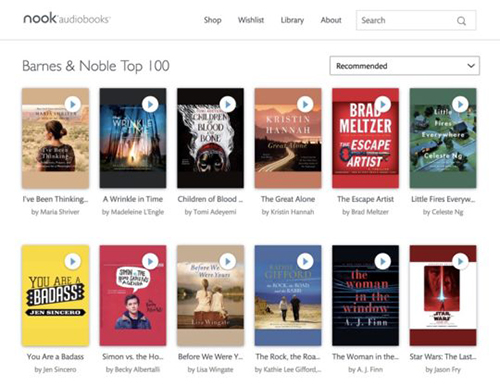 Pros:
* Get up to 40% off to purchase audiobooks;
* No need to pay the monthly subscription fee.
Cons:
* Audiobooks are locked by DRM protection.
8. Kobo Audiobooks
With over 5 million of kinds of audiobooks and eBooks, Kobo is also a recommended cheaper alternative to Audible. Its audiobook subscription only costs $9.9 per month. It is much cheaper than Audible Premium Plus'. It allows users to redeem audiobooks via credits.
With the elegant-looking user interface, it can bring a nice audio listening experience. Besides, there is a super handy night mode for your choice. But Kobo is only compatible with Android and iOS devices. If you'd like to enjoy audio books on your computer, it seems not a good option for you.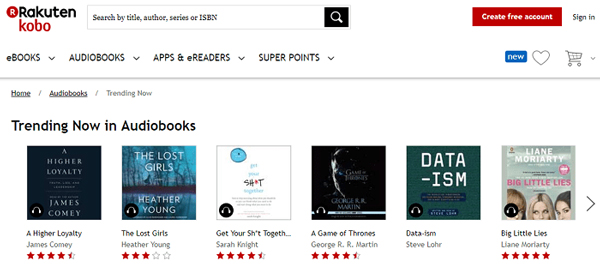 Pros:
* Cost $9.9 per month only;
* The elegant-looking user interface.
Cons:
* It doesn't support computer OS.
9. Scribd
With the intuitive interface, Scribd is a nice cheaper Audible alternative. It not only allows you to listen to audiobooks but also books, documents as well as magazines. By charging only $8.99 every month, you can unlimitedly access over 70,000 eBooks and audiobooks.
Only if you are its subscriber, you can have the right to get 1 audiobook credit and 3 book credits. One thing to mention is that some audiobooks in Scribd are not available for download. Of course, you can read them freely.

Pros:
* Enjoy types of files.
Cons:
* Some audiobooks can't be downloaded.
More Tips: How to Play Audible Audiobooks Anywhere
Do you have discovered the most suitable Audible alternative from the list? If you have no choice to choose which alternative to Audible, you can keep Audible to explore audiobooks. It has the largest collection and a great listening experience. In this case, we will introduce the best solution to enjoy Audible audiobooks freely.
Generally speaking, audiobooks downloaded from Audible.com are AA/AAX files. It prevents Audible members from playing on many popular devices and media players.
To bypass these limitations, we can get help from AudFree Audible Audiobook Converter. It can losslessly convert AA/AAX to MP3, FLAC, WAV, AAC, and other plain audio formats. After that, you can play unprotected audio files anywhere. Moreover, you can keep Audible audiobooks forever even you have canceled the subscription.
Or you have another excellent alternative to Audible to listen to audiobooks? If yes, let's hear your voice in the comment area.