Amazon Music had claimed that the cloud 'Music Locker' service to upload your own music to Amazon Music was shut down and that Amazon Music's storage service will remove MP3 files from your Amazon Music Cloud library. Some users are confused about this news since they tend to import their personal music to Amazon Music via its native Amazon Music importer software. Thus, they hope to find an alternative way to resume the transfer.
If you are one of them, please look no further than this post. We will introduce several ways that can help you upload music to the Amazon Music app or player from both computers and mobile devices. Without ado, let's get started now!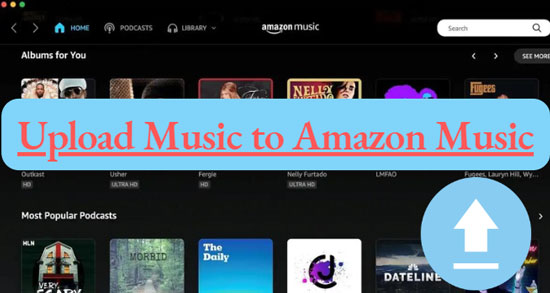 Part 1. Can You Upload Music to Amazon Music
Yes, you can! On the condition that you attempt to put several local music audio files into Amazon Music, you can make it by changing some settings on Amazon Music. However, the local files are required to be compatible with Amazon Music such as MP3, FLAC, WAV, AAC, AIFF, etc. And before that, you need to convert protected tracks from other music services to unprotected files with a professional tool. That is what we will talk about in the next part. Let's have a look together!
Part 2. How to Upload Music to Amazon Music Library
Although the native Amazon Music importer app was shut down, Amazon Music provides its users a channel to upload local audio files that are stored in Windows Media Player, iTunes, or local drive on their computers to the app. But before that, please get help from an expert music downloader to download and convert songs from Spotify, Tidal, Apple Music, etc. as Amazon Music-supported formats. Please see also the below articles we post before to find the detailed user guide:
✔️ How to Transfer Spotify Playlist to Amazon Music
✔️ How to Transfer Tidal Playlist to Amazon Music
✔️ How to Transfer Apple Music Playlist to Amazon Music
Then please refer to the detailed operational steps displayed as follows to upload music to Amazon Music from PC/Mac.
Step 1. Open the Amazon Music app on your PC or Mac, and then tap on the account profile in the top right corner to draw down a new list.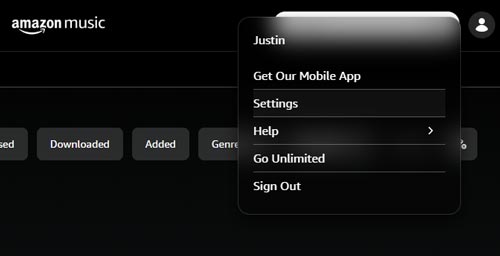 Step 2. Choose the 'Settings' option from the new list.
Step 3. Scroll down to the 'Automatically Import Music From' section and click on it.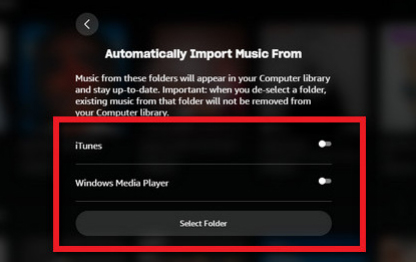 Step 4. Hit the 'Select Folder' button to upload local MP3, FLAC, WAV, AAC, or ALFF files to Amazon Music from your PC or Mac.
Note: Alternatively, you can click into the 'Music Library' of Amazon Music, then tap the 'Locations' option. In this way, it allows you to upload music to Amazon Music from Cloud and offline.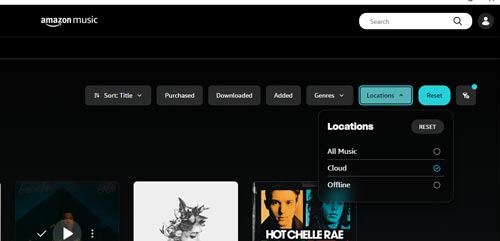 Part 3. Alternative Ways to Upload Playlists to Amazon Music from Phone/Computer
Apart from changing Amazon Music import source settings, there are also two third-party tools: SongShift and TuneMyMusic that has the ability to import playlists from a variety of audio sources to Amazon Music. Those platforms include Spotify, Tidal, Apple Music, Deezer, LastFM, Discogs, Napster, Pandora, Qobuz, HypeMusic, and YouTube Music. Please notice that to make Amazon Music upload music successfully, you need to subscribe to Amazon Music Prime or Unlimited plan beforehand.
Via TuneMyMusic for Desktop Users
For desktop users, we recommend you use TuneMyMusic, a playlist importer that allows you to migrate playlists or tracks across various music services. With TuneMyMusic, you can easily move your music collection from one platform to another without losing any of your favorite songs or playlists. Wonder how to use it? Don't fret! We have presented the step-by-step instruction for you below.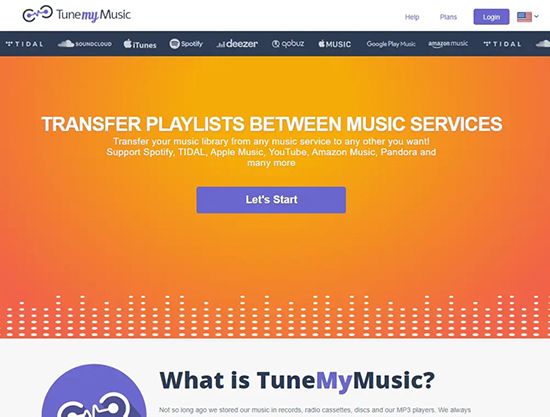 Step 1. Navigate to the website of TuneMyMusic. On the web page, hit the 'let's start' option.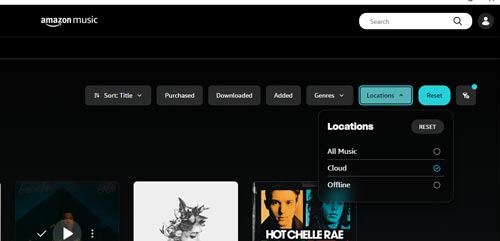 Step 2. Proceed to 'select source' such as Spotify. You can search the platform you want from the bar.
Step 3. You can opt to copy the Spotify playlist URL link and paste it to the bar of TuneMyMusic. Or, you can drag and drop the playlist from Spotify to it. And also, you can log in to your Spotify account directly. Then touch on 'load from URL'.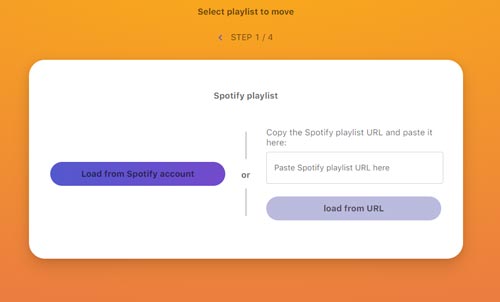 Step 4. Next, select the destination as Amazon Music and press on 'start transfer'. After a while, you can get a Spotify playlist on the Amazon Music app.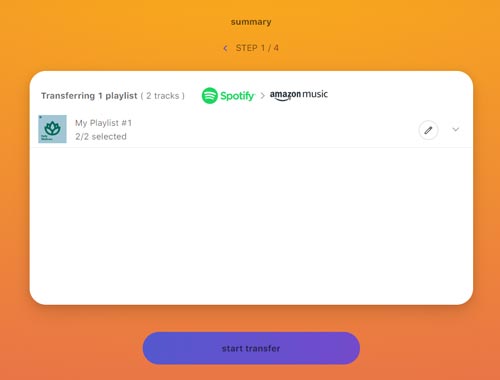 Note: Not all tracks in the playlist will be uploaded to Amazon Music successfully.
Via SongShift for iOS Users
Some people prefer to play music on their phones. Thus, it is recommended to use SongShift, an iOS transfer software, which gives you simple access to transfer playlists between popular music services. Besides, with SongShift, you can share and sync playlists with several taps. Now, let's look into the how-to guide together to use this importer. We will take transferring Apple Music to Amazon Music for example.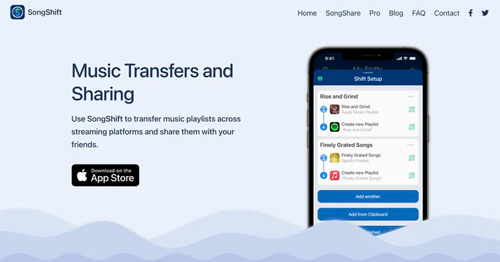 Step 1. Install the SongShift app from the Apple Store on your iPhone.
Step 2. On the app, choose 'Apple Music' and 'Amazon Music ' from the 'Available Services'.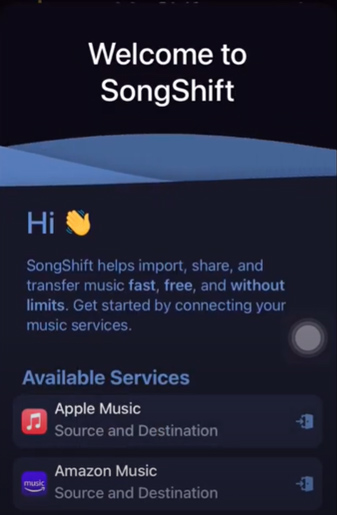 Step 3. It will prompt you to allow SongShift to access your Apple Music account and library. Please tap on 'OK'. Then continue to add Amazon Music to the importer.
Step 4. Afterward, tap on 'Continue' > 'Get Started' from the 'Connected Services' section.
Step 5. Touch on the top-right '+' tab to select Apple Music as the source and Amazon Music as the destination platform from 'Shift Setup'.
Step 6. Then hit the 'Confirm Matches' button to start the transfer.
Part 4. Extension Time: How to Transfer Amazon Music to Other Streaming Services
Now, you come to our bounce time. In contrast, we will introduce the best tool to transfer Amazon Music to any other platforms and devices without an Amazon Music Prime/Unlimited account. All you need is AudFree Amazon Music Converter. It is designed to download songs, playlists, podcasts, albums, and other content from Amazon Music as local files. On top of that, this powerful converter will export Amazon Music downloads to MP3, AAC, WAV, FLAC, M4A, and M4B. This way, you are allowed to add Amazon Music to all services and play Amazon Music on all devices offline without subscriptions.
Furthermore, this smart software enables you to preserve 100% lossless streaming quality and all metadata information including ID3 tags after converting. Therefore, you can listen to Amazon Music anywhere and anytime with an excellent listening experience. It is worth mentioning that, even though your Amazon Music subscription is canceled or expired, you can keep Amazon Music downloads forever with AudFree Amazon Music Converter.
How to Download Music to Amazon Music on Computer
Wanna know how to use this gadget? Just install it on your Mac or PC. Then you can follow this detailed user guide to download Amazon Music to MP3 and other files.
Step 1

Define Output Settings for Amazon Music

To get Amazon Music downloads available on the platforms you want, please set the output format of Amazon Music as compatible formats. To make it, please press on the toolbar symbolized with three horizontal lines in the top right corner of the converter. Then choose 'Preferences' from the pull-down menu. Proceed to click 'Convert' to reach the setting section. There, you can opt to convert Amazon Music to common formats and change the bit rate or sample rate to keep the lossless audio quality of Amazon Music.
Step 2

Add Amazon Music Content to AudFree Amable

When you open the AudFree Amazon Music Converter, the Amazon Music app will launch in sync. To add files, please copy and paste the URL link of Amazon Music playlists, songs, albums, podcasts, and more to the converter. Then click on the upper-right '+' tab. Alternatively, there is an easier way: Drag and drop the single Amazon Music track into the window of the music downloader directly.
Step 3

Convert Amazon Music Losslessly and Locally

Once the above works get done, please hit the bottom-right 'Convert' button to kick off the conversion process. By clicking the bottom 'Converted' icon, you can access the Amazon Music downloads on the local folder of your computer.
How to Add Amazon Music Downloads to Other Music Services
After downloading Amazon Music as permanent local audio files in the format you set before, it's time to put local Amazon Music files on Spotify, Tidal, Apple Music, and more platforms. Since different music apps may vary in importing music, we have listed the simple steps to upload local Amazon Music songs to those apps.
Transfer Amazon Music Playlist to Spotify (MP3/WAV/FLC)
Step 1. Tap on your Spotify Profile from the top right corner of the Spotify app and choose 'Settings' from the list.
Step 2. Find the 'Add a Source' under the 'Show songs from' title and tap it.
Step 3. Select the downloaded Amazon Music files from the local folder and add them to Spotify by clicking 'OK'.
See Also for More Details: 4 Ways to Transfer Amazon Music to Spotify

Add Amazon Music Playlist to Apple Music via iTunes (AAC/MP3/WAV)
To add music to Apple Music, you need to transfer Amazon Music to iTunes. Open the iTunes app on your computer and click the 'Add File to Library' option to accomplish it.
See Also for More Details: How to Transfer Amazon Music to Apple Music in 3 Ways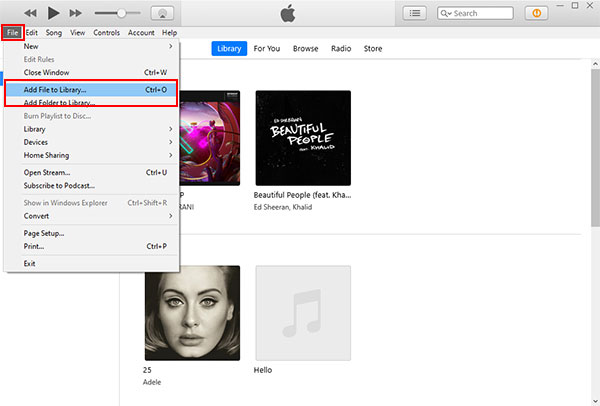 Part 5. FAQs about Amazon Music Upload Songs
Q1: How many songs can I upload to Amazon Music?
It refers to the Amazon Music upload limit. For Amazon Music free users, they can add up to 250 songs to this music service while Amazon Music subscribers can import up to 250000 tracks to Amazon Music.
Q2: Why is Amazon Music upload service not responding?
It may result from a few different factors, for instance, poor network connection, Amazon Music glitches, corrupted cache files, etc. Thus, try the below workarounds to get around this issue:
Check your internet connection: Make sure you have a stable internet connection and try again.
Clear Amazon Music cache: Clear your Amazon Music cache and hitories. Then try again.
Force stop and restart Amazon Music: Try using a different browser to see if the issue persists.
Contact Amazon support: If none of the above steps work, you can contact Amazon support for further assistance.
Part 6. In Conclusion
In this article, we have made a further understanding of how to upload music to Amazon Music in 3 ways. What's more, the multiple-purpose AudFree Amazon Music Converter is introduced to download and convert Amazon Music locally. With this tool, you are empowered to play Amazon Music on all music platforms and any Amazon Music MP3 players.