Spotify has been acclaimed by music aficionados for offering a huge range of songs, genres and artists. It has a free and Premium model for users, while Spotify Premium is more sought after because of its exclusive features, such as ad-free songs, offline mode, unlimited skips, etc.
Previously, we have described various effective ways to get Spotify Premium free, which is very beneficial for getting a good Spotify experience. Now, to meet the urgent needs of mobile users, this article will exhaustively cover the best 4 ways to get Spotify Premium free on iOS/Android. Let's get right down to business.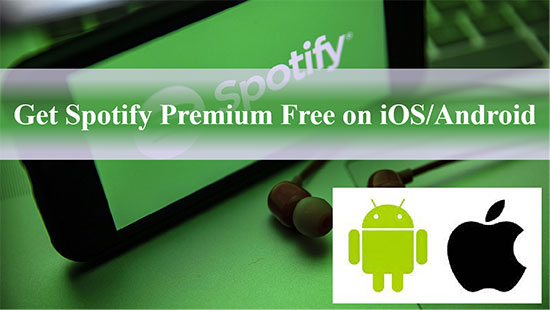 Part 1. Get Spotify Premium Free iOS and Android Forever
First of all, let's explore a perfect way to have permanent free access to the Spotify Premium service. All you need is the top-notch AudFree Spotify Music Downloader. As you can see from its name, its purpose is to download all Spotify content such as songs, albums, podcasts, etc. on your computer locally, whether you are a Spotify free or Premium subscriber.
What's more, it can be used to convert Spotify songs to various common audio formats such as MP3, M4A, FLAC, WAV, etc. The original quality and ID3 tags of Spotify music are also retained intact. Subsequently, you can transfer Spotify songs to iOS and Android devices for offline listening. Even if you cancel your Spotify Premium subscription, you can keep Spotify music forever and enjoy Spotify Premium features without any fees.
How to Get Spotify Premium for Free on iPhone and Android Forever
Step 1

Add Spotify Songs to AudFree Spotify Music Downloader

Open the AudFree SpoDable software and you will see that the Spotify app opens automatically as well. Select your preferred Spotify songs or playlists and drag and drop them into the conversion window directly. Or copy the link to the target track and paste it into the search box at the top, then click the "+" icon.
Step 2

Customize Spotify Output Parameters

Hit on the menu icon, after which select the "Preferences" and "Convert" options to launch the settings bar. In this window, you have the ability to set various output parameters for Spotify music, including format, channel, bit rate, sample rate, etc. For example, you can convert Spotify music to MP3, FLAC, WAV, etc. for free transfer.
Step 3

Download Spotify Songs Offline without Premium

Press the "Convert" button to start the download process of Spotify songs. Wait a few minutes and all Spotify music will be automatically saved on a local folder on your computer. Afterwards, you have the freedom to transfer all the songs to Android, iPhone or other desired device.
Step 4

Have Free Spotify Premium iOS and Android Forever

Now, you can sync Spotify songs to Android and iPhone devices from your computer via USB cable. In turn, it's able to get all the Premium features of Spotify, like unlimited skips, download mode and more. After that, you can get Spotify Premium free iPhone/Android forever and listen to Spotify offline without Premium.
Part 2. Get Free Spotify Premium for iOS and Android - Free Trial
In general, Spotify offers some free trials to music lovers who haven't tried Spotify Premium before on a regular basis. Spotify officially offers new users a free trial of Spotify for 6 months, 3 months, 30 days, etc. depending on the situation. In this case, you can try Spotify Premium plan on mobile devices and computers without paying in advance.
📝 Remember: This official method is only available for users who have not tried Spotify Premium. And there is always a time limit on the free trial. You'd better cancel your Spotify Premium subscription in advance to avoid being charged for the subscription fees after it expires.
Have Spotify Premium Free Account on iPhone
Step 1. Open the Spotify app for iOS and sign in to your account. If you don't already have an account, sign up for a new one.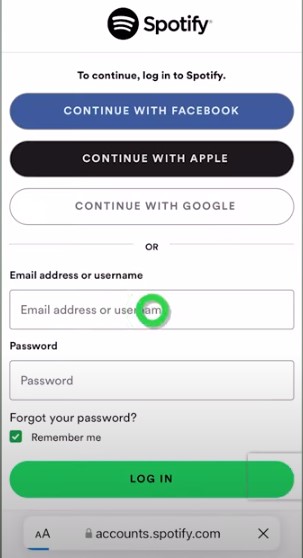 Step 2. Once you've created your account, tap on the "Premium" tab at the bottom of the screen.
Step 3. Tap on "Try Premium Free" and choose your payment method.
Step 4. Fill in your payment information and tap "Start My Spotify Premium".
Step 5. You will now have access to Spotify Premium for free on iOS for a limited time.
Have Free Spotify Premium Account on Android
Step 1. Launch the Spotify app on your Android device.
Step 2. Sign in to your Spotify account or sign up for an account via email or Facebook.
Step 3. Click on the "Settings" button to open the settings window, then select the "Go Premium" and "Try Premium Free" buttons.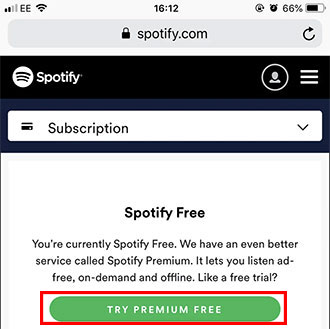 Step 4. Enter your payment details and postcode. Once done, your account will be a free Spotify Premium account. You can get Spotify Premium free Android as you wish.
Part 3. Get Spotify Premium Free on iPhone - Spotify++
If you're looking for a direct way to enjoy Spotify Premium free iPhone for a long time, then you can't go wrong with Spotify++. It's actually a modified version of the official Spotify app for iOS. With it, you can use all the Spotify Premium functions for free on iPhone, such as playing millions of Spotify songs and podcasts from all over the world without any ads.
However, since Spotify++ is not an official app, it can pose security risks to your device. It may contain malware or viruses that can harm your device or steal your personal information. If you don't mind, follow these few available methods to install Spotify++ on your iPhone.
Way 1. AppValley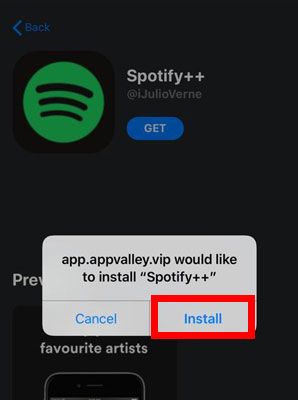 Step 1. Open Safari on your iPhone and go to the AppValley website (appvalley.vip).
Step 2. Tap on the "Install AppValley" button and follow the prompts to install the app.
Step 3. Once AppValley is installed, open it and search for "Spotify++" in the search bar.
Step 4. Tap on the "Get" button next to Spotify++ and wait for the app to download.
Step 5. Once the download is complete, go to your iPhone's "Settings > General > Profiles & Device Management".
Step 6. Find the profile for Spotify++ and tap on it.
Step 7. Tap "Trust" and confirm that you want to trust the app.
Step 8. You can now open Spotify++ and enjoy all Spotify Premium features for free.
Way 2. TweakBox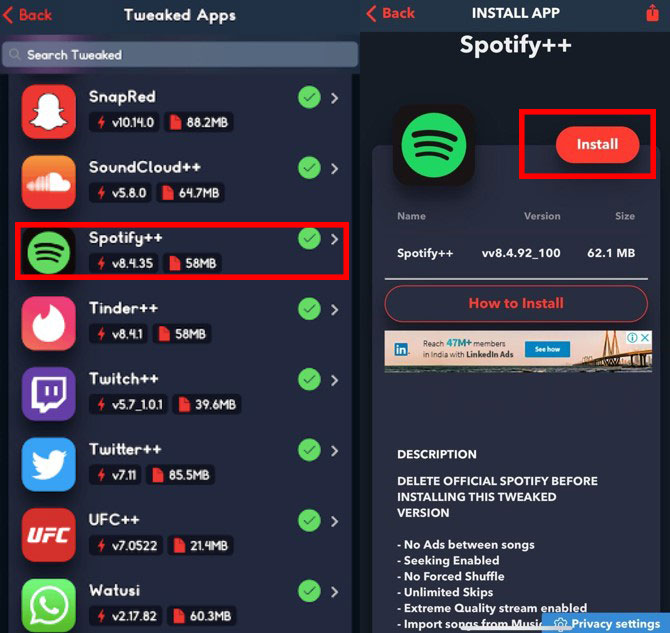 Step 1. Uninstall the existing version of the Spotify app on your device.
Step 2. Launch the Safari web browser and go to www.tweakboxapp.com to install TweakBox.
Step 3. Open TweakApp on your iPhone's home screen and navigate to the search bar to find Spotify++.
Step 4. Install Spotify++ on your iPhone and choose to trust the app on your device.
Step 5. Afterwards, you can get free Spotify Premium on iPhone and enjoy Spotify Premium without restrictions, such as ad-free listening.
Way 3. Cydia Impactor

Step 1. Launch a web browser on your PC and go to the CydiaImpactor website.
Step 2. You can download and install this application on PC depending on your operating system. The downloaded file will be in zip/compressed format that needs to be decompressed.
Step 3. Connect your iPhone to the computer via USB cable. Then remember to download the Spotify++ mod IPA file for iPhone from the internet.
Step 4. Launch Cydia Impactor, after which select and drag the iOS IPA file and drop it into the Cydia app.
Step 5. Then Spotify++ should appear on iPhone to help you hack Spotify Premium for free forever.
Part 4. Have Free Spotify Premium on Android - Spotify Premium APK
Craving the trick to enjoy free Spotify Premium on Android without spending a penny? Then Spotify Premium APK is enough. It is a hacked Spotify Premium app for Android to benefit those who don't have enough money to pay for the Premium service.
By using the Spotify Premium APK app, you will be able to enjoy most of the paid Spotify Premium features without any expense on Android devices. However, Spotify Premium APK also has some drawbacks, such as it may contain malware or other security vulnerabilities that may compromise the security of your device. Before starting the installation process below, you need to weigh its potential risks and drawbacks.
How to Get Spotify Premium Free Android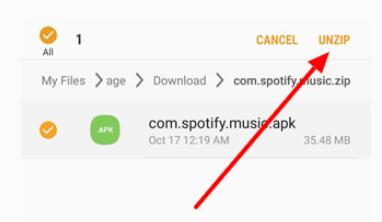 Step 1. Open a web browser to search for and download the latest Spotify Premium Mod APK file.
Step 2. Navigate to the "Settings" option on Android and allow the installation of modified or hacked APK files in the "Unknown Sources" section.
Step 3. Install this hacked Spotify Premium app.
Step 4. Once complete, log into your Spotify account and you can start enjoying free Spotify Premium Android with ease.
Part 5. FAQs of Using Spotify Premium Free on iOS/Android
Q1: Why Use Spotify Premium Free for Mobile?
Obviously, Spotify Premium brings more benefits such as no ads, on-demand playback, unlimited skips, better audio quality, offline playback and more. Therefore, in the opinion of mobile users, it would be great to get free Spotify Premium, as it greatly enhances the listening experience.
Q2: Is Spotify Premium Free Trial Actually Free on Mobile?
From the official channel, you can get a Spotify Premium free trial for a few months. After the trial expires, you'll need to pay $9.99 per month plus tax to continue exploring Spotify Premium features.
Q3: What Happens When Free Spotify Premium Expires?
Once your Spotify trial expires, your Premium account will be converted to a free account. You'll still have access to Spotify Music and playlists, while having to put up with some restrictions, like annoying ads. You will no longer get exclusive Premium features unless you subscribe to Premium plan again.
Q4: How Do I Permanently Get Spotify Premium Free on iOS/Android?
On balance, it is highly recommended that you use the AudFree Spotify Music Downloader as it is dedicated to downloading Spotify songs to your computer and then transfer them to iOS and Android devices for forever use. This way, there is no need to pay Premium subscription fee and you can enjoy all the paid features forever.
Part 6. In Conclusion
In short, here are 4 proven ways to get Spotify Premium free on iOS and Android phones. If you're tired of paying to unlock the Premium feature, then try the above solutions, especially the AudFree Spotify Music Downloader, to indulge in playing your favorite Spotify music with freedom. Which approach do you prefer? Please don't hesitate to share your thoughts in the comments section.