Through Latin music, we can experience the true range of Latinx identity. This musical category brings you music from multiple languages, cultures, and mixes. Every year we experience diversity and more variety in classic Latin songs. All the Latin songs released this year allowed us to feel more energetic and music fans enjoyed every bit of it.
When you have the Spotify app on your smartphone, you can easily enjoy the top 10 Latin songs in just a few clicks. With a subscription account, you can dance to lively hip-hop songs and even take your music with you on the subway for offline listening. But how to get your Latin Spotify playlist when the subscription ends or when the app is not working on your phone. Here, we have some top Latin songs and how you can download them to your phone memory for offline listening.
Give a try to these top ten Latin songs and we are sure you will enjoy them till the last lyric.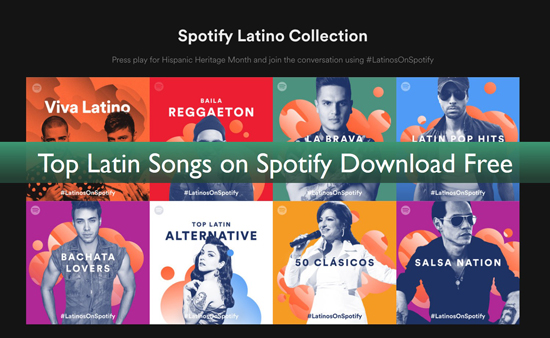 Part 1. Top 10 Best Latin Songs on Spotify
From the pop styling artist Puerto Rican singer Rauw Alejandro to the versatile and unpredictable neoperreo of Cuban artist La Goony Chonga and the Mexican Vocalist composer Silvana Estrada, here are some best Latin songs that reflect the vast and expensive culture of this musical category.
1. Alborota by Alea
Alborota is an amazing new record by Bronx-based emerging Colombian singer-songwriter Alea. The album is produced with Mexican artist and producer Sinuhe Padilla Isunza. Alea used her powerful soothing voice while fusing the traditional Latin music with jazz.
2. El Alimento by Cimafunk
Cimafunk is a Cuban singer and a composer. The album is a masterpiece and is produced as a soundtrack for a euphoric soul train. The songs within the album contain a lot of Cuban rhythms such as guaguanco, cha-cha-cha, and mambo. The album lifts your spirit and contains the latest popular Latin dance songs. You will enjoy every lyric and every bit of the songs in the album.
3. Yonaguni by Bad Bunny
Bad Bunny is currently the top Latin artist giving some amazing releases one after the other. The song is named after an island in Japan. The lyrics are about a broken heart and sad feelings. The music, composing and lyrics all gave listeners mixed feelings of being happy and sad at the same time. The song is a top Latin song and also helped Bad Bunny earn 15th No.1 on the Billboard's Latin Airplay.
4. Tu Me Dejaste De Querer by C. Tangana
With this song, C. Tangana gives you a lot of mixes in one genre. Tu Me Dejaste De Querer stands out in the album El Madrileno. The song is a good combination of contemporary pop, tradition, and folklore. The song is soothing and melancholic about heartbreak. It was a major hit on Spotify.
5. A La Antiguita by Calibre 50
A La Antiguita is an ode type of romance and is loved by listeners having a taste of love and care. The song is a mix of multiple rhythms and tunes. The swooning love song was penned by Munoz fusing Michoacán rhythms such as charanga and huapango. The song was a No.1 hit and is the best Latin hip hop song of the year.
6. Vida De Rico by Camilo
The song starts with "I can't give you a dime but I can give you a thousand kisses", and then comes a line "I have little to take you out with but slow dancing is free".
The lyrics are clever and they look more perfect when sung by Camilo. Vida De Rico means Rich Man's Life and Camilo experiments with the music on this one. He incorporated peppy cumbia with his guitar music. You will enjoy the audio and video of this best Latin song.
7. Te Doy Mi Vida by Carlos Vives
The song pays homage to the Colombian tropipop movement and is a good mix of pop, vallenato and other tropical genres. The music is romantic, lithe, subtle, and beautifully executed. A hot Latin song perfect for a little romantic dance with your partner.
8. Botella Tras Botella by Christian Nodal
This is among the top Latin songs as it is a unique collaboration between Mexican Rapper Gera and Regional Mexican star Nodal. It is among the best Latin jazz songs and has the perfect hip-hop music and beats. It is the first Regional Mexican to enter the best Latin dance songs this year. It has easy to sing lyrics and has accurate hip-hop beats.
9. Ya Superame by Eduin Caz
The first lyric is something that makes every fan want to listen to it again. "What part of 'no' don't you understand, the 'n' or the 'o'?". Sung by Eduin Cruz, the song is about breaking up with the ex and moving on with life. The song explained to the ex that the relationship is over.
10. Mafiosa by Nathy Peluso
Peluso is a salsa lover and won the Latin Grammy for the best alternative music album. The song is again a mix of salsa and melodious tunes perfect for chanting during a good mood.
Part 2. Latin Songs Download Free from Spotify
You wish to keep the top Latin dance song on your smartphone because your mobile subscription is about to expire. Listening to your favorite Latin song even without a subscription account is possible when you have an AudFree Spotify Music Converter.
AudFree Spotify Music Converter is an easy-to-use yet advanced software that allows you to remove the Ogg Vorbis protection on Latin songs from Spotify. The software converts the encrypted Spotify Latin songs into multiple output formats supported by a wide range of devices. It supports audio formats including MP3, M4A, M4B, FLAC, and AAC.
The converter offers quick downloading speed and allows batch conversion to save time. It also preserves the original quality of the Spotify top Latin songs during the conversion process. Once the Spotify classic Latin songs are saved in your local file folder you can easily transfer them to any device of your choice.
Download Top Latin Songs by AudFree Spotify Music Converter
Step 1. Install AudFree Spotify Music Converter on your desktop.
Step 2. Register an account using a licensed email address and code.
Step 3. Launch AudFree converter and click on Menu > Preferences. Then customize the output format, you are able to convert Spotify Ogg Vorbis to MP3, FLAC, WAV, etc. Adjusting the speed, bitrate, channel, and sample rate for your converted files are also the provided options.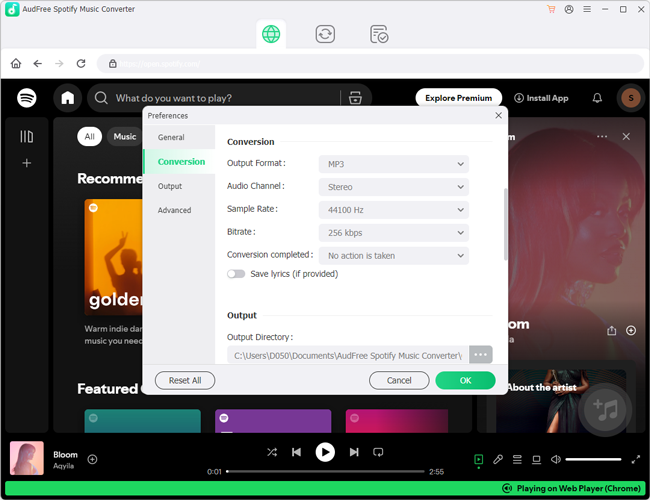 Step 4. Then open the Latin Spotify playlist in the converter. Search for the best Latin song you want to download. Click on the "+" sign at the bottom of the converter to import the song.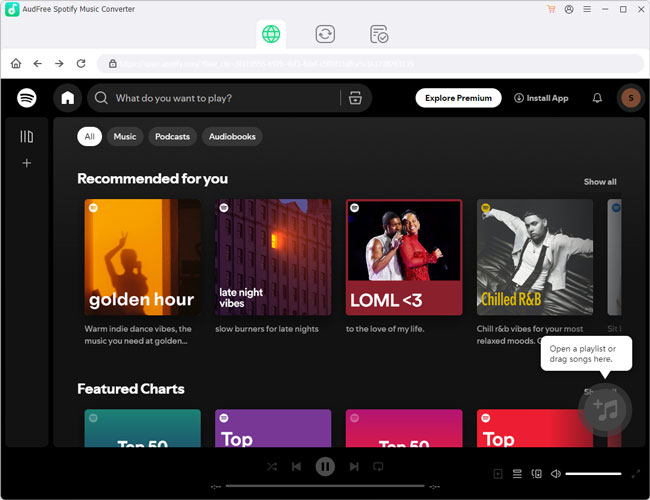 Step 5. Click 'OK' and then the "Convert" button. The song will start downloading and converting Spotify songs. All the hot Latin songs are now saved in your local file folder.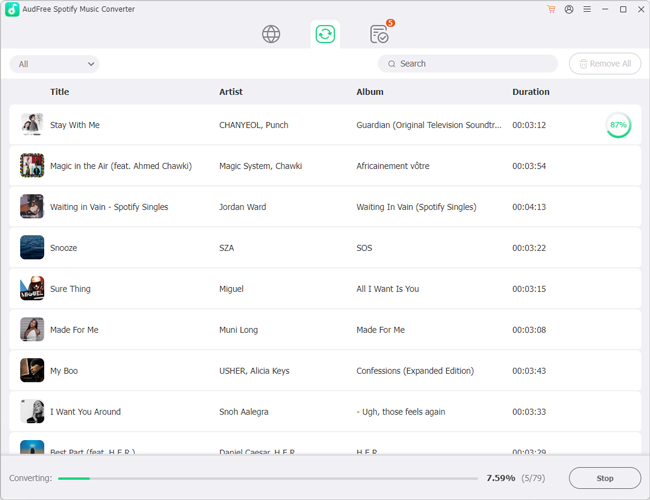 Part 3. Conclusion
Spotify brings an amazing collection of popular Latin songs and music from all genres. You can enjoy them even if you don't have a subscription account with the help of AudFree Spotify Music Converter. It allows you to download Spotify songs for free, and convert the songs to the common formats supported to be played on other devices. Go to give it a shot to this converter and enjoy the Latin songs for offline playing.