Q: Is the latest Spotify app increasingly showing ads between two songs? There is no gainsaying that the best Spotify feature is that it allows users to explore its music library for free. But it also comes with annoying shortcomings, ad interruption. I think it has become more frequent recently. So I wonder to get a solution to block Spotify ads. How to do that?
No one would like to be interrupted by commercials when enjoying songs. The most direct way to block Spotify audio ads is to upgrade to Spotify Premium. But today, we will introduce more ways on how to block ads on Spotify with ease. And then you can listen to Spotify songs with no ads even using a free account.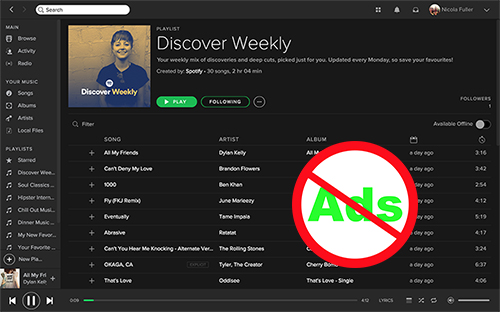 Method 1: Block Spotify Ads on PC by Updating to Spotify Premium
There are two common tiers provided by Spotify: Spotify Free and Spotify Premium. With the built-in Spotify ad blocker, the later subscription enables users to block Spotify ads by default. If you can afford extra costs, upgrading to Spotify Premium is the best ideal solution to disable Spotify ads. Let's see how it works.
How to Block Spotify Ads on PC
Step 1. Navigate to Spotify web player or install and launch the Spotify app on your PC or Mac computer.
Step 2. Login to your registered account details. If not, please create a new one with your email address or Facebook account.
Step 3.Click 'GET PREMIUM' on the web page or hit on 'UPGRADE' on the Spotify app to enter your payment details. And then you can start your no-ads Spotify music trip.
Note: With a Premium subscription, you can also get more exclusive features. You can enjoy offline playback, unlimited skips, high-quality audio, and more. To be honest, it worths its money.
Method 2: How to Block Ads on Spotify without Premium
Instead of getting a Spotify premium plan, another way is to use a third-party Spotify ad blocker. It can download Spotify songs locally without ads so that you can listen to ad-free music offline.
The tool we can meet here is AudFree Spotify Playlist Downloader. It is not only a Spotify ad blocker for Mac and Windows, it's also a music downloader and converter for Spotify. It is capable of downloading and convert Spotify to MP3, FLAC, WAV, AAC, M4A, and M4B without ads. It can keep high-quality local Spotify audio files. Even if you are using a free Spotify account, you can also use it to block ads on Spotify on Mac and Windows computers.
How to Block Ads on Spotify on Mac/PC
Step 1. Launch AudFree program on your computer with Spotify opened. Just sign in to your free Spotify account. You can drag and drop tracks from Spotify to the main interface. Or you can copy and paste the URL of Spotify files to the search box of AudFree.
Step 2. To get high output audio quality, you'd better open the 'setting' window. To do that, please click the 'Preference' -> 'Convert' option. And then, you can customize the bit rate as 320 kbps. Also, you can set the output format as you need.
Step 3. Now, you need to hit on the 'Convert' button. This professional software will download Spotify files to the computer blocking the ads. After conversion, you can listen to Spotify songs on all devices without ads.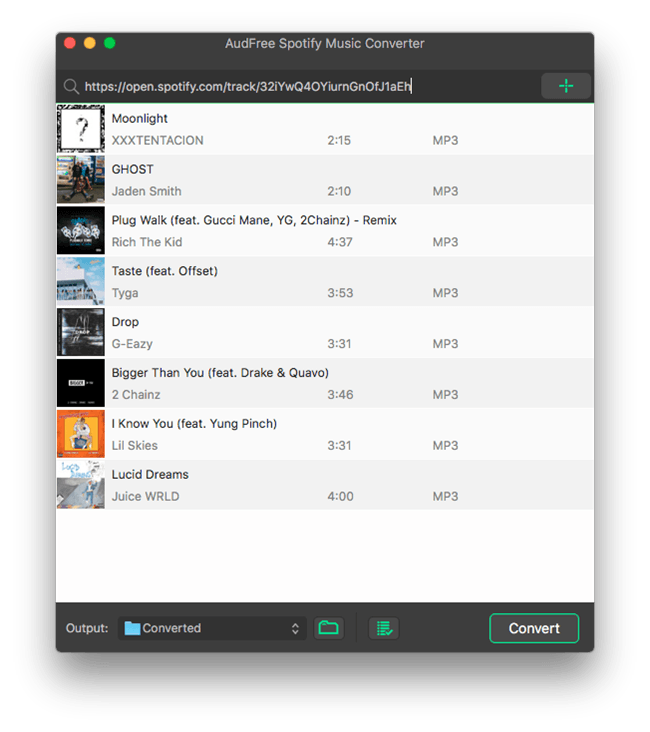 Note: If you are using AudFree Spotify Playlist Downloader for Windows to disable ads on PC, you'd better to log in the 30-day free trial premium account. And then it will download ad-free Spotify playlists to common audio files successfully.
Method 3: Block Ads on Spotify with StopAd Spotify Ad Blocker
There are also many other well-designed ad blockers for Spotify, such as EZBlocker and StopAd. Here, we will focus on StopAd. It is available for Spotify desktop client as well as Spotify web player. And it's easy to use it to block audio advertisements. Now, there is a detailed tutorial on how it works.
How to Block Ads on Spotify on Desktop
Step 1. Install StopAd on your computer and then Go to its Settings in the bottom left corner of StopAd main window.
Step 2. Please simply touch the 'Applications' button and select 'Search app' to type Spotify to enter to Spotify app.
Step 3. Check-mark it – click 'Add to filtering'. And then you can run the Spotify app to listen to music with Spotify ads blocked without hassle.
Note: StopAd isn't supported in Spotify's mobile app. You can't use it to block Spotify ads on Android and iOS devices.
Method 4: How to Get No Ads on Spotify via Host File
Apart from the above three methods, you can also get rid of Spotify ads by modifying your host files. By using this way, you just need to make use of Spotify ad URLs and block these links in the computer systems host files. Let's get started.
How to Get Rid of Ads on Spotify
Step 1. Please locate your host files on your computer.
For Windows users: Locate this path: C:\Windows\System32\drivers\etc\hosts and refresh the DNS cache with ipconfig /flushdns after editing the file with Administrator's privileges.
For Mac users: Go to /etc/hosts and it can be edited from Terminal with sudo vim /etc/hosts or sudo nano /etc/hosts.
Step 2. Copy the list of hosts found here at the bottom of the file and paste it to cover the old file with the edited.
Step 3. Now, please reopen the Spotify app and you can start to get no-ads on Spotify. And it's time to listen to Spotify tracks on your computer as you want.
Conclusion and Suggestion
No matter which solution you choose, you can get your goal of blocking Spotify ads between two tracks. So which way to select finally, it totally depends on your actual situation.
Anyway, if you are also in want of playing Spotify music offline on portable devices while removing Spotify ads, AudFree Spotify Playlist Downloader is the best way. It can not only stop ads on Spotify but also convert Spotify files to MP3, FLAC, etc. without Premium.
Do you have any other ways we missed here to block ads on Spotify? Share with us to make the list to be complete.