Spotify, the leading streaming media platform, offers two plans for users: Spotify Free and Spotify Premium. All users can access its complete music library with over 100 million songs including a wide variety of audio catalogs for digital entertainment. Besides, both the Spotify Web Player and Spotify desktop app are compatible with Windows, macOS, Linux, iOS, Android, and Windows phones. With robust features such as the downloading feature, mix feature, curated recommendations, etc., Spotify always goes viral among music lovers.
Yet, Spotify is not available in some countries and regions in the world currently. Moreover, to keep the effectiveness of study or work, some schools and workplaces have blocked Spotify. In this case, if you'd like to play Spotify music but it's unavailable in your country or region, the best way could be to get Spotify unblocked for unlimited playback. Today, we will make a discussion about how to make it in this post. Please never miss it!

Part 1. Why Is Spotify Blocked at School or Other Places
Why Spotify is blocked in some areas? You might be confused about it. So, let's focus on the main potential reasons.
1. Limited Countries. As we described above, you will be unable to access the Spotify app if you are living in or traveling in the unavailable countries. They are Andorra, Argentina, Cocos, Australia, Christmas Island, Belgium, Bermuda, Brazil, Canada, Chile, Bolivia, Bulgaria, Colombia, Cyprus, Czechia, Costa Rica, Denmark, Dominican Republic, France, Maytte, etc. This restriction may result from political or religious beliefs.
2. Content Variation. In different countries, the music files are different for you to discover and explore. That's to say, Spotify library could be varied dynamically in accordance with different countries. This could be caused by the agreement between Spotify and the owners of music copyrights who can select the country where they prefer to distribute their music resources.
3. Regulations of Schools or Workplaces. In some schools or workplaces, a firewall blocking Spotify on Mac, Chromebook, or PC may be set to limit Spotify playback and entertainment for ensuring security, avoiding distraction, and improving effectiveness.
Part 2. Why Do We Need to Get Spotify Unblocked Anywhere
Fom the above-mentioned factors, we can make a conclusion that it's necessary to unblock Spotify. So, let's check the detail below.
1. Bypass geographical restrictions: After unblocking Spotify, you can enjoy Spotify music in anywhere without the location limitations.
2. Access to Spotify large music library and explore music: By getting Spotify unlocked, you can access its rich music library and enjoy music you like. Also, you can discover new music on Spotify according to your preferences.
3. Personalize your listening experience: You can access curated features in Spotify and custom your listening experience to have a better listening trip.
Now, we know the importance to unblock Spotify. Next, let's see how to do that in the following parts.
Part 3. How to Get Spotify Web Player Unblocked with VPN
For blocked Spotify resulting from content variation and unavailability in different countries, a suitable VPN (Virtual Private Network) should be given priority. VPN serves to encrypt your internet traffic when you are using a public network Also, it resets your virtual location and routes your internet through the server of the Spotify-enabled country you select, disguising you're accessing the internet from that location with an available online identity. In this way, it is more difficult for third parties to track your activities online and steal data.
A professional VPN is an optimal choice, like Express VPN, Private VPN, Nord VPN, etc. But how to choose a suitable VPN? Here are some features that you should take into consideration: browsing speed, easy-to-use, class-platform service, tech support, etc. After choosing an appropriate VPN, please proceed according to the steps as follows.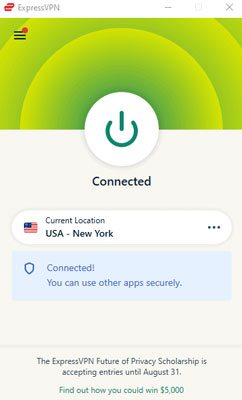 Step 1. Install the VPN app onto your device and activate it with the on-switch button after paying for its subscriptions.
Step 2. Choose a country or region that supports Spotify such as the United States. Then you will get Spotify login unblocked.
Step 3. Now, navigate to the Spotify unblocked website and log in to it. Try to play a song.
Part 4. How to Unblock Spotify at School with Proxy/DNS
What to do if Spotify is available in your country but gets blocked by firewalls from schools, workplaces, or anywhere else? Take blocking Spotify in school for example, how to get Spotify unblocked for school computers, particularly Chromebooks? Apart from priced VPNs, you can also turn to a proxy server or DNS server. It is a software system or router serving as the intermediary between users who are seeking resources and the internet servers that provide such resources. It allows users to get indirect network connections to other computers or websites. To get Spotify unblocked at school, please follow the instruction below.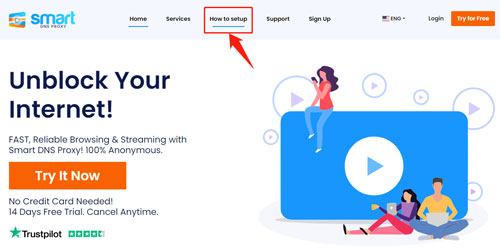 Step 1. Navigate to the proxy site on your phones or computers. And then set it up on your device.
Step 2. Choose a country where Spotify is available.
Step 3. Now, you have got unblocked Spotify on school's Chromebooks and other devices. Start to enjoy Spotify songs.
Part 5. How to Unblock Spotify without VPN for Free
We had shown you three ways above to unlock Spotify. Yet, the VPN and Proxy are not legal in some countries and may result in consequences. Also, few VPNs provide free service while the free VPN may be perilous. Moreover, the proxy may leave you with missing data and other problems, which are not so reliable. Particularly, some school block Sptoify by using Chromebooks since Spotify is incompatible with Chrome OS.
So, we would like to introduce a free and secure method to get Spotify Premium and Free music unblocked without a VPN or proxy anymore. That is to get assistance from a robust offline music downloader. With it, you can get Spotify music as local files when Spotify is available in your area. F example, before you travel to a country that has no availability with Spotify, or before you go to school or workplace. In this case, you needn't use VPNs or proxies anymore to use Spotify.
Here, we recommend an excellent Spotify music solution - AudFree Spotify Music Converter to you. This professional music converter can download all types of Spotify music without premium. Also, it can convert Spotify music to MP3 or other commonly used audio formats for listening. With the ability to keep the unblocked Spotify downloads as local files instead of temporary cache files, this smart tool empowers you to play Spotify unblocked free music or premium music for FREE wherever you are and on whatever devices you use. Most importantly, it preserves original ID3 tags and won't damage any sound quality while working at a fast speed.
It couldn't be much easier to access and get the music from the unblocked music player or Spotify unblocked web player with AudFree Spotify Music Converter than to purchase a pricy VPN or get a Proxy. So, download and install the smart tool and start to get Spotify music unblocked according to the following user guide. Please noted that it is 100% safe and legal to use this gadget individually.
Step 1

Add Spotify music for unblocking without VPN/Proxy

Before you go to school or anywhwere that blocks songs on Spotify, please open the Spotify app or Spotify web player when it is available and download Spotify songs with a free account. Directly drag and drop Spotify songs, audiobooks, playlists, etc. from the Spotify app to the main interface of the AudFree Spotify Music Converter. Or just click the 'three-dots' icon to choose 'Share' > 'Copy Spotify URL' and paste it into the search box. Then click the '+' button to load Spotify files automatically.
Step 2

Set output format and other parameters for unblocking Spotify

To customize output audio parameters, please navigate the top-left menu bar on your Mac system to choose Spotify Music Converter for Mac > 'Preference' > 'Convert'. While on Windows, click on the menu icon on the converter's screen and then choose 'Preferences' > 'Convert'. Then you will see the pop-up setting window, in which you can define output format for Spotify to MP3, FLAC, WAV, AAC, etc. Also, you can customize other audio parameters by changing the bit rate, sample rate, etc. for lossless sound quality. In this way, you can play unblocked Spotify music downloads on various enabled devices.
Step 3

Convert and Unblock songs on Spotify

When all settings are ready, please resume the unblocking process by clicking the 'Convert' button at the bottom-right corner of the main interface. You will see all added Spotify music will be downloaded and converted to plain audio files that you set before. After that, you can locate all converted audio files by touching the 'file' icon. Then you can play them without limit since those Spotify unblocked downloads are local files and are accessible in school or other places.
Part 6. In Conclusion
There is no doubt that Spotify is a wonderful streaming music service offering pleasure tunes for free and premium subscribers. By using the above ways to unlock Spotify, you will be able to listen to more and more new music and explore different digital music entertainment.
But which way you should choose? Before that, you can have a look at this chart and select a shot for yourselves.
| | VPN | Proxy/DNS | AudFree Spodable |
| --- | --- | --- | --- |
| Provide Free Service | ❌ | ✔ | ✔ |
| Security | Unstable | ❌ | ✔ |
| Privacy | Protect all datas | Only protect browser or a specific app | ✔ |
| Multiple Device Playback | ❌ | ❌ | ✔ |
| Spotify Output Audio Formats | OGG Vorbis | OGG Vorbis | MP3/FLAC/WAV/AAC/M4A/M4B |
| Recommends | ⭐⭐⭐⭐ | ⭐⭐⭐ | ⭐⭐⭐⭐⭐ |
From the comprehensive comparison, AudFree Spotify Music Converter gets edges over the VPN and Proxy/DNS server. With it, you are allowed to get both Spotify Premium and Free music blocked anywhere as local files in various formats. Also, it supports playing unblocked Spotify music on multiple devices and players simultaneously without any data loss or privacy risks. So, give it a shot now!