Over the years, users in the Spotify Support Community have continued to request a new feature to change Spotify playback speed. Spotify already allows users to change the playback speed of Spotify podcasts, but there is no such option when listening to songs. As a result, some have requested that Spotify should also implement more granular speed options for music and audiobooks, such as 1.2x and 2.5x.
Whether or not Spotify will implement the ability to adjust any playback speed in the near future, we've found some workarounds that enables us to do so at the moment. Besides explaining the basic features of changing Spotify podcast playback speed, we will show you detailed tutorials on how to change Spotify playback speed to all contents on computer and phone.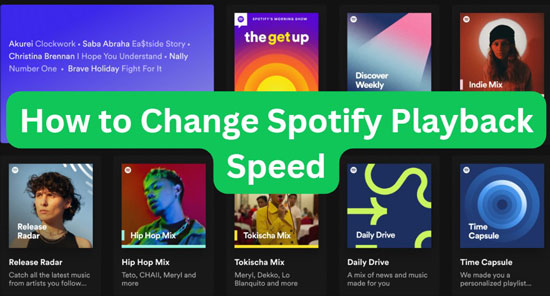 Part 1. How to Change Playback Speed on Spotify App
Can Spotify increase playback speed? Well, you can do that in the Spotify app, but only if you're listening to podcasts. Let's take a quick look at how to do that on desktop and mobile.
How to Change Playback Speed Spotify Desktop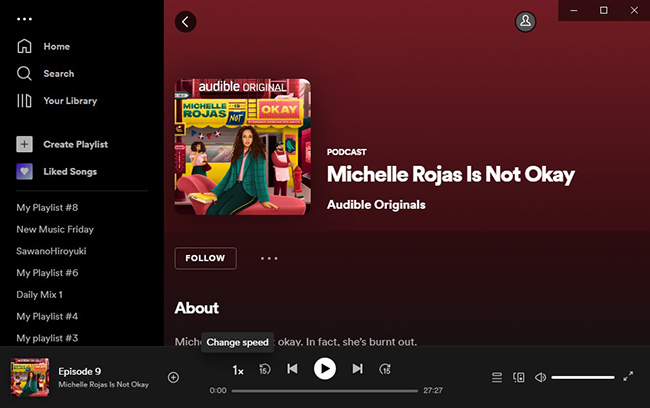 Step 1. First, open the Spotify app on your desktop and start playing a podcast.
Step 2. You'll notice a Change Speed icon that shows '1x' in the lower-right. Just click on it and you can choose from 0.5x to 3x speed depending on your needs.
How to Change Spotify Podcast Playback Speed on Phone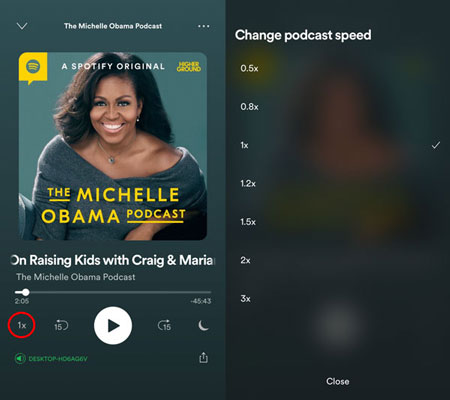 Step 1. Launch Spotify software on your phone and play any podcast you like.
Step 2. Once you start playing the podcast, you will notice a "Change Speed" button in the bottom left corner of the playback screen. Just click it to change playback speed Spotify as you wish.
Part 2. Slow Down / Speed up Songs on Spotify Web Player
As mentioned above, there is no official way for you to speed up or slow down Spotify songs. Fortunately, there is an effective way to change Spotify playback speed in the Spotify web player effortlessly. That is "Spotify Play Speed Access", a completely free Chrome extension that adds the ability to change play speed Spotify.
In fact, this free Chrome extension allows you to adjust the playback speed of all Spotify content, including music, podcasts and audiobooks. It would be a fun and useful feature for musicians, dancers or teachers for practice and classroom activities.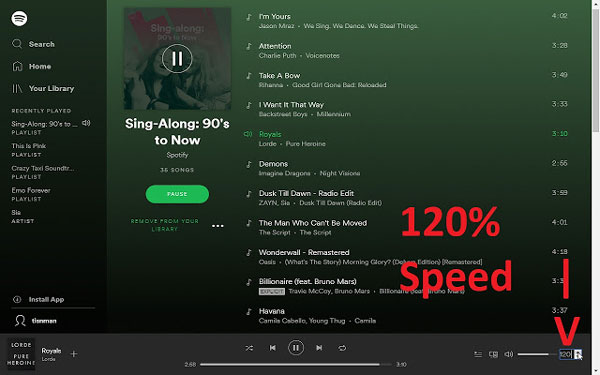 Step 1. Find the Spotify Play Speed Access extension in the Chrome web store and install it in your Chrome browser.
Step 2. After installation, visit the Spotify web player and sign in with your account.
Step 3. There is a small box next to volume for you to adjust the Spotify playback speed, with a default of 100 at normal music playback. You can press the triangle icon to increase or decrease the level to fast forward or slow down playback speed, or enter a number between 7 and 1600.
Part 3. Change Spotify Playback Speed - Best Way
With the 2 methods we described above, you will be able to change the playback speed of Spotify podcasts or music on Spotify app and web player. Meanwhile, we notice that some users are eager to change Spotify playback speed on Apple Watch, Galaxy Watch or other devices. For this reason, we are here to share a third solution that allows us to do that in just a few steps.
To begin with, you need the assistance of a professional software called AudFree Spotify Music Converter. It is proficient in downloading Spotify Music locally without losing audio quality and converting Spotify to MP3 or other common audio formats. Once you have the downloaded music files at hand, you are free to adjust Spotify playback speed and play Spotify on any device. What's more, this excellent tool retains all ID3 tag information of the target sources, such as title, artist, genre, year, album art, etc.
How to Download Music from Spotify for Any Device
Step 1

Import Spotify Songs to AudFree SpoDable

No matter you are Spotify Free and Premium users, you can directly drag and drop tracks/albums/playlists/podcasts from the Spotify app to the tool's main interface to add the sources you'd like to download. Alternatively, you can copy and paste the Spotify URL to the search box and click the '+' button to achieve the same effect.
Step 2

Define Spotify Output Format and Other Parameters

Please go to the menu from the top right corner and click Preferences and Convert options to open the setting window. Here you can define Spotify output format as MP3, FLAC, M4A, etc. and set other parameters like channels, sample rate and bit rate.
Step 3

Download and Convert Spotify to PC Locally

When all settings are saved, please hit the big 'Convert' button at the bottom-right corner and AudFree Spotify Music Converter will start to download and convert Spotify songs at high speed simultaneously. After it all finishes, you can locate all download Spotify files in the converted history list and locate them in output folder.
How to Change Speed on Spotify Computer/Phone
Now you have the downloaded Spotify file and it opens up more options for you to change the Spotify playback speed. It's time to learn how to slow songs on Spotify or how to speed up a song on Spotify on any preferred device.
How to Change Play Speed on Spotify for Computer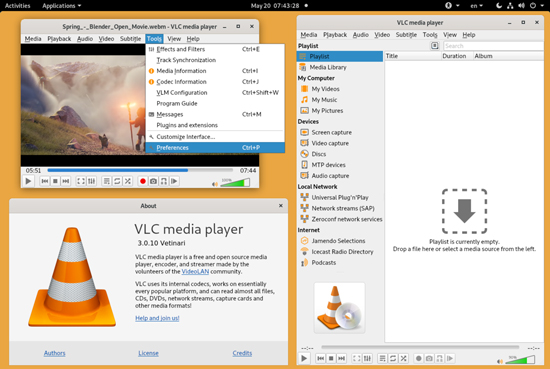 Step 1. Install VLC media player on your computer, after that open the local files with VLC.
Step 2. Go to Playback > Speed option and use the playback speed slider in the bottom right corner of the player, located below the volume slider.
Step 3. Now, you can adjust playback speed of Spotify Music, podcasts or audiobooks in VLC to the tiniest detail like 1.07x or 1.49x speed. In turn, it is able to play Spotify on VLC at the speed you want smoothly.
How to Slow Down Songs on Spotify Android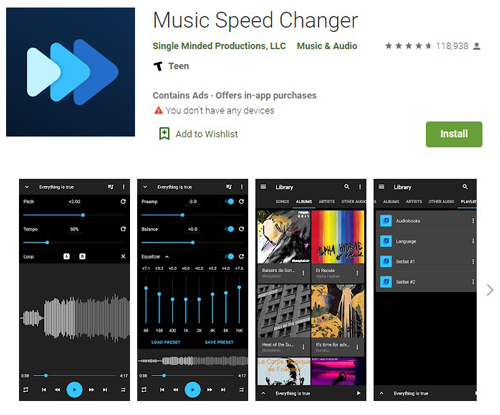 Step 1. Navigate to the Google Play Store on your phone to download and install the "Music Speed Changer" app.
Step 2. Import the downloaded Spotify Music files into the library and select your favorite Spotify songs to play.
Step 3. Adjust the "Tempo" to change the playback speed of your current song so that you're able to get Spotify slow down songs.
How to Speed up Songs on Spotify iPhone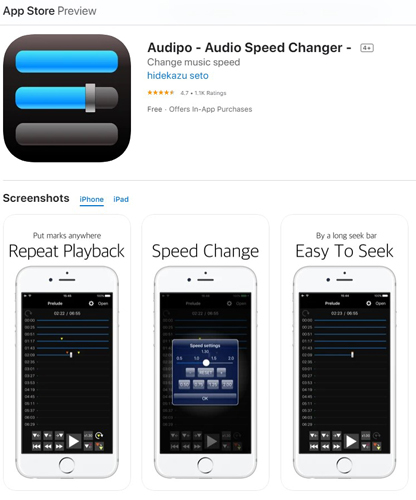 Step 1. Download and install "Audipo" on your iPhone from the Apple App Store.
Step 2. Connect your iPhone to your computer and transfer Spotify songs to the Audipo app from your computer.
Step 3. Select a Spotify song to play, and Audipo will enable you to change Spotify playback speed from 0.5x to 2x.
Part 4. FAQs About Spotify Playback Speed
Q1: Can You Increase Playback Speed on Spotify?
Yes, you can adjust the playback speed of Spotify podcasts to 0.5x, 0.8x, 1x, 1.2x, 1.5x, 2x, or 3x speed in the Spotify app directly.
Q2: How to Change the Speed of a Song on Spotify?
The Chrome extension Spotify Playback Speed Access will help you out as it adds the ability to change the speed of a Spotify song using the input box next to the volume slider.
Q3: How to Speed up Songs on Spotify iPhone/Android?
You can first make good use of the best AudFree Spotify Music Downloader to get the local Spotify Music files. Subsequently, it is easy to find many free online tools like "Audio Speed Changer" to enjoy all Spotify content at any speed you like.
Part 5. In Conclusion
In a nutshell, this article introduces three effective options for changing the playback speed of Spotify songs, podcasts and audiobooks. You can choose the right way to enjoy Spotify speed up or slow down songs according to your real situation. By the way, AudFree Spotify Music Downloader enables you to play Spotify on any device at any speed you want.