With the booming development of technology, smart watches are gradually appearing in the public's view and receiving more and more attention. Huawei Watch, on the other hand, stands out from the various types of smartwatches on the market. This is not only because of the attractive design and long battery life of the Huawei Watch, but also because it surpasses all other similar watches in terms of performance.
To make users' daily life easier, Huawei Watch, including the popular series Huawei Watch 2 and Huawei Watch GT 2, both introduce a music playback feature. You can store a lot of your favorite music to the watch for offline listening, and then enjoy the entertainment service when you are running.
When it comes to music you must be very familiar with Amazon Music, a music streaming platform with a huge music library. However, some people have complained that they can't control Amazon Music with the Huawei Watch. Don't worry! This article will show you an easy way to play Amazon Music on Huawei Watch at ease. Please keep reading!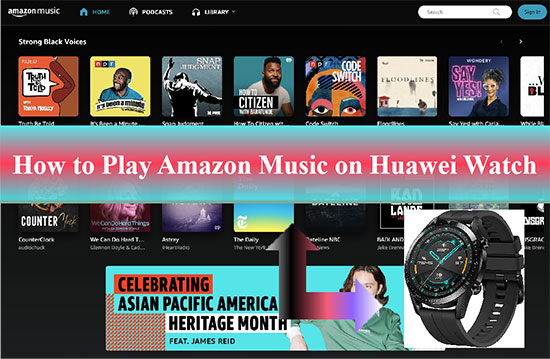 Part 1. What You Need to Play Amazon Music on Huawei Watch
Amazon Music is emerging as a standout among streaming software, offering users tens of thousands of hit songs and albums. However, one of the biggest limitations of Amazon Music is that you can only access Amazon Music within the devices designated by Amazon Music. Also, each Amazon Music has digital copyright protection, which means that even if you've downloaded Amazon Music, you can't add them to other devices like the Huawei Watch directly.
At this point, the simple and effective way is to convert Amazon Music to MP3 and other Huawei Watch supported format via a third-party tool, and then you can play Amazon Music on your Huawei Watch without any worries. AudFree Amazon Music Converter is dedicated to downloading and converting Amazon Music, and should be a portable helper to solve your difficulty.
Thanks to its powerful performance, you can enjoy not only 5X faster speed during the conversion process, but also no loss of Amazon Music quality and metadata information after the conversion. With the conduct of AudFree Amable, you can easily stream and play Amazon Music on your Huawei Watch 2 and Huawei Watch GT 2 offline, and get the great convenience of music control.
How to Convert Amazon Music for Huawei Watch 2 and GT 2
Step 1

Download and Run AudFree Amable

Install and run AudFree Amable on your computer, then click on the three lines icon in the upper right corner of the interface, tap to the Register button, and fill in your license email and registration code in the registration window to upgrade the software to the full version.
Step 2

Adjust Amazon Music Output Format for Huawei Watch

Please click the three lines icon on the top right again, tap the Preferences button, and select the Advanced section to launch the settings window. Then you can start to define the Amazon output format and customize other audio parameters for Huawei Watch GT2 and Huawei Watch 2. For example, you can convert Amazon Music to MP3 or other Huawei Watch compatible formats.
Step 3

Import Amazon Music to Audfree Amable

Please search for the Amazon Music you want to download and convert in Amazon Music software. After that, you can directly drag and drop individual Amazon Music to the main interface of AudFree Amable. Or, you can copy and paste Amazon Music links into the search box at the top of AudFree Amable, then click the Add button next to it to finish importing Amazon Music.
Step 4

Download and Convert Amazon Music for Huawei Watch

Just press the Convert button at the bottom right and this professional tool will download and convert Amazon Music according to your previous settings. Once the conversion is over, you can easily view Amazon Music on your local computer. After that you're prepared to upload and play Amazon Music offline on Huawei Watch.
Part 2. How to Play Amazon Music on Huawei Watch 2/GT 2 Offline
Once you have successfully downloaded and converted Amazon Music to Huawei Watch supported formats, it is time to move those downloaded music to your Huawei Watch for offline playback. Here are the specific steps to put Amazon Music on Huawei Watch like Huawei Watch 2, Huawei Watch GT2 and more. Just follow along.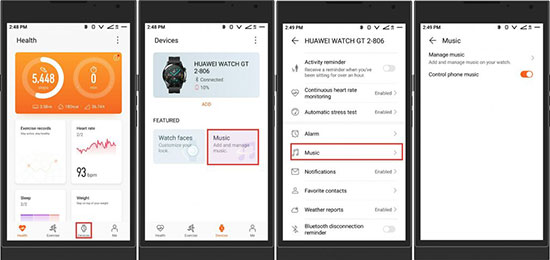 Step 1. First launch the Huawei Health app on your phone, then click on the device option at the bottom of the screen. Then you can see the Music section under the Features option, click on Music part.
Step 2. In the Music section there are two options, just select the Manage Music option. Then click on the Add Songs button at the bottom of a new page. After that a prompt will appear about where you want to add music, click on the device option.
Step 3. CAt this point you can select the Amazon Music to upload to your Huawei Watch, and then click the hook icon at the top right. Finally, click the OK button and you can transfer the Amazon Music from your device to Huawei Watch. In turn, you will be able to listen to Amazon Music offline on Huawei Watch GT 2 and Huawei Watch 2 at any time.
Part 3. More FAQs About Huawei Watch and Amazon Music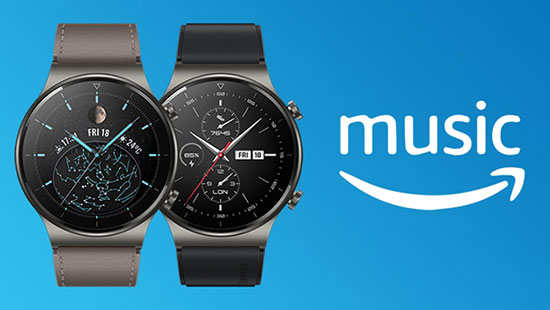 Q: Can I use Huawei Watch without phone?
A: You certainly can control Huawei Watch without using your phone all the time. When you use the Huawei Smartwatch as a time checker, activity tracker, alarm setter, etc., you won't need to pair it with your phone. In the meantime, Huawei Watch has certain memory and a built-in speaker, so you can load music directly on the watch and play them without using smartphone.
Q: Can I play music on my Huawei Watch?
A: The answer is undoubtedly yes, and the Huawei Watch series including Huawei Watch 2 and Huawei Watch GT2 support this pleasant feature. You can connect your Huawei Watch to your phone, then control the music volume and play it offline through your watch. When you're exercising, you can use the built-in speaker on the Huawei Watch to listen to music if the phone is not around.
Q: Why can't I play Amazon Music on my Huawei Watch?
A: Amazon Music is protected by digital rights, and you can only play Amazon Music on specific devices like those licensed by Amazon Music. However, Amazon Music does not cooperate with Huawei Watch. Even if you subscribe to Amazon Music Unlimited or Prime, then download Amazon Music to your phone, you still can't move those protected Amazon Music to Huawei Watch. But with AudFree Amazon Music Converter, you can easily and freely realize your desire to enjoy Amazon Music on your Huawei Watch.
Part 4. Conclusion
Now it's time to make good use of AudFree Amazon Music Converter, then you can play Amazon Music on your Huawei Watch offline without any restrictions. Just enjoy your favorite Amazon Music while running or jogging with Huawei Watch 2 and Huawei Watch GT2.