Music streaming has revolutionized the way we approach music. With the rise of Spotify, it has become easier than ever to access millions of songs at the touch of a button. However, with so much music available, it can be overwhelming to decide what to listen to. This is where Spotify Icebergify comes in.
This innovative tool allows users to visualize their favorite artists and discover new artists they might never have heard of otherwise. In this article, we'll take a closer look at what Spotify Icebergify is, its key features, and how to use it to see Spotify iceberg for enhancing your music streaming experience.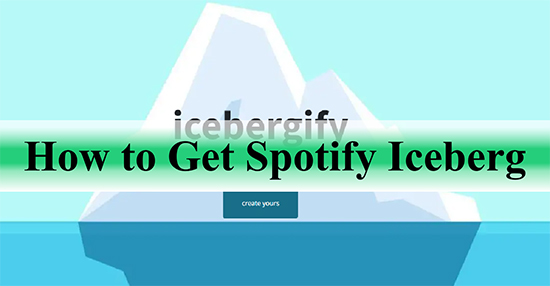 Part 1. More about Spotify Icebergify
What Is Icebergify
Icebergify is a web-based tool that generates a personalized iceberg chart based on a user's listening habits on Spotify. The chart is divided into two parts: the tip of the iceberg represents the artists that users listen to most often, while the larger, submerged portion represents the artists that they listen to less frequently. This tool is a fun and interactive way for users to visualize their listening habits and discover new music based on their preferences.
Icebergify Spotify is a free service that is available to anyone with a Spotify account. It is not affiliated with Spotify, but it uses the Spotify API to access users' listening histories and generate the iceberg images. This Spotify iceberg chart generator does not collect any personal information or data other than the user's Spotify listening history.
Key Features of Icebergify
✅ Comprehensive Listening Statistics: The tool provides users with detailed statistics on their top artists in a unique and visually appealing way.
✅ User-Friendly Interface: The web-based interface is easy to use and navigate.
✅ Compatibility with Spotify: Icebergify tool is compatible with Spotify, allowing users to seamlessly integrate their listening data.
✅ Customizable Spotify Music Iceberg: Users can customize their iceberg charts by selecting the colors and design of artists displayed.
✅ Social Sharing: Users can share their iceberg charts on social media platforms such as Facebook, Twitter, and Instagram.
✅ Discover New Music: The tool recommends new artists and tracks that are similar to the ones you have been listening to, helping you expand your music library.
Part 2. How to Get Spotify Iceberg
After having a basic understanding of the above Spotify iceberg generator, you must be wondering how to do Spotify iceberg. To satisfy your needs, now we will present the simple steps to generate a personalized Spotify iceberg via Icebergify to quickly view the top artists. After that, you can also share the iceberg Spotify chart with others.
How to See Spotify Iceberg Chart
Step 1. Open your web browser and go to Icebergify online website.
Step 2. Tap on the "Create yours" button in the Icebergify homepage.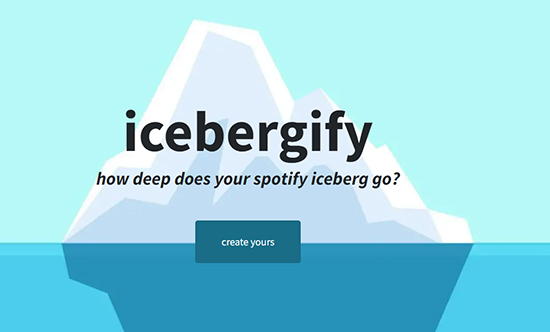 Step 3. You will be taken to the Spotify Icebergify agreement page, click the "Agree" button to allow Icebergify to access your Spotify data.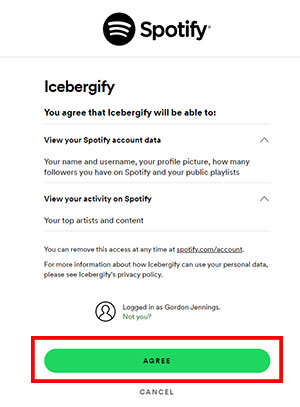 Step 4. Now, you'll be able to access your Spotify iceberg for the current month of the year.
Step 5. Of course, you can also choose the "Click here to see your all-time iceberg" button at the top to get a more detailed and comprehensive view of your favourite artists on Spotify.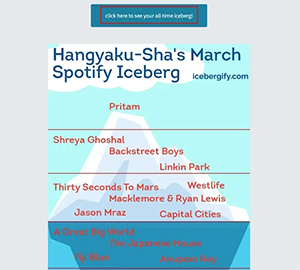 How to Share Spotify Music Iceberg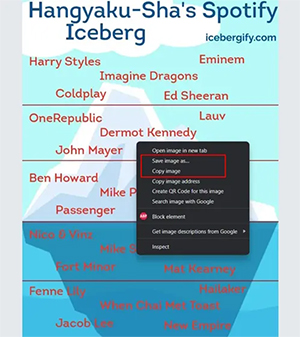 Step 1. Once the Spotify iceberg is generated, right-click on the image and select "Save Image As" to save the image to your device.
Step 2. Go to the platform where you want to share the image (e.g. social media, messaging app, etc.).
Step 3. Create a new post or message and attach the saved image file to it.
Step 4. Add a caption or message to your post if desired.
Step 5. Publish or send your post/message to share the Spotify music iceberg image with others.
Part 3. How to Download Top Artists in Spotify Iceberg
If you want to download top artists in your Spotify iceberg chart with free account for offline listening, you can use a tool like AudFree Spotify Music Converter. This software allows you to download and convert Spotify songs, albums, playlists and artists to MP3, FLAC, AAC, WAV, etc. whether you are a free or premium user.
Additionally, the software supports batch conversion, which means you can convert multiple Spotify tracks at once, saving you time and effort. Another great feature is its ability to preserve the original quality of your Spotify tracks. With this reliable and easy-to-use tool, you can easily download top artists and enjoy favorite Spotify tracks offline on any device.
AudFree Spotify Music Converter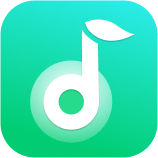 Download Spotify playlists, songs, and artists with free account
Convert Spotify to MP3, AAC, FLAC, WAV, and other common audio formats
Keep lossless audio quality and ID3 tags
Provide batch conversion of Spotify tracks on Spotify iceberg
How to Download Top Artists in Spotify Iceberg Freely
Step 1

Add Spotify Songs to AudFree SpoDable

Download and install AudFree Spotify Music Converter and Spotify app on your device in advance. Based on your Spotify iceberg, select tracks from favorite Spotify artists and drag and drop them into the main interface of the AudFree tool directly. Or copy and paste the music link into the search bar and click the + icon next to it.
Step 2

Select Output Settings for Spotify Music

Go to the Menu icon at the top right of the interface and tap Preferences > Convert to customize Spotify audio output settings. Generally speaking, MP3 will be set as the default output format for Spotify music. You can leave it unchanged if you don't have a special need for it. Of course, you can adjust other audio parameters here, such as bitrate, channel, etc.
Step 3

Download Spotify Top Artists in Spotify Iceberg

Now, click Convert button to start downloading top artist tracks from Spotify without premium. After finishing, then you can click History button to find converted Spotify music. After that, you can listen to Spotify music and playlists offline on multiple devices without restriction.
Part 4. How to Fix Iceberg Spotify Not Working
Icebergify is a famous tool that allows users to better understand their Spotify music streaming habits. But nowadays many receiving users are disappointed because this website crashes from time to time or fails to generate the correct Spotify iceberg. To resolve these issues, we have compiled some fixes that may be able to solve the problem of Spotify Icebergify not working.
🛠️ Refresh the Icebergify Website
Sometimes, the Icebergify website may experience technical difficulties or server issues that prevent it from working properly. To see if this is the case, try refreshing the website, which can help load any new updates or fixes that may have been implemented.
🛠️ Use a Different Web Browser
Occasionally, certain web browsers may not be compatible with Icebergify. If you're having trouble with one browser, try using a different one such as Chrome, Firefox, or Safari.
🛠️ Clear Browser Cookies
Clearing your browser cookies can sometimes resolve issues with Spotify Icebergify. To do this, go to your browser settings and find the option to clear cookies and cache. Once this is done, try accessing the Icebergify website again.
🛠️ Disable Any Ad Blockers or VPNs
Ad blockers and VPNs can sometimes interfere with website functionality. Try disabling any ad blockers or VPNs you have running and see if that resolves the issue.
Part 5. In Conclusion
Spotify Icebergify is a fun and interactive way for users to explore their music tastes and discover new artists they might not have otherwise. By following the steps outlined in this article, you can easily see your personalized Spotify iceberg and enhance your music experience in a whole new way.