Have you used Google Nest Hub or Spotify before? Google Nest Hub, also called Google Home Hub or Google Hub, acts as a smart on-screen display device with built-in voice commands Google Assistant developed by Google. It belongs to a specific smart home display device, which includes Google Nest Hub Max and Google Hub Mini display. Resemble Facebook Portal, through voice commands, Google Nest Hub can control other smart home devices, make video calls, and play music from popular music streaming services such as Spotify.
Some people may wonder how to get Google Nest Hub Spotify integration. Fortunately, you will find a full guide in this article to connect them with or without premium. Please have a look!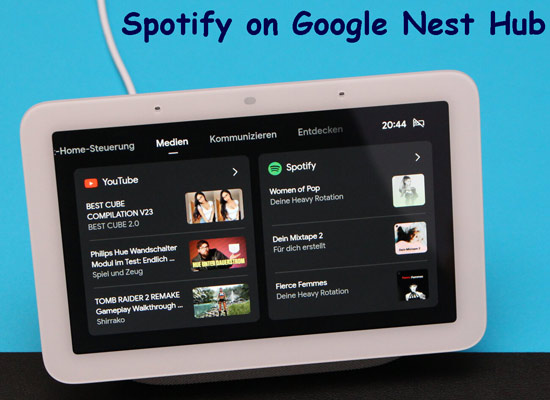 Part 1. Can You Play Spotify on Google Nest Hub
Of course! Spotify has cooperated with most Google speakers and displays including Google Nest Hub, Google Home, and more. By linking your Spotify account to your Google Assistant, you are able to use voice commands to play Spotify songs and playlists on the Google Nest Hub (2nd Gen). Also, with a smart screen, it enables you to use the touch screen to browse and view Spotify personalized playlists with lyrics from your Spotify library and use Google Nest Hub with Spotify as an alarm clock.
Surprisingly, Google Nest Hub can run with multiple Spotify accounts connected, you can enjoy Spotify music on this Google device with others together.
Part 2. Official Way to Play Spotify on Google Home Hub
Google Home Hub provides its users with a convenient way to link and use Spotify and other music services. In this part, we would like to introduce how to get Spotify with Google Home Hub. Please refer to the instructions below:
Set Up Google Nest Hub for Spotify
Before linking Spotify to Google Home Hub, it requires you to install the Google Home app to set up the Nest Hub. Follow the step-by-step instruction below, you can achieve it effortlessly.
Step 1. Plug in your Google Nest Hub to the wall socket and turn it on.
Step 2. Open the Google Home app on your mobile device to sign in with your Google account, then click the top-right '+' icon to add a new device.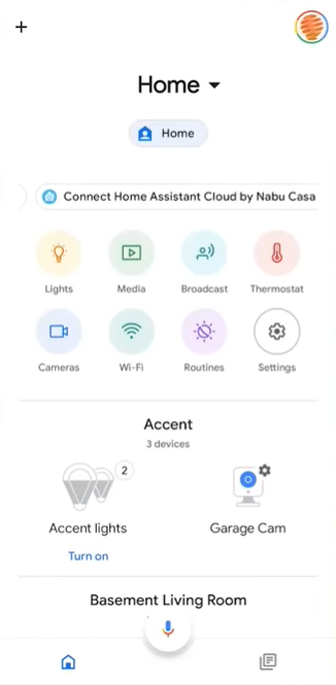 Step 3. On the 'Add and manage' page, tap on 'Set up device' and then 'New devices'.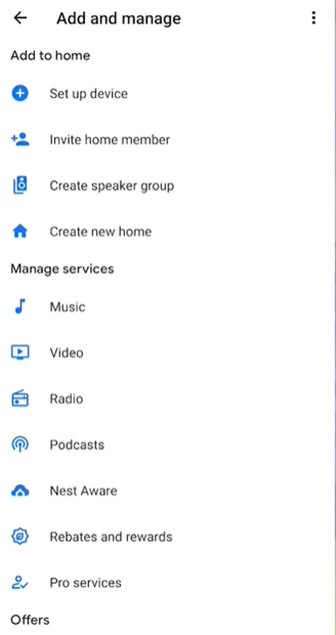 Step 4. You will be taken to the 'Choose a Home' page. Please select the home to find the Google Home Hub device and tap on 'Yes'.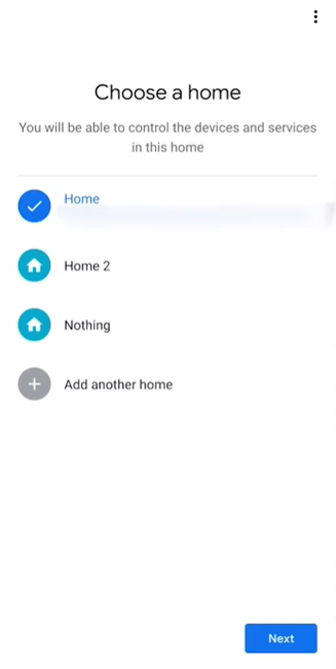 Step 5. Please scan the QR code on the smart display with the mobile to connect to the Nest Hub.
Step 6. Please skip the 'improve the Nest Hub' step to select 'Where the device is?' and connect to your Wi-Fi.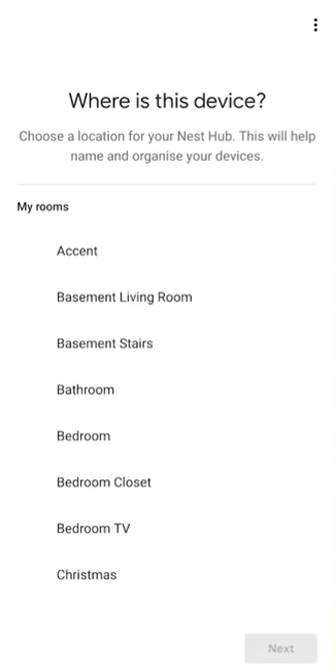 Step 7. Then you have to set using language or turn on the Google Nest Hub 'Duo calling' and 'Voice'.
Add Spotify to Google Hub
Once your Google Hub is set up, you can commence linking Spotify with Google Home Hub. Please make sure your phone is connected to the same Wi-Fi network as the Hub display.
Step 1. Launch the Google Home app and head to the top-right 'Account' section.
Step 2. Make sure the Google Account shown on the Google Home app is the one linked to your Google Nest Hub.
Note: If you want to switch accounts, please click 'another account' or 'Add another account'.
Step 3. Touch the top-left '+' icon on the home screen to the setting menu.
Step 4. Scroll down and select 'Music' under 'Manage services'.
Step 5. Click on 'Spotify' and sign in with your Spotify account details.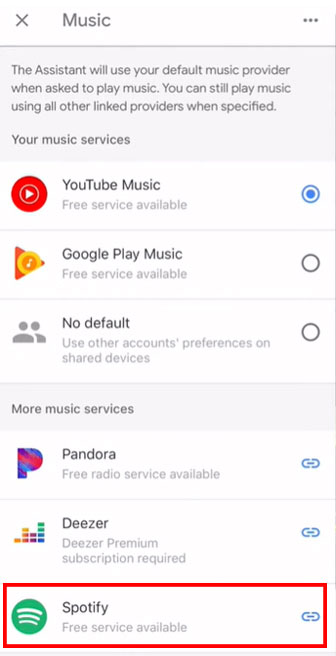 Use Spotify on Google Home Hub
Once you've signed in, you can start using Spotify on Google Nest Hub with voice commands. For example, say "OK Google, play Spotify Discovery Weekly" or "OK Google, open my Spotify playlists on Google Home Hub".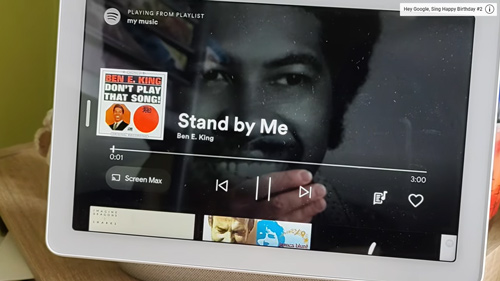 Part 3. Free Way to Integrate Google Nest Hub and Spotify
It is convenient to play Spotify from Google Home Hub directly the official way, but you are required of a Spotify Premium account. To use Google Nest Hub and Spotify free, you need to get help from a third-party program to download Spotify locally in Google Nest Hub-supported formats and then transfer the downloads to the smart home device.
When it comes to this, please look no further than AudFree Spotify Music Converter, an all-in-one tool designed for both Spotify Free and Premium users. This user-friendly music tool allows you to download Spotify music as local files for offline playback and convert Spotify downloads to MP3, AAC, WAV, FLAC, and more formats that can be available on Google Hub Max or Mini alongside other devices. You can finish the conversion with a Spotify Free account.
Furthermore, with advanced conversion technology, this gadget will preserve the lossless Spotify music quality and ID3 tags after converting. Thus, you are empowered to transfer and play Spotify music on Google Hub and other devices just like on the Spotify app.
Most importantly, even if you cancel the Spotify Premium account, the converted Spotify files won't disappear since it is stored as local files instead of cache. That means you can play Spotify on Google Home Hub and other devices forever.
AudFree Spotify Music Converter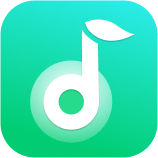 Convert music from Spotify to the Google Nest Hub-supported formats
Enjoy the alibity to convert Spotify Ogg Vorbis to MP3 without Premium
Store Spotify songs offline with 100% orginal sound quality and ID3 tags
Provide batch conversion of Spotify songs at a 5X speed rate
How to Download Spotify Music for Google Nest Hub
Here is a tutorial for you to download Spotify songs locally for Google Hub. Please check it out now.
Step 1

Drag and Drop Spotify Tracks to AudFree Spodable

Open the AudFree Spotify Music Converter and the Spotify app will launch automatically. Drag your favorite songs or playlists from Spotify and drop them into the converter's window directly. This is a commonly used way. Alternatively, you can copy and paste the URL link of Spotify music to the search box of AudFree Spodble and touch on '+'.
Step 2

Customize Spotify Output Settings for Google Nest Hub

Head over to the upper-right toolbar with three horizontal lines to open the settings menu. Then select 'Preferences' > 'Convert' where you are allowed to reset the output formats and other parameters for Spotify music. To play Spotify on Google Nest Hub successfully, please select the formats such as MP3, FLAC, WAV, and AAC alike that are supported by the Hub device. And you can set the bit rate and sample rate according to your needs to make lossless high-quality Spotify audio.
Step 3

Convert Spotify Losslessly and Locally for Google Nest Hub

To commence the conversion process, hit the bottom-right 'Convert' icon and wait for a while. This powerful tool will convert Spotify music at a fast 5X speed and store them in the target folder on your computer. Just clicking 'Converted' at the bottom, you can view the converted history and add Spotify music to Google Nest Hub now.
Step 4

Add Spotify Music to Google Nest Hub

To upload local audio on Google Nest Hub, you can follow these steps:
1) On the Google Home app, tap on the device you want to upload audio to.
2) Tap on the gear icon to access the device settings.
3) Scroll down to 'Media' and tap on it.
4) Under 'Default media provider', select 'Personal media'.
5) Tap on 'Add personal media' and select the folder where Spotify downloads are located.
6) Wait for the files to upload and then you can use voice commands to play them on your Google Nest Hub.
Part 4. More FAQs about Spotify on Google Hub
Q1: Can I play Spotify on multiple Google Hubs
Generally speaking, if you don't subscribe to Spotify Premium, you can play Spotify on only one device at the same time. But with AudFree Spotify Music Converter, you can stream Spotify music on multiple Google Hubs simultaneously.
Q2: What streaming apps work with Google Nest hub besides Spotify?
Currently, Google Nest Hub supports a variety of streaming apps, including YouTube, Google Play Music, Spotify, Pandora, Deezer, iHeartRadio, and TuneIn.
Q3: Google Hub not playing Spotify. Why?
Please make sure you have updated the Google Home and Spotify app to the latest version and that you have connected your mobile device and Google Nest Hub to the same Wi-Fi network. Or you can restart the Google Home app. If those fixes are to no avail, please give AudFree Spotify Music Converter a shot.
Part 5. In Conclusion
An official and free way to connect Google Nest Hub and Spotify have been displayed above. Officially, you need to subscribe to the Spotify Premium plan in advance. But with AudFree Spotify Music Converter, it is feasible to use Google Nest Hub with Spotify for free. Beyond that, it endows you with the ability to play Spotify on multiple devices such as multiple Google Buds simultaneously