Echo Dot, a smart speaker with a voice controller, has a plethora of smart features, such as playing streaming music and audiobooks, setting alarms, and providing real-time information about daily life. Many people will use Echo Dot to enjoy streaming music at home, including the popular streaming music service Spotify.
At the same time, there will still be some people who are unfamiliar with the playback mechanism of Echo Dot, or who are unable to stream Spotify Music to Echo Dot. To address these issues, this article provides two popular ways to help you easily play Spotify on Echo Dot. Let's start right now!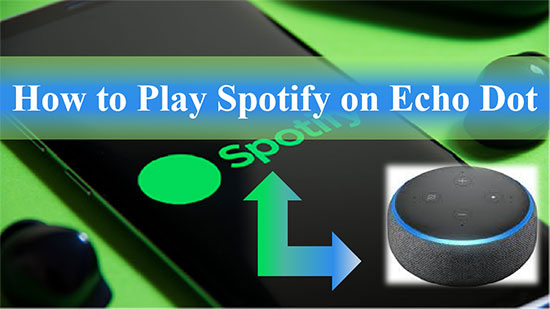 Part 1. Can Echo Dot Play Spotify
For many people, Spotify is probably the main reason to buy an Echo Dot smart speaker, or at least near the top of the priority list, because as a powerful music speaker, the Amazon Echo Dot allows you to play almost any music service. With the Alexa voice assistant or a few clicks on your phone, you'll be able to play millions of songs and podcasts on your Echo Dot.
So is it possible to play Spotify on Echo Dot? Of course, as Spotify currently supports a range of Alexa devices, the Echo Dot being one of them, it will be possible to use Spotify on Echo Dot. In addition, you only need to sign into your Spotify Music site account in the Alexa app, and then you are permitted to listen to Spotify Music through your Echo Dot.
Part 2. How to Connect Spotify to Echo Dot with Premium
It's worth noting that not all Spotify users, but only Premium users can play Spotify Music on Echo Dot officially. Therefore, before setting up Spotify on your Echo Dot, make sure your device is compatible with Spotify and that you have a Spotify Premium subscription. After that, follow the steps below and you can connect your Spotify account to your Amazon Echo Dot and tell Alexa to play any song from Spotify.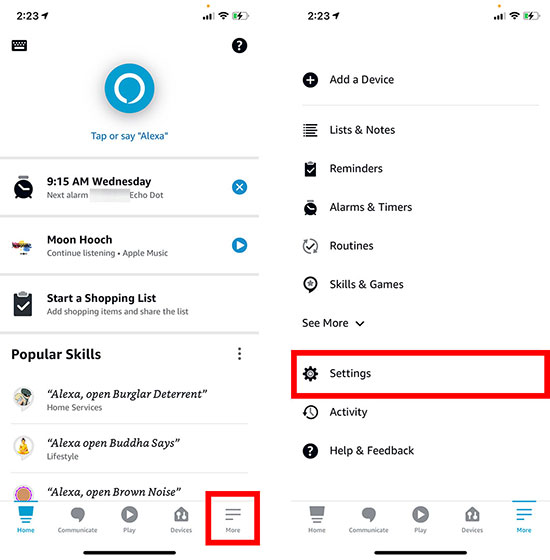 Step 1. Open the Alexa app on your iPhone, iPad, or Android device.
Step 2. Tap the More icon at the bottom of the screen, then select Settings, then choose the Music and Podcasts option.
Step 3. If you don't see the Spotify icon in the list, select Link New Service. Next, click the Spotify option, then tap to Link account to Alexa to link Spotify to Echo Dot.
Step 4. Tap Enable to use and sign in to your Spotify Premium account, in turn, you can simply and freely play any Spotify Music you wish on Echo Dot.
Part 3. How to Play Spotify on Echo Dot without Premium
As we all know, Spotify Music are protected, only Premium users can download Spotify Music for offline listening, and connect Spotify with Echo Dot. Some free users will often complain about not being able to listen to Spotify on Echo Dot, for this case, AudFree Spotify Music Converter will be a good choice.
Whether you need to download Spotify Music as MP3 or convert them to those popular audio formats, AudFree SpoDable is well equipped to do the job. What's more, it enables you to download and convert Spotify Music at 5X faster speed and lets you enjoy all the Premium features, including ad-free and offline listening. Furthermore, this professional and popular Spotify Music converter gives you enough privileges to play Spotify Music offline without Premium on Echo Dot.
Step 1

Import Spotify Music to AudFree SpoDable

Launch AudFree Spotify Music Converter on your computer, while the Spotify application will open automatically. Select your preferred music from the playlists in Spotify. Then you can add them directly to the converter's conversion window by dragging and dropping. Besides, copying and pasting Spotify Music links into the search bar of AudFree SpoDable is the second method.
Step 2

Define Spotify Music Output Format

In order to define the output format, click Menu bar > Preferences to open a new window where you can start setting the output audio format for Spotify Music. For example, you can choose to convert Spotify to MP3 supported by Echo Dot. Moreover, you can also adjust other output parameters such as bit rate, sample rate and channels. Then remember to click the OK button to save the settings.
Step 3

Download and Convert Spotify Music for Echo Dot

When all the above settings meet your requirements, please click the Convert button to start downloading and converting Spotify Music. After the conversion is done, you can find all the downloaded Spotify Music files in your local folder on your computer. After that, you can freely play the music on your Echo Dot for offline listening.
Step 4

Play Spotify Music on Echo Dot

To play Spotify Music on Echo Dot, you can simply transfer the converted Spotify Music to Windows Media Player or iTunes, and then you can sync Spotify Music to Amazon Music. After a successful upload, you can simply say "Alexa, play Amazon Music" to the Echo Dot and it will automatically start playing the converted Spotify Music. Or you can use any other media player to play Spotify Music directly and connect your device to the Echo Dot via Bluetooth.
Part 4. Can't Play Spotify on Echo Dot - Solutions to Fix It
People often complain, "My Echo Dot Can't play Spotify!" If you've recently encountered the same situation, you're not alone. Let's take a look at some simple solutions to fix this problem.
Make Sure You Are Logged Into Your Spotify Premium Account
This can be a fairly common reason, if you're not logged into your Spotify account, your Alexa won't be able to access your music or podcasts. So please check this issue first. If you've been logged in, it's recommended that you can unlink your Spotify account from Alexa and then connect them again.
Check the Names of your Echo Dot
If you have more than one speaker, make sure your speakers have different names from each other. You'll be able to verify the names of speaker groups in the Devices option of Alexa app. Meanwhile, you can use the Alexa app to set up one or more speakers, so specific Echo Dot will play music within a Smart Home Group.
Check the Default Music Service Setting of the Alexa App
Open the Alexa app and in turn go to Music and podcast settings. Here, you will find that you are allowed to select Spotify as your default option. In this case, when you say "Alexa, play music", Echo Dot will automatically play Spotify Music instead of any other streaming music.
Reset The Echo Dot
This is called a "last resort" and resetting your Echo Dot will remove any settings you've made for Alexa. Just press the volume down button and the microphone button for at least 30 seconds. At this point, you will notice an orange ring around the Echo Dot, this means that the reset has been successful. After that, you can get ready to play Spotify Music on Echo Dot again.
Part 5. In Conclusion
What is clear is that playing Spotify Music on Echo Dot is not a difficult task, and you can make it a reality through the two convenient methods above. It's worth mentioning that AudFree Spotify Music Converter helps you effortlessly play Spotify Music on Amazon Echo Dot without Premium, which achieves true music freedom.