Lenovo Smart Clock with Google Assistant doesn't just tell the time, it also enables you to set alarms, play music, check the weather and other features that people use most as home assistants. There is nothing more exciting than its alarm setting function depending on the music you like. Then some may wonder, can we wake to Spotify on Lenovo Smart Clock to start our day?
Of course, Lenovo Smart Clock currently supports Spotify, YouTube Music and Pandora. With Spotify Premium, you can link Spotify to Lenovo Smart Clock 2/Essential. Alternatively, here is a workaround that allows you to get Lenovo Smart Clock Spotify work with just a free account. Let's read on to find out more.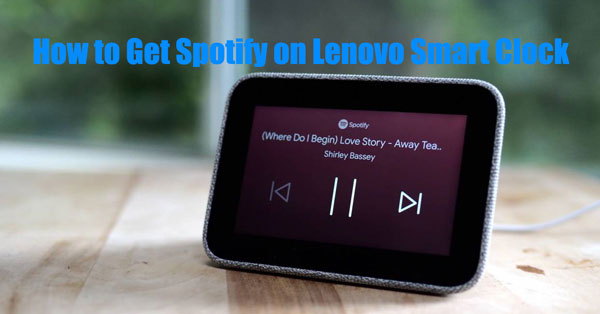 Part 1. How to Get Lenovo Smart Clock Spotify Work without Premium
Since many users want to know how to get Lenovo Smart Clock to play Spotify with Spotify free account, to meet their needs, we first share a stable method that works for all Spotify users. You just need to use AudFree Spotify Music Converter, which is designed to download songs, albums, playlists and podcasts from Spotify locally without Premium. Then you can play Spotify on Lenovo Smart Clock via Bluetooth and stream any song on demand for free.
Moreover, it converts Spotify music to normal audio files such as MP3, FLAC, WAV, AAC, etc. It is smart enough to detect all the metadata of the music, such as title, genre, article, album cover, etc. and keep them intact. So when you set Lenovo Smart Clock Spotify alarm, all the information is displayed. In addition to Lenovo Smart Clock, you can even play these native Spotify files on any other player or device without any restrictions.
AudFree Spotify Music Converter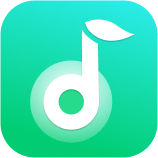 Download Spotify music locally for offline playback
Convert Spotify music to MP3, AAC, FLAC, M4A, etc.
Play Spotify on Lenovo Smart Clock, Samsung Clock
Run at 5X speed, support audio parameters customization
How to Download Spotify onto Lenovo Smart Clock 2/Essential
AudFree Spotify Music Converter now offers a free trial for both Windows and Mac versions which allow users to download the first minute of each track. After you have installed it on your computer, please make sure you have the Spotify desktop app as well to complete the whole Spotify download process for Lenovo Smart Clock.
Step 1

Add Spotify Music to AudFree SpoDable

Launch AudFree Spotify Music Converter and you will see the Spotify app opens itself. Find the music in the Spotify app that you want to play or set as alarm in Lenovo Clock, then drag them into the main interface of the software directly. Alternatively, you can right-click on the music to copy its link and paste it into the address bar at the top. After that, hit the "+" button next to it.
Step 2

Set Spotify Output Format for Lenovo Smart Clock

You should go to the Menu in the top right corner on Windows or navigate to Apple's menu bar to select 'AudFree Spotify Music Converter'. Click on the 'Preferences' > 'Convert' option and you will see several audio parameters including format, channel, sample rate and bit rate. We recommend that you select the output format of Spotify music as MP3 for Lenovo Smart Clock 2/Essential. You can customize other audio parameters if required.
Step 3

Download and Convert Spotify Music for Lenovo Clock

Once all the settings have been saved, simply click on the "Convert" button to start downloading Spotify music without Premium quickly. When it's all done, hit on the "Converted" icon to open the history list where you can find the actual downloaded Spotify music files.
Step 4

Play Spotify on Lenovo Smart Clock without Premium

Sync Spotify music to your Android phone or iPhone. Then turn on Bluetooth on your mobile device, find Lenovo Clock in device list and connect to it. Then start playing the downloaded Spotify music on your phone and select the sound output device as Lenovo Smart Clock. Now, you can get Lenovo Smart Clock Spotify connected without Premium.

📝 Note: There is a USB port on the back of the Lenovo Smart Clock for charging only. You may not transfer downloaded Spotify to a USB drive and plug it into the Lenovo Clock for offline playback.
Part 2. How to Enable Lenovo Smart Clock Essential/2 with Premium
As for Spotify Premium users, you can connect Spotify Premium account to Lenovo Smart Clock 2/Essential directly with Google Home app or Bluetooth. Without further ado, let's look at the specific steps.
How to Connect Lenovo Smart Clock to Spotify in Google Home App
Step 1. Download and install the Googe Home app on your mobile device.
Step 2. Open the Googe Home app, sign in to your Google account and add Lenovo Smart Clock to it.
Step 3. Press Add > Set Up Device > New Devices on the home screen and wait for it to search for Lenovo Clock to connect.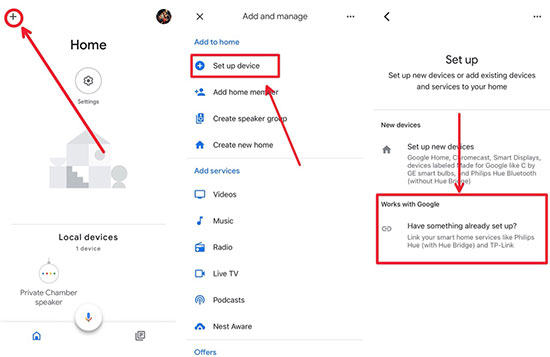 Step 4. Go back to the home screen, click on the gear-shaped "Settings" icon, and then select the "Music" option in the list to add music services.
Step 5. Here, select the link icon next to Spotify, sign in to your Spotify account and set it as the default music service.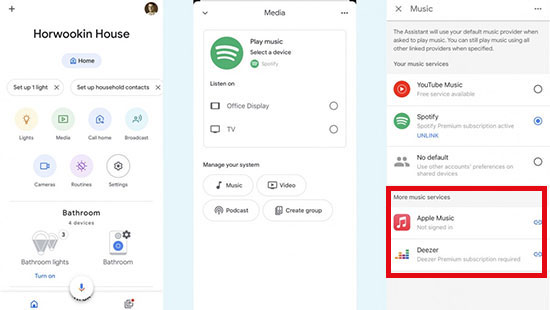 Step 6. When all the settings are done, you can say "Hey Google, play some music" and it will start playing some random music or specific Spotify songs on Lenovo Smart Clock Essential/2.
How to Get Lenovo Smart Clock Spotify via Bluetooth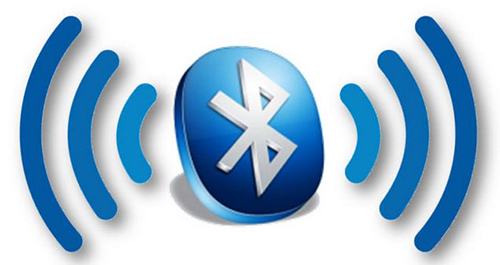 Step 1. Use the voice command "Hey Google, please connect Bluetooth" and the Lenovo clock will tell the name of the device.
Step 2. Enable Bluetooth on your phone/tablet, go to the Bluetooth menu.
Step 3. Select Lenovo Smart Clock as the Bluetooth speaker in the list.
Step 4. Play a favorite song from the Spotify app on your device and it will be automatically streamed to Lenovo Clock.
Part 3. How to Set Lenovo Smart Clock 2/Essential Spotify Alarm
Want to set a Lenovo Smart Alarm Clock with your favorite Spotify song instead of a dull alarm clock tune? It's possible! You can use Spotify as alarm on Lenovo Clock by talking to the clock or setting it manually, and in turn it's simple to wake up to enjoyable song or playlist.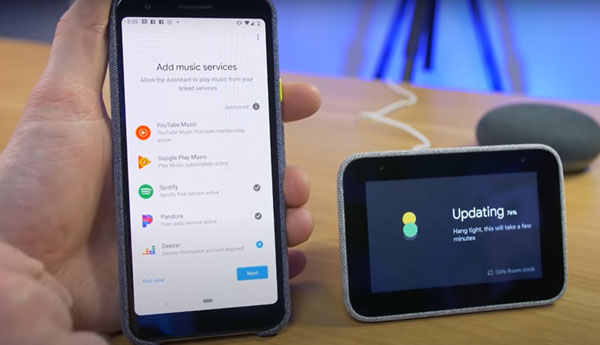 Method 1: Talk to Google Assistant
Step 1. Ask Google Assistant to "Create a music alarm for 7:30 AM" and it will ask you what you want to play.
Step 2. "Play [song title] by [artist]", and your music alarm is set. Or you can do it with a command like "Set alarm for 10:00 AM and play Highway to Hell".
Method 2: Set Up Manually
Step 1. Long press the Lenovo alarm setup button for more than 2 seconds, you can enter the alarm clock setting mode.
Step 2. Click Create an alarm and set the desired time.
Step 3. Select the alarm tone as Spotify music and tap the Done button.
Part 4. Lenovo Smart Clock Spotify Not Working - Simple Fixes
When you use Lenovo Smart Clock with Spotify, you may encounter some problems such as Lenovo Smart Clock not playing or not connecting to Spotify. With this in mind, it's time to look at the causes of Spotify not working on Lenovo Clock and the solutions to make Lenovo Smart Clock Spotify work properly.
🧐 Reasons:
* Internet connection is not stable enough
* Outdated Spotify app and Lenovo Smart Clock app
* Can't connect to Spotify with incorrect settings
💡 Solutions:
✔️ Check Your Network Connection
Both Spotify and the Lenovo Smart Clock app only work well on devices that have a good internet connection. Therefore, check your internet connection to ensure good signal reception.
✔️ Update the Spotify and Lenovo Smart Clock Apps
Make sure your Spotify and Lenovo Smart Clock apps are the latest versions so that they perform better. If not, go straight to the App Store and install the latest versions of them.
✔️ Reset Spotify and Lenovo Smart Clock App
Sometimes, Spotify may not work on Lenovo Smart Clock because the settings are incorrect. Please ensure that the settings for Spotify and the Lenovo Smart Clock app are correct.
✔️ Restart Your Phone
In general, restarting your phone is a straightforward way to fix most application problems, including Lenovo Smart Clock Spotify not working. Try restarting your phone to check if the problem is resolved.
Part 5. Conclusion
Whether you are a Spotify Premium user or not, you will find efficient ways to get Lenovo Smart Clock Spotify work well. If you want to keep Spotify music as alarm on Lenovo Smart Clock freely, AudFree Spotify Music Converter may be a good choice. Hope you can wake up to your favorite Spotify music on Lenovo Smart Clock Essential/2 to greet each day.