Q: Is Spotify available on Chromecast? I have already streamed video content right to my smart TV for playback with my family. But it seems impossible to Chromecast Spotify. I have tried to cast Spotify to TV from my mobile phone or my personal computer. But all failed. I'm using the first-generation Chromecast. Is it related to it? How can I make Spotify Chromecast available?
You can stream Spotify right to Google's ultra-simplistic Chromecast streaming dongle for years. But you should know that the first-generation Chromecast is a video streaming device. It doesn't support music streaming services, including Spotify.
To play Spotify on Chromecast, please use the second-generation Chromecast or Chromecast Audio. Both of them can enable users to control the playback of Spotify songs.
With the buy of Chromecast 2 or Chromecast Audio, you can follow the below best ways to stream Spotify. By doing them, it's easy to cast Spotify to an HD television, home audio system, etc. via Chromecast.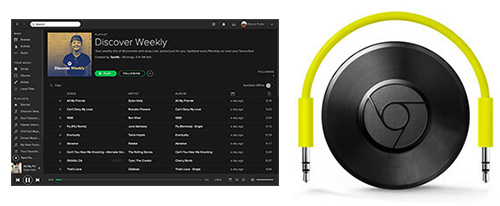 Part 1. How to Connect Spotify to Chromecast / Chromecast Audio Directly
Chromecast and Chromecast Audio can help you control Spotify playback on your TV or speakers. You can do it through Spotify mobile or web apps from your mobile phone, tablet, or computer.
Yet, there is an important point to note when it comes to using Spotify on Chromecast. You should subscribe to Spotify Premium to stream Spotify to Chromecast Audio.
Make sure you have updated to Spotify subscription when using a Chromecast Audio. Now, you can follow the below guide on how to connect Spotify to the new Chromecast and Chromecast Audio.
Step 1. Please connect Chromecast and your device using the Spotify app under the same Wi-Fi network.
Step 2. Fire up the Spotify app on your phone, tablet, or computer. Start to play the favorite song that you would like to listen to.
Step 3. At the bottom of the screen, please choose the 'Devices Available' option. You can hit on the target Chromecast device listed.
Step 4. Now, you can listen to Spotify music on TV or speaker via Chromecast dongle. Note: You need to hook up your Chromecast device to your TV or smart speaker in advance.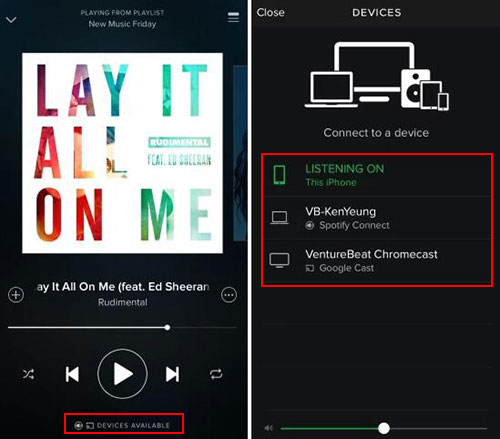 Verdict
There is no doubt that it's the easiest way to play Spotify on Chromecast and Chromecast Audio. But the process of connecting Spotify to Chromecast is unstable. Because it requires a network connection.
By using this way, you will meet some unexpected errors. They include Spotify Chromecast not working, Spotify won't connect to Chromecast. Sometimes, there is no sound export from Chromecast.
Besides, this method is not available for all types of Chromecast devices. And you need to be a paid Spotify subscriber.
So, if you are a Spotify Premium user with a supported Chromecast, this way is worth to try.
Part 2. How to Cast Spotify to Chromecast from Computer Easily
There is no denying that the above method has some major flaws. It doesn't work for free Spotify users. And you can't stream Spotify to the first-generation Chromecast.
So here, we will show an extra solution to listen to Spotify playlists on any Chromecast device. It's available for all Spotify users, no matter you are a free or premium user.
There is no official notification that Chromecast can play local audio files. But it does have this function in real. So you can download Spotify songs as local tracks. And then stream local Spotify files to Chromecast for enjoying music out loud on TVs or speakers.
Spotify free users have no rights to download Spotify music. And Spotify premium subscribers can download the cache files. Here, we can meet a professional tool to help us out. AudFree Music Converter for Spotify is the one we need.
It is well-designed for all Spotify users to download Spotify songs to the local computer. It also can convert Spotify to a wide variety of audio formats, like MP3 with zero quality loss. And then, you can freely stream the converted Spotify music on Chromecast for playing.
Step 1

Import Spotify Music to AudFree software

You can copy and paste the URL of Spotify songs or playlists to the search box of AudFree and press the '+' button to add them. Or you can direct drag and drop Spotify tracks to the main conversion windows. It's an easier way to add Spotify files to AudFree.
Step 2

Define output streaming format for Chromecast

Here, you're suggested to set MP3 as the output format because of its high quality and small size. As a result, it couldn't be easier to stream Spotify MP3 files on Chromecast. Besides, Chromecast allows you to stream 320 kbps MP3 music for playback on other devices. So, you can customize the bit rate as 320kbps. It also can enhance the output quality for getting a nice listening experience.
Step 3

Download and convert Spotify tracks for Chromecast

Now, you can personalize the output destination as you like or just skip it. And then touch the 'Convert' button at the bottom-right corner of the main interface. It will start converting process. Spotify music will be downloaded and saved to the target local folder on your computer.
Part 3. How to Stream Converted Spotify Music to Chromecast
Now, you can keep Spotify songs forever. And they are compatible with all Chromecast devices. Now, what we should do to cast Spotify to Chromecast for better playback? In fact, there are 3 ways to get Spotify to stream on Chromecast. You can use the Spotify app, Google Play Music as well as Plex to achieve it with ease.
Spotify on Chromecast via Google Play Music
You can use Google Chrome to get Spotify downloads on the Chromecast device by casting Google Play Music to Chromecast. To use this way, please make sure you have uploaded converted Spotify to Google Play Music.
Please connect your computer and Chromecast to the same Wi-Fi network. You can open Chrome to enter Google Play Music and play a song, playlist, or album that you like. At the bottom of the screen next to the playback controls, you need to touch the 'Cast' button. Now, you can choose the target Chromecast from the device list under the 'Connect to a device' option. Spotify music will be streamed to Chromecast automatically.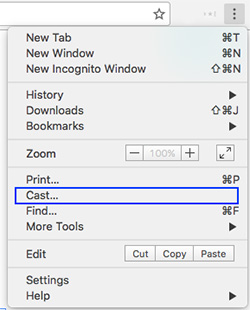 Spotify on Chromecast through the Spotify App
We can cast Spotify to compatible Chromecast from mobile devices and computers. The only app we need is the Spotify app for mobile or desktop.
It's well-known that the Spotify app allows users to upload local files. We can upload converted Spotify music, which is local and offline files to it. And then follow Part 1 to connect Spotify to Chromecast and play Spotify music on other devices.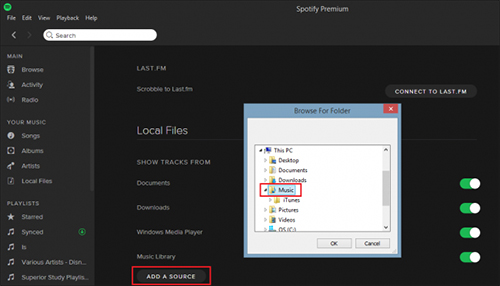 Spotify on Chromecast using Plex
The Plex is a Media Server, which can upload and manage media files. It can run on a Windows, macOS, and Linux computer, and mobile devices. We can use it as a bridge between Spotify and Chromecast. After you added Spotify music to Plex, please click the 'Cast' button in Plex to cast Spotify to Chromecast.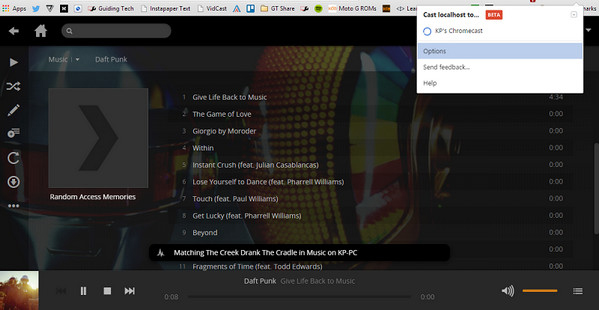 Bottom Line
No matter which Chromecast device and Spotify account you are using, you can use the second way. It makes Spotify files available on Chromecast. The only draw is that the free trial version of this tool has a one-minute time limitation. You need to charge for $29.95 to get the full version to break this lock. Anyway, it can download and convert Spotify songs without your Spotify Premium account. You can not only play Spotify on Chromecast but also on any other streaming box as you like.