If you often use the Spotify desktop app on Windows computer, you might have noticed the Hardware Acceleration button under the advanced settings. But most people might not know what it is and some asked: Why is Spotify so slow on my computer? Does it have something to do with the hardware acceleration on Spotify?
Since many Spotify users are still confused and have vague ideas about it. This article will try to give a brief explanation of the hardware acceleration Spotify and tell you how to enable hardware acceleration or disable it.
Part 1. What is Hardware Acceleration Spotify – Brief Explanation
You may have come across this term on various applications before. If a platform offers the hardware acceleration function, it is usually designed to help the software run faster and use less power.
To put it simply, Hardware acceleration is a process when you run the Spotify app (which is software), it works with your computer hardware at the same time to optimize Spotify's performance. If your computer has a strong CPU, it might perform better in the music decoding and playback process when streaming Spotify music.
Moreover, the hard acceleration can make your operations on the Spotify app go smoother, for example, when you scroll through playlists. It's because the rendering of the interface is offloaded to the GPU instead of having to do CPU do all the work. Generally speaking, this setting has no big impact on most listeners, and that's why Spotify has enabled it by default.
Does hardware acceleration affect Spotify's sound quality?
No. There is no solid documentation about what Spotify is accelerating, but most people agree that it has nothing to do with sound processing. Sound quality will be noticeably improved if you get an excellent sound card for your computer and play music using great headphones or speakers. Also, volume equalization affects the sound, so you can use Spotify equalizer to make music sound better.
Part 2. How to Enable/Disable Spotify Hardware Acceleration
Spotify natively enables hardware acceleration when you install the Spotify desktop app for the first time. But some users with weaker hardware in their computers found that enabling the hardware acceleration may cause unstable music playbacks like skip, lag, and unable to play at all. Disabling the hardware acceleration might solve these errors.
Now let's take a look at where to find the hardware acceleration on Spotify from two places.
1. One shortcut is to go to the top-right corner of the Spotify desktop app interface. Then select View and uncheck the hardware acceleration.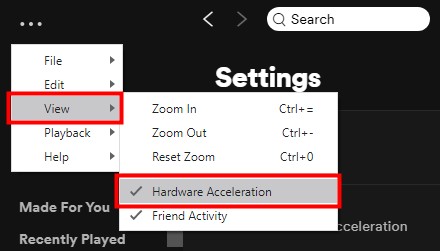 2. Alternatively, you may as well click on the arrow right next to your Spotify account and select Settings. Then just scroll download and click Show Advanced Settings. Find the Spotify Enable Hardware Acceleration button under the Compatibility section.

Easy right? Next time you encounter a song-playing error, just try switching off the hardware acceleration.
More Tips: How to Play Spotify Smoothly without Premium
Apart from the song-playing error mentioned above, Spotify users have also met other situations such as Spotify error code 4 or error code 17 - Spotify cannot start. Downloading the Spotify songs for offline listening would be a good solution to avoid most of the streaming problems, but it requires a Spotify Premium subscription. And once the subscription expires, all the downloaded music will be gone as well.
To save you from it, we here introduce AudFree Spotify Music Downloader, which lets users download Spotify songs with original quality using a Spotify free account. You will be able to keep Spotify music forever and play them offline smoothly, so there will be no more any streaming problems like sudden pauses, skips.
With the lasted technology, AudFree Spotify Music can run at 5X speed to download all Spotify songs/albums/playlists. You can also select the output format for Spotify songs to MP3, WAV, WMA, etc. There is also a built-in function which allows you to customize your Spotify songs by defining parameter to enhance the listening experience.
AudFree Spotify Music Converter offers a free trial for Windows and Mac versions. Why not download it now to explore its full functions by yourself?
With this professional software installed on your computer, you can complete the downloading process within 3 simple steps.
Step 1. Launch the AudFree Spotify Music Converter on your computer and the Spotify app will open simultaneously. Find the music you would like to download in the Spotify app and drag it into the AudFree program.
Step 2. Go to Preferences, and define output format and other parameters according to your needs.
Step 3. Click the Convert button to start to download Spotify at a rapid speed.
A few moments later, you can locate the downloaded Spotify songs from the output folder on your computer. You'll see that all the metadata like title, artist, number, album cover are kept, so when you add local files to Spotify and play them, there won't be any different. Enjoy your Spotify music smoothly now!