Back in 2014, Spotify introduced an equalizer feature for its subscribers to customize audio settings for bass, midrange, and treble for their specific needs. But for new subscribers, it's hard to find where this Spotify equalizer is and how to use the equalizer on Spotify. So, here we will present the 100% complete tutorial to guide you to set equalizers in Spotify on PC, Mac, Android, and iPhone. You will also get to know what are the best Spotify equalizer settings to make Spotify sound better.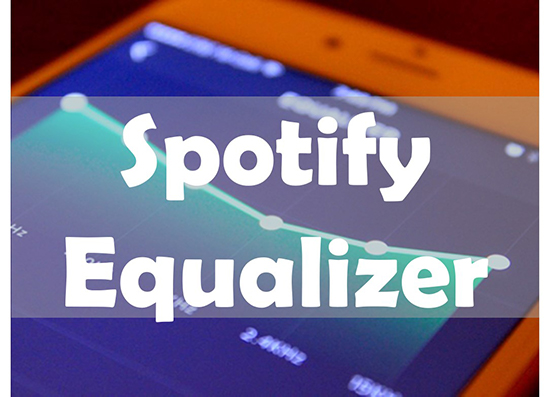 Part 1. Does Spotify Have an Equalizer for PC and Mac
All users will always be able to quickly find the Spotify equalizer from the mobile version. But a few months ago, when you opened the Spotify desktop client, you would be confused to find out that it seems there is no Spotify equalizer PC and Mac.
But now, the situation is completely different. Spotify claims that "the Equalizer option is now available on the desktop again. You can play around and customize music quality according to your own music taste for a better listening experience by toggling your Equalizer on your desktop computers."
But when we open the Spotify desktop app for Mac, there is still no option for an equalizer in it. As a result, Spotify only has an equalizer for Android, iOS, and Windows now.
Part 2. How to Change Equalizer on Spotify PC and Mac
An audio equalizer is a filter that adjusts specific sound frequencies in your music to raise, lower, or hold them constant. By isolating and modifying these specific frequency ranges, you can dramatically change the overall sound signature of your music.
Because an official equalizer for Spotify PC exists now. Without further ado, let's see how to locate an equalizer on Spotify and make EQ adjustments on a Windows computer to explore Spotify playlists or songs even Spotify audiobooks according to your taste.
How to Change EQ for Spotify PC Officially
Step 1. Please set up the Spotify desktop app for PC and log into your Spotify account. Please click the right big 'Settings' button directly or go to the 'Account' section to choose the 'Settings' option.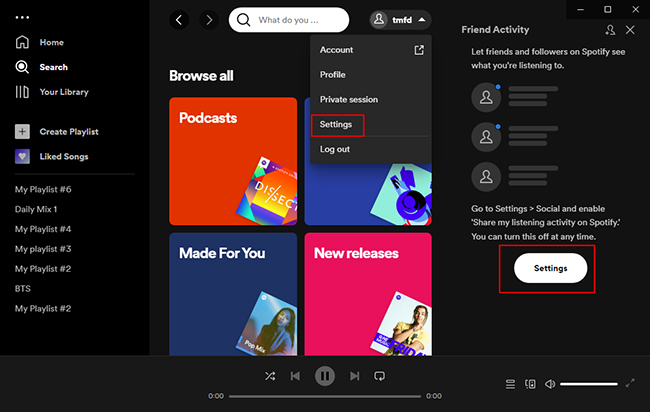 Step 2. Please scroll down to the 'Equalizer' section and then enable the Toggle button to use Spotify PC equalizer.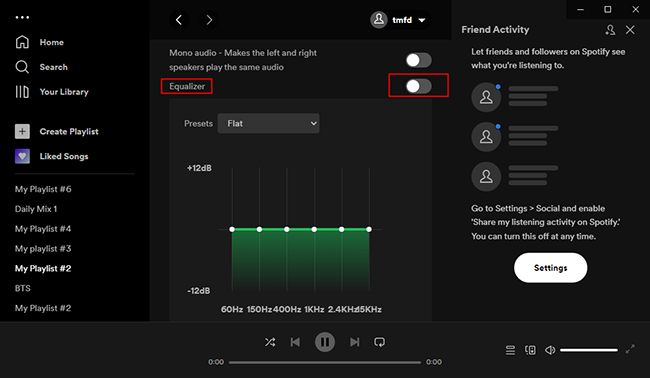 Step 3. Now, you can choose the target type of equalizer based on your requirement in the 'Presets' option. After that, please tap the 'Reset' icon to apply for it.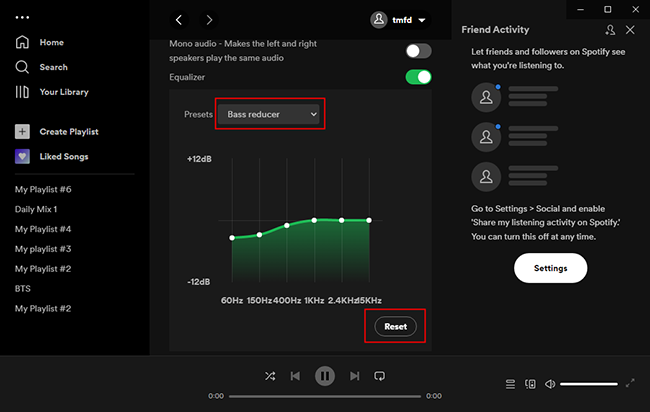 If you want to do more adjustments to your Spotify music on Windows computers, you can draw support from Equalify Pro for Windows. It is a Spotify equalizer Windows, supporting Windows 10, Windows 11, and others. It only supports Spotify installed from the official Spotify website, and currently does not support the Windows Store version of Spotify.
How to Get Equalizer on Spotify PC via Equalify Pro
Step 1. Please install Equalify Pro on your Windows computer first and it will integrate into the Spotify desktop app automatically;
Step 2. Launch the Spotify app on your computer and play your favorite songs via the Spotify app. And then you will see there is a small 'EQ' icon at the top bar;
Step 3. Just hit on the 'EQ' button, and it will pop up the Spotify equalizer window, in which you can customize the music preset according to your needs.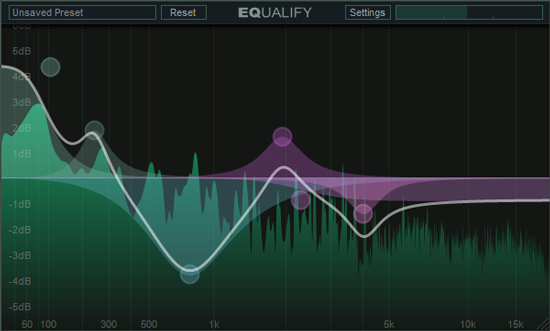 Although Spotify equalizer Mac is not available currently, there are also a wide variety of third-party professional Spotify desktop equalizers for Mac to help you out. Most of them can customize more advanced equalizer settings. The eqMac for Mac is one of the best equalizers for Spotify Mac.
It is very light and does not interfere with the normal use of your system. You can run it hidden in the menu bar, where you can access its slim interface by clicking on its icon. Fortunately, it is open source, so there is no cost involved. Now let's see how to use it to reset the equalizer on Spotify on MacBook.
How to Set Equalizer in Spotify on Mac via eqMac
Step 1. Visit www.eqmac.app to download the eqMac.dmg file, then drag it to the Applications directory and launch it on Mac;
Step 2. Open the Spotify app and play your favorite song. From the main screen of eqMac, choose "Basic Equalizer" to control volume, balance, Bass, Mid, and Treble;
Step 3. Or, you also use the "Advanced Equalizer" to adjust advanced Equalizer settings for Spotify music.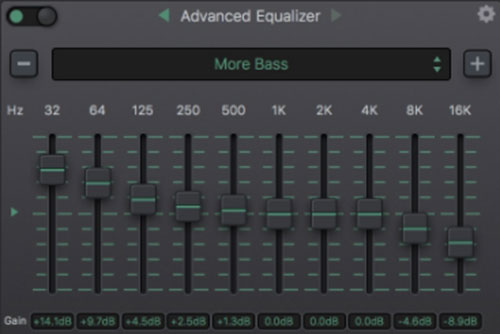 Part 3. How to Set Spotify Equalizer Android and iPhone
Spotify equalizer is available for both Android and iOS mobile apps as well. It allows users to preset the audio settings to get their favorite music sounds on devices. To change the Spotify equalizer, you don't need to download and use third-party software but for the Spotify app only. Here's how to get an equalizer on Spotify on iPhone and Android.
How to Use Spotify Equalizer iPhone
Step 1. Open the Spotify app on your iPhone, navigate to the 'Your Library' tab in the lower-right corner, and touch the 'Setting' button at the top-right corner;
Step 2. In the setting window, you need to select 'Playback' and then you will see there is an 'Equalizer' option. Please tap the toggle to turn on the equalizer;
Step 3. You will see a list of preset equalizers for different types of music. In Spotify's case, 60Hz to 150Hz corresponds to the bass, 400Hz to 1KHz the midrange, and 2.4KHz to 15kHz to the treble. You can start to adjust the music preferences to the right one with the best sounds by dragging the little white dots;
Step 4. When all settings are ready, just touch a preset to apply them, and you can get back to the home screen and listen to Spotify music in the most suitable taste.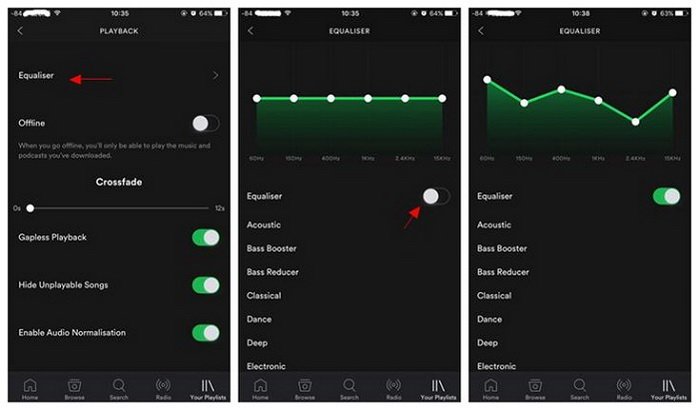 How to Use Spotify Equalizer Android
Step 1. Launch the Spotify app on your Android phone. And you can hit on the 'Library' tab in your bottom-right-hand corner to choose the Setting option;
Step 2. In the Music Quality section, please scroll down to the Equalizer button and click on it. It will pop up a prompt and you can just click 'OK' to skip it;
Step 3. Android manufacturers allow users to install and use their own equalizer instead of using Spotify's equalizer. You just need to choose your favorite equalizer to start adjusting music preferences;
Step 4. Please keep the Equalizer turned on and find which best suits you. When done, you can start to listen to nice audio quality on the Spotify app.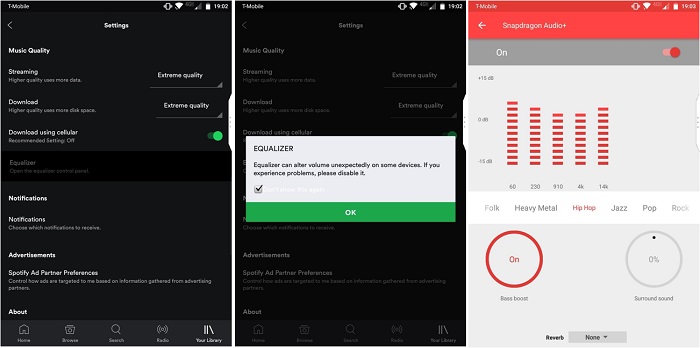 Part 4. How to Change Spotify Web Player Equalizer
Spotify web player doesn't feature a built-in Equalizer to control audio settings, although it allows anyone to enjoy Spotify content with no downloads. Such being the case, could it be possible to use Spotify web equalizer for the enhancement of music playback? Sure. Aided by EQ - Audio Equalizer for Google Chrome, you make it happen. Here is how to enable Spotify web player equalizer by virtue of EQ - Audio Equalizer.
How to Reset Equalizer on Spotify Web Player
Step 1. Search EQ - Audio Equalizer on Google Chrome browser. Then, go to its overview page and click on "Add to Chrome";
Step 2. Next, it pops up a window to ask you to add to Extension. Operate as instructed and EQ - Audio Equalizer will show on the top menu of the bar of Extensions;
Step 3. Navigate to Spotify web player and play any track or playlist. Click the online equalizer for Spotify to enable it;
Step 4. On the panel of this online free equalizer for Spotify, hit on the drop-menu button of "Default" to select Equalizer preset based on your needs and enjoy Spotify music with Equalizer.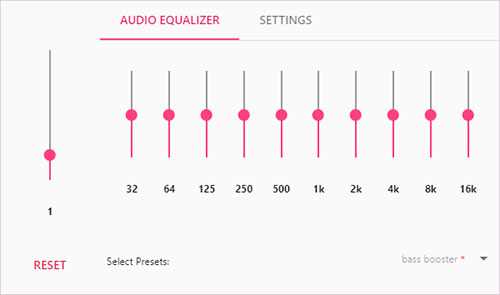 Part 5. Best Spotify Equalizer Settings for Better Sound
What are the Spotify best equalizer settings for bass or treble? Unfortunately, the answer to this question is: it's something you'll need to figure out for yourselves. It depends on the type of music you're interested in, the speakers you primarily listen to on Spotify, and a variety of other factors.
The best thing we can suggest is to set up an equalizer preset. Having presets will save you a lot of time when playing different kinds of audio files. You can find the best presets you like and set them as your equalizer preset.
Spotify's desktop and mobile apps have different sets of equalizer presets. But even then, presets designed to achieve the same sound signature won't sound exactly the same. Now, let's discuss the Spotify equalizer presets used for mobile platforms, headphones like airpods, and cars.
Best Equalizer Settings for Spotify for Android:
1. Normal: A very basic V-shaped preset with sub-bass, bass, mid-treble, and brightness slightly cranked up. It produces a very well-rounded sound, no matter what type of audio device is used.
2. Pop: This preset prioritizes the midrange and slightly reduces the lows and highs. It makes common vocals (mainly male) stand out from other frequencies.
3. Classical music: All frequencies are almost equal, except for the midrange. With this EQ preset, you may hear male vocals slightly quieter than instruments.
4. Jazz: It sounds very similar to the normal preset, but with a slightly higher gloss than the bass. The mids are slightly lower at around -3dB, so vocals will be slightly quieter than other frequencies.
5. Rock: The mids, highs, and gloss are turned up by 3dB and 5dB respectively. the sound will be noticeably brighter because most rock songs are dominated by guitar melodies.
Best Spotify Equalizer Settings for iPhone:
1. Bass booster and diminisher: the first one increases bass on Spotify and the other one decreases it.
2. Treble Booster and Diminisher: changes the high frequency sounds in music and podcasts. The treble booster is suitable for listening to podcasts. It makes the sound clearer.
3. Acoustic: Slightly boosts the higher midrange frequencies while keeping the lower midrange frequencies and brightness at an equal level.
4. Classical: Quickly achieves a great sound. Priority is given to sub-bass, bass, and brightness, making percussion and string instruments more prominent.
5. Dance: Boosts the bass. Most songs will have deeper bass with this preset, but you may lose a lot of treble frequencies, such as female vocals and stringed instruments.
6. Depth: Quite similar to the "Dance" preset, but it significantly lowers the highs. If you're listening to a song with a strong bass, this preset may shake your eardrums.
7. Electronic: Emphasizes brilliance. Will make any song sound brighter, with the highs more pronounced than other frequencies.
8. Bland: Doesn't actually change anything about the song.
9. Hip Hop: Prioritizes sub-bass and bass.
10. Jazz: For people who like to listen to jazz. The three main sounds of this preset are the sub-bass, midrange, and brightness. With this EQ, instruments, and vocals are slightly clearer.
11. Latin: Female vocals and string instruments will be louder with this preset.
12. Loudness: Boosts the sub-bass, not other frequencies.
13. Rest: Midrange frequencies are more pronounced than bass and treble, designed for relaxing and calming songs.
14. Piano: Makes the piano more pronounced. But other sounds in the same frequencies as the piano notes are also more pronounced.
15. Pop: The low and midrange frequencies and upper midrange frequencies will be clearer. However, the bass and treble will be slightly diminished.
16. R&B: This preset sounds a lot like hip-hop but with more treble. If you like to listen to songs with strong bass and female lead vocals, this preset is for you.
17. Rock & Roll: Brilliance is very obvious. But the mids, especially the male vocals, are slightly muffled in the guitar and cymbal-heavy songs.
Spotify Best Equalizer Settings for Airpod
1. Balanced: Adjust the sound frequencies, specifically for AirPods.
2. Bass Booster: +3 to +6 dB. Enhance the low-frequency sounds in Spotify music, such as basslines and drums.
3. Spoken Word: Help bring up a 1-2.4 kHz boost in frequencies and catch all speakers' voices clearly while listening to podcasts or Spotify audiobooks.
4. Experiment: Enhance the low ends if you cannot hear the bass and kick clearly.
Best Equalizer Settings for Spotify for Car
1. 3D Surround: Create spatial and surrounded sound effects, like in a real concert. Contribute to get immersed in music videos or fast-tempo music.
2. Bass Booster: Ideal to play bass-heavy hip-hop music or dance music.
3. Loudness: Work to turn up the volume to play Spotify songs in the car, making it sound louder.
4. Flat: A excellent shot to offer spatial and balanced sound.
5. Treble Bosster:  +3 to +6 dB. Ideal to bring out a lot of treble to music, particularly while listening to classical music.
Part 6. How to Play Spotify with Spotify Equalizer
In fact, there are still many music players that include an equalizer, such as VLC, and you can use them directly to play your favorite Spotify songs. This way, you don't need to find a Spotify equalizer.
To enjoy Spotify with an equalizer music player, you may need to download Spotify music and remove Spotify restrictions with a professional tool called AudFree Spotify Music Converter. Then you can use the equalizer music player or any other music player for better playback.
AudFree Spotify Downloader can not only download songs and playlists from Spotify to local computers without premium but also convert Spotify music to MP3, FLAC, WAV, AAC, M4A, and M4B without original quality and metadata loss. What's more, it supports customizing output audio quality for Spotify by changing the bit rate, sample rate, audio channels and more. Thus, you can play Spotify music on any device or player even though you cancel Spotify subscriptions.
With it, you can adjust the equalizer from any music player to enjoy high-quality Spotify files on any platform, such as Windows, Mac, Android, iOS, etc.
How to Download Spotify Music for Playing on Equalizer Music Players
Step 1

Import Spotify Songs to AudFree SpoDable

You can directly drag and drop your favorite Spotify songs to AudFree Spotify Music Downloader. Or you can copy and paste the URL of the song and click on '+' to add the song to the Spotify playlist downloader. You can add as many songs as you want because this Spotify downloader can batch-download Spotify songs.
Step 2

Select Spotify Output Format for Equalizer Music Player

Click on the 'menu' icon at the top right of the screen and then select the 'Preferences' option and the 'Convert' tab. This will lead you to the output settings window. You can select the output format according to your desired equalizer music player. You can also change other audio parameters such as the bit rate, audio channel, sample rate, etc. if you want.
Step 3

Download Spotify for Playing on Equalizer Music Player

Once you click on the 'Convert' button at the bottom right, all your added Spotify songs will be downloaded automatically. It will download music from Spotify to your computer in bulk at a faster speed of 5X. Once completed, click on the 'Converted' icon with a red spot of the track number to find your Spotify songs.

Step 4

Play Spotify Songs on Equalizer Music Player

You can now locate the downloaded Spotify songs from your computer's local folder. They can be played with any music player on your computer. So, you can now enjoy Spotify with any equalizer music player without having to download an equalizer for Spotify.
Part 7. FAQs about Spotify Equalizer
In addition to the tips we've summarized in the section above, we've also selected some frequently asked questions about Spotify equalizer.
Q1: Can I Use Spotify Equalizer with a Free Account?
A: Yes, the equalizer function on Spotify is available for both Spotify Premium and Free users.
Q2: Is there an equalizer app for Spotify iPhone?
A: Yes, there are several equalizer apps available for Spotify on iPhone. Some popular options include Equalizer+ and Boom: Bass Booster & Equalizer. You can download these apps from the App Store and use them to adjust the sound settings for your Spotify music.
Part 8. In Conclusion
Today we've guided you on how to use and change Spotify equalizer on Windows, Mac, iPhone, and Android devices. Now get a good pair of headphones, turn on equalizer feature on Spotify, and enjoy your music! But if you don't want to download an extra Spotify Mac equalizer, you can think about listening to Spotify songs with other equalizer music players. Enjoy Spotify indefinitely with AudFree Spotify Downloader.