Different people have different music tastes, even for just changing the audio settings via the bass, trebles or vocal enhancers, you will get a totally different listening experience. If you would like to listen to high-quality sound on Spotify, the best way is to find the right sound that can cater to your exclusive hearing tastes and preferences.
When it comes to adjusting audio settings, there is a nice feature you can't miss, called Equalizer that refers to a filter that adjusts the loudness of specific audio frequencies. Is there a Spotify Equalizer for audio settings customization?
Of course! As early as 2014, Spotify has already rolled out an equalizer feature for Spotify subscribers to customize audio settings for bass, mids and treble in accordance to special needs. But for new user, it's hard to find this equalizer. So, here, we will introduce where to find it and how it works on different devices.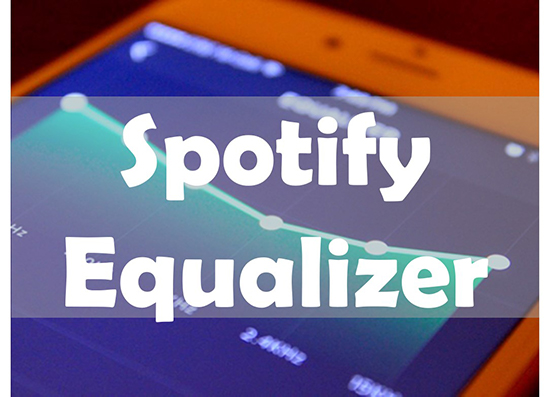 Part 1. How to Use Spotify Equalizer - Mobile Phones
Custom equalizer setting is a great option to personalize output Spotify audio tracks, which allows users to preset the audio settings to get favorite music sounds on devices. Equalizer for Spotify is available for both Android and iOS mobile apps. To change equalizer on Spotify, you don't need to download and use third-party software but for Spotify app only. Here's how you can enable an equalizer for Spotify on iOS and Android.
Spotify iOS Equalizer:
Step 1. Open Spotify app on your iPhone, navigate to Your Library tab in the lower-right corner and touch the Setting button at the top-right corner;
Step 2. In the setting window, you need to select Playback and then you will see there is an Equalizer option. Please tap the toggle to turn on the equalizer;
Step 3. You will see a list of preset equalizers for different types of music. In Spotify's case, 60Hz to 150Hz corresponds to the bass, 400Hz to 1KHz the midrange, and 2.4KHz to 15kHz to the treble. You can start to adjust the music preferences to the right one with best sounds by dragging the little white dots;
Step 4. When all settings are ready, just touch a preset to apply them, and you can get back to the home screen and listen to Spotify music in most suitable taste.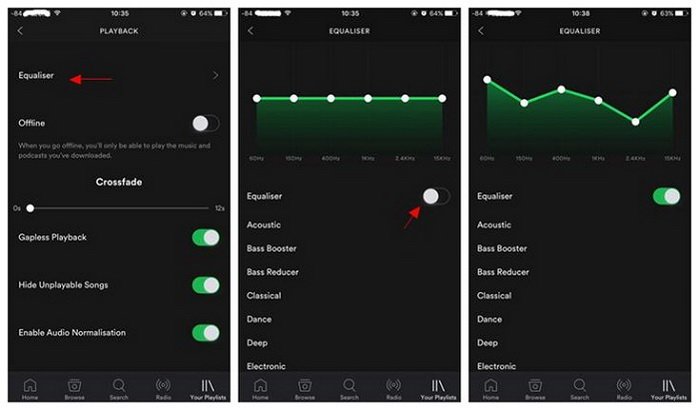 Spotify Equalizer Android:
Step 1. Launch Spotify app on your Android phone. And you can hit on the 'Library' tab on your bottom-right hand corner to choose Setting option;
Step 2. In the Music Quality section, please scroll down to Equalizer button and click on it. It will pop up a prompt and you can just click OK to skip it;
Step 3. Android manufactures allows users to install and use your own equalizer instead of using Spotify's equalizer. You just need to choose the favorite equalizer to start adjusting music preferences;
Step 4. Please keep the Equalizer turned on and find which best suits you. When done, you can start to listen to nice audio quality on Spotify app.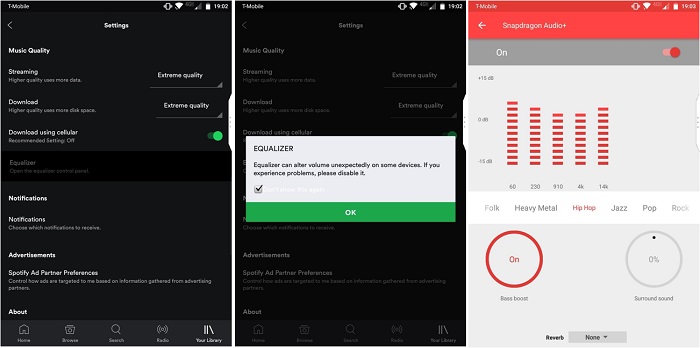 Part 2. How to Change Spotify Equalizer - PCs
When you open Spotify desktop client, you will be confused to find out that it seems there is no a Spotify equalizer on Mac or Windows computer. As for this issue, you can search 'Spotify Equalizer Desktop' on Spotify Community to get the official answer as below:
'By considering it again and again, we have decided not to create an equalizer for Spotify desktop app at this time instead making this idea as Case Closed. In fact, they are always used by a small audience and Spotify will focus on features that have higher engagement.'
As a result, what should we do to customize music quality for own hearing tastes on Windows or Mac? Fortunately, there are a wide variety of third-party Spotify desktop app equalizers, such as Equalify Pro for Windows machine and the eqMac for Mac. Here, we will take both of them as examples to guide you on how to use Spotify Equalizer on desktop.
Equalify Pro for Spotify Equalizer Windows:
Step 1. Please install Equalify Pro on your Windows computer firstly and it will integrate into Spotify desktop app automatically;
Step 2. Launch Spotify app on your computer and play your favorite songs via Spotify app. And then you will see there is a small 'EQ' icon at the top bar;
Step 3. Just hit on the 'EQ' button, it will pop up the equalizer window, in which you can customize the music preset according to your needs.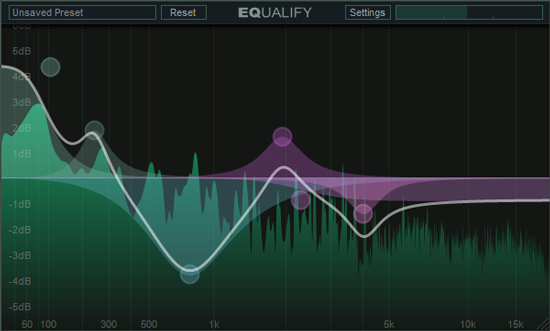 eqMac for Spotify Equalizer Mac:
Step 1. Visit www.eqmac.app to download eqMac.dmg file, then drag it to Applications directory and launch on Mac;
Step 2. Open Spotify app and play your favorite song. From the main screen of eqMac, choose "Basic Equalizer" to control volume, balance, Bass, Mid and Treble;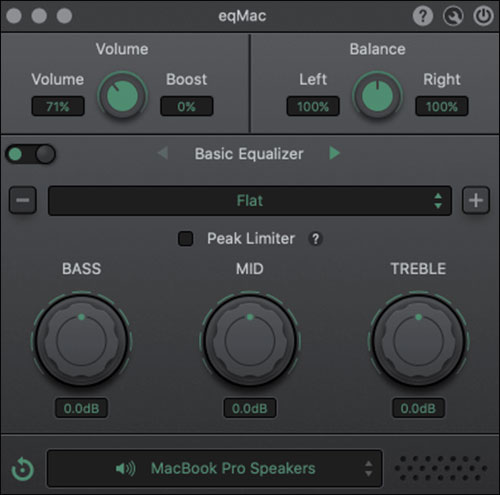 Step 3. Or, you also use the "Advanced Equalizer" to adjust advanced Equalizer settings for Spotify music.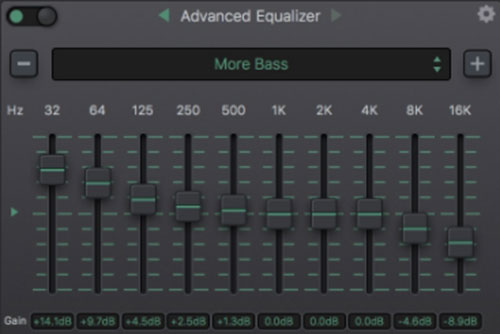 Part 3. How to Adjust Spotify Equalizer - Web Player
Spotify web player doesn't feature a built-in Equalizer to control audio settings, although it allows anyone to enjoy Spotify content with no downloads. Such being the case, could it be possible to use Equalizer on Spotify web player for the enhancement of music playback? Sure. Aided by EQ - Audio Equalizer for Google Chrome, you make it happen. Here is how to enable Spotify web player Equalizer by virtue of EQ - Audio Equalizer.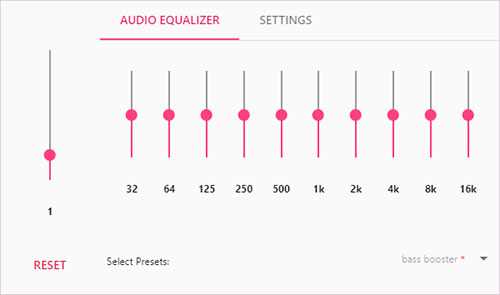 Step 1. Search EQ - Audio Equalizer on Google Chrome browser. Then, go to its overview page and click on "Add to Chrome";
Step 2. Next, it pops up a window to ask you to add to Extension. Operate as instructed and EQ - Audio Equalizer will show on the top menu of bar of Extensions;
Step 3. Navigate to Spotify web player and play any track or playlist. Click the Audio Equalizer to enable it;
Step 4. On the panel of Audio Equalizer, hit on the drop-menu button of "Default" to select Equlizer preset based on your needs and enjoy Spotify music with Equalizer.
Part 4. Play Spotify Songs on Other Music Players with Equalizer
As a matter of fact, apart from the ways mentioned above, there are still some other professional methods to make output Spotify sound better. With upgrading to Spotify Premium plan, you can adjust music quality from 160 kbps to 320 kbps on computer and Normal to Extreme quality on mobile devices as you like.
Besides, since different media players come with nice equalizers, such as VLC, you can download Spotify music to those music players for better playback, only if you are equipped with a professional Spotify music downloader, such as AudFree Spotify Music Converter for Mac/Spotify Music Converter for Windows.
It can not only download songs and playlists from Spotify to local computer, but also convert Spotify music to MP3, FLAC, WAV, AAC, M4A and M4B without original quality and metadata loss. What's more, it supports customizing output audio quality for Spotify by changing the bit rate, sample rate, audio channels and more. As for the detail tutorial on how it works, you can visit this source page: How to Convert Spotify to MP3. After the download from Spotify, you can adjust the equalizer from any music player to enjoy high-quality Spotify files on any platform, such as Windows, Mac, Android, iOS, etc.