Q: Why are songs greyed out on Spotify? When I launch the Spotify app to search for my favorite music tracks, it shows that some songs in the search results are unplayable. The same thing happens when I access these songs on Spotify web player, mobile devices and desktop client. What's going on here?
Many Spotify users may encounter the same Spotify playback issue when playing Spotify songs. But please don't worry. In this article, we'll cover the reasons behind Spotify songs greyed out and show effective solutions to fix it without any hassle.
Part 1. Why Are Some Songs Greyed Out on Spotify
If you can listen to Spotify songs before without problem, but now they are greyed out and you can't listen to them anymore. There are 6 possible reasons to explain why Spotify song greyed out.
1. Connection Error. If the Internet connection is unstable when using Spotify desktop client, Spotify songs will also be unplayable. Besides, please make sure the 'Offline Mode' on Spotify is turned off.
2. Network Matters. If you are using Spotify app on mobile devices, you might have carelessly shut down the cellular data usage for Spotify.
3. Regional Block/Country Limits. It's important to note that not all Spotify songs are available in all countries. If you have traveled to another country and some Spotify tracks greyed out occasionally, it means that they are unavailable in the country you are being in.
4. License expiration. Spotify generally has licensing agreements with music copyright holders for a certain period of time. Once these licence agreements expire, some Spotify tracks will be grey.
5. Local Music Format Issue. If you import local music files into Spotify, but they are not in a format supported by Spotify. You may also find that your Spotify local files greyed out.
6. Spotify Premium Subscription Expire. Once your Spotify Premium plan has been canceled or expired and you haven't renewed your subscription, the Spotify downloaded songs greyed out situation occurs.
Part 2. How to Fix Songs Greyed Out on Spotify
The above factors can prevent both free and paid users from playing music, playlists and albums on Spotify. Fortunately, there are ways to fix all Spotify songs greyed out, no matter which case you are in. Let's take a look at 8 detailed solutions on how to fix the problem. By the way, ypu can also check how to listen to greyed out songs on Spotify when offline with the all-in-one trick in Part 3.
Solution 1. Check Internet Connection
When Spotify greyed out and you don't know what happened, the first thing you should do is to check the Internet connection on your devices. According to different version of Spotify app and your devices, please follow the right instruction as below:
On Mobile Devices
To open the cellular data usage for Spotify app, please go to 'Settings' > 'Cellular' option and then scroll down to turn 'Spotify app' on.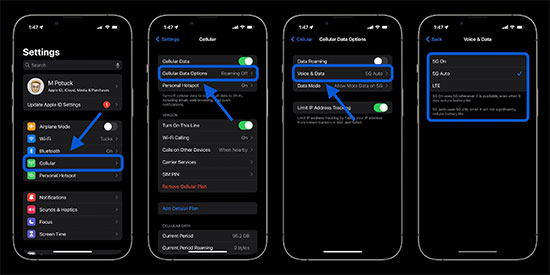 On Mac Computer
On your Mac computer, click on Apple "Menu" > "System Preferences" > "Network". Afterwards, select the appropriate network connection and once the green signal appears, the network connection is active.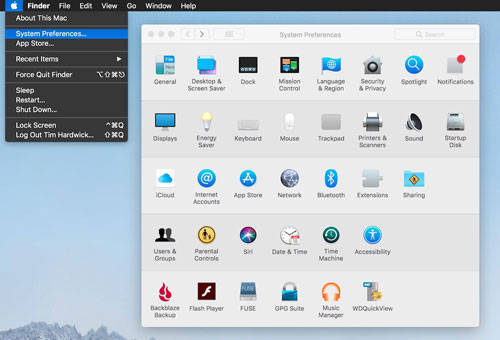 On Windows Computer
Click the Start button and go to Settings > Network & Internet > Status to check the status of the network connection at the top.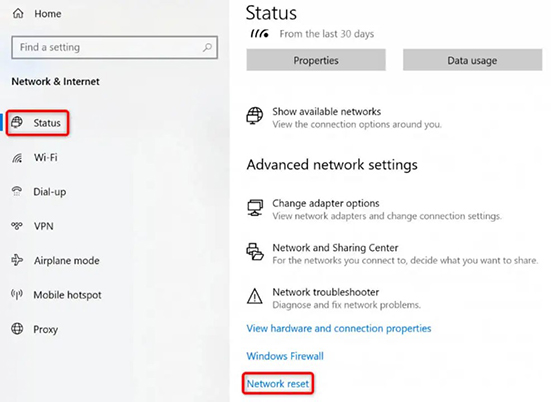 Solution 2. Check VPN Network
Spotify is available in a wide variety of countries, like Americas, Australia, New Zealand, China, etc. However, some special songs are unavailable in some countries due to the individual music companies. Under such circumstances, please make sure your VPN network is connected to the supported areas.
On iPhone/Android
Hit on Settings > General > VPN & Device Management option on iPhone. Select Settings > Network & internet > VPN on Android.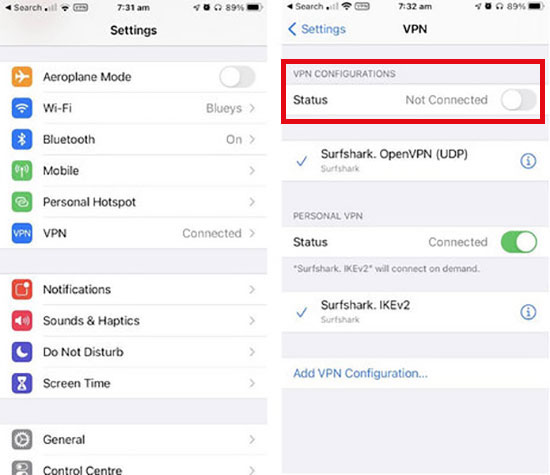 On Mac/PC
For PC, you can click on the "Settings" > "Network & internet" > "VPN" section. As for Mac devices, select "Menu" > "System settings" > "VPN".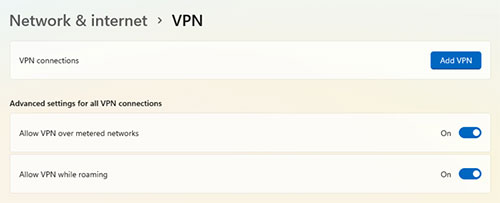 Tip 1. If you are using a premium VPN network, check that the VPN service has not expired.
Tip 2. You are better off connecting your VPN network to American or European services, as it has better song compatibility in these countries.
Tip 3. You can have a try to switch to another VPN service to see whether it does work.
Solution 3. Enable Show Local Files in Spotify
The local Spotify song greyed out issue may be caused by Spotify local files feature. To fix this problem, you may want to try enabling Spotify's Show Local Files feature unless Spotify won't play local files.
On iPhone/Android
Step 1. Open the Spotify app and go to the 'Settings' > 'Local Files' section.
Step 2. Under Local files, enable Show audio files option.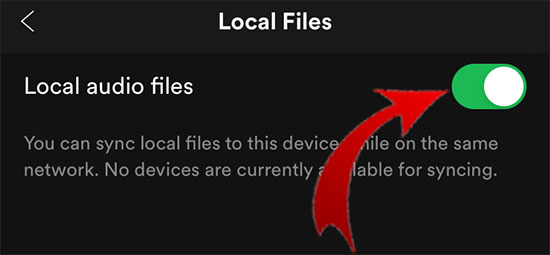 On PC/Mac
Step 1. Open the Spotify app on your computer, click on your Profile and select the 'Settings' section.
Step 2. Scroll down the list to the 'Local files' section and enable 'Show local files'.
Step 3. In the Show Songs section, hit on the Downloads and Music Library button.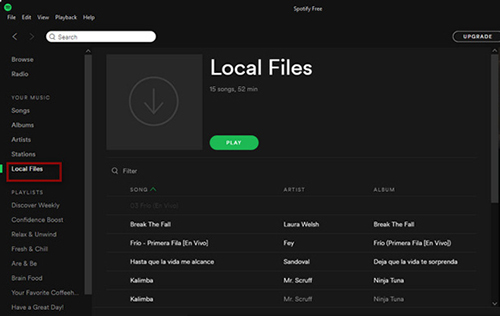 Solution 4. Clear Spotify App Cache
Spotify grayed out songs can also be the result of a large cache on Spotify. Once your device is occupied by a large amount of cache, the Spotify app may not be able to launch and load songs. At this point, the first thing is to clear the Spotify cache. Please refer to this page for detailed steps: How to Clear Spotify Cache.
Solution 5. Log out and Log Back into Spotify Account
If the Spotify account status is abnormal, it can also cause problem with Spotify greyed out songs. Also, it is necessary to check whether your Spotify Premium account is expired, if so, you will not be able to access downloaded Spotify songs. Also, once your account has been disabled by Spotify, it will be difficult to listen to songs, playlists and albums in your Spotify music library. Simply log out of your Spotify account and log back in to it to see if the problem is resolved.
Solution 6. Re-add Songs to Spotify Playlist
If there are songs on your Spotify playlist that you haven't listened to in a while, they will be greyed out. In this case, the simple way to fix the Spotify playlist songs greyed out is to delete and re-add them to the playlist one by one.
Solution 7. Uninstall and Reinstall Spotify App
Generally speaking, reinstalling the Spotify app will solve most Spotify problems, including Spotify all songs greyed out. Try following the steps below to uninstall the Spotify app from your computer or mobile device, and reinstall it afterwards.
For iOS Devices
Step 1. Launch your iOS device, touch and hold the Spotify app icon on your phone screen.
Step 2. Click "Delete app", after which it will pop up a prompt, tap the "Delete" option.
Step 3. Navigate to the App Store, search for the Spotify app and choose to install it again.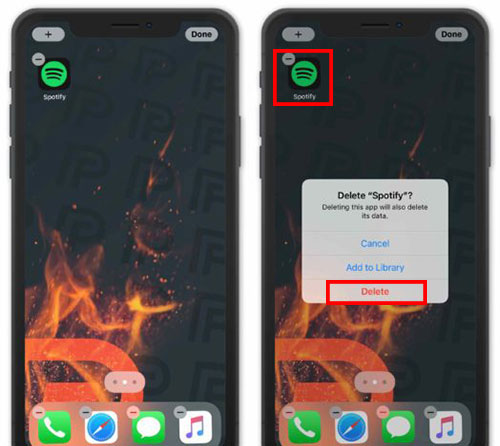 For Android Devices
Step 1. On your Android device, tap on Settings app and select 'Apps'.
Step 2. Hit on the Spotify app in the list and select 'Storage' > 'Clear data' > 'Uninstall' option.
Step 3. Go to the Google Play app to reinstall the Spotify app on your Android phone.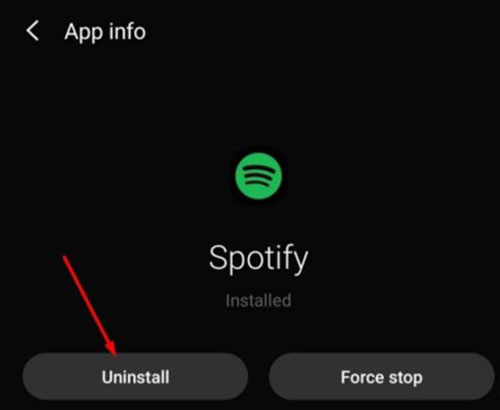 For Windows Computers
Step 1. Go to the Windows Control Panel and click on the "Programs and Features" section.
Step 2. Find the Spotify application in the list on the left, click on it and select the "Uninstall" button.
Step 3. Now, download and reinstall the Spotify application on Windows.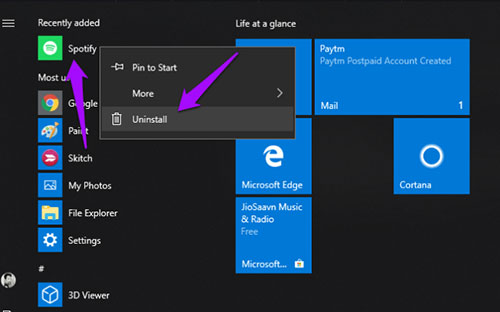 For Mac Computers
Step 1. Open the Finder > Applications folder and select Spotify.
Step 2. Right-click on Spotify and select "Move to Trash".
Step 3. Navigate to the official Spotify website to install the Spotify program again.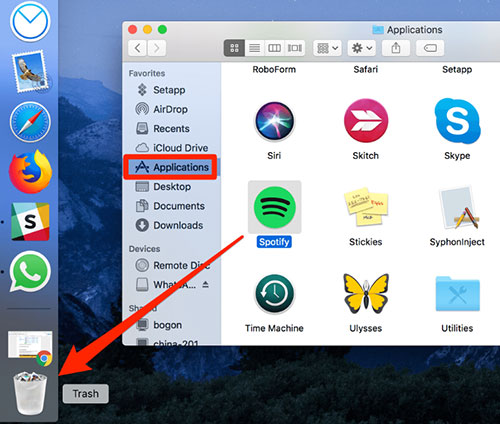 Solution 8. Redownload Spotify Greyed Out Songs
If you find that Spotify downloaded songs greyed out, you can try deleting the downloaded songs and re-downloading them to see if they are available. This way, it will be possible to listen to Spotify music offline without any problems.
On iPhone /Android
Step 1. Launch the Spotify app on your mobile device and log into your Spotify Premium account.
Step 2. Select Your Library in the bottom right corner and find the greyed out songs on Spotify.
Step 3. Tap the 'Arrow' icon to download Spotify grayed out songs to your library.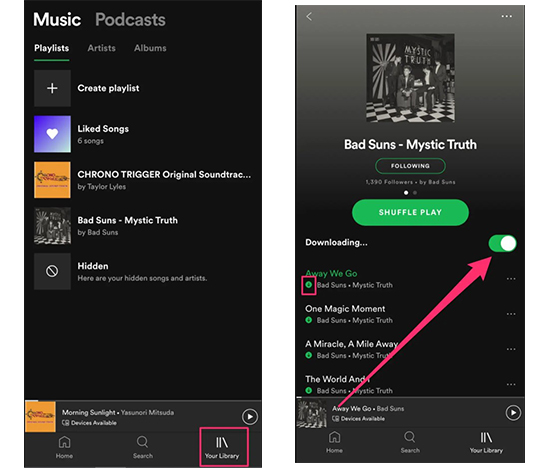 On PC/Mac
Step 1. Open the Spotify app on your computer and log in to your account.
Step 2. Click on 'Your Library' in the left-hand menu to find your unplayable songs, then enable the 'Download' button.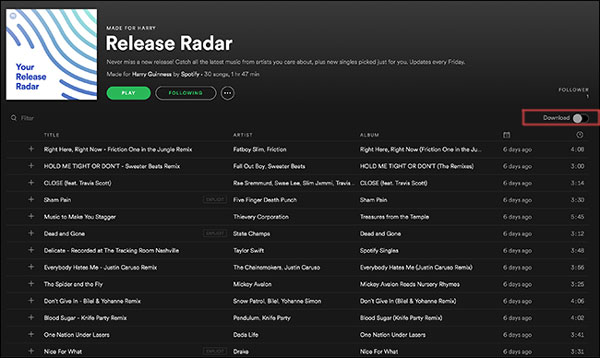 Part 3. Play Spotify Greyed Out or Unplayable Music on Spotify Offline
Some people ask how to play unplayable songs on Spotify again when offline. Why not download Spotify songs and playlists in advance? This way, you can listen to Spotify downloads as often as you like without any greyed out issues, whether it's network problems or regional restrictions. To download Spotify music to computer, it can't be easier to just subscribe Spotify Premium plan to get the 'Download' option.
However, if you're using a free Spotify account, you're better off taking advantage of the AudFree Spotify Music Converter. It's great for downloading Spotify music, albums, playlists, etc. offline whether you have Spotify Premium subscription or not. What's more, it can convert Spotify to MP3, FLAC, WAV, AAC and other audio files with no quality loss. Then you can play Spotify songs offline without worrying about Spotify songs greyed out.
AudFree Spotify Music Converter
How to Get Greyed Out Songs on Spotify without Premium
Step 1

Add Spotify Songs to AudFree SpoDable

Run AudFree Spotify Music Converter on your Mac/Windows computer and Spotify app will be loaded automatically. Just drag and drop Spotify songs from Spotify app to the main interface or copy and paste Spotify URL to the search box and click 'Add' to import them.
Step 2

Set Spotify Songs Output Format

To set the output format of your Spotify tracks, click on the Menu button in the top right corner and select the Preferences > Convert section. In general, it is recommended that you choose MP3 as the output format as it is more compatible and is supported by almost all devices and music players. In the window that opens, you can also customize other output audio parameters such as bit rate, sample rate etc.
Step 3

Convert and Download Spotify Music Offline

Simply press the 'Convert' button at the bottom-right corner of the main interface, you will see the real-time conversion process in the conversion window. Just wait for a while, then you can locate Spotify offline music on your computer by touching the 'Converted' icon. In turn, you have the freedom to play grayed out songs on Spotify offline.
Part 4. More FAQs About Spotify Grey Out
Q2. Why Spotify All Songs Greyed Out?
It comes to two main culprits: unstable Wi-Fi connectivity or the copyright protection. Because of this uncertainty, you may wish to use the AudFree Spotify Music Converter to download Spotify greyed out songs for offline listening without any difficulty.
Q2: How to Delete Greyed Out Songs on Spotify?
Find the greyed out song in your playlist, then right-click on it and select "Remove from this playlist". The greyed out Spotify songs will be automatically deleted from your library.
Q3. Why Spotify Songs Greyed Out But Plays?
If the Spotify tracks have greyed out befor and now they are reuploaded, those songs that greyed out on Spotify will return with new metadata to your Spotify playlist. In other words, they are displayed as new songs. So they are still playable.
Part 5. In Conclusion
After reading the above, you should understand why are some Spotify songs greyed out and all solutions to fix this problem. By the way, AudFree Spotify Music Converter is the optimal solution. With it, you can download Spotify songs without Premium. No matter where you go, you won't meet songs greyed out on Spotify and you can listen to Spotify tracks even without Internet connection.
Most importantly, it saves musch time since you are not required to try the above-mentioned fixes one by one. This converter allows you to avoid similar Spotify playback issues forever. Give it a shot!