"Does Spotify work with IFTTT? How to use IFTTT to play Spotify specific playlist?" - From Reddit
Have you been exposed to IFTTT and Spotify before? IFTTT is a free web service that automates web-based tasks. Logging in IFTTT freely with a Spotify account, you can control Spotify and multiple services simultaneously by creating custom actions and working through certain tasks together.
If you are not familiar with how to make IFTTT play Spotify playlists or songs, please look no further than this post. We will introduce almost everything about IFTTT Spotify integration to you. Never miss it!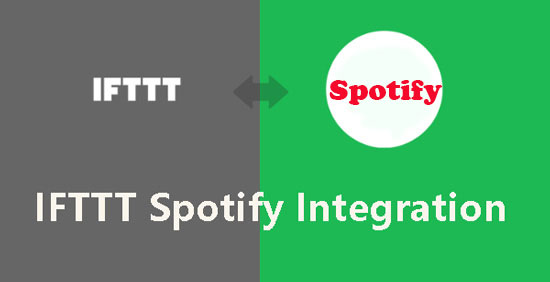 Part 1. What Is IFTTT?
Let's make a further understanding of the definition of IFTTT and how it works.
IFTTT, also called "If This Then That", serves as a free automation tool that is available on not only desktops but also mobiles and helps you streamline your daily tasks, which saves a lot of time. It is designed to connect more than 700 different and compatible services, devices, or apps such as Amazon Alexa, Google Assistant, etc. into 'Applets' together to automate certain tasks that cannot be done by those services solely. Apart from building the custom 'Applets', you can also search for pre-made and available trigger automation on IFTTT to improve effectiveness.
IFTTT works with a slew of platforms including Spotify. With the IFTTT Spotify integration, you can create various Spotify Applets to access Spotify now playing content and enjoy Spotify music more conveniently. For example, IFFF can add Spotify songs to playlists automatically when the songs are added to specific genres; IFTTT offers personalized recommendations for Spotify users based on their listening tastes and habits for a better experience.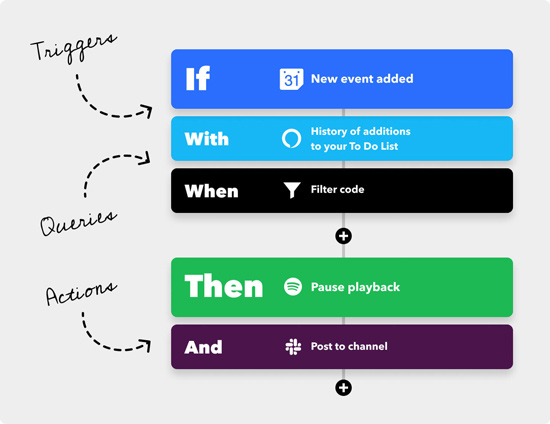 Also, this free online service allows you to integrate Spotify with SoundCloud, Email, Amazon Alexa, YouTube Music, Google Assistant, Android devices, RainDrop, Slack, and more IFTTT-supported platforms or devices together and make custom automation actions. Here are several popular Spotify integrations and automation:
✔ IFTTT saves Spotify Discover Weekly archive (IFTTT Spotify Integration)
✔ IFTTT automatically syncs your SoundCloud likes to Spotify (IFTTT & Spotify & SoundCloud)
✔ IFTTT save your favorite Spotify songs to Google Drive (IFTTT & Spotify & Google Drive)
✔ IFTTT adds songs played by Alexa to Spotify playlists (IFTTT & Spotify & Amazon Alexa)
Besides, you can use IFTTT to control Spotify's other activities and its various features beyond your expectations.
✔ Use IFTTT to play Spotify automatically when connected to Bluetooth
✔ Apply Spotify alarm to trigger IFTTT Applets
✔ Export or shuffle Spotify playlists
✔ Pause Spotify playback
✔ Download Spotify podcasts offline automatically, and exceed those.
Part 2. Required Tool for Spotify IFTTT Integration Without Premium
After looking through the powerful functionalities of the IFTTT Spotify connection, you are certain to wonder how to leverage it. Although users are provided free service from IFTTT, they need a Spotify Premium account while integrating with other services or devices such as connecting Spotify to Amazon Alexa.
Fortunately, we have prepared one free method for you to use IFTTT to play Spotify without Spotify Premium. All you required is to install a reliable tool: AudFree Spotify Music Converter. With this full-featured software. It endows you the ability to download and convert Spotify locally to MP3, WAV, AAC, and other usual audio formats supported by IFTTT and most devices or apps. The conversion process is at 5X or 1X faster speed as you like with original audio quality and full ID3 tags kept forever.
And since this smart tool allows you to play Spotify music on all devices and players, you can download Spotify music as local files first and then use IFTTT to build Applets and control the playback of local Spotify music files without restrictions. The process does not require you to get a Spotify Premium account and is 100% legal for individual use.
AudFree Spotify Music Converter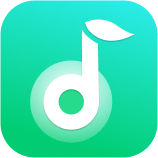 Listen to music from Spotify with IFTTT for free
Download Spotify songs to MP3, WAV, FLAC, and more
Preserve Spotify's sound quality and metadata info
Provide batch conversion of Spotify songs at a 5X speed rate
Part 3. How to Make IFTTT Play Spotify Playlists/Songs Without Premium
In this section, we will take you through each step to make IFTTT play Spotify playlists or songs for free be it Spotify Free or Spotify Premium. The detailed user guide has been displayed below:
Step 1

Put Spotify songs to AudFree Spotify Music Converter

Double-click on AudFree Spodable to launch it and the Spotify app at the same time. From Spotify, right-click on a single song or playlist to copy the URL links of songs or playlists and paste them to the search box of the converter. Then click '+' to add those Spotify files. And there is quicker access: Drag and drop Spotify songs or playlists to the converter directly.
Step 2

Change Spotify output audio settings for IFTTT Spotify integration

Drop down the setting menu by clicking the upper-right 'three horizontal lines' icon. Then select 'Preferences' from it. Tap on 'Convert' to set output formats as MP3, AAC, WAV, or others that are compatible with IFTTT and its enabled devices or services. It is also feasible to resume original audio quality by personalizing parameters such as the sample rate, bit rate, etc.
Step 3

Start to convert Spotify tracks for IFTTT

Touch the 'Convert' button in the bottom right corner of this Spotify downloader and the conversion progress will be presented on the right of every Spotify item. By clicking the bottom 'Converted' button, you can access the downloaded Spotify music and play those Spotify downloads with IFTTT later.
Step 4

Build IFTTT Spotify Trigger or Applets for Spotify downloads

To make IFTTT play Spotify downloads, please check the following instruction:
1) To listen to Spotify downloads with IFTTT, you can transfer local Spotify music files to one media players app such as OneDrive or Google Drive that is compatible with IFTTT on your device at first.
2) Navigate to https://ifttt.com/spotify.
3) On IFTTT, create Spotify applets and automate tasks by choosing a suitable device or app as the trigger service and the media player as the action service. For example, add new Spotify songs to your library once you get songs downloaded on your device.
Part 4. More FAQs About IFTTT Spotify Integration
Q1: Does Spotify work with IFTTT?
Yes. Spotify has integrated with IFTTT and there is an official way to play Spotify songs or playlists with IFTTT as long as you are a Spotify Premium member.
Q2: How to fix IFTTT Spotify not working?
Other Spotify IFTTT users complain that IFTTT Spotify won't load playlists, even though they have set a trigger on IFTTT to save Spotify Discovery Weekly playlists. The main reason behind this issue stems from the inside settings of Spotify and IFTTT which makes IFTTT disconnect Spotify from your account. To get around this problem, please reconnect your Spotify service by clicking 'My Services' > 'Spotify' > 'Settings' > 'Reconnect' to activate the Spotify status.
Part 5. Summary
Almost everything about IFTTT Spotify integration has been discussed in this article. Particularly, we have introduced a free way to use Spotify with IFTTT by getting help from AudFree Spotify Music Converter. In this way, you can use IFTTT to archive and play Spotify songs or playlists without premium and fix IFTTT not working on Spotify issues forever, which is more convenient than before.
Also, if you have any ideas or questions, welcome to leave your words in the below comment area.