"Does Siri work with Spotify?" Unfortunately, the answer is no for now. It's so easy and convenient for iPhone users to ask Siri to play whatever song instantly in Apple Music, whether it lies in your library or not. But that is also the biggest problem for them: they can't play any other songs by the control of Siri on non-Apple streaming music platforms like Spotify, Tidal, etc. The closed-off Apple's ecosystem restricts more possibilities for using Siri.
Although the complaints to Apple company have little effect on the integration of Siri and Spotify, it still prompts more and more people to figure out how to get Siri to play Spotify. In this article, we will recommend 2 good ways to solve this problem. Wish it is helpful to you.
Part 1. 3 Steps to Control Spotify with Siri
The first method is a perfect one to make Spotify songs become compatible with Siri. That is to download songs from Spotify and then add them to iTunes. However, Spotify tracks are all Ogg Vorbis formats, which are encrypted by DRM technology. It prevents users to save Spotify streams in the local folder and play them on other platforms and devices, even if the Premium members can't.
Thus, you need a music converter to remove the DRM from Spotify music files. AudFree Spotify Music Converter, a powerful and professional software, can easily transfer OGG to MP3, AAC. WAV, M4A, M4B, and FLAC with 100% quality preserved. Moreover, all ID3 tag information will be kept in the converted Spotify files.
After installing AudFree Spotify Music Converter on your computer, let's see the detailed steps on how to convert Spotify music to make it compatible with Siri.
Step 1

Load Spotify music files to AudFree

When you turn on AudFree Spotify Music Converter, the Spotify app will be launched automatically. Next, you can copy the URL of Spotify songs, paste it to the search box of AudFree's and click the '+' button to add it in AudFree. Or you can choose to directly drag and drop music from Spotify to AudFree's main interface.
Step 2

Customize output format and other paraments

You can adjust the output format as MP3 or other audio formats for preservation. You are supported to click the "Preferences" > "Convert" button to adjust different parameters such as bit rate, sample rate, etc. For example, to improve the listening experience, you can set bit rate as 320 kbps and sample rate as 44,100 Hz.
Step 3

Download and save Spotify music locally

When all settings are finished, you can simply click the 'Convert' bar to download Spotify streams to the local music folder on the computer. Locate all downloaded songs by checking the "history" > "search" button. Now those Spotify tracks with common formats are really downloaded and saved in your computer forever.
After taking all of those steps, you have achieved half of success. The other half is to upload those converted Spotify tracks to iTunes. The method is simple as below:
Step 1. Launch your iTunes application.
Step 2. Choose "Preferences" and open the "Advanced" page. Make sure that the default setting is "Copy files to the iTunes Music folder when adding to library". Then hit OK.
Step 3. Choose "Add File to Library" from the local music folder on the Windows computer. If you use a Mac, select "Add to library".
Step 4. Pick out the converted songs as we have done before. Then add all of them to your iTunes. Now iTunes will copy those selected streams to the iTunes music folder.
Up to now, the preparations are 100% done. It is feasible for Siri to control Spotify music. Just bring up Siri and say the name of playlists, album or songs on Spotify. Then it will play it for you directly.
Part 2. Add Siri Shortcuts for Spotify to Play Music
Although it doesn't work sometimes on some kind of Apple devices, set up Spotify with Siri Shortcuts is still another good way to help your Siri control Spotify. You have to download the Shortcuts app before setting the shortcuts and make sure that your iPhone version is iOS 12 and above.
Step 1. Install the "Spotify Siri" shortcut on your iPhone and turn on the "Shortcuts". Click on "Get Shortcut" to put into your library.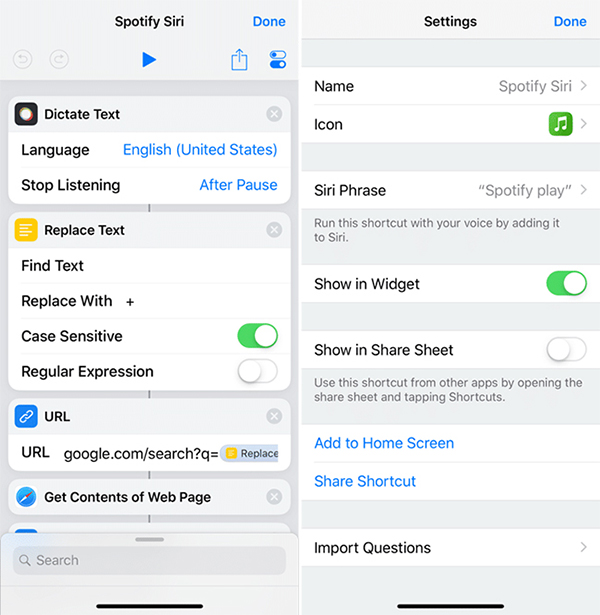 Step 2. Enter in your "Library" and hit on the menu bar in the Spotify Siri. Now, choose the "Settings" button.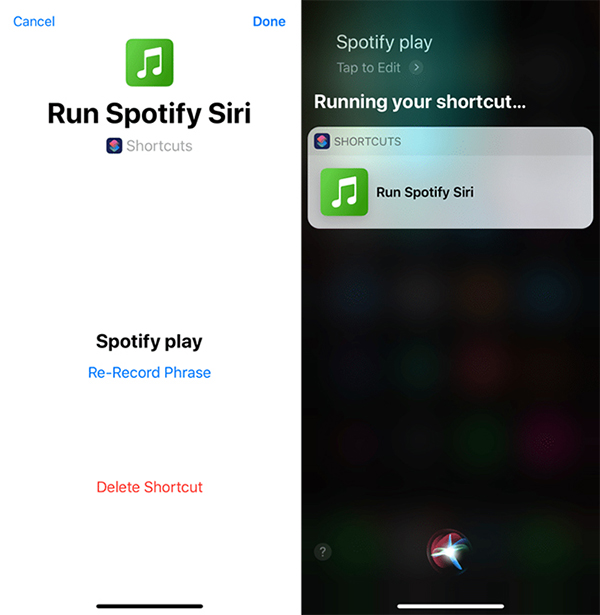 Step 3. Select "Add to Siri" and record a Spotify command for Siri. You can simply name it "Open Spotify Playlist" or "Spotify Play".
Step 4. Click on "Done" twice to save the shortcut.
Here, the shortcut is added and connected with Siri so far.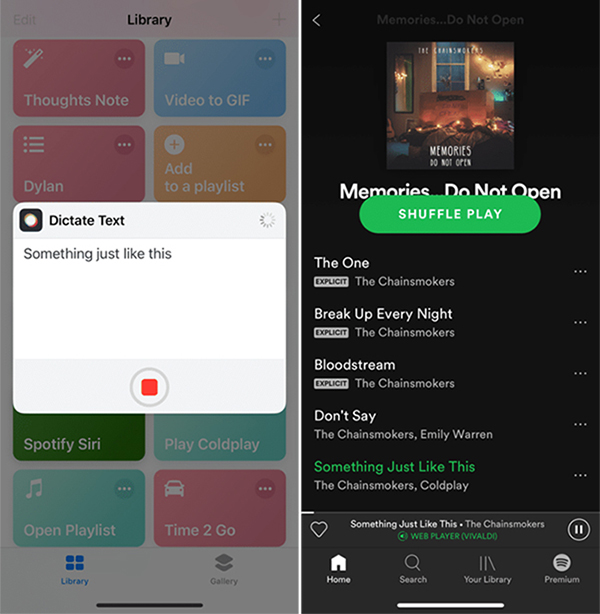 Now, just speak out "Spotify Play" to Siri. It will start to run the shortcut and display the interface of the Shortcuts app. A dictation box will be shown on it. Now, just say the name of the song album or artist you want to play on Spotify. After you said it, the words will be transferred automatically in the app. Now the shortcut is capable of entering text, opening Spotify and playing your favorite song or playlist.