Q: Can I listen to Spotify music offline without using data when outside? I'm planning to go for a long-time car trip and would like to enjoy some exciting playlists on Spotify to let my eyes and emotion on the road. Using data seems an impractical method as the cost of data usage is not cheap.
It's true that sometimes playing music on Spotify can quickly deplete your mobile data allowance, leaving you with a hefty bill at the end of the month. Fortunately, every problem always comes with a solution. Here, this article summarizes 3 ways on how to play Spotify without data, both online and offline.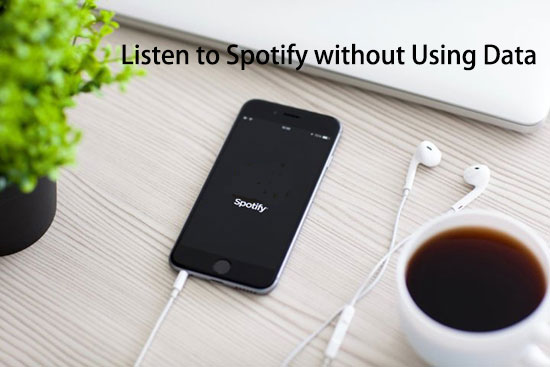 Method 1. Play Spotify Online on Wi-Fi Environment - All Users
When it comes to enjoying Spotify songs to avoid mobile data charges, the simplest and the easiest way could be listening to Spotify music over Wi-Fi network. This method is available to all users, both free and premium. It's simple: just connect your device to a Wi-Fi network and open the Spotify app. You can then browse through the vast collection of songs and playlists available on the platform and stream them online without worrying about data usage.
💡 Note: Not all places have Wi-Fi networks. When you are driving on a country road, obviously, this way doesn't work anymore. Under these circumstances, you can skip to method 2 and method 3.
Method 2. Listen to Spotify Offline without Using Data - Premium Users
Can you listen to Spotify without WIFI or data? Yes, Spotify offline mode will let you do that. Please note that this feature is only available for Spotify Premium subscribers. To put it simply, you can download Spotify songs when you are under an internet connection in advance. Then the downloaded songs are offline and you can play Spotify without using data. Now please refer to the following tutorial.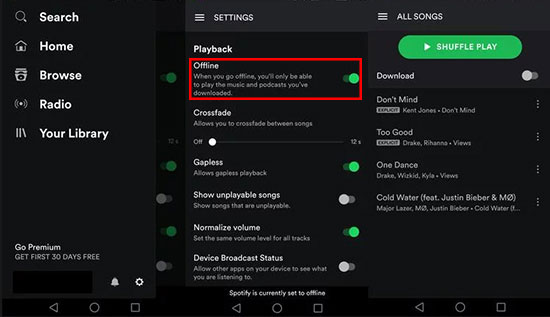 Step 1. Open Spotify app on your smart phone and discover favorite songs that you'd like to download.
Step 2. Once you have found out the playlist, please switch the 'Download' on.
Step 3. When a green download arrow shows up, it indicates the download was successful.
Step 4. Now, you can tap the 'Home' > 'Settings' > 'Playback' option to turn 'Offline' on.
Step 5. Under the offline mode, you can start to listen to Spotify without using cellular data.
💡 Note: You will need to connect to the internet at least once every 30 days to keep your downloads valid. Also, downloaded music can only be played within the Spotify app and cannot be accessed outside of it.
Method 3. Use Spotify Offline without Data - All Users
Is it possible for free users to stream Spotify without using data offline? The official way is impossible. You need to seek third-party tools like the best AudFree Spotify Music Converter, which is dedicated to downloading Spotify music as local files on your computer, whether you are a free or a premium user.
Besides, it can convert Spotify music to MP3, FLAC, WAV, AAC or other common audio formats very well. Then you can easily transfer downloaded Spotify songs to portable devices such as MP3 player, USB flash drive and play them without using data. Plus, you can keep Spotify music files forever, even if your premium subscription ends.
Now, let's start downloading Spotify music for offline listening with your free or premium account.
Step 1

Add Spotify music/playlist to AudFree SpoDable

There are two ways to load Spotify songs to AudFree Spotify converter after you have launched it from your computer desktop. One is to copy and paste the URL of Spotify playlist or song to the search box and click the '+' button to add them. The other is to drag and drop Spotify tracks to the conversion window directly.
Step 2

Adjust Spotify output parameters for offline listening

If you are using Spotify free account, you'd better refer to this step to customize output parameters to enhance the Spotify music quality. Just click the top menu bar to click the 'Preferences' > 'Convert' to open setting window and then define output format, change bit rate, sample rate, audio channel, etc.
Step 3

Download Spotify playlists for playing without data usage

When all setting are ready, please hit on the big 'Convert' button at the bottom-right corner. It can start to download and save added Spotify tracks on your computer. After conversion, you can click 'History' icon to locate all Spotify downloads.
Step 4

Use Spotify without data offline

Now, all Spotify files are downloaded on your computer. If you'd like to listen to Spotify music and playlists without using data, you can transfer them to your portable devices, like Android or iPhone devices, MP3 players, etc. for playback outside. If you'd like to play Spotify music offline in the car, you can transfer them to USB flash drive and use car sound system to enjoy them offline.
FAQS about Spotify Data Usage
How Much Data Does Spotify Use?
The amount of data used by Spotify depends on several factors, such as the quality of the audio stream, the length of the song, and whether you're streaming or downloading. On average, streaming music on Spotify uses about 1-2 MB per minute, while downloading songs uses slightly more data.
Does Spotify Premium Work without Data?
Yes, Spotify Premium users can listen to music offline without using any data. They can download favorite songs, albums, and playlists and listen to them anywhere, anytime. If you are a free user, you'd better use AudFree Spotify Music Converter to get Spotify songs locally for offline listening forever.
Does Spotify Use Data When Not on WIFI?
Yes, if you're not connected to a Wi-Fi network, Spotify will use your mobile data allowance to stream or download music.
In Conclusion
Listening to Spotify without using data is possible with online and offline methods. All things considered, AudFree Spotify Music Downloader is the optimal solution to listen to music offline on Spotify without Premium. Just start understanding how much data Spotify uses and how to control it, you can enjoy your favorite music without breaking the bank.