Although streaming music is already the mainstream way of listening to music, CDs still have their fans because of their irreplaceable advantages. CDs deliver uncompressed audio files with all digital information kept to bring a better listening experience on a high-end home audio system with the good quality speaker. With a CD player, you can listen to music anywhere even without a WiFi connection.
So how to burn a CD from Spotify for listening to them in the car or CD player offline? That's what we're going to talk about today. In this article, 5 proven methods are listed to coach you to burn Spotify playlist to CD free on Mac and Windows computers for the retro way of music listening.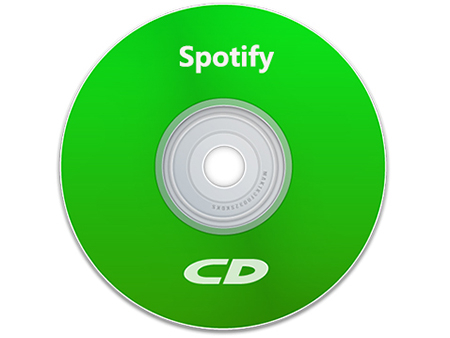 Part 1. More about Burning Spotify to CD
Can You Burn a CD from Spotify?
As a giant in the music streaming industry, Spotify allows users to enjoy over 100 million tracks and over 5 million podcasts in its catalog. With Spotify's desktop/mobile app or web player, you can listen to Spotify on several devices, and even switch the music playing between devices with Spotify Connect easily.
But to tell the truth, there is not yet a direct way to achieve the task. Spotify itself doesn't support burning Spotify playlist to CD due to copyright limitations, even not for Premium users who can download Spotify music. That is not to say, however, burning CD from Spotify Premium and Free is practically impossible. With the help of certain professional Spotify to CD converter tools to remove the limitations from Spotify content, you get the route to burn Spotify to CD.
What You'll Need to Burn CD from Spotify?
Here are the few things you need to prepare before burning a CD from Spotify:
✅ A computer with a CD burner. Please prepare a computer running Mac or Windows OS with a disc drive that can burn music and playlists from Spotify. If you don't have those burners, you can buy an external DVD burner that plugs into your computer's USB port.
✅ A blank CD. You are suggested to get a CD-RW or CD+RW disc that could be written, read, and erased multiple times.
✅ Free CD burning software. For Mac users, they can use iTunes to create CD from Spotify free, and of course, Windows users can use Windows Media Player directly. Besides, you can also choose to download other free CD burners like AnyBurn, ImgBurn, WinX DVD Author, VLC, etc. to perform burning task.
✅ A technical Spotify to CD converter. Spotify digitally copyrights all its content with Ogg Vorbis format. None has allowance to download music from Spotify to CD unless with the assistance of a Spotify to CD converter to convert Spotify Ogg Vorbis to MP3 or other unprotected audio files for burning.
Part 2. How to Burn a CD from Spotify for Free - Preparation
Even if you are a premium use who has the right to download music from Spotify for offline listening, it is noted that these downloaded Spotify files are caches, which cannot be exported from Spotify to use for other purposes. So, you need to draw help from a third-party professional software, like AudFree Spotify Music Converter, to convert Spotify songs to common audio formats, thereby you are able to burn CD from Spotify playlist and music on Mac and Windows computers without limitation.
AudFree Spotify Music Converter is a smart Spotify converting tool designed to decrypt Spotify tracks as well as encode special Spotify music files to plain audio files that can be written to CD easily, like MP3, WAV, FLAC, and AAC. Plus, it is capable of downloading music and playlists from Spotify to your local computer at high speed without touching the original audio quality, no matter you are a free or Premium member.
With a user-defined output option, you get flexible access to customize output audio quality by changing sample rate, bit rate, and other parameters, depending on your requirements.
AudFree Spotify Music Converter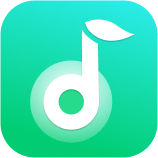 Remove limitations from Spotify for burning to CD
Convert Spotify to MP3, AAC, WAV, M4A, etc. at 5X speed
Original audio quality and ID3 tags can be kept during conversion
Customize output format, channel, bit rate, conversion speed, etc.
How to Convert Spotify to CD Supported Format
With all the things prepared, let's take a look at the following steps to download music from Spotify to burn to a CD on Mac and PC. Please make sure you also have installed the Spotify desktop app to your computer first.
Step 1

Import Spotify songs or playlists to download

Once launch the AudFree Spotify Music Converter, please drag and drop the Spotify music that you'd like to burn to CD into the AudFree SpoDable program. Alternatively, you can copy the URL of Spotify playlist, paste it to the search box of AudFree Spotify Music Converter and press the "+" button to add music files.
Step 2

Adjust Spotify output format and parameters for burning

AudFree Spotify Music Converter supports setting output formats as MP3, FLAC, WAV, AAC, M4A, and M4B. If you want to save space to store more songs on a CD, we suggest you select output format as MP3. You can click the "Menu" icon from the top-right corner and select "Preference" > "Convert" button. In the setting window, you can select output format and change the bit rate, sample rate, audio channel as you like.
Step 3

Convert Spotify music for CD burning

In the last place, touch the "Convert" button at the lower-right corner of the main interface to begin the conversion process. AudFree Spotify Music Converter will download and convert protected Spotify tracks to common audio formats so that you can move songs from Spotify to CD without restrictions and play Spotify playlists on CD players offline.
Part 3. How to Burn Spotify Playlist to CD on Mac and Windows - 5 Ways
With the unprotected Spotify files at hand, you are finally ready to burn a CD from Spotify on Mac and Windows computers. Here, 5 easy ways are presented to show how to get Spotify playlist on CD, among which you can choose the method you prefer.
💿 Way 1. Burn CD from Spotify Free - iTunes
Step 1. Insert the blank physical CD disc into the CD-ROM of your computer. And then sync the unprotected Spotify music files into the iTunes library.
Step 2. Then create a new playlist for these Spotify music files by clicking the "File" > "New" > "Playlist" button to select Spotify songs.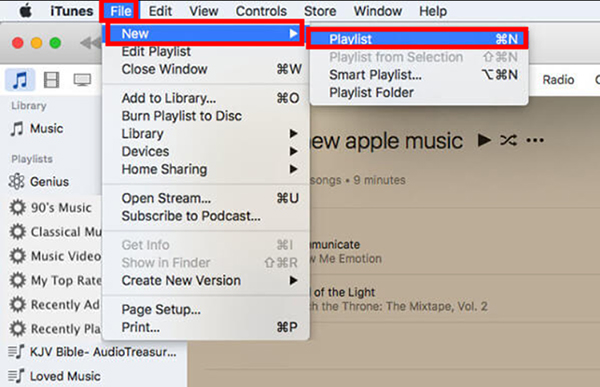 Step 3. Please right-click on the newly created playlist and select the "Burn Playlist to Disc" option in iTunes to open the "Burn Settings" window.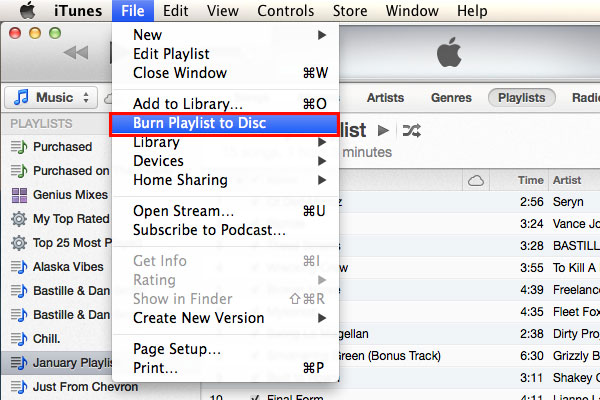 Step 4. In the pop-up new window, you can customize the output Spotify burning settings and click the "Burn" to confirm to activate the burning process.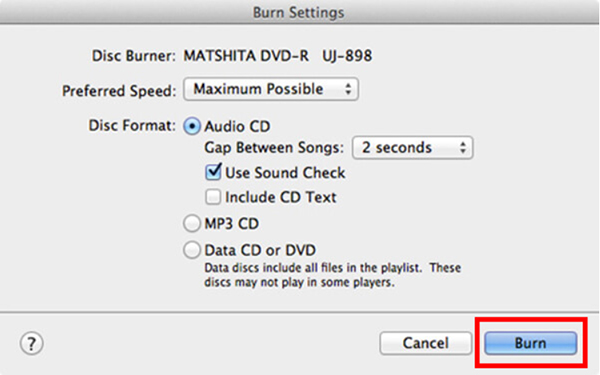 📌 Note: Nowadays, if you'd like to burn Spotify playlist to CD on Mac for free, please use Music app to replace iTunes. The operation steps are the same as those mentioned above.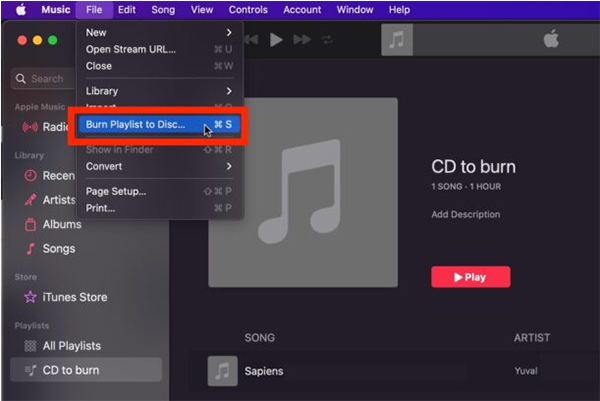 💿 Way 2. Burn Spotify to CD - Windows Media Player
Step 1. Insert a blank CD to your computer and open the Windows Media Player.
Step 2. Please click the "Organize" > "Manage Libraries" > "Music" > "Add" option to transfer converted Spotify music files to Windows Media Player.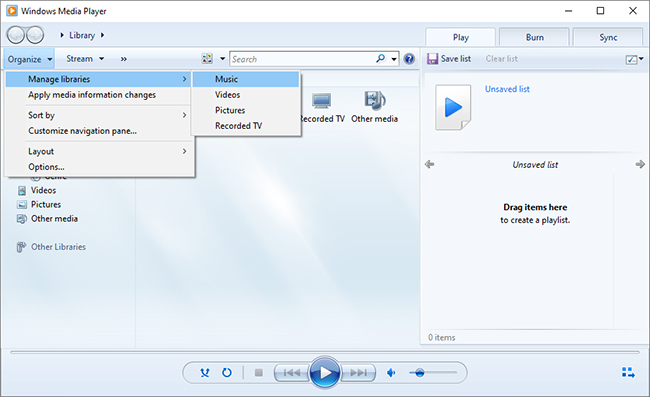 Step 3. Please tap "Burn" from the top-right corner.
Step 4. Then, drag and drop the Spotify songs to the burn list in the right column or you can directly click "Import Unsaved list" to reach this goal.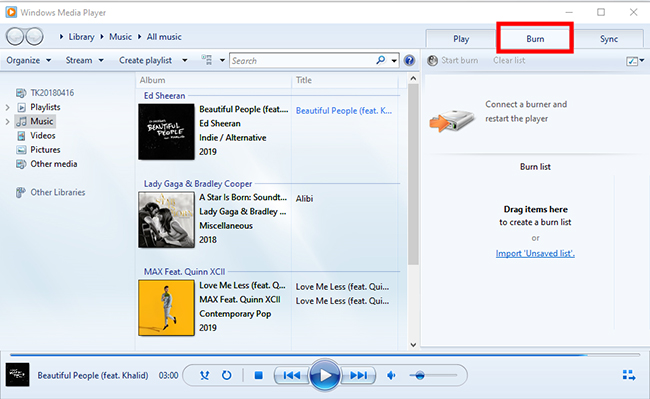 Step 5. Now, click the "Burn options" tab in the upper-right corner as shown below, and choose the type of disc to burn via the drop-down menu.
Step 6. You can also touch the "More burn" option to adjust the output parameters of Spotify playlist burning, or just skip this step to start the burning process by clicking the "Start burn" button.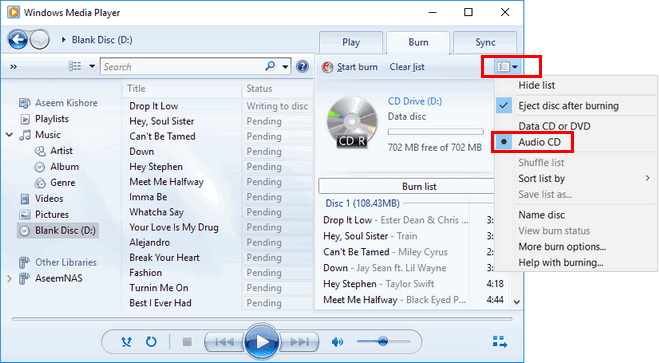 💿 Way 3. Burn Spotify Playlist to CD Free - VLC Media Player
Step 1. Install and open the free VLC media player from the computer desktop.
Step 2. Create a new playlist and add Spotify songs to this playlist in VLC player by dragging a file here or selecting a media source from the left.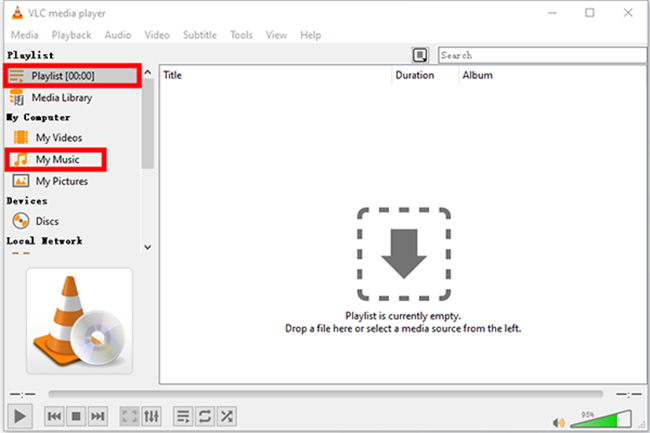 Step 3. Hit on the "Media" > "Convert/Save" button to open the function window.
Step 4. It allows you to choose "File", "Disc", "Network", and "Capture Device" to perform some wanted actions in VLC media player.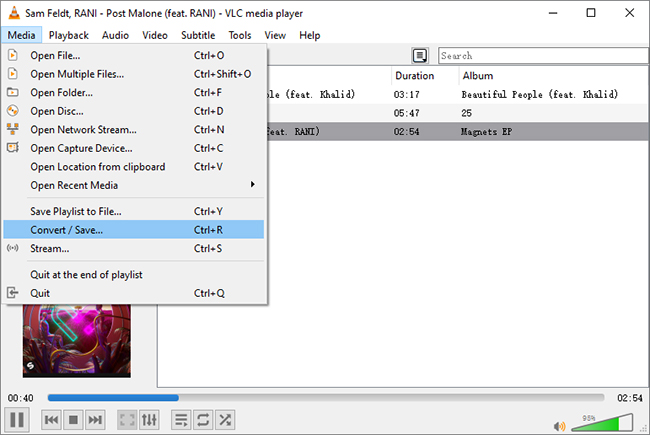 Step 5. In the next window, choose the "Disc" button for burning music from Spotify to CD.
Step 6. Please make sure you have inserted the blank CD on your computer. Press the "Audio CD and Browse" button, it enables you to select the CD drive.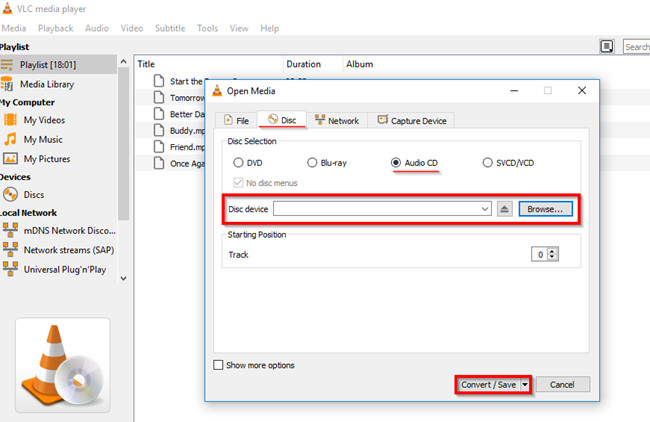 Step 7. Under the "Settings" option, please choose "Tool" > "Form" > "Audio codec" to customize audio parameters.
Step 8. After that, tap on the "Start" option to launch the Spotify to CD burning conversion from the "Convert" screen.
See More: How to Play Spotify through VLC Media Player
💿 Way 4. Burn CDs from Spotify - AnyBurn
Step 1. First of all, download, install, and run AnyBurn on your Windows computer.
Step 2. From the first screen, choose "Burn Audio CD from mp3/flac/ape..." option.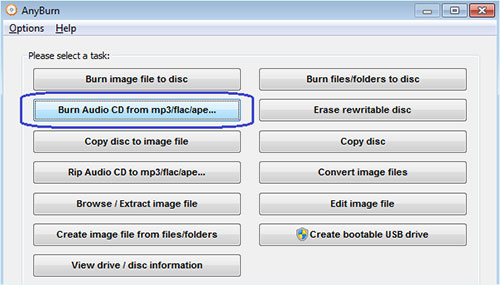 Step 3. After that, touch "Add" button to add your downloaded Spotify music files for burning CD.
Step 4. Once all Spotify tracks are uploaded, please click on "Next".
Step 5. At this point, you are required to choose a burning drive from a drive list. Even, you can adjust other burning settings based on your needs.
Step 6. Now, insert a rewritable or blank CD dics in your computer drive, and then press "Burn Now" button to start burning Spotify songs onto a CD.
💿 Way 5. Burn Spotify Playlist to CD Free - Burn App
Step 1. Before everything, please insert a blank CD to the DVD-RW drive on macOS computer.
Step 2. Next, download Burn app on your Mac, then install and launch it.
Step 3. After getting into the main window, select "Audio" and click "+" icon to add your local Spotify file folder.
Step 4. Once uploaded, hit on "Select". From the drop-down list, please choose the type of your CD.
Step 5. Last of all, just simply click on "Burn" on the bottom right corner to make a CD from Spotify playlist.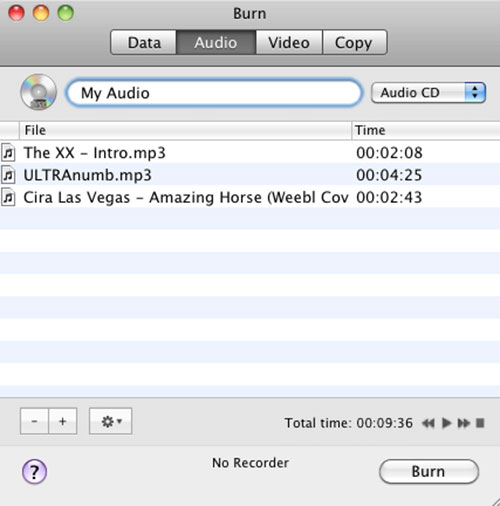 Part 4. Testing and Quality Assurance for Spotify CDs
Burning songs from Spotify to CD can be a great way to share your favorite tunes with friends and family, or to create a backup of your digital music library. However, it's important to ensure that the CD is of high quality and free from errors before sharing or using it. Here are some tips for testing and quality assurance after burning Spotify music to CD.
✅ # 1. Play the Burned Spotify Music CD on Various Devices
The first step in testing the quality of a burned Spotify CD is to play it on various devices. This can include CD players, car stereos, and computers. By testing the CD on different devices, you can ensure that it is compatible and plays correctly on all of them.
✅ # 2. Ensure Proper Spotify Track Order and Audio Quality
Once you have confirmed that the CD plays on various devices, the next step is to ensure that the track order is correct and that the audio quality is good. Check that each Spotify track plays in the correct order and that there are no skips or pauses in the audio. Listen for any distortion or other audio issues that may affect the quality of the music.
✅ # 3. Make Adjustments and Re-Burning If Necessary
If you find any issues with the CD during testing, you may need to make adjustments and re-burn the Spotify playlist to a new CD. This can include adjusting the burning speed, checking the file format of the music files, or using a different brand of CD.
Part 5. FAQs about Burning CD from Spotify
Q1: Is CD Quality Better than Spotify?
A: When it comes to CD audio quality vs Spotify, you should know the key audio parameters of these files. Spotify-free users can enjoy audio up to 160 kbps, while Premium subscribers can get a higher 320 kbps audio. However, CDs have a bit rate of 1411 kbps and have more detailed music data. So, CDs sound better than Spotify Premium and Spotify Free.
Q2: Is Spotify CD-quality yet?
A: From the above discussion about CD quality vs Spotify Premium, it's obvious that Spotify CD quality is not available yet. Although Spotify announced last year that it would release a Spotify HiFi plan to provide CD-quality audio, it's not here yet. And we don't know anything about the Spotify HiFi release date yet.
Q3: How to Upload CD to Spotify?
A: In order to import CD to Spotify, please use a professional CD ripper to get digital audio files from your CDs and then click the "Settings" > "Add a source" to upload CD to Spotify with ease.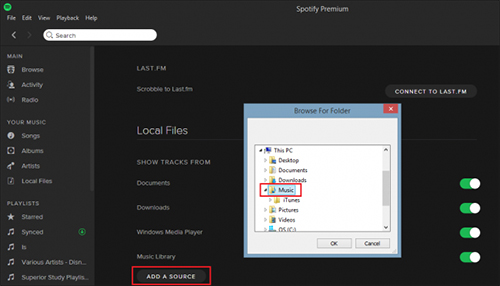 Q4: Can You Burn Spotify Playlist to CD?
A: After downloading and converting Spotify music and playlists to local common audio files on your computer with the help of AudFree Spotify Music Converter, it couldn't be easier to burn a CD from Spotify via the five ways listed in this article.
Q5: What's the Benefits of Creating Personalized Spotify Music CDs?
A: 🎉 1. Physical Copy: By burning a personalized music CD, you get a physical copy of your favorite songs. This means you can play the Spotify CD in your car or any CD player without the need for an internet connection.
🎉 2. Customizable: You can customize the CD to include only the Spotify songs you want to listen to. This way, you can skip over any songs you don't like and listen to only your favorite tracks.
🎉 3. Personalized Gift: You can create a CD with Spotify playlists that are meaningful to the recipient, making it a thoughtful and unique present.
🎉 4. No Ads: Unlike streaming services, a music CD has no ads or interruptions. You can enjoy your Spotify music without any interruptions.
🎉 5. High-Quality Sound: CDs offer high-quality sound, which is often better than streaming services.
🎉 6. Cost-Effective: You can create a CD with as many songs as you want for a one-time cost.
Part 6. Sum up
That's all on how to burn a CD from Spotify. After reading this tutorial, you should know that the key to successfully getting Spotify CDs is to download Spotify music to computer as local files available for burning. Just use the recommended AudFree Spotify Music Converter to achieve it, then you are free to burn Spotify playlist to CD for listening in a car or old CD player without WiFi. If you still have any questions, please feel free to drop us a line and we'll be happy to help.