With the big explosion of music streaming, people prefer to play their favorite music on various streaming platforms. Among them, Tidal stands out with its special high fidelity music and has become a popular platform for the public seeking high sound quality. Does Tidal use data? When you use Tidal on your way to work or during your workout, it may be invisibly consuming your data.
Have you ever wondered how much data your Tidal actually uses? Generally speaking, the higher the quality of the stream, the more data you use. To give you a better understanding of Tidal data usage, this article will present a detailed overview of Tidal HiFi and Tidal Master's data usage. You will also end up learning about a perfect way to use Tidal without using data.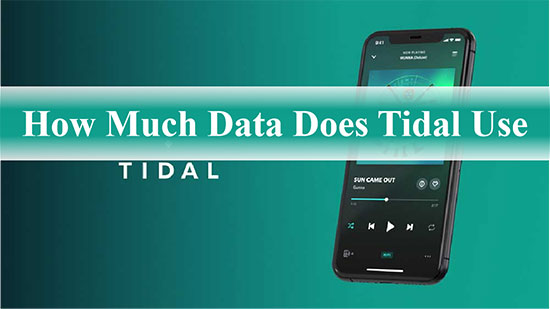 Part 1. How Much Data Does Tidal Use
In fact, the amount of Tidal data you use depends on the quality of the stream. Since bitrate is the rate at which data is processed or transmitted, the quality of Tidal is related to bitrate. The higher the bitrate, the better the Tidal quality. So, we will list Tidal stream data about Tidal HiFi and Tidal Master below.
How Much Data Does Tidal HiFi Use
HiFi - Lossless quality audio (1411kbps or 16bit / 44.1kHz).
High - The best compromise between data usage and sound quality (320kbps AAC).
Normal - For slower connections, using less data.

If you want the best streaming experience with Tidal HiFi, a stable Internet connection of 1.5 to 2 Mbps or higher is recommended. Tidal HiFi audio typically consumes up to 5.5 MB of data per minute, which varies depending on the exact sample rate.
How Much Data Does Tidal Master Use
Master - High-Res Quality (up to 9216 Kbps or 24-bit/192kHz)

Master Audio on Tidal requires approximately 26 megabytes to download a 3 minute 30 second song, consuming up to 7.5MB of data per minute, which also varies depending on the sample rate. It is recommended to use a stable Internet connection of 1.5 to 2 Mbps or higher.
Part 2. How to Use Tidal without Using Data
If you want to avoid using Tidal stream data while playing Tidal Music, the best way is to download Tidal tracks for offline playback. However, only Tidal subscribers are entitled to download privileges, and subscription fees are often a significant burden for many people. In this case, AudFree Tidal Downloader will be your best helper because it is dedicated to downloading Tidal Music, playlists and albums locally without a subscription.
This way, you have the ability to get Tidal Music downloads on your computer whether you are a Tidal Free, Tidal HiFi or Tidal HiFi Plus user. As a result, there is no need to worry about any Tidal data usage issues, you can listen to Tidal Music offline without any restrictions. What's more, it can also convert Tidal to MP3, FLAC, WAV, etc. in order to transfer it to any desired device and player with freedom.
How to Use Tidal without Using Data
Step 1

Import Tidal Music to AudFree Tidable

Launch AudFree Tidable and the Tidal app will also open automatically. You need to select the preferred Tidal Music, then copy and paste the Tidal link into the search box at the top of this downloader. Click the "+" button and it will start loading Tidal songs.
Step 2

Set Output Format of Tidal Music

Find the menu button in the top right corner and select the Preferences > Convert option to open a settings window. There you are allowed to customize Tidal output format like MP3, WAV, FLAC. Also, if you like, you can adjust other audio parameters like bit rate, sample rate, etc. in this window.
Step 3

Use Tidal Without Using Data

Tap the 'Convert' button, it will download the Tidal song as normal audio file on your computer. Hit on the 'Converted' button to view all Tidal Music downloads, and in turn you can keep Tidal Music forever play Tidal offline anytime without consuming Tidal data.
Part 3. Tips to Manage Tidal Data Usage
In addition to the method mentioned above, here are a few tips to help you manage your Tidal data usage.
1. Play Tidal Music While on Wi-Fi
If you want to enjoy the savings of Tidal data usage, you can stream Tidal only over Wi-Fi, so you won't suffer from Tidal quality and bitrate either.
2.Subscribe to Tidal HiFi or Tidal HiFi Plus
As you may know, Tidal paid subscribers are offered more listening options, including downloading the Tidal playlist, song or entire album you want for offline.
3. Use Data Management Apps
It is recommended that you install some data management applications to monitor your data usage. This way, you can do real-time monitoring of Tidal data usage and it will notify you in time before you run out of data.
4. Track Tidal Data Usage on Mobile Provider App
Generally, mobile provider app will track data usage in real time and send you notifications when you reach a predetermined level of usage. In turn, you will always be able to see how much Tidal data has been used.
Part 4. In Conclusion
Obviously, Tidal gives us the opportunity to listen to music whenever we want, but it also has the effect of consuming Tidal data. This article describes the data usage of Tidal HiFi and Tidal Master, and also suggests the best way to listen to Tidal offline without using data. Let's enjoy Tidal without the interruption of Tidal data usage.