Q: How to add music to PowerPoint from Spotify? I have prepared an annual report with PowerPoint to review the progress of our department in the past year. To make the presentation more attractive, I have tried to embed Spotify song in PowerPoint by adding and linking way, but it fails every time. Any suggestions?
Music is an essential part of any presentation, as it can help set the mood and captivate the audience. Users can find the most matching background music from Spotify according to the theme of the PowerPoint template. But how to make Spotify PowerPoint template? Here we share a 100% effective method about how to put Spotify music on PowerPoint presentation as BGM.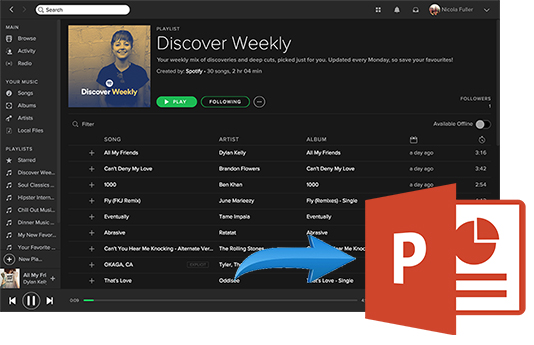 Part 1. Add Spotify to PowerPoint Template - Tool Required
Spotify music is encrypted by special technology, which prevents free and premium users from taking music out from the Spotify app. Put it another way, you can't use Spotify in PowerPoint or any other unauthorized players and devices directly.
Besides, Spotify songs are encoded in unique Ogg Vorbis format. But PowerPoint is only compatible with MP3, WAV, AIFF, WMA, AU, and MIDI audio formats. So, it's also necessary to do Spotify format conversion for the PowerPoint template.
| Spotify Music Format | DRM-protected |
| --- | --- |
| PowerPoint Supported Audio Formats | MP3, WAV, AIFF, WMA, AU, and MIDI |
| AudFree Output Format | MP3, WAV, AAC, FLAC, M4A, M4B |
Here, don't miss AudFree Spotify Music Downloader. It not only works to remove Spotify protection, but also converts Spotify music to MP3, WAV and other PowerPoint-compatible audio formats. It's worth mentioning that this software works perfectly for Spotify free users. Then you can easily add music from Spotify to PowerPoint without any problem.
AudFree Spotify Music Downloader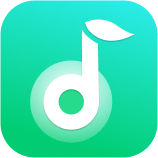 Remove protection from Spotify songs/playlists/albums losslessly
Download and convert Spotify to MP3, WAV, etc. supported by PowerPoint
Add Spotify music to PowerPoint template as BGM
Work at 5X faster speed, edit music quality and parameters
How to Download Spotify Music for PowerPoint Presentation
Now, let's see how to convert Spotify music to PowerPoint compatible format with the assistance of AudFree Spotify Music Downloader.
Step 1

Import Spotify music/playlist to AudFree SpoDable

To import Spotify files, you can directly drag and drop music from Spotify app to AudFree SpoDable's conversion window or copy and paste the URL of Spotify tracks to the search box. If using the latter way, please don't forget to click the '+' button and then Spotify music will be loaded automatically.
Step 2

Customize Spotify output parameters for PowerPoint

Navigate to the top menu of the main interface and click the 'Preferences' > 'Convert' button to launch the setting window. Now, you can start to define output format of Spotify music as MP3, WAV, etc. for Spotify presentation template. You can also personalize bit rate, sample rate, audio codec and audio channels as your needs.
Step 3

Convert Spotify music for PowerPoint template

Just click the 'Convert' button at the bottom-right corner, and then it will start downloading and converting Spotify music you added to common audio files that are compatible with PowerPoint presentation. After conversion, you can click the 'History' icon to locate Spotify files on your computer and use Spotify music in PowerPoint with ease.
Part 2. How to Add Music to PowerPoint from Spotify
Now, you can start to add a song from Spotify to PowerPoint or embed Spotify playlist in PowerPoint as background songs to enhance your presentation. Let's see the detailed guide as below:
Embed Spotify Song in PowerPoint
For PC
Step 1. Navigate to the PowerPoint slideshow where you'd like to begin setting Spotify music as background music.
Step 2. Simply click the 'Insert' option to choose 'Audio' > 'Audio on My PC' on the far right of the navigation bar.
Step 3. Start to browse your local audio files and select Spotify music as the target files.
Step 4. Then click the 'Playback' to choose the start point where Spotify music starts playing in the background, loop until you stop the audio.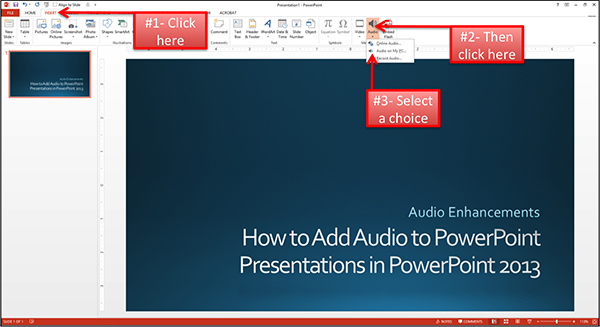 For Mac
Step 1. Launch the PowerPoint and open your PowerPoint template that you'd like to add Spotify playlists.
Step 2. Choose the PowerPoint slideshow, and click the 'Insert' > 'Audio' > 'Audio from File' option to view your local Spotify audios.
Step 3. Once you found your favorite Spotify music, please hit on the 'Insert' icon to add Spotify song to PowerPoint template.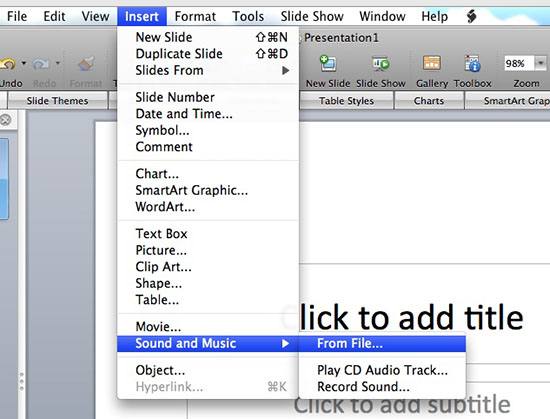 Tips: If you need to use the Spotify PPT template on another computer, please make sure you have copied both the PPT file and your Spotify music inserted to PPT into that computer. Otherwise, you will lose the background Spotify music in your PowerPoint.
Put Spotify Playlist on PowerPoint
Step 1. Create a playlist on Windows Media Player to add the Spotify songs you need to play.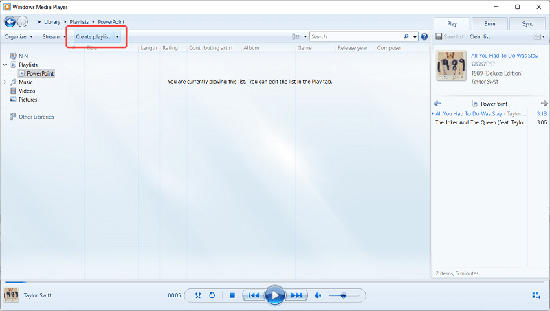 Step 2. Right-click on the playlist title and click "Open File Location" to save the file to your desired location.
Step 3. Go back to the PowerPoint slideshow and click the "Insert" tab in the top menu bar.
Step 4. Click on the "Audio" button and select "Audio on My PC" from the drop-down menu.
Step 5. Set the file format from "Audio Files" to "All Files", and then import the Spotify playlist file into PowerPoint.
Step 6. Enable the "Animation Pane" in the "Animation" tab, and then add a new animation called "Play" under "Media".
Step 7. Right-click this new animation, click "Effect Options" and enter "9999" in the "Stop Play > After Play" field.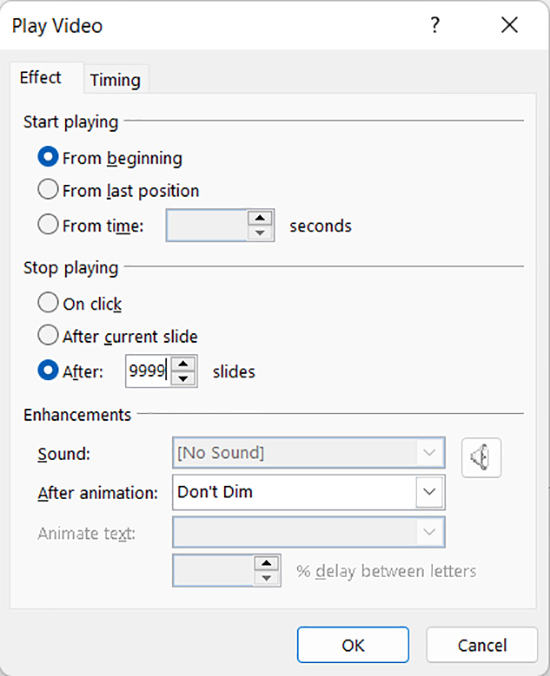 Step 8. On the "Timing" option, select "With Previous" and "Until End of Slide" to correspond to "Start" and "Repeat".
Part 3. How to Customize Spotify Music Playback in PowerPoint
Now, you may want to customize the playback of your Spotify music to ensure that it is played exactly the way you want it. Fortunately, PowerPoint offers a range of customization options that can help you achieve this, whether you want to adjust the volume, loop the music, or set it to start automatically. With just a few simple steps below, you can change Spotify playback speed and create a truly immersive and engaging presentation.

Step 1. Click on the Spotify audio in your PowerPoint presentation.
Step 2. Click on the "Playback" tab in the Audio Tools section of the PowerPoint ribbon.
Step 3. In the "Audio Options" group, select "Start" and choose whether you want the music to start automatically or on a click.
Step 4. Select "Fade In" if you want the Spotify music to gradually increase in volume at the beginning.
Step 5. In the "Playback" group, select "Play Across Slides" if you want the music to continue playing throughout the entire presentation.
Step 6. Select "Loop Until Stopped" if you want the music to repeat until you manually stop it.
Step 7. Adjust the Spotify audio volume by using the slider in the "Audio Options" group.
Step 8. If you want to trim the audio file, click on "Trim Audio" in the "Editing" group and use the sliders to select the portion of the audio you want to keep.
Step 9. Click "OK" to save your changes.
Part 4. FAQs about Adding Spotify to PowerPoint Template
Q1: Can You Add Spotify Link to PowerPoint Presentation?
A1: With the latest version of PowerPoint, you can add a Spotify link to the text in PowerPoint via inserting a hyperlink. But it requires an Internet connection to play Spotify. And you need to authorize your Spotify account in advance. It's not convenient and unstable for a presentation.
Q2: Can You Add Spotify Music to PowerPoint for the Web?
A2: No. PowerPoint for the web provides an online way to create presentations right in your browser. But it doesn't have an 'Add Audio' option to insert Spotify music into PowerPoint for the web.
Q3: Can You Add Online Music to a PowerPoint?
A3: No matter where your online music comes from, you need to download it to your local computer. Under this circumstance, you can then add and use music in a PowerPoint template.
Part 5. In Conclusion
A perfect PowerPoint presentation always comes with subject-oriented yet pleasurable background music. Just follow the instructions in this article to embed Spotify song in PowerPoint template with the help of the AudFree Spotify Music Downloader. Good luck to have a successful PowerPoint presentation.